When GearBrain tests outdoor security cameras, we look for specific metrics to know how the device will work in homes. We want to make sure audio is clear, or the camera has a siren to scare away unwanted guests. The camera needs a good field of view (FOV), clear video resolution and night vision up to at least 16 feet or 5 meters. Finally, we want to see that the camera has a mount making it simple to position the device for the best viewing angle outside. Blue by ADT sent us its new outdoor wireless camera, which the company states has all of these features — and more. Here is what we found in testing their new outdoor camera in a real home.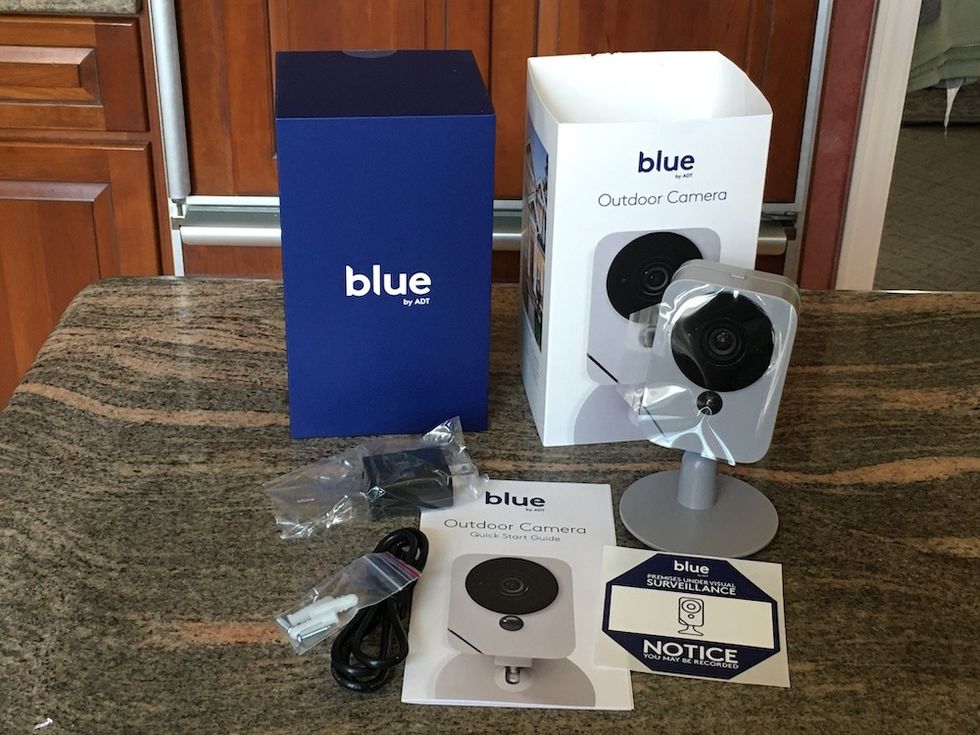 Blue by ADT Outdoor Camera unboxed.GearBrain
What is Blue by ADT's new outdoor camera?

Blue by ADT's new outdoor camera is a wireless, smart Wi-Fi HD security camera. The device includes two-way communication, night vision with Infrared LEDs, and a rechargeable battery. This new security camera has 1080p, high definition video resolution, 130 degree field of view (FOV), 24 hours of free video storage, and customizable motion zones.
Blue by ADT's new outdoor camera works with the company's DIY smart home security systems, as well as older versions of the Lifeshield DIY home security systems. It can also work independently of these systems, nice for first-time buyers looking to build their own custom smart home security systems. The camera also includes a nice mount, letting you easily secure the camera on the side of your house or on a pole if needed.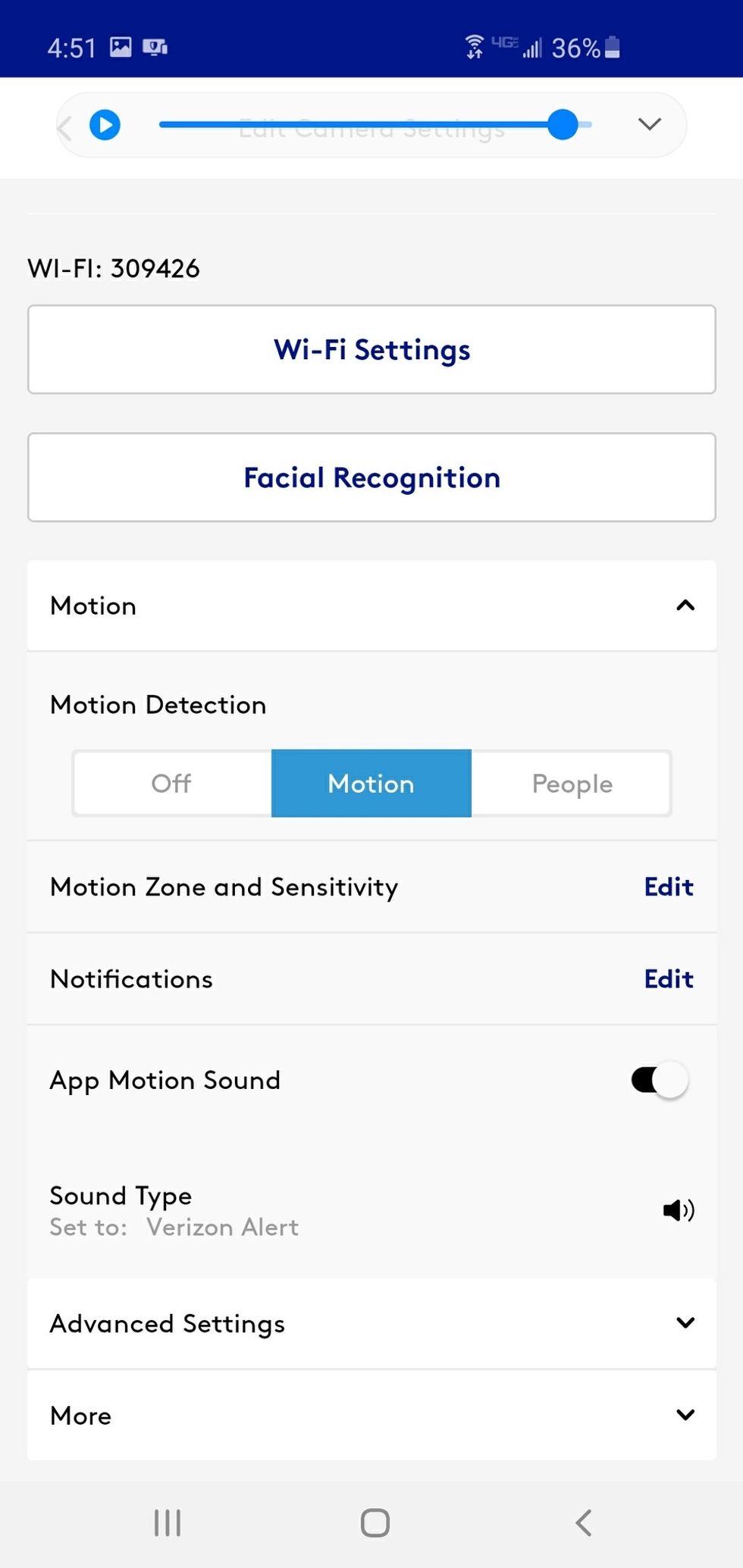 Users can set up facial recognition in Blue by ADT app along with motion sensitivity and Wi-Fi.GearBrain
Like all of Blue by ADT devices, you aren't required to sign a long term contract. But if you want to store your videos or get professional monitoring services, you can upgrade to Blue by ADT's 24/7 professional monitoring plan which comes with central station monitoring, emergency dispatch, one day of video storage and three layers of protection: Wi-Fi, cellular signal and cellular text. All new buyers will get 30 days of free monitoring service with their purchase. But after the 30-day trial period, you will be charged $19.99 (plus tax) each month if you don't cancel prior to the end of the trial. That gives you some time to see if you really need professional monitoring, or more video storage.
The feature we like the most for Blue by ADT's outdoor camera is its facial recognition capabilities, which you set up once the camera is live. Adding family members to this feature happens in the Blue by ADT free app, which is available for both iOS and Android smartphones. Having facial recognition in your outdoor camera can provide an extra level of security to your home, letting you know, for instance, that your children are outside in the back while you're at home. You can setup notifications or alerts when someone you don't know enters the backyard.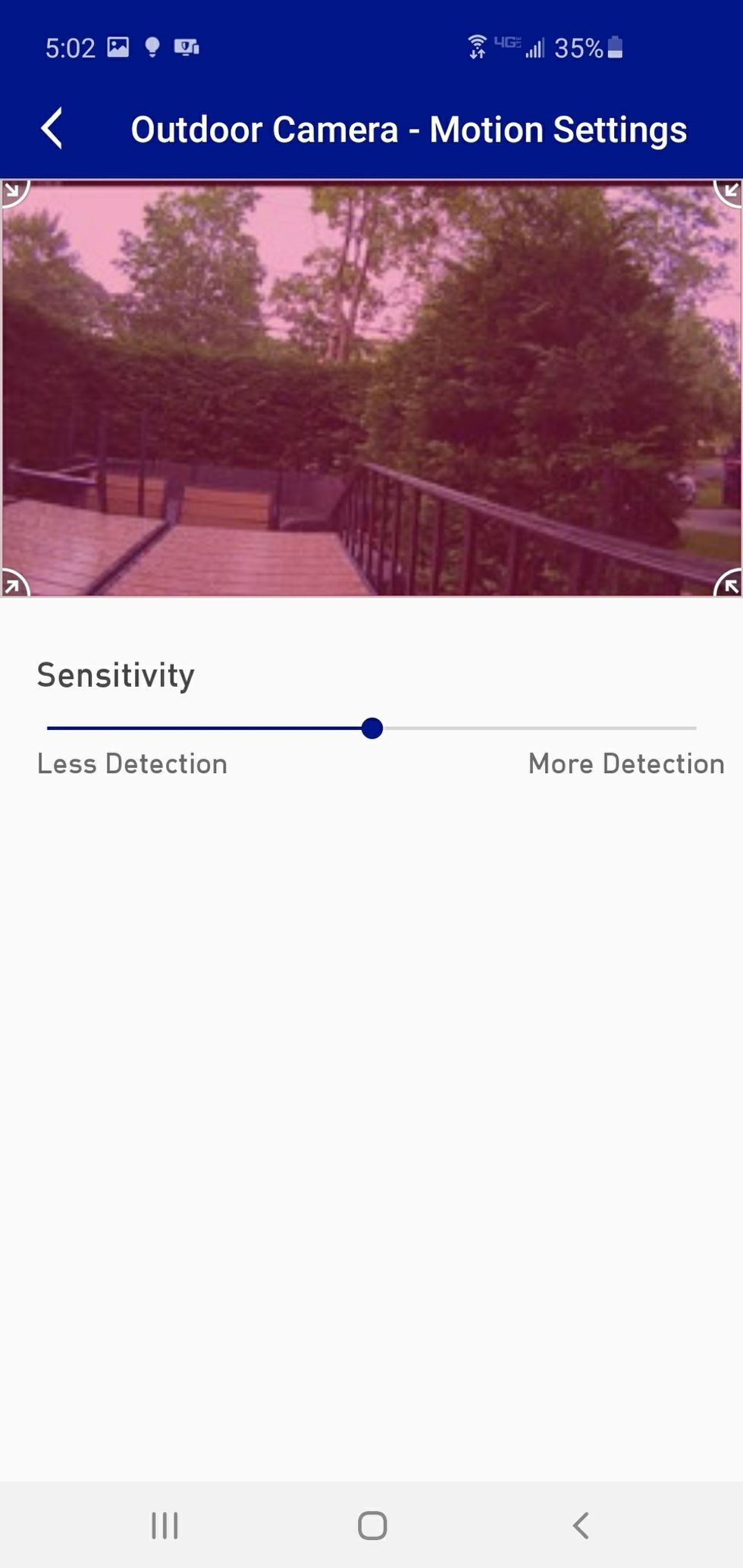 Blue by ADT app showing how to set motion sensitivity for Outdoor camera.GearBrain
Smart Home Integrations
ADT integrates with several smart devices and systems, including Nest thermostats, Lutron switches and Kwikset smart locks. The Blue by ADT system also works with smart speaker assistants including Google Assistant and Amazon Alexa, as well as products working on Z-Wave Plus and IFTTT platforms.
But when it comes to Blue by ADT security cameras, these devices can only work with Amazon Alexa-enabled devices and IFTTT. As part of the setup process, you pair your Blue Outdoor Camera with your Alexa devices. Then, you can use voice commands to show video on a smart display like Echo Show, or start recording from your cameras.
The company is working to integrate its security cameras to work with Apple HomeKit and Google Assistant-enabled devices soon. For those users who like to use IFTTT applets, you might have to create your own. There were a fair number of applets for Blue by ADT home security systems, but not that many — that we could find — for just the cameras alone. (Check out The GearBrain, our smart home compatibility checker to see the other compatible products that work with Blue by ADT, Google Assistant and Amazon Alexa enabled devices.)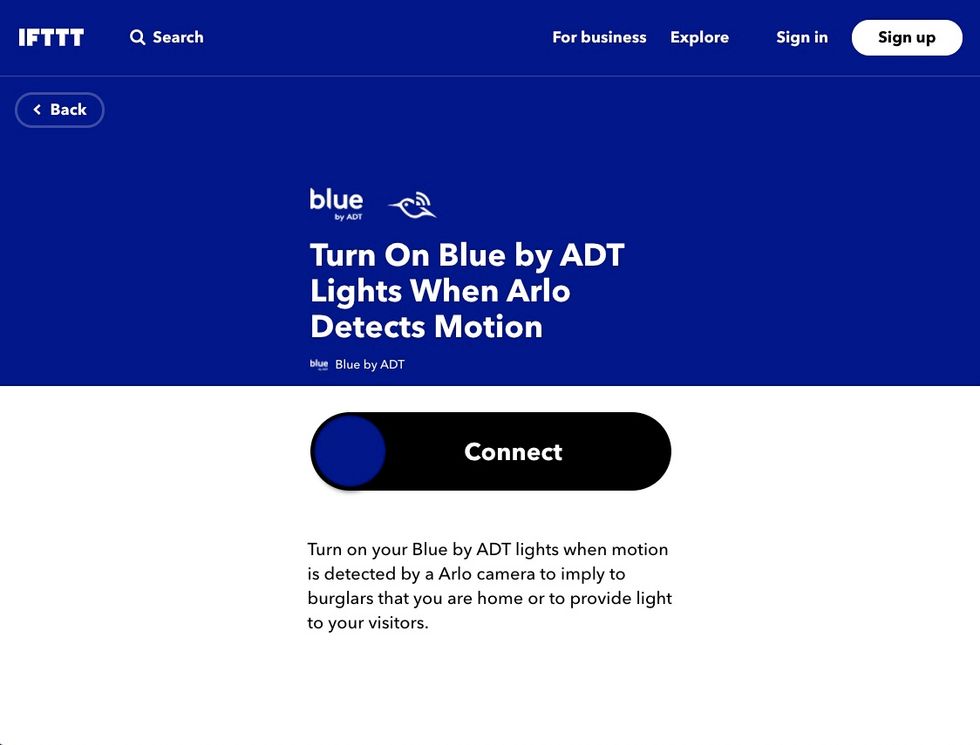 One of the IFTTT applets for Blue by ADTGearBrain
Performance of Blue Outdoor Camera

Of all the outdoor security cameras we have tested, this is by far one of the best. The camera performed exceptionally well. The picture quality and connectivity were excellent. Usually with outdoor security camera, there are connection issues. But we never saw signal loss or slow downloading from the camera.
The facial recognition feature worked as well, and we were able to get all family members identified quickly. We also didn't experience false alerts, not in custom motion zones either.
The Blue by ADT Outdoor camera is a battery-powered camera, which means you have to keep an eye on the camera's battery life. You'll get notifications when the battery level is low, but the camera can run for about two to three months on the battery, according to Blue by ADT. And we found we didn't have to charge the camera until the well into the second month, even using the camera a lot.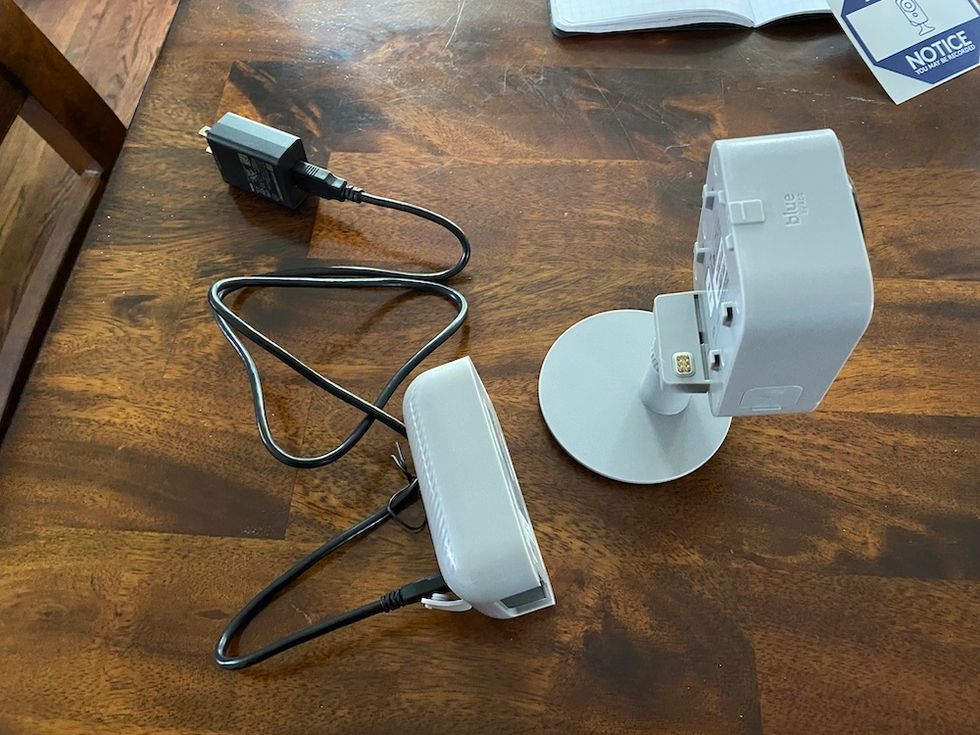 Blue by ADT Outdoor Camera has long battery life but the size of the battery is rather large.GearBrain
Regarding battery life, keep in mind that if the camera is paired with ADT's new Blue Extender + Chime, it will have a slight impact on your battery. The Blue Extender + Chime is a Wi-Fi extender that works with the Blue Outdoor Camera and the new Blue Doorbell Camera. It extends your home's Wi-Fi signal to these devices, especially if your routers are far from where you position the Blue devices. The Chime can also be used as an alarm siren in your home. We're in the process of reviewing this device right now.

We did find a few issues buyers should consider. First, the camera is almost an inch-deeper than other outdoor and indoor security cameras we've tested. The camera's dimensions are 3.7 x 2.8 x 2.7 inches. Blue by ADT's Indoor Camera is 4.3 x 2.6 x 1.8 inches — and outdoor security cameras by Arlo or Nest are also about an inch less deep. Something to note when you're considering where you may place this device.
In addition, you can only select specific motion detection sensitivity in just one area of the screen through the Blue by ADT free app. Like the Blue by ADT Indoor Camera, the outdoor camera has motion detection up to 16.4 feet or 5 meters. But you can only pick up sensitivity in one section — like the side of your house or one area of your backyard. It would be nice if you can choose more areas, but you can't at this time.

Daytime View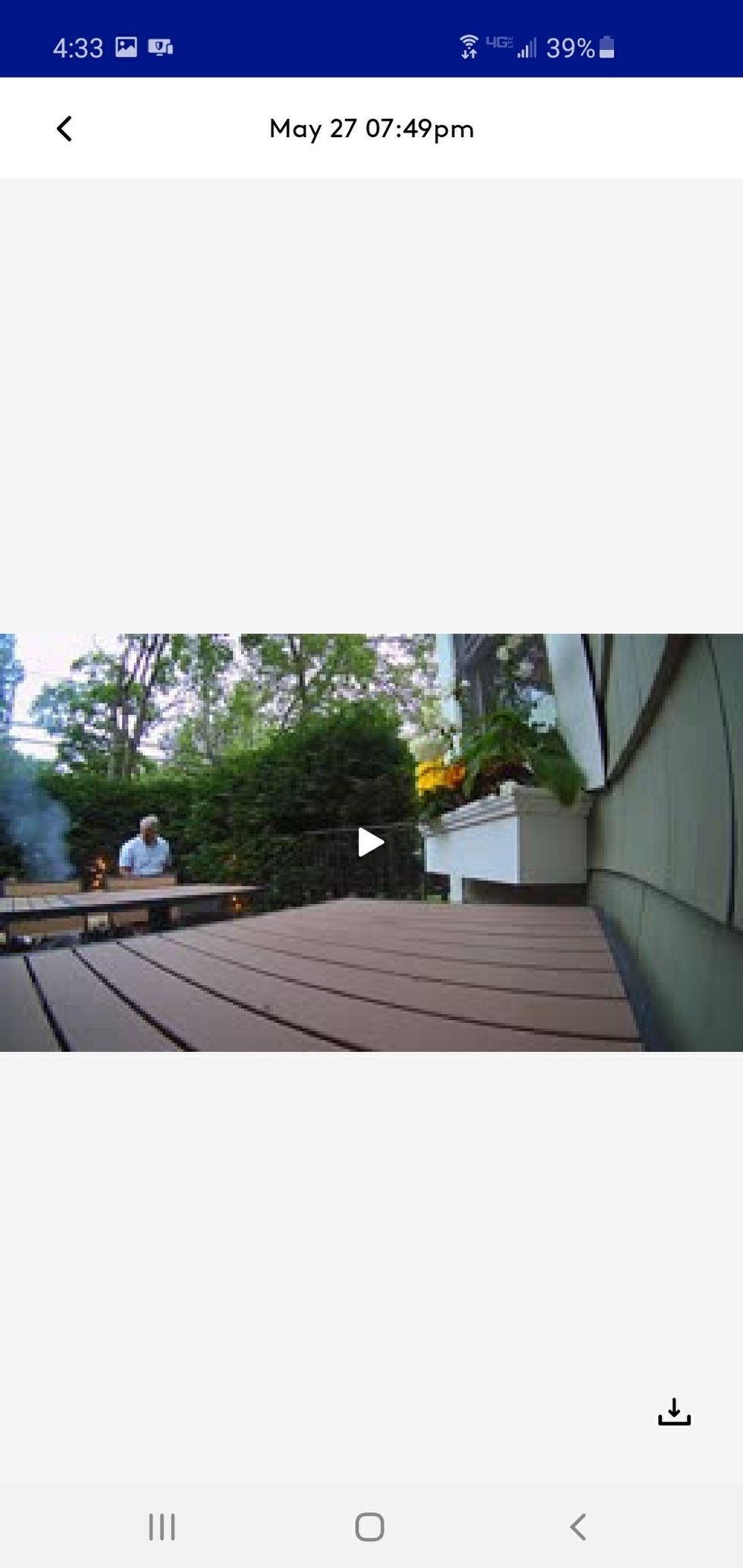 A daytime look of video in blue by ADT app
GearBrain
Daytime vision is clean and easy to hear video in app.
Night Vision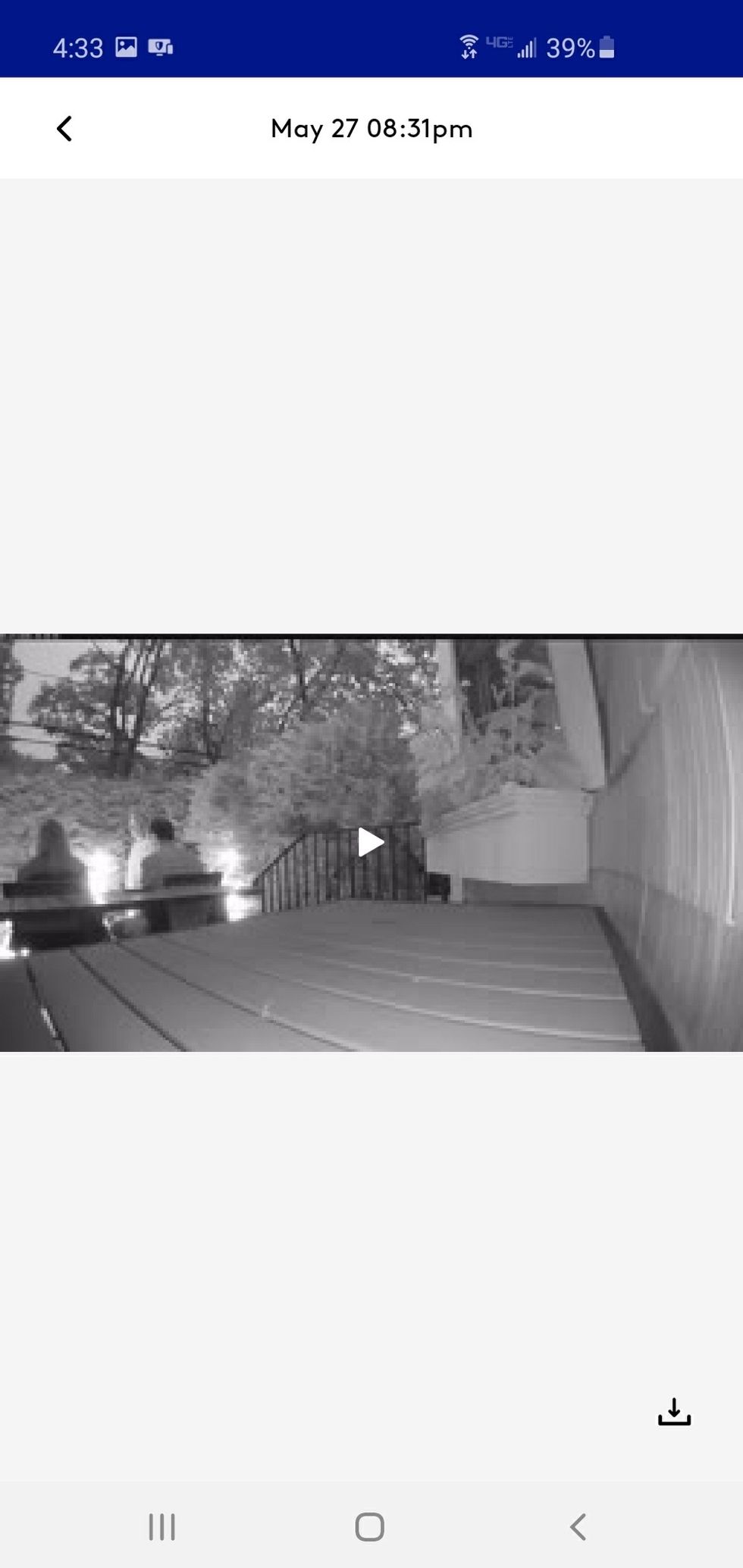 Night vision in app for Outdoor Camea.
GearBrain
Night vision works up to 16 feet or 5 meters.
Price
The Blue by ADT Outdoor Camera is $199.99 and you can buy it on the company's website or Amazon.
Who is this camera made for today?

We think the Blue by ADT Outdoor Security Camera works well for both homeowners and renters. The camera is portable and is easy to take with you when you move. It's also an outdoor camera that can be used inside exceptionally well as outside. We can see it being used effectively as a baby monitor or just a simple indoor security camera. We even tested this camera inside our test house and it performed better than most indoor HD security cameras, including the Blue by ADT Indoor Camera. We would recommend users expand into a DIY home security system using this camera as the foundation.
Things for potential buyers to consider with this camera is the cost and size. The cost is a little steep, but is on par with other outdoor battery powered Wi-Fi HD security cameras with facial recognition. The camera is also a bit big, but that means it also comes with a longer battery life.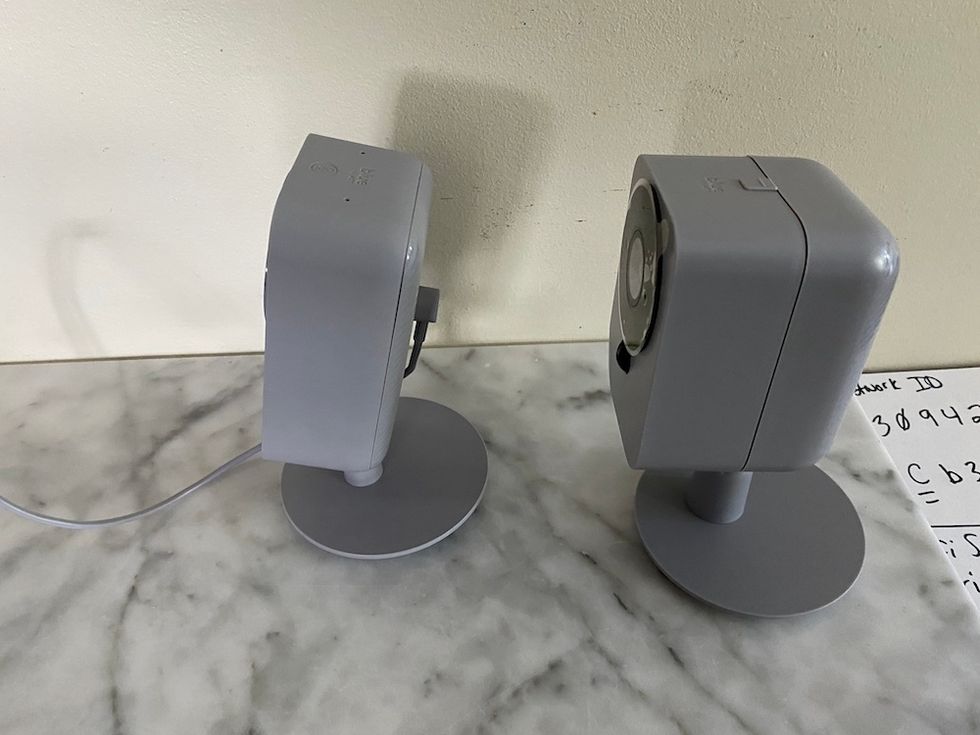 Blue by ADT's Outdoor Camera is might bigger than their Indoor Camera.GearBraiin
Overall, Blue by ADT's Outdoor Security Camera is a powerful and excellent entry level camera for users to start building their own DIY smart home security system. It comes with facial recognition, a growing list of smart devices it works with today, has excellent video resolution, and you can store videos locally or for 24 hours in the cloud for free. You don't have to sign a contract, but if you want professional monitoring services, you can easily add these on a monthly basis. Most of all, it's easy to setup and doesn't require permanent set-up. This is a versatile security camera with excellent security features for today's smart home.

Pros
Video resolution and facial recognition
Battery life
Doesn't require a contract
Cons
Price
Size of camera
Can only select one zone for motion sensitivity
Blue by ADT Wireless HD Outdoor Camera – 2-Way Talk – Motion-Activated – Facial Recognition – DIY Smart Home Security – No Contract – Use with WiFi and Alexa