Many of today's smart devices require us to take an action, such as talking aloud, to make something happen. Perhaps you ask a smart speaker assistant like Amazon Alexa or Google Assistant to turn off the lights. But at GearBrain, we believe a home will eventually react just to you — and create an environment specific to your needs. We are not there yet, but we are getting closer to this level of smart home functionality. RoomMe, a personalized room-level automation system, is a system that is moving us in that direction.
What is RoomMe?

RoomMe is a tracking system — both an intelligent sensor and mobile app — which learns who is in a room by connecting to someone's smartphone. You don't need a hub. Instead, the RoomMe app automatically adjusts the settings of smart devices in a room, when that person enters the space.
Inside the box is the RoomMe sensor, a ceiling bracket, a mounting kit (with both anchors and screws) and installation instructions. You just select the room you want RoomMe to control and install the sensor on the ceiling. Do note that if you're picking a room with multiple entrances, you may need more than one RoomMe sensor.
RoomMe controls your smart devices through several different wireless connections. It uses a Bluetooth wireless connection to connect to your smartphone in order to help it identify the user. It uses your smartphone's Wi-Fi connection or its cellular connection to connect to the cloud of your smart devices (depending on the smart device and the way RoomMe has integrated with them. You just need to make sure your smartphone's Bluetooth is enabled at all times because the RoomMe app starts broadcasting a RoomMe signature over Bluetooth to the air and RoomMe sensor is constantly tracking these signatures to help it track when a smartphone enters the room. The app can connect up to 32 rooms in a system together — which is quite a lot.
Since the device works through your smartphone — and multiple people, and multiple smartphones may be in a room at once — RoomMe uses a priority system to decide which settings, or user, to pick.
RoomMe has three levels of priority they call "charms": Parent, Child and Room Master. The Room Master is selected for each room and will have highest priority. However, if there is no Room Master in the room, the person who enters into the room first with the highest priority or charm will be in control of the devices. Which is the highest level? Parent charm overrides the Child charm if no Room Master is in the room.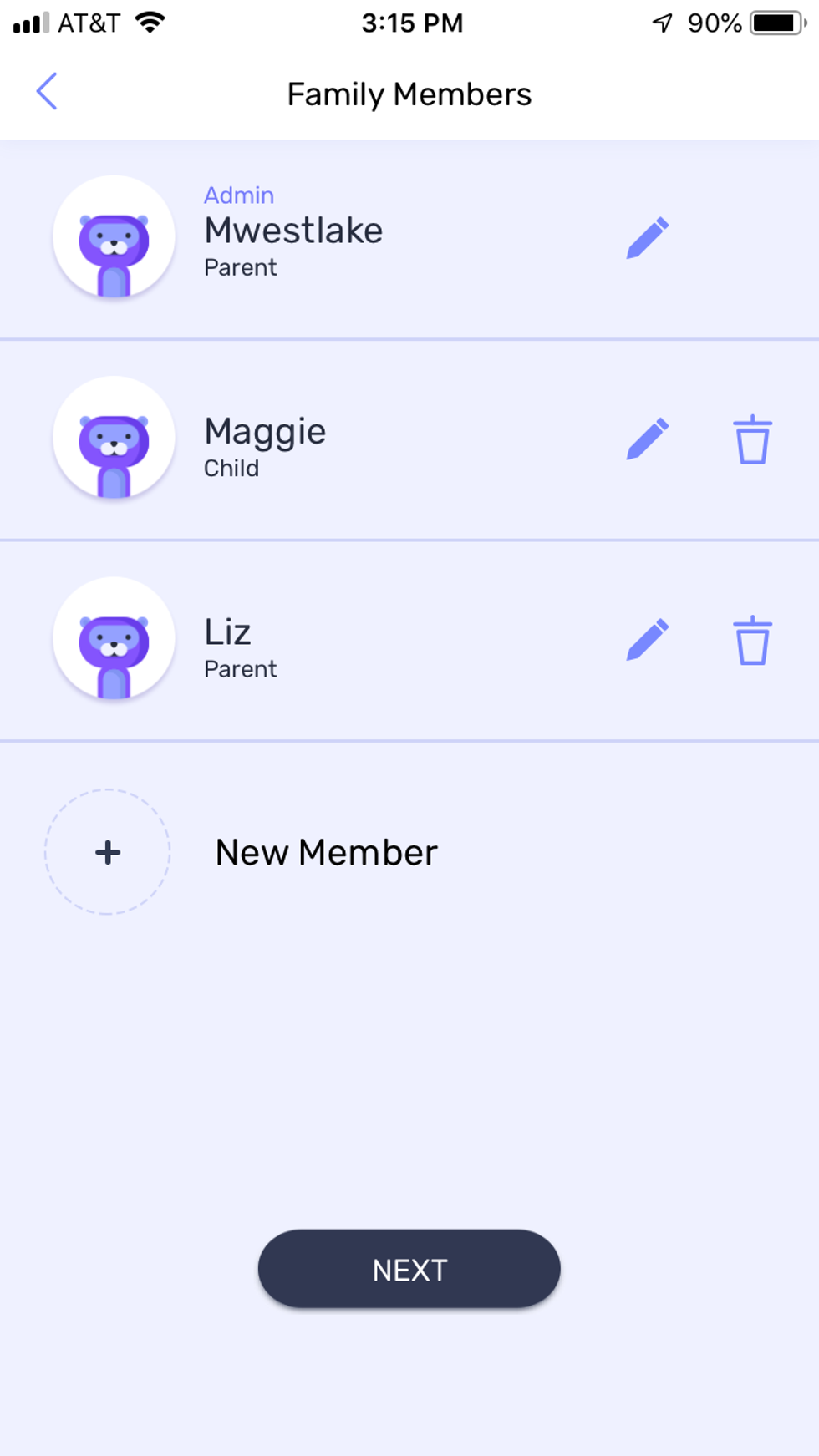 RoomMe app has three settings: Room Master, Parent and Child.GearBrain
Their app works on both iOS and Android devices, and this is where you setup all your charms or automations. Think of charms as personalized settings, which decide how a smart device will behave when you enter and leave a room. You can set the charm based on the time of day, a special occasion or even the season.

RoomMe can control a number of devices, including smart lights, thermostats and smart speakers. The color tone and dimming preferences can be set for each smart light. With Ecobee smart thermostats, RoomMe can automatically re-adjust a temperature to a pre-defined comfort level. With smart speakers by Bose or Sonos, RoomMe start to play music, when you walk into the room.
How do you install RoomMe?

Before installing RoomMe, determine which room you want to control, and also which devices. Once you pick the room, you'll mount RoomMe on the ceiling, but near the room's entrance. You want to make sure the device captures a smartphone signal of each user as they enter and leave. For our tests, we used a real home and installed one device on the celling of an entrance into the basement, and one in a den.
Smart home integrations
RoomMe is limited in smart home integrations. For example, the system will not work with the smart speaker platforms, Google Assistant and Amazon Alexa. However, it will work with the following Philips Hue smart lights: color bulbs Gen 1 and Gen 2, white/color ambience LED bulbs and the indoor light strip.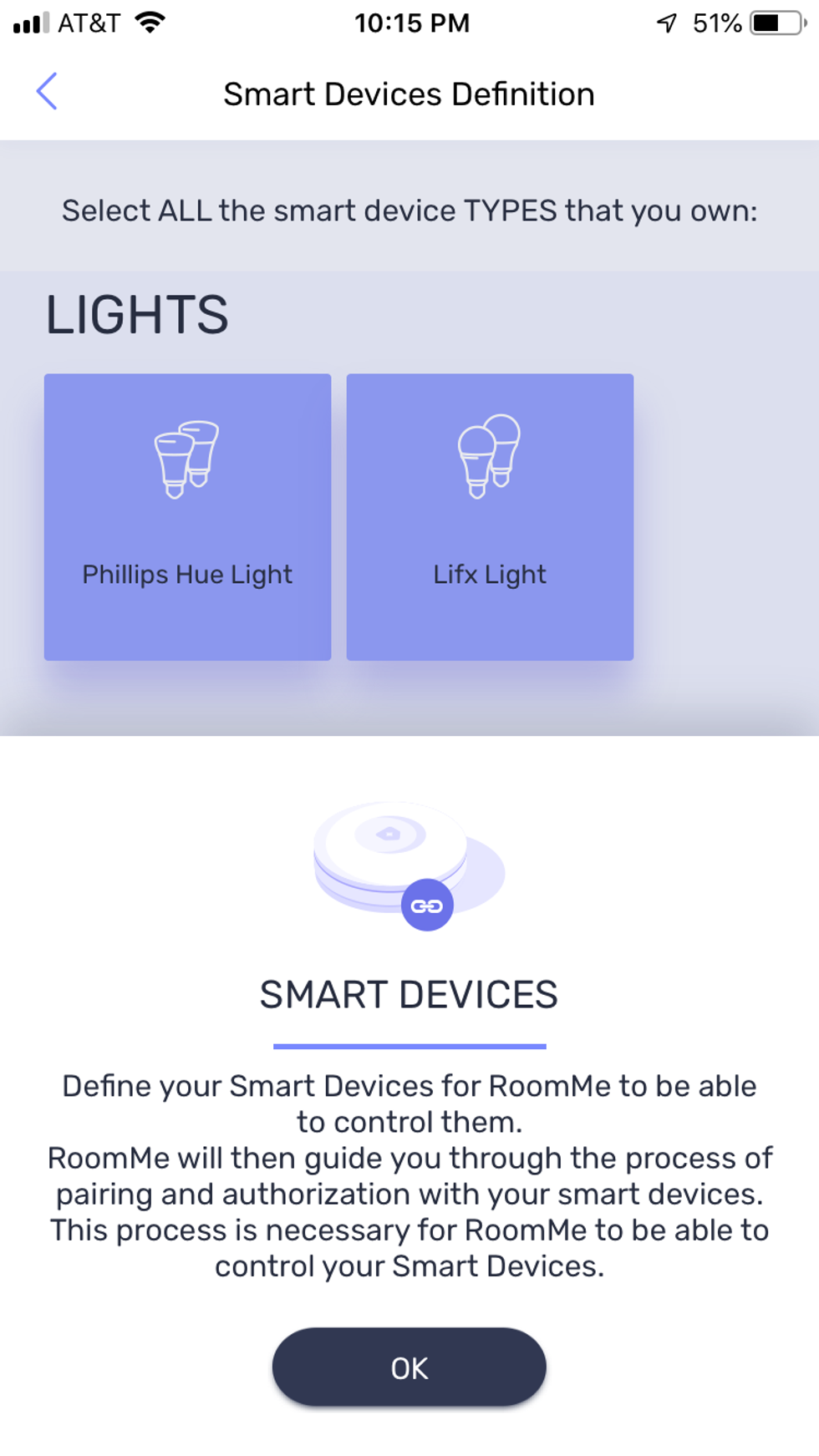 RoomMe works with Philips Hue and LIFX smart lightsGearBrain
RoomMe also works with LIFX (the original mini white bulbs, mini day & dusk and the LIFX+ bulbs), the Ecobee 3 and 4 smart thermostats, the Bose Soundtouch10 and the Sonos Play1 & Playbar.

The company originally integrated with Nest — and you will see this on the app — but that connection wont work anymore because Google is migrating the Works with Nest program over to Works with Google Assistant. Therefore, at this time, the RoomMe integration with Nest is not enabled, although the company does plan it will work once Google finishes its restructuring program.
RoomMe just launched a new version of their app and there are new integrations with Wink, Sensibo and Apple HomeKit, but we were not able to fully test each one. The company mentioned these integrations now control the full ecosystem of Wink and HomeKit supported devices. If you have Zigbee or Z-wave devices connected to Wink, you will be able to have them work with RoomMe. We'll update this article when we finish testing their new integrations.
How well does RoomMe work?

RoomMe worked fine for us. Setup was easy and the sensor identified our smart devices rather quickly. We did find some lag time between the sensor reacting, and a person leaving the room. For instance, when we walked into the room, the lights went on as instructed by the charm but when we left, it took some time for the sensor to react and turn off the light. We weren't sure if it took time because the sensor took a moment to determine if we'd left. But we asked RoomMe and they informed us RoomMe won't trigger exit events until you've moved to another room and the new room sensor identifies you. Something for you to keep in mind. You can adjust the sensor sensitivity for each smart device in the app which we did, but still had some issues.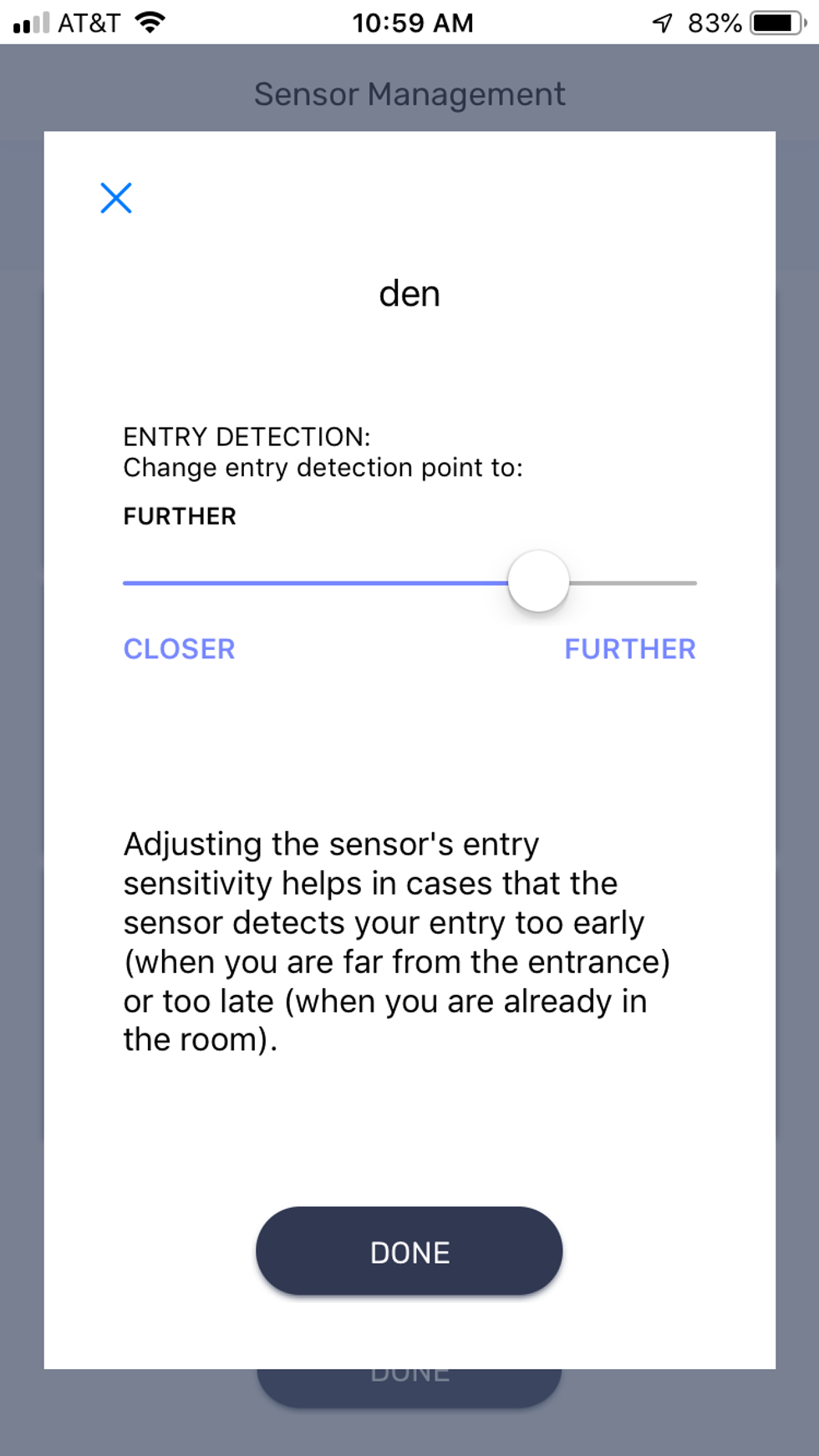 Can set the sensitivity detection in RoomMe appGearBrain
We did find the Room Master, Parent and Child designations worked well. A Room Master walking in to the den made the music come on, even when the Child was watching the television — which did not go over well. Luckily, the Room Master designation can be changed, and controlled, via admin rights to alleviate any tension, or family competition, in the air.

Not being able to add devices like a Fire TV or smart TV, or integrate with Alexa or Google Assistant, was a drawback. We also found the sensor itself quite big — bigger than our smart smoke detectors. We're looking forward to more integrations in future iterations, and also would like to see the sensor get smaller.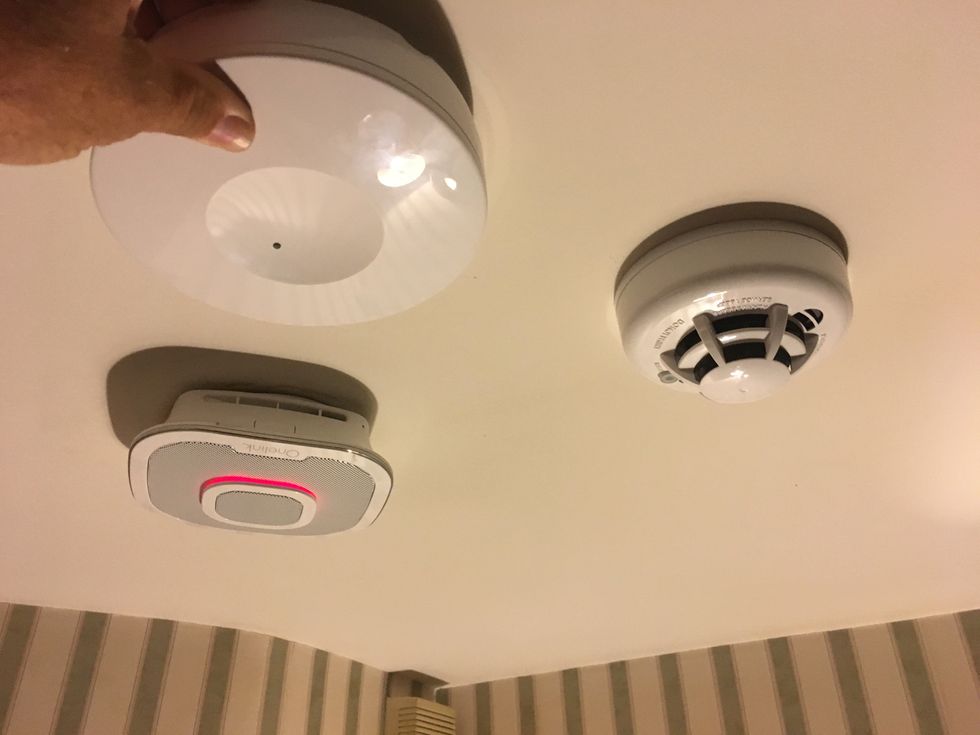 Size of RoomMe sensor is rather big. Here we compare it to a Vivint smoke alarm and a First Alert OneLink Smoke/CO Alarm with Bluetooth Speaker. You can see RoomMe is much bigger.GearBrain
How much does RoomMe cost?

The RoomMe Starter Kit, which we tested, costs $129 and includes two RoomMe sensors, the installer guide and a mounting kit. Each additional sensor is $69, and you can buy packs with three sensors for $189 and four sensors for $239, and both ship for free.
Intellithings RoomMe - Touch and Voice Free Home Automation Based on Person Identification - Single Add-On
Summary
Overall, RoomMe is heading in the right direction with a system that lets the home automatically know when you walk through a door. It's this functionality which leads us down the path of making our home smarter, where a space conforms automatically to your needs without having to ask. Though the company isn't there yet, they are on to something and it's why we gave them our Editor's Choice award at this past year's CES in Las Vegas. We just would like to see more smart home integrations, including home security options and support for smart speaker assistants. The sensor, ideally, should also get smaller, particularly as they're visible on the ceiling of your home.
Pros and Cons
Pros:
Smart sensor
Identify user and set preferences for each person when they enter a room
Works on Bluetooth connection
No hub required
Cons:
Lack of smart home integrations
Size of sensor
Price
Limited automations
Specs:
Diameter: 15.2cm/6.1in.
Height: 4.5cm/1.77in.
Mounting Ceiling: at room entrance
Wireless: Bluetooth Low Energy
Batteries: 2xAlkaline D type (not included)
A minimum of two sensors is recommended
One sensor is required per room where room-level automation is required.