Skullcandy pushed out four new headphones in 2020, all wireless and all designed with something unique. With the Push Ultra, that extra includes over the ear loops, designed to give them a more secure fit for more active wearers. We tested these while running and working on an Apple Watch, MacBook Air and an iPhone to see how they would play.
The Push Ultra are over-the-ear wireless earbuds. They clip over the top of your ear, and then sit in the ear itself. This design is meant to appeal to all wearers, as with the extra loop, they're less likely to fall out especially during exercise.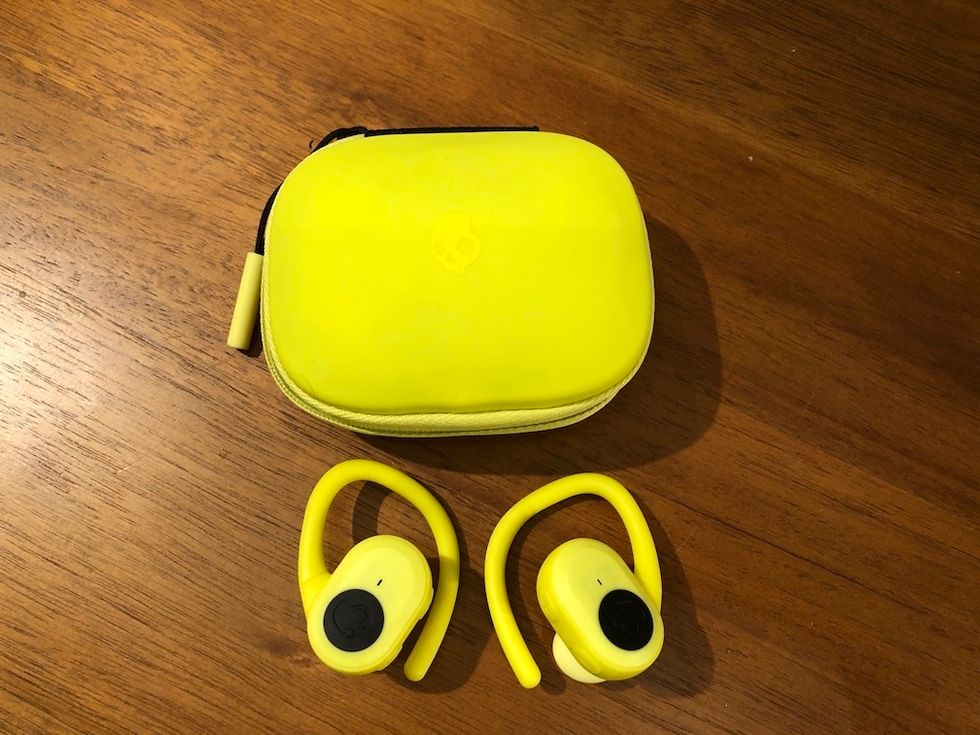 Skullcandy Push Ultra wireless earbuds have moldable tops to help secure a better fitGearBrain
While running

I put the Push Ultra on for a morning run, and found that while the over the ear design was meant for more security, I couldn't get them tightened enough over my ear. The earbuds have what Skullcandy call moldable hooks, and they're definitely flexible, but they weren't enough for me — probably because I was honestly concerned they would pinch or break if I tried to close them too much.
They fell out a few times, because when I would try to hang them, and tighten them, they still don't fit inside my ear. Granted, I know I have small ears, and this has come up for me in testing a number of earbuds. I finally had to accept that I had to tighten them periodically as I ran. In short, I think these would be perfect for someone a bit larger as I am sure they fit much more snug in the ear.
The sound, though, was really great, as I find many of Skullcandy's devices. Very clear, crisp, round without any muffling. Music sounds bright, podcasts easy to hear — and nicely, you can also pick up ambient sound around you. That's a plus while running, walking or exercising outside.
Features

Like the Skullcandy Indy Fuel earbuds, the Push Ultra's have Tile trackers in each one. Those can be paired to the Tile app, which can then help to locate an earbud if you drop one and you're still in range. That's a great feature as losing one earbud is not uncommon with wireless devices — and a serious pain.
The case for the Push Ultra is also where they charge, and the earbuds can hold 40 hours of battery life — six hours at a time. That's a lot of runs. Honestly, I found I didn't need to charge them for an entire week of testing, save for putting them back in their case, which for me included running, working and just spending (too much) time on YouTube.
The design of Indy Fuel's also lends themselves to some outdoor wear and tear. They're meant to get wet, you can drop them in a puddle (or three) and you can actually rinse them off in water. The case is also very well designed, covered in a material that meant dropping them never worried me. Because of the open charging port on the back, through, I didn't test the water resistance of the case.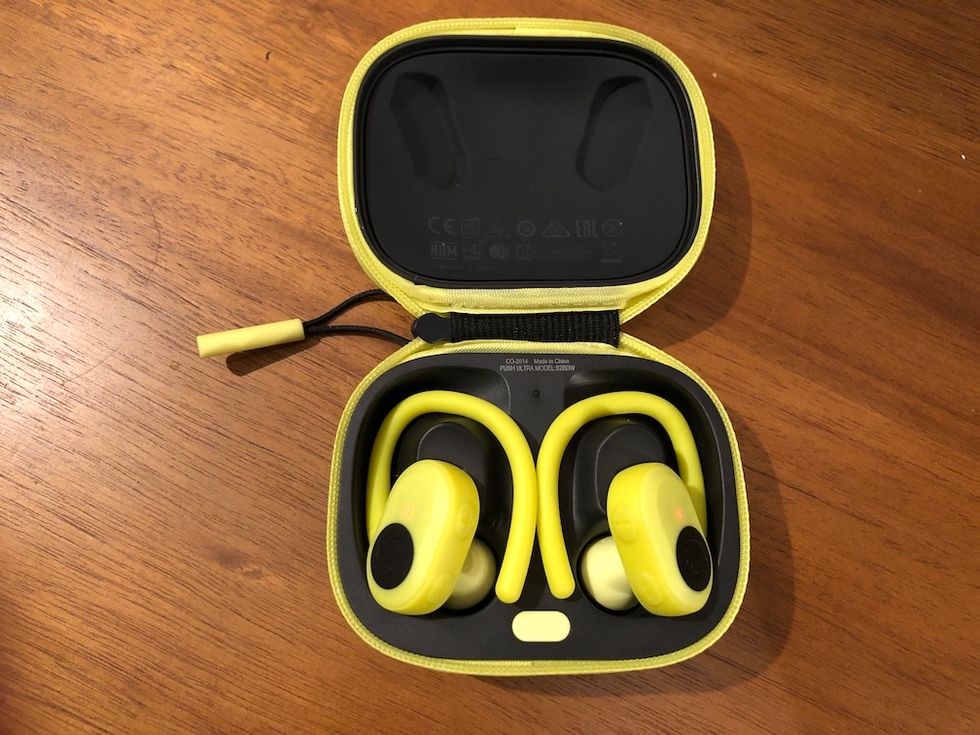 The Skullcandy Push Ultra earbuds have water resistance, which means they can get wetGearBrain
I did find the case and headphones together to be a bit big and heavy. While I'm not commuting right now, the size is something I'd think about. It would be fine for a backpack or bag, less so for jeans pocket.

As for voice assistants, you can press the buds — one side or the other — three times and they will pull up all three of the main options, Alexa, Google Assistant or Siri depending on which one you're connected to through your device, which was easy to bring up.
Connections
I ran into some issues with the Push Ultra that I had experienced with the Indy Fuel — connecting over Bluetooth. The earbuds were temperamental, not wanting to easily link up to devices. Skullcandy does provide step-by-step instructions on how to link them — or relink them — and they do work. But you might have to try these steps a few times, as I often did. And that's not always the most fun.
You can also use the earbuds as solo devices, just one for example. You just take one of the Push Ultra out, put it in the case, and the other will continue to work. That's a nice feature as typically when one earbud comes out on other sets, both will stop working. I liked this option. The problem? When the earbuds went solo, pairing them back together again — for me — meant I needed to go back through the full steps including turning them off, putting them back in their case, and getting them connected again.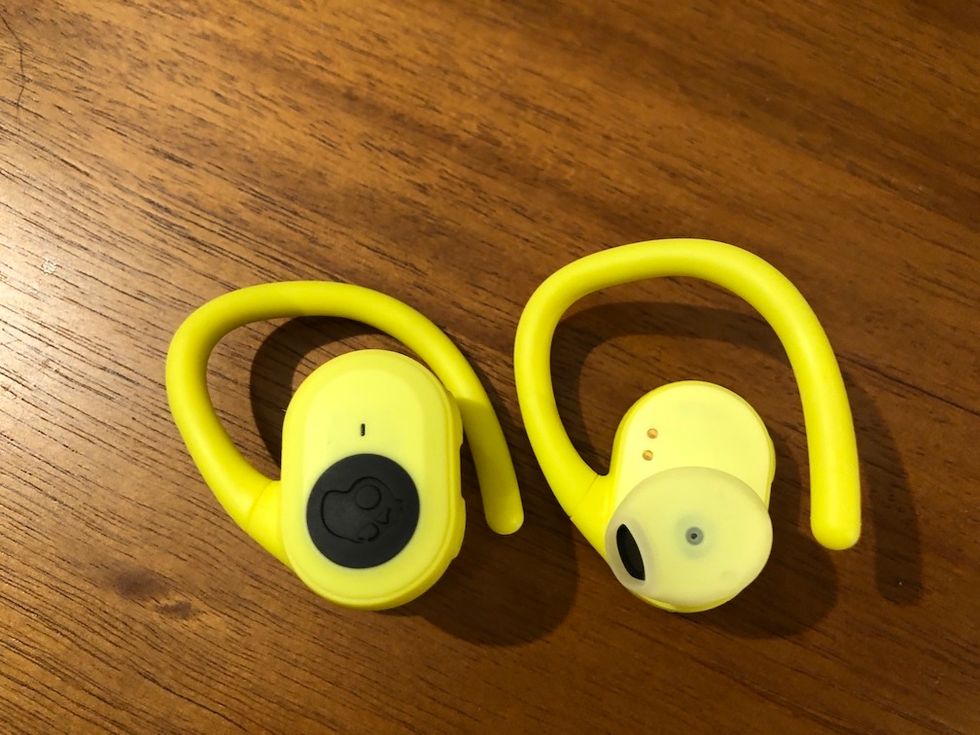 You can use each one of the Skullcandy Push Ultra earbuds on their own as solo devicesGearBrain
Price

The Skullcandy Push Ultra Wireless earbuds are $99.99 and come in three colors, yellow and black, with blue coming in the spring of 2021.
To buy? Not to buy?
The Push Ultra are a solid, sounding pair of earbuds, and I found they worked really well while writing on my laptop or on my smartphone. They weren't optimum for me while running, but again — small ears. I do think they would have been better suited for me for less intense outdoor activity, such as bicycle riding or walking.
The ability to use them as solo earbuds though is a big plus, as are the Tile trackers to help you locate one of them should they disappear on a run, in your home or even under your desk. The need to re-connect the earbuds to Bluetooth occasionally is something to note. But the Push Ultra are a solid price, waterproof and worth considering if you're in the market for a budget pair of earbuds.
Pros:

Great sound
Works as solo earbuds
Tile tracker built inside
Cons:
Hard to connect over Bluetooth
Earbuds are a little large
Case is a bit big and heavy