Like GearBrain on Facebook
Excellent active noise cancellation power the $129.99 Skullcandy Indy ANC, a fairly new addition to the company's line of wireless earbuds. With solid sound typical of the brand, the real plus here is the ANC feature, which is some of the best we've tested from Skullcandy, likely because of the well-fitting design of the earbuds.
We put these to the test, trying them while listening to music, connecting to a computer, making calls and exercising. One or two misses, but mostly hits, makes these worth a good look for anyone in the market for wireless earbuds.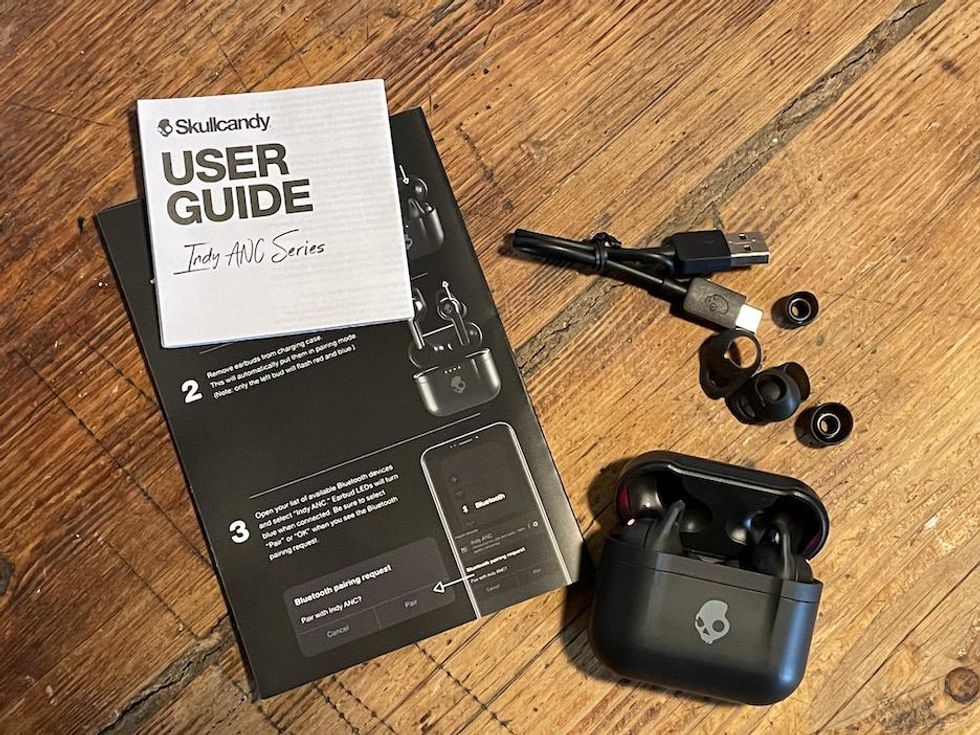 You get extra ear gels, a USB-C cable, user guide, case and the Indy ANC earbudsGearBrain
What you get

Inside the box are the two Skullcandy Indy ANC earbuds, the case, a USB-C charging cord and a paper instruction manual. There are also extra ear gels to help find the best fit for you.
The earbuds hold 32 hours of battery life through the case which acts as a backup charger. I found I needed to connect them only once to a charging cord, but the case will also charge wirelessly as well. Using ANC, as typical, will drain the battery faster, but you can get a quick two hour popup from a 10-minute charge.
Tile trackers are also inside the earbuds as well, a feature that has become almost standard on Skullcandy devices. This means you can pair these to the Tile app and locate them should you misplace them by getting them to ring. That's a nice feature since these are small, and they're easily hidden under a couch cushion, or a dog. (Just saying.)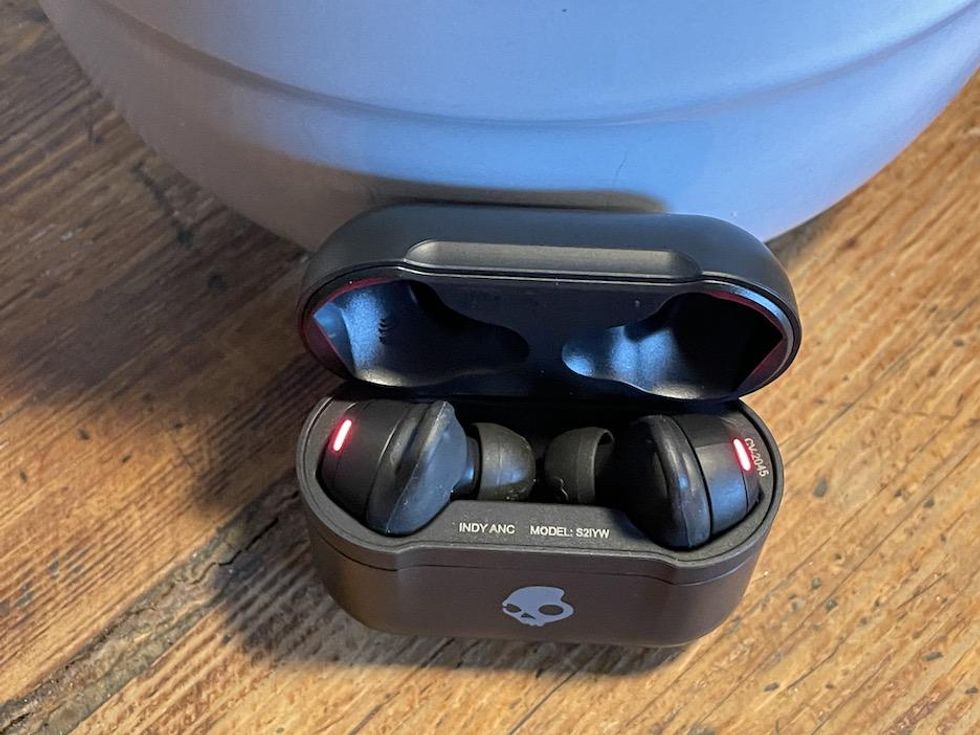 The Indy ANC pair easily with computers, smartphones and some gaming equipmentGearBrain
Design and fit

The earbuds have a long drop down piece, with a top fin that is designed to fit into the ear and hold them in place. That fin did help to stabilize the Indy ANC for me, but active workouts did sometimes knock them out of place. (Note that happens to me with almost any wireless earbuds though, including the Apple AirPods Pro.)
The case and earbuds have a bit of a rough spot, where the fin at the top rubs when the case opens and closes. This doesn't keep the case from shutting, but it is something to note, and I expect would eventually effect the top of the earbuds.
How they worked
The earbuds paired easily with both my iPhone and computer over Bluetooth. I was able to easily make calls, listen to music and manage a Zoom call.
The only hiccup are controls. Because these are earbuds, you're going to be pressing the top of them to change and manage the features you want to bring up. These can take some getting used to between long presses, short presses, multiple presses — it's can feel like a lot to learn.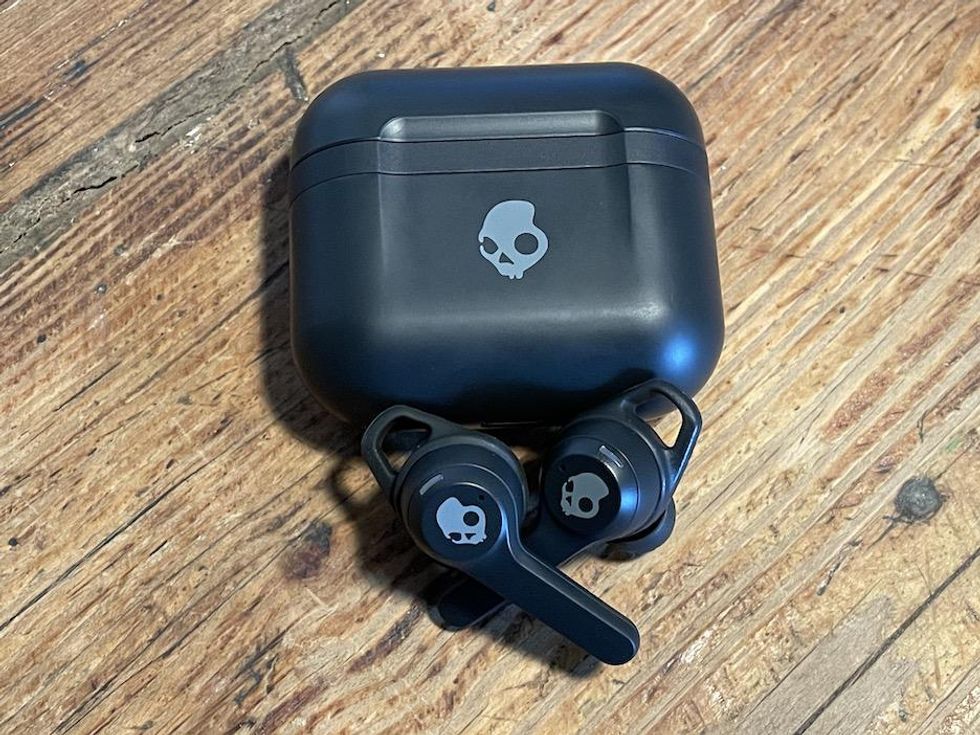 The design with the upper fin fit well into the earGearBrain
Bringing up a voice assistant to make a call, like Siri, Google Assistant or Amazon Alexa? You press one earbud three times. Shifting modes from music or podcast or movie? Press twice, then a third and hold. Usually. Because sometimes that also stopped music or a movie I was watching.

But here is a nice addition — you can use either earbud in Solo mode, which means they'll keep working even if the other is not in place. ANC does not work in Solo mode, but to bring the second earbud into play, just put it back in your ear. ANC should start working again as well.
ANC is the automatic default — you'll notice it immediately when you start using them. Should you want that off (which I typically do when out running), you'll want to tap one of the earbuds (either one) and then press and hold the same earbud again for two seconds — or until you hear the British voice tell you you're in ambient mode, or noise cancelling off, or noise cancelling on." The point? Your two seconds may not be Skullcandy's two seconds, so always wait until you hear the voice telling you what mode you're in.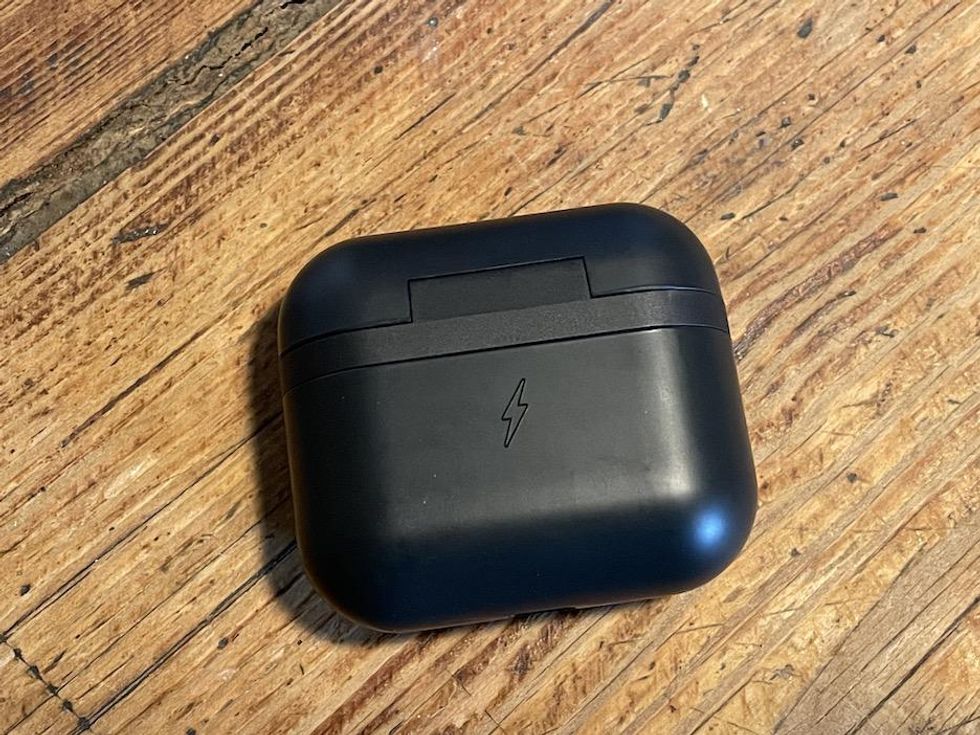 You can charge the Skullcandy Indy ANC wireless earbuds wirelessly on the backGearBrain
Sound and ANC

The active noise cancellation feature is really excellent in these Skullcandy earbuds — almost better we feel we should say than the over the ear options including the brand's Hesh ANC (which are actually the same price.) The reason we think is because of the snug fit from the earbuds. While they may not have held up super well while working out, falling out on occasion, the design was great for blocking out sound — and supporting the ANC ability built inside.
Since ANC earbuds and headphones can be an expensive addition (Apple asks its customers to pony up an extra $99 for ANC between the AirPods Pro and the AirPods) we think the price here is very fair.
Sound though was a little muddy. I noticed it less while taking calls, which is typical, and even while watching a movie or news clip. But some songs seemed to be a bit flat — not horribly, but audiophiles will likely pick up on this. You can adjust some of the sound through the Skullcandy app which can be downloaded to both iOS and Android devices, although we have had some issues with the app in the past.
Price
You can pick up the Skullcandy Indy ANC wireless earbuds for $129.99 in only black, on Skullcandy's web site.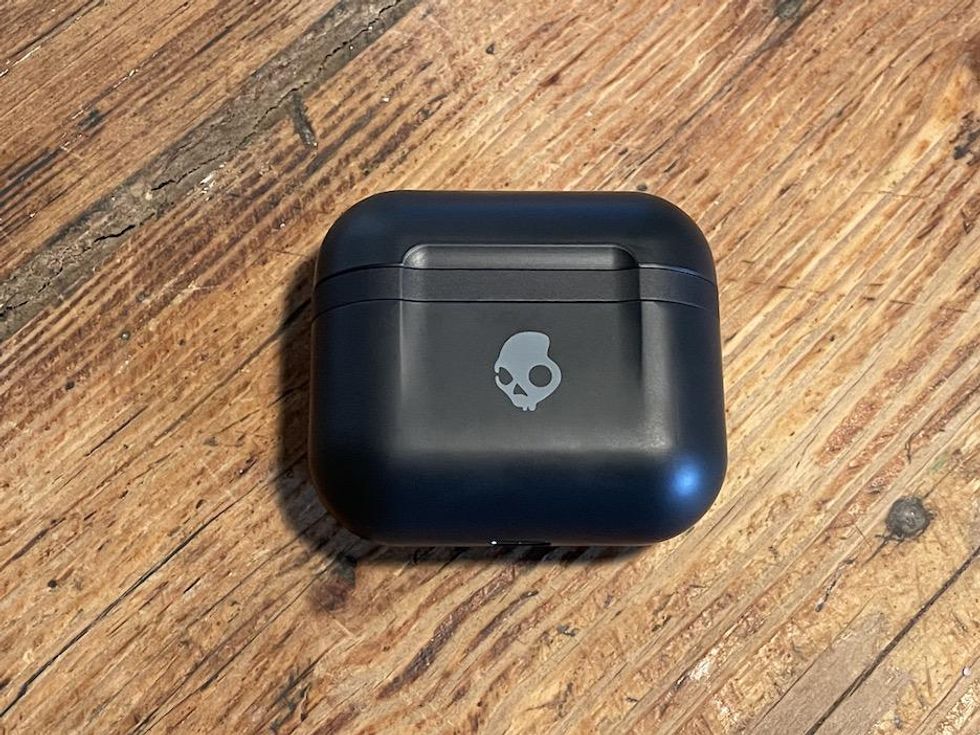 The Skullcandy Indy ANC wireless earbuds also have Tile trackers built insideGearBrain
Worth buying

The ANC feature alone is truly outstanding, and for anyone looking for wireless earbuds with this ability, the Indy ANC is absolutely worth a look. I sometimes could hear a — how do I describe this — almost a wave of white noise in the background, very subtle, with the ANC working. But that wave blocked out almost completely anything happening around me — even my loud typing on a keyboard.
Sounds quality is good, and certainly good enough for watching movies, making calls and even listening to music. Yes, there's a bit of a dampen in ranges but the ANC make up for this and then some.
Certainly $130 isn't a hiccup, but ANC features can add onto the price of earbuds and headphones, like the $320 Skullcandy Crusher ANC. And for the quality offered by Skullcandy's Indy ANC wireless earbuds, these are certainly a solid choice.
Pros:
Excellent noise cancellation
Good price
Good sound
Cons:
Controls are difficult to master
Earbuds slipped during heavy exercise
Case would rub against earbuds
Like GearBrain on Facebook