Smart home companies are now chasing renters, with new devices that can be plugged in — and then unplugged, packed up and taken to a new space. From well-known companies like C by GE, to companies pivoting into smart home space like BodyGuardz, all levels of smart devices are now tailored for that more transient of dwellers, those who may not have decided where they want to put down roots.
These products don't require drilling, nor opening up a wall and looking for wires. Instead, they can be attached with stickers, plugged into an outlet or simply tossed over a door — and then wrapped up ready for their next location.
Toucan: Wireless security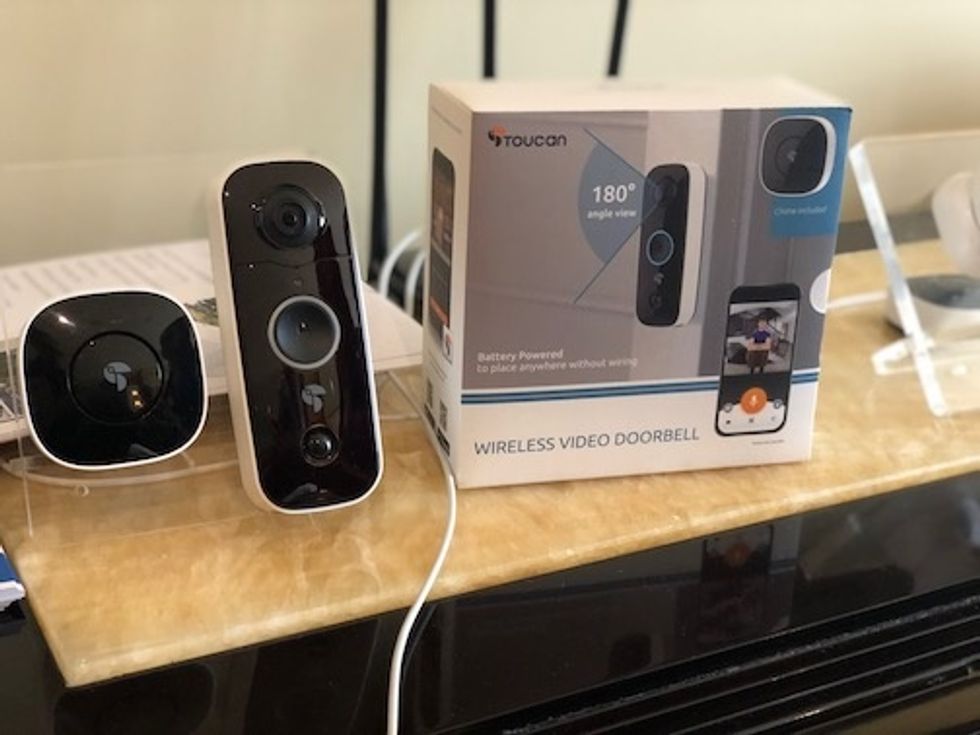 The Toucan Wireless Video DoorbellGearBrain
Toucan's previous smart home camera and sconce light are wired devices, that have been around for a while. But the company has two new products, both unveiled at CES 2020, that are wireless including an outdoor camera and a wireless doorbell with chime.

The wireless outdoor camera, which can be purchased now, can even let you see if packages have been left on a porch, as you can angle the camera for the best view that suits your space. The device includes support for two-way conversions with a speaker and microphone, plus motion detection.
The new video doorbell camera has an impressive 180-degree field of view, and includes motion sensors and night vision. There's a doorbell chime that can be pre-ordered that plugs into an outlet, and it plays six different sounds as well. You don't need wiring for a doorbell — and you can run the entire thing on two AA batteries. There's a $2.99 a month subscription fee for seven days of storage — but glancing at footage for 24 hours and back is free.
Toucan Wireless Video Doorbell Camera, 180 Degree FOV HD Video, Indoor Chime, 2-Way Talk, Alert, Siren Alarm, Record, Night Vision, Adjustable Motion Detector, Waterproof
Luminook: Lights where you want them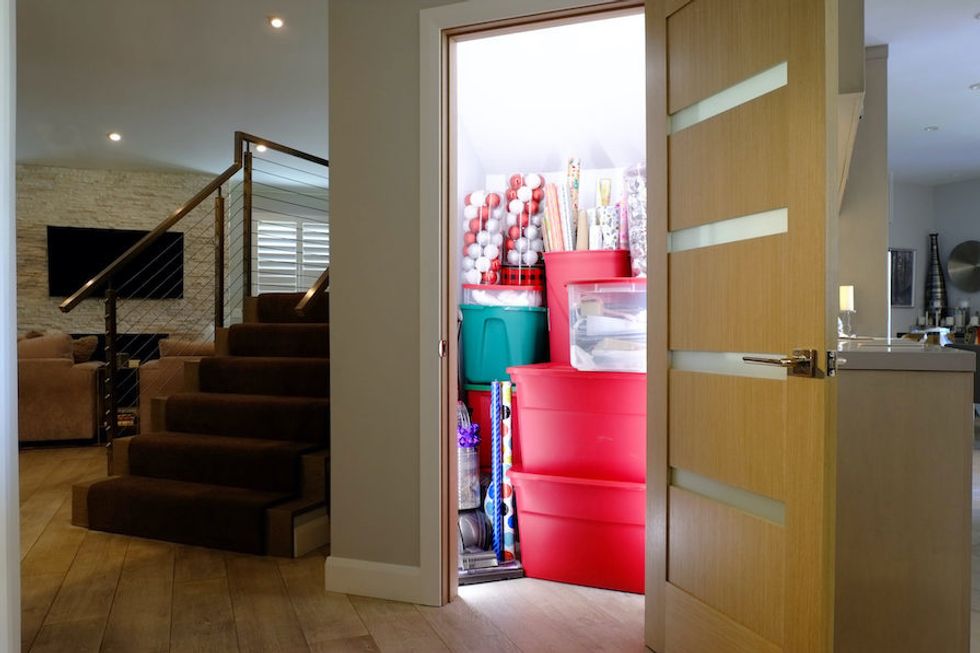 Luminook lights working in a small closetLuminook
Moving into a new space — especially if you're a renter — can be tough when it comes to lighting. You're often limited to existing outlets, and extending that reach means running cords across a floor, a feng shui nightmare.

That's exactly the problem Luminook's founders wanted to address, lights that runs on rechargeable batteries and can be fascinated anywhere someone wants, even behind a door in a closet, or running along baseboards.
The lights are attached with 3M adhesive tape, and open and close based on motion sensors. You can customize details in the app, from color temperature to brightness. But the best detail is that you can just peel the lights off when you leave, and install them in your next location.
The company is currently taking pre-orders on Kickstarter at $59 per light, and they've already surpassed their funding aim of $20,000. But they don't expect to start fulfilling these orders until October 2020, something to keep in mind if a move is already in the works.
C by GE: Light switch simplicity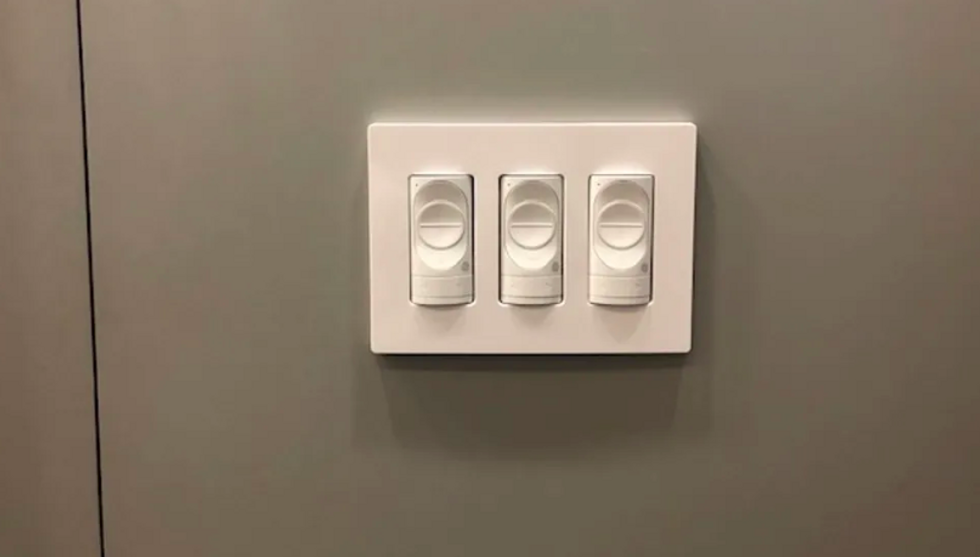 C by GE wire-free dimmersGearBrain
C by GE is a powerhouse in the smart home space, with lights that can do anything, even play music. The company is putting a lot of attention now into the renter market, focusing on a device that traditionally has to be hard wired into a space — the light switch.

The new line is a series of wire-free light switches that operate on battery, and can be placed anywhere you can attach mounting tape.
The switches work with any C by GE bulb and plug, and connect to them over Bluetooth, while also operating through voice assistants Amazon Alexa and Google Assistant. There are also two other wire-free products, a remote and motion detector, and all will start at about $23 and be available sometime in the first quarter of 2020. (Check out The GearBrain, our smart home compatibility checker to see the other compatible products that work with Google Assistant and Amazon Alexa enabled devices.)
GE Lighting 48717 Smart Switch Dimmer, Wi-Fi, Works with Alexa/Google Assistant Without Hub, Single-Pole/3-Way Replacement C by GE On/Off Paddle, White
BodyGuardz: Just hang over the door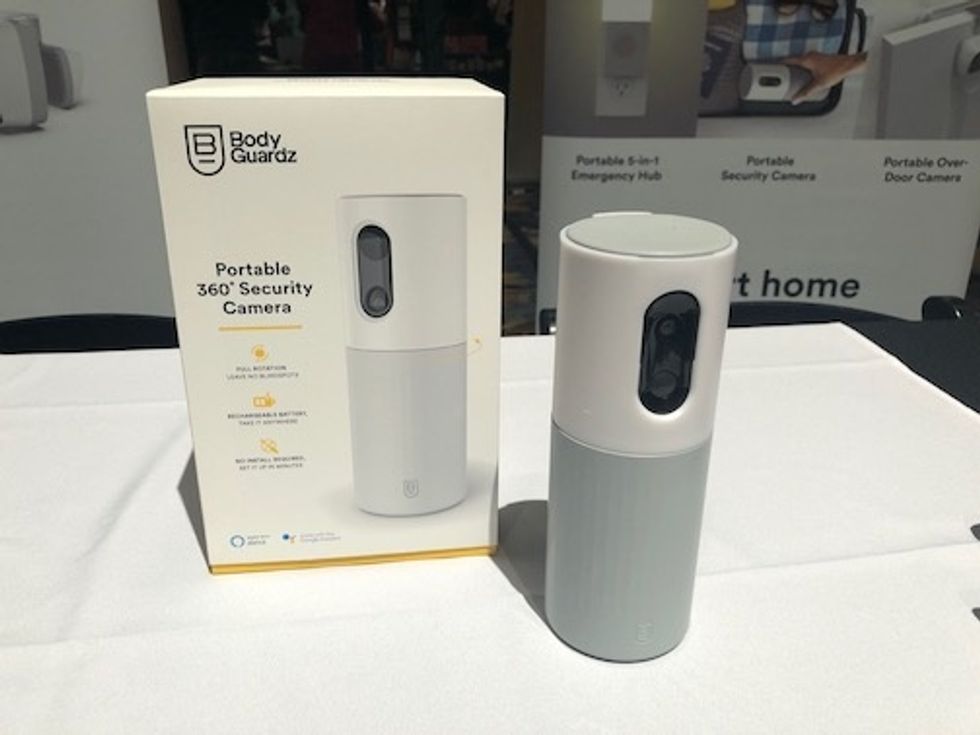 The BodyGuardz Portable 360º Security CameraGearBrain
BodyGuardz, known best for its screen protectors and phone cases, is working on moving into the smart home space, with three upcoming products that can be installed through an outlet or just thrown over the door. The over the door camera is $279, has one side — designed for outside — which is waterproof and has a 5-inch screen. The camera has a rechargeable battery, and for $3.99 you can access stored footage captured by the device. (And yes, you can bring it with you when you travel.)

There's also the Portable 360º Security Camera with a motion sensor, infrared, and two-way talk, with a rechargeable battery that can also be slipped into a suitcase and used wherever you travel, or live. Yes, it also connects an app so you can log in to see your dog, your hotel room — or even the backyard.
Finally, there's a Portable 5-in-1 Emergency Hub for $99, with a speaker and a nightlight that can trigger panic alerts when needed. It plugs into an outlet or it can be juiced by a portable charger. They're all expected to launch by the end of the second quarter.
Ezlo: Plug and play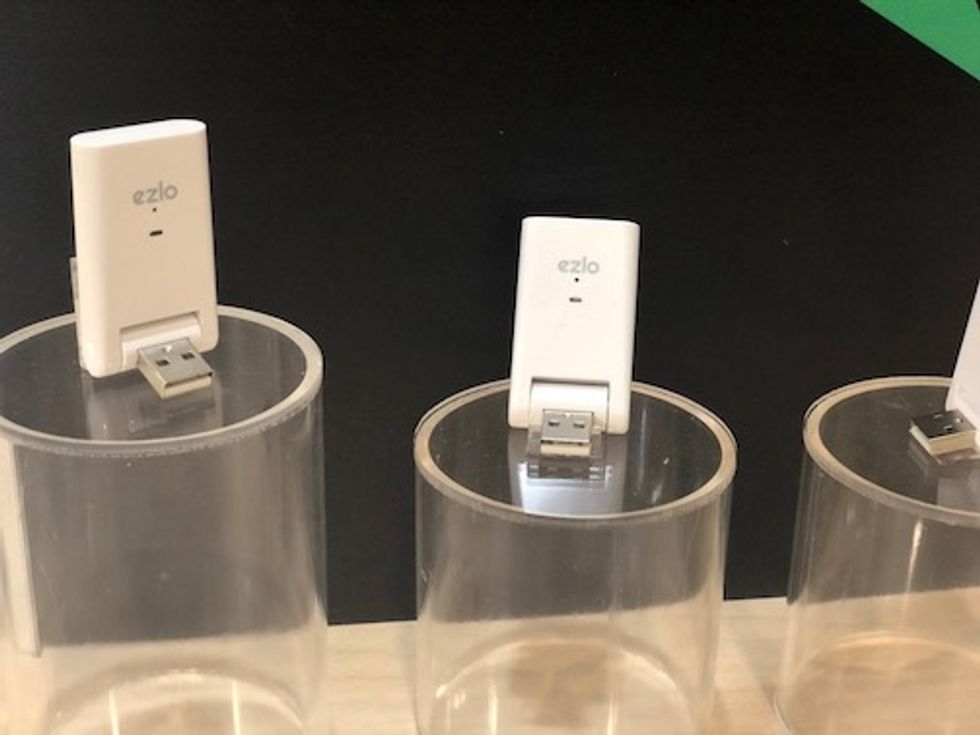 The Ezlo Atom USB hubGearBrain
Ezlo's Atom, which launched in September 2019, is so small you can palm it — and certainly pack into a bag. The smart hub plugs into a USB port, and connects Z-Wave devices together all for $29.

Ezlo is very focused on renters and apartments, like all of the companies here, with devices that are portable and can be installed with a simple plug, rather than wires. In doing so, anyone — renters, home owners, those who live in houses or multi-unit dwellings with rules, can start to add connected devices to their home easily, and without worrying about running a cord or opening a wall and not knowing how to handle what they find inside.
Vera EzloAtom-US Ezlo Atom Home Control Hub, White