At GearBrain we have already covered how to build a smart home for various budgets - from as little as $100, up to the $1,000 range, and beyond to the circa $13,600 we estimate you would need to make the average US home completely smart.
But what is money doesn't matter? What if you have just won the lottery and want the very best smart home tech has to offer? You'll want a smart fridge, naturally, smart lighting in every socket of every room, a 75-inch television - and why not an Alexa-controlled swimming pool, too?
Read More:

These are our favorite money-no-object smart home gadgets, devices and appliances.
Smart fridge - $5k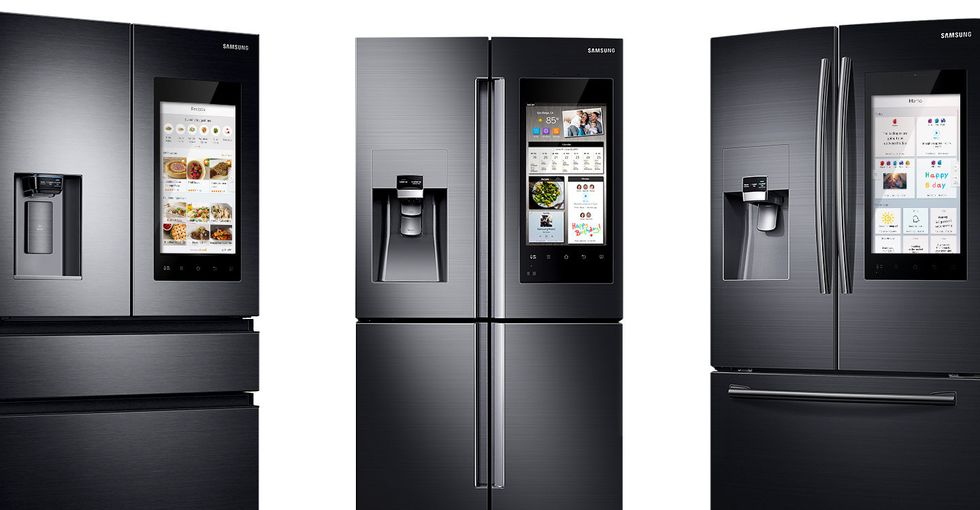 The fridge - sorry, Family Hub - has a touch screen, speakers and three cameras to remotely see what food you have inSamsung
Of course, you're thinking - of course they started with the $5k smart fridge. And why not? The fridge - sorry, 'Family Hub' - is being positioned by tech companies like Samsung at LG as a central component of a family's life.
Priced between around $3,000 to $5,000, the Samsung Family Hub is a refrigerator with a 21.5-inch touch screen running a wide range of apps. There's a calendar, media player, a digital shopping list which can be updated with voice commands, and a SmartThings app for controlling Samsung's smart home ecosystem. Because turning the lights on and off from a touch screen on your fridge is what living in the future is all about...
Inside, there are three cameras so you can check what food you have in from the smartphone app while you're at the grocery store. New for 2018, Samsung's Family Hub 3.0 software includes Bixby, the company's voice assistant and answer to Siri and Alexa. The latest models also come with speakers for playing music in the kitchen.

Finance deals are available here, but start at a little over $300 per month. Imagine paying $300 every month for your fridge.
Robotic lawn mower - $2,500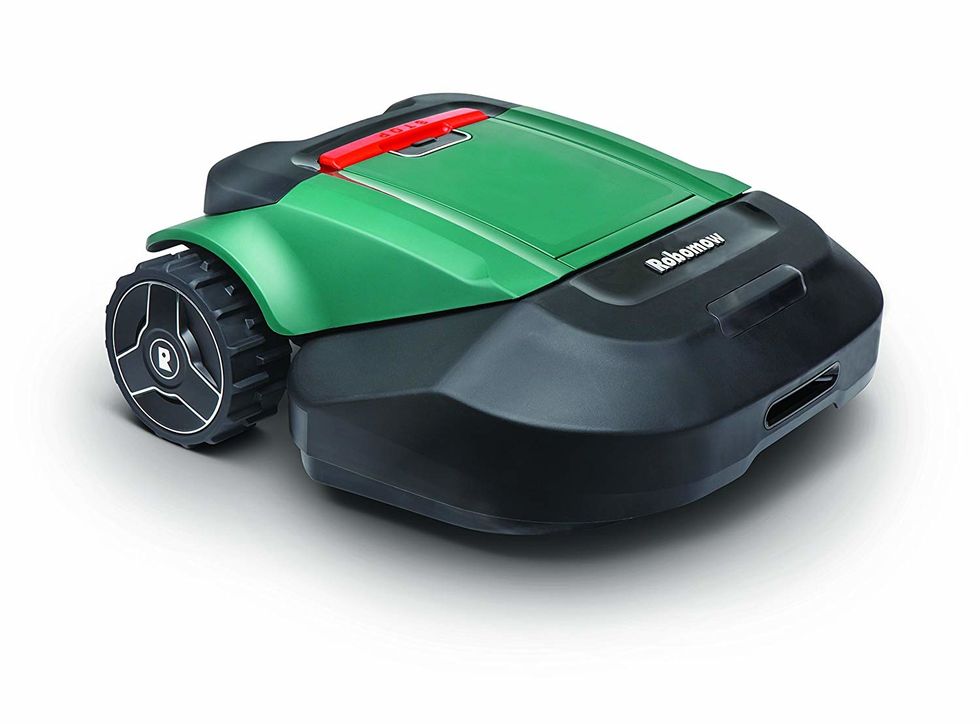 Robomow
Robotic lawn mowers are to your garden what a Roomba vacuum cleaner is to the lounge. Just like their indoor siblings, mowers like the Robomow RS630 use sensors to navigate their way across your lawn, trimming the grass and returning to their charging station when they're finished.
This particular mower can cover up to three-quarters of an acre, tackle grass up to 8cm (3.1 inches) tall, and can negotiate inclines of up to 36 percent. The battery lasts around 80 minutes, and if by then the job still isn't done, it will dock, recharge, then head back out to finish off.
Read More:
A robotic vacuum cleaner for every floor - circa $1,000 each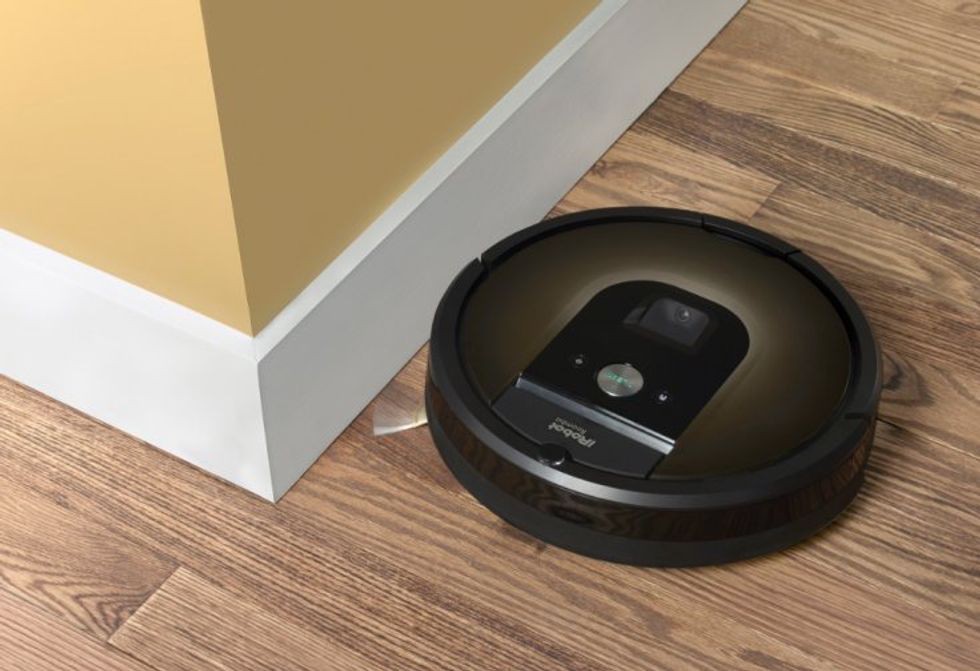 iRobot
There is a wide range of robotic vacuum cleaners to choose from, with some starting at less than $100. But if you want to go for a market leader like Dyson, LG, Samsung, or Roomba by iRobot, then $900 to $1,000 is a more accurate figure.
For this, you get a power vacuum cleaner which intelligently drives around to suck up dust and dirt in the most efficient way possible. At this price range, the devices also come with Wi-Fi connections and companion smartphone apps, so you can control them while away from home, or ask Alexa to start and stop them.
But they cannot tackle the stairs, so when money is no object we recommend you buy one for each floor. Let's make that three, at a cost of approximately $3,000.
Philips Hue lighting, but everywhere - $5k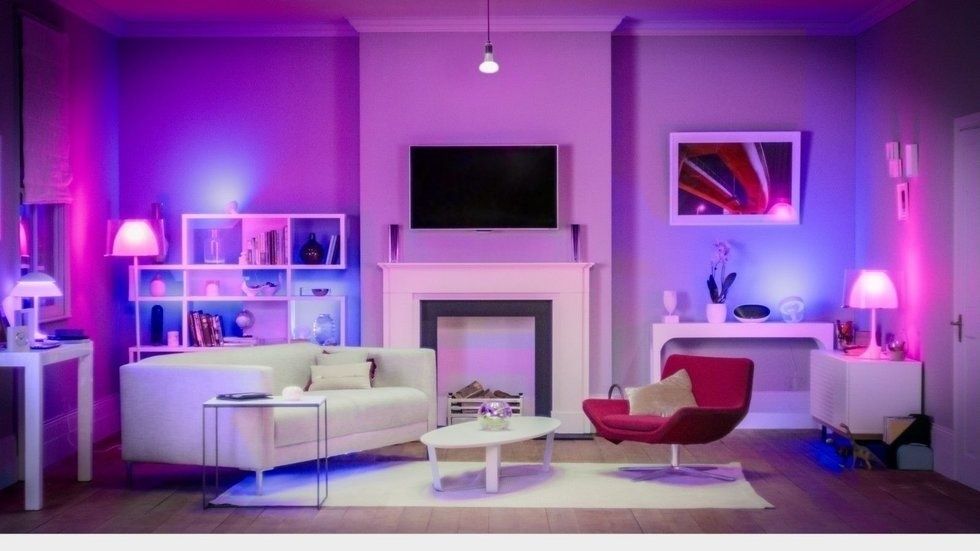 Philips
Yes, we know that smart lighting isn't necessarily expensive. But have you tried pricing it up for an entire home? We did exactly that in this article and found that, for the average four bedroom US home, the lighting bill gets to $3,000 without even trying.
Add in some of Philips' new outdoor Hue lights, invest in the equally new bathroom lighting, and we can see this budget stretching beyond $5,000 - especially if you get greedy with the $90 LED light strips.
A huge television - $10,000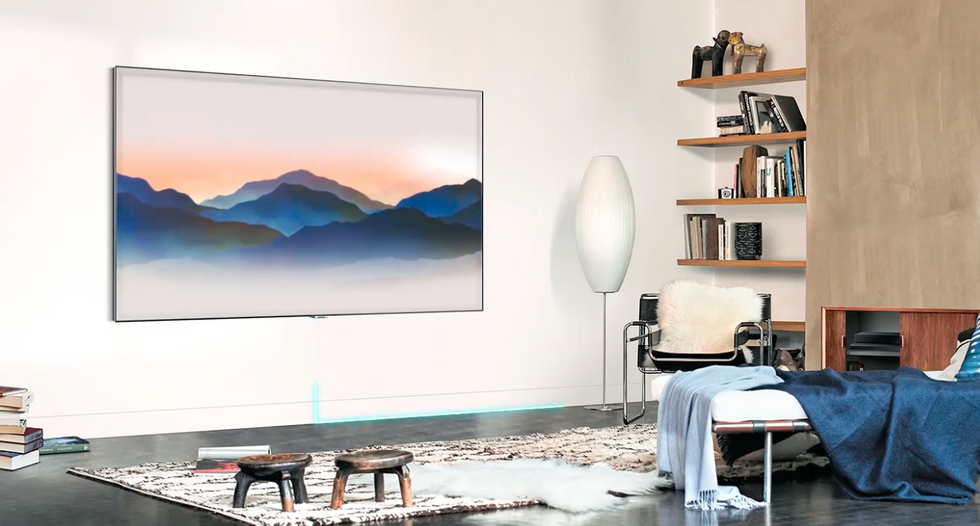 Samsung
Television prices have fallen massively in recent years, with good-quality Ultra HD (4K) screens now within the reach of many of us. But if you dare to look at the flagships, five-figure price tags are still well represented.
Regarded as one of the best televisions of 2018 by the specialist press, the Samsung Q9F is a good place to start for the entertainment room of your money-no-object smart home. It is available at 55, 65 and 75 inches and uses Samsung's QLED technology to boost color volume and picture quality. It has also produce over one billion colors, and is Ultra HD Premium-certified.
The remote supports voice commands (although not through Bixby just yet) and the television connects to SmartThings for controlling your smart home devices. (Check out The GearBrain, our smart home compatibility checker to see the other compatible products that work with Samsung SmartThings.)
Speakers - $80,000 to $1 million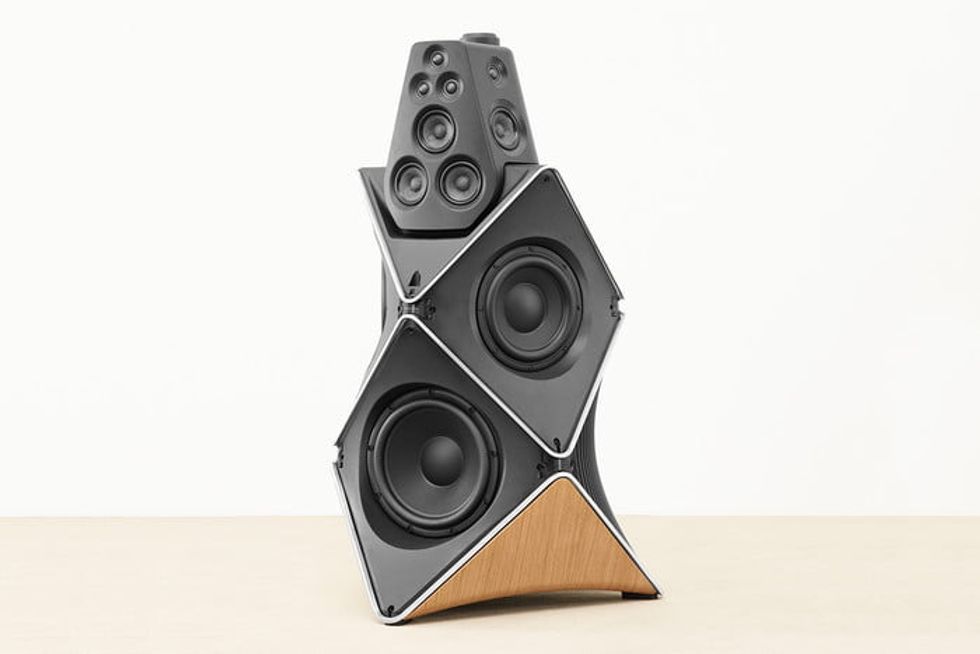 The Beolab 90 speakers cost $80,000Bang & Olufsen
Sure, you could invest $1,500 or $2,000 in a pretty good Dolby Atmos surround sound system to go with your TV. It'll sound great and really bring your Ultra HD Blu-ray collection to life.
But set aside the gimmicks of surround sound, dip a toe into the waters of expensive stereo speakers, and prepare to spend six or even seven figures on a top-notch system.
A good place to start - because they also make headphones and lesser speakers regular consumers can just about afford - is the Beolab 90 by Bang & Olufsen. The company flagship, this pair of speakers outputs 8,200 watts across 18 channels and costs $80,000. A cool trick is how microphones and active noise cancelling is used to remove sound reflected off the walls or nearby objects.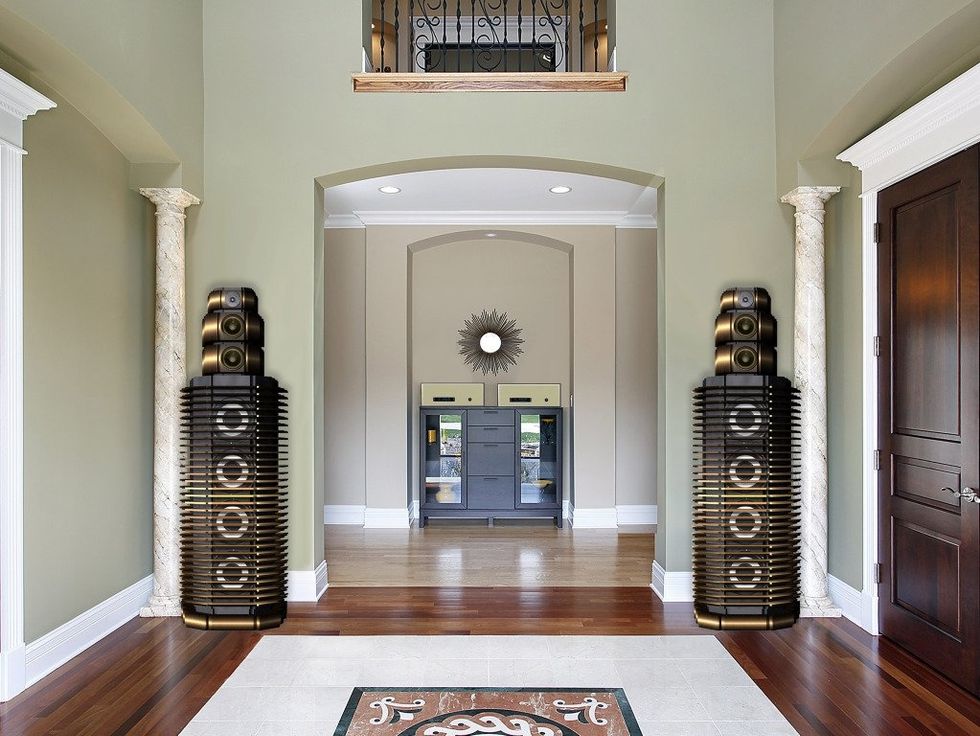 Higherfi
As for the million-dollar setup? You actually have a few options, including the Kharma Grand Enigma, the HigherFi Audio Opulence, and, for $1.2 million, the Transmission Audio Ultimate. The Opulence, pictured above, weight in at 2,100 pounds for the pair and promise to produce a sound you can feel as much as hear.

Prima Cinema Movie Player - $35,000, plus $500 per film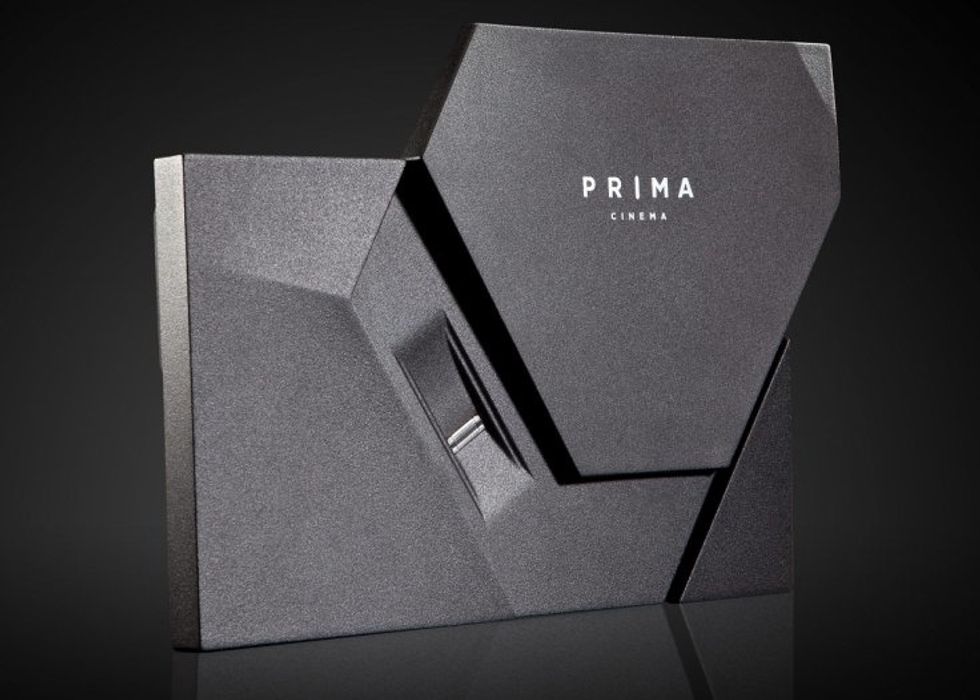 Prima Cinema
If driving to the theater to see the latest blockbuster just isn't for you, then worry no more, because for 'just' $500 each, you can watch movies at home on their cinematic release date.
Also, the box you'll need to play them, the Prime Cinema Movie Player, costs $35,000...
Swimming pool with Alexa control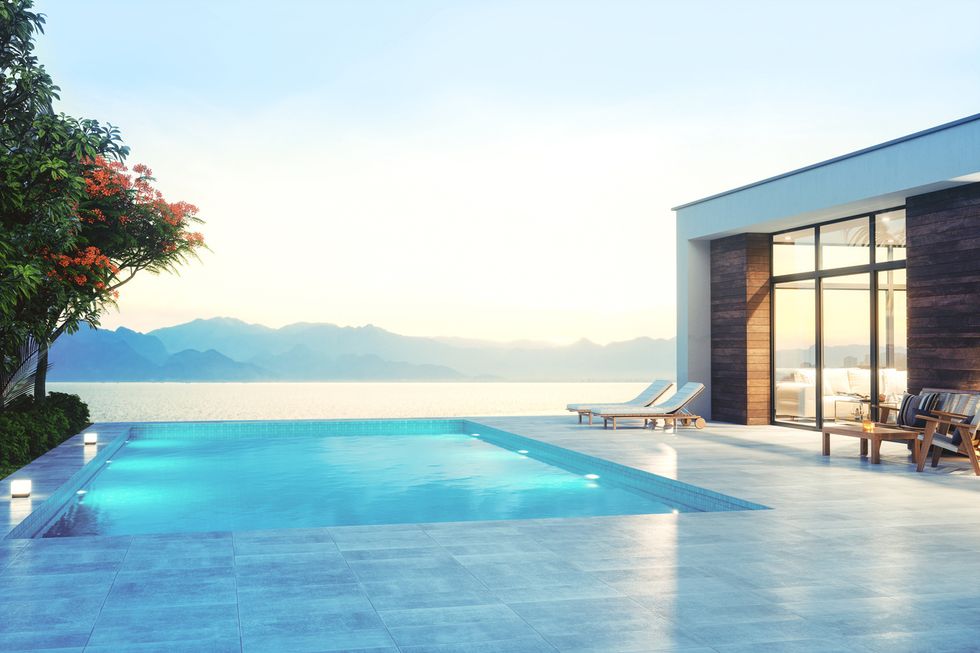 iStock
And finally...no luxury smart home would be complete without an Alexa-controlled swimming pool and spa.
Pool manufacturers Hayward, Jandy and Pentair all offer Alexa skills for adding some voice controls to their systems. Alexa's abilities here range from adjusting the water temperature, to controlling lighting in and around the pool, switching on a waterfall, and checking on the pH level of the water.
Previous systems have given such controls to an owner's iPad or smartphone, but with voice commands you can yell at Alexa from anywhere in the home, just so long as you're in hearing range of a smart speaker.
Check out The GearBrain, our smart home compatibility checker to see the other compatible products that work with Amazon Alexa.