Smart speakers, those that work on their own like an Amazon Echo or Google Home, are preferred by more than one-quarter — or 27 percent — of those who own connected devices.
That's the findings from a new survey from Clutch, a research site, in its 2019 Internet of Things Survey. (Note: GearBrain was interviewed for the report, although it didn't take part in the survey.)
While devices that deliver virtual assistants, including Alexa, Google Assistant and Siri, are popular — they're still not being put to the test beyond basic functions. Of those who own these smart speakers, two-thirds use them only to play music or listen to podcasts, while more than half, 56 percent, tap them to set an alarm or a reminder for something later.
Read More:

Clutch based its findings ofter speaking with more than 50 people, asking about the connected devices that they currently own and also use. Amazon Echo is the most popular standalone voice assistant among this group — with 66 percent owning one. And while Amazon's Echo line can work with thousands of devices, just 6 percent of those surveyed said they actually connect their virtual assistant, like an Alexa-enabled product, to another connected device.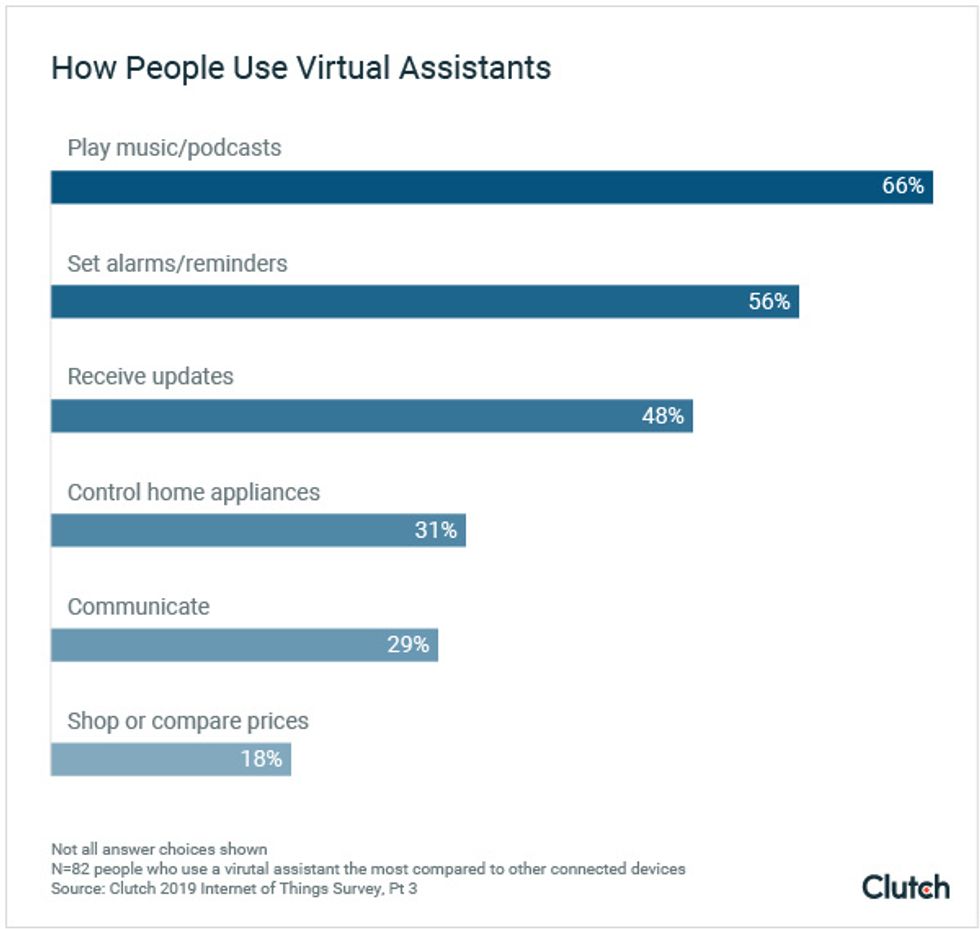 The main way we use our virtual assistants? Asking them to play musicClutch
Voice assistant-enabled products, like smart speakers, didn't come up as the most popular connected device. Smart home appliances are used much more — by almost half of those survey, compared to 23 percent who use wearables like smartwatches and the 16 percent who use virtual assistants.

But as people adopt more voice-enabled products in their lives, their dependence on smart assistants is likely to grow — expanding their use beyond getting the weather, playing the latest hit song, or reminding you to pick up the dry cleaning after a long day at work.