The first electric car built by German automotive startup Sono Motors uses moss to help filter air before it enters the cabin.
Shown off behind a transparent panel — which runs almost the full width of the dashboard — the moss is no longer alive, but Sono Motors says the moss retains its air filtration capabilities, which works in partnership with the car's traditional air filter.
Read More:
Dubbed breSono, the moss helps to filter out particulate matter from air entering the cabin, and also regulates humidity. It doesn't last forever, but is designed to be easily removed and replaced every few years like a regular car air filter.
Putting emphasis on breathing clean air from behind the wheel is a growing trend of late. Tesla cars come with a feature called Biohazard Defence Mode, which pressurizes the cabin and works in partnership with a HEPA filter to help clean the air more thoroughly than other vehicles. Tesla has found the system even helps clean up the air outside the car, too.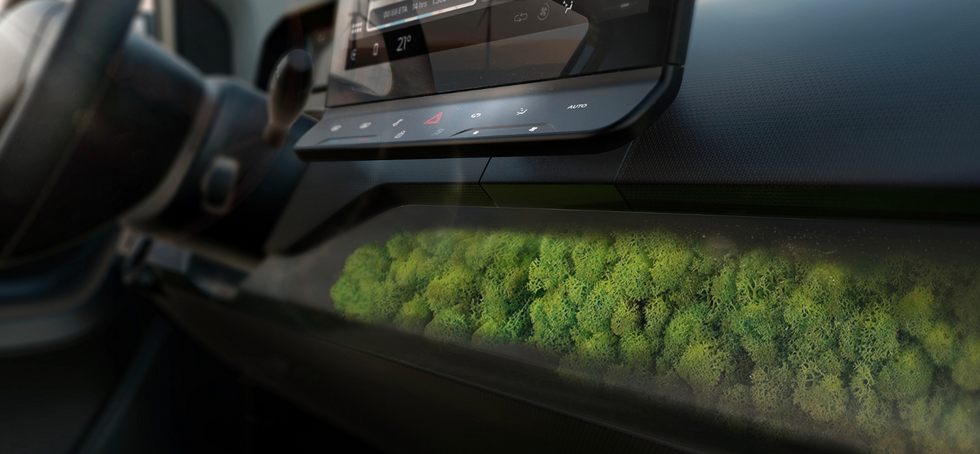 The moss can be replaced like a regular air filterSono Motors
Bentley is also keen to give its drivers and passengers cleaner air. The company's 100 EXP GT, a look at what a Bentley from the year 2035 might look like, features an air purification system in the trunk. This pumps clean air into the cabin, where CO2 levels are constantly monitored and a fragrance unique to the car is diffused — a fragrance incorporating sandalwood and fresh moss, no less.

All three of these vehicles tap into a growing trend which is also seen in the smart home. Here, systems like Darwin by Delos combine adaptive lighting with water filtration and air pollutant removal systems in a bid to improve our health.
Back to the Sion by Sono Motors, and the interior also features a 10-inch centrally-mounted touch screen display, not dissimilar to that used by the Tesla Model 3. Unlike that car, the Sion has Apple CarPlay, and there is a second display mounted behind the steering wheel.
The German-built Sion is powered by a 35kWh battery pack. That may sound modest, but it is backed up by an array of solar cells covering the car's roof, hood, doors and side panels. In all, there are 248 solar cells, which Sono Motors claims can provide enough energy for 34 km (21 miles) of driving every day. For many this could mean a free drive to and from the office each day, and not needing to recharge the car. Without relying on the solar cells, the car has a range of around 155 miles per charge.
The boxy five-seat car is expected to cost from €25,500 (U.S. prices have not yet been announced), and the company says it has received over 10,000 pre-orders to date. Production is due to begin in the second half of 2020.