Like GearBrain on Facebook
As televisions get bigger – 55 or even 65 inches is now considered normal – and our rooms generally stay the same size as they have always been, wall-mounting your new TV to save space makes more sense than ever before.
Not only does this approach make your room feel less cluttered, and less dominated by a huge new TV, it also means cables can be hidden from view, and your AV devices (like consoles and streaming boxes) can sit on a smaller media unit beneath the screen.
Read More:
There are also advantages when it comes to wall mounts that make it easy to adjust the position of the TV, and we happen to think a television on the wall looks great, too.
In many cases there is more to wall-mounting a TV than simply buying the mount itself. Wall type and TV weight are important factors, and so too are your plans for hiding cabling within the wall itself, and what you plan to put below the screen.
Can any TV be wall-mounted?
Generally speaking, yes. The vast majority of new televisions available in 2021 can be wall-mounted, thanks to screw holes in the back. Most manufacturers comply with the VESA standard, which means they have four holes on the back in a square or rectangle formation, ready for attaching to your mounting kit.
Smaller TVs and computer monitors have VESA 100mm holes, which means the four are spaced equally. Larger TVs use VESA 200mm, where the left and right holes are 200mm apart, with a 100mm gap between the top and bottom pair. Some of the biggest TVs use even larger forms of VESA, such as 400x400mm and 400x600mm.
Some manufacturers don't use the VESA standard and have holes spaced differently. For these you will need to find a mounting bracket that has been made specifically for that layout of screw holes.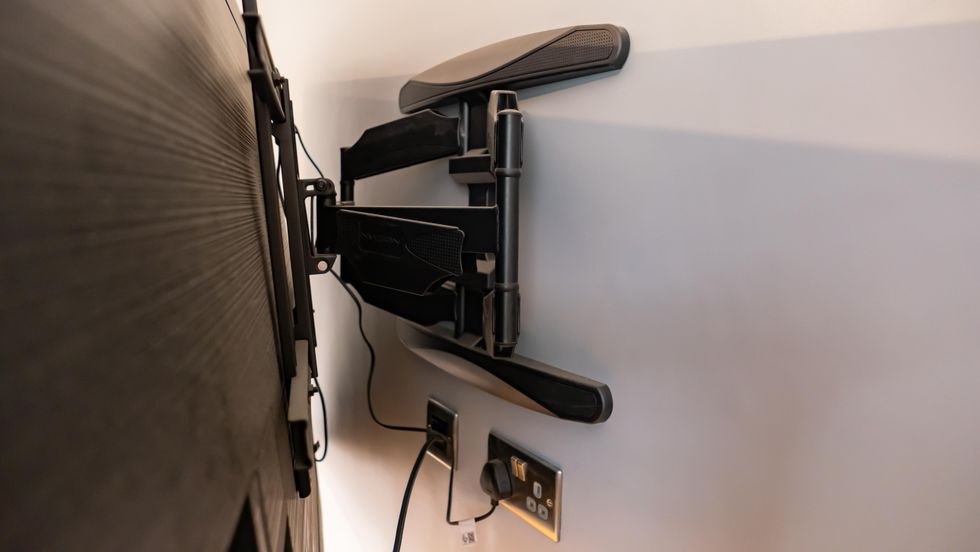 An adjustable mount makes it easy to access the TV's connectionGearBrain
What types of TV wall mount are there?

There are generally two choices here. One gives you more flexibility as it allows the TV to be tilted, turned, rotated and pulled away from the wall, letting you angle it however you like. These mounts also make it easy to pull the TV away from the wall to access its ports and other connections.
The other option is a 'no-gap' mount, which lacks adjustability but allows the TV to be mounted much more closely to the wall. Samsung's The Frame TV, which is designed to look like a piece of framed art when not in use, is a good candidate for a no-gap mount. On the other hand, if you want a TV that can be turned to face different parts of the room, or your sofa doesn't sit exactly square to the wall, you'll want to buy an adjustable mount.
In-between these, there are mounts that allow for vertical tilting but no other movement. If you plan to watch TV from the sofa, you will likely want to angle the screen down by a few degrees, so an adjustable mount is likely the best option in most cases.
TV wall mounts are fairly inexpensive compared to the price of the TV itself. Most options cost around $30 to $50 and are designed in a very similar way. Naturally, a mount with more features that is designed for a huge (and heavy) TV will cost more than a simpler mount for a smaller screen.
Can a TV be mounted on any type of wall?

In most cases, you will be looking at mounting your TV onto one of two types of wall. The internal walls of a home are known as stud walls, where plasterboard is attached to a wooden frame. In this case, you can either use special plasterboard fixings, or attach the mount to the wooden studs themselves. You'll need a stud finder to locate these behind the plasterboard, and that can also be used to locate pipes and wiring to avoid damaging them when drilling.
If mounting to a brick wall (in other words a load-bearing wall; the inside of an external wall), you can fix the mount straight onto the wall. In this case, be careful to drill into the brickwork itself and not the mortar between the bricks, as that won't be secure enough to support a heavy TV.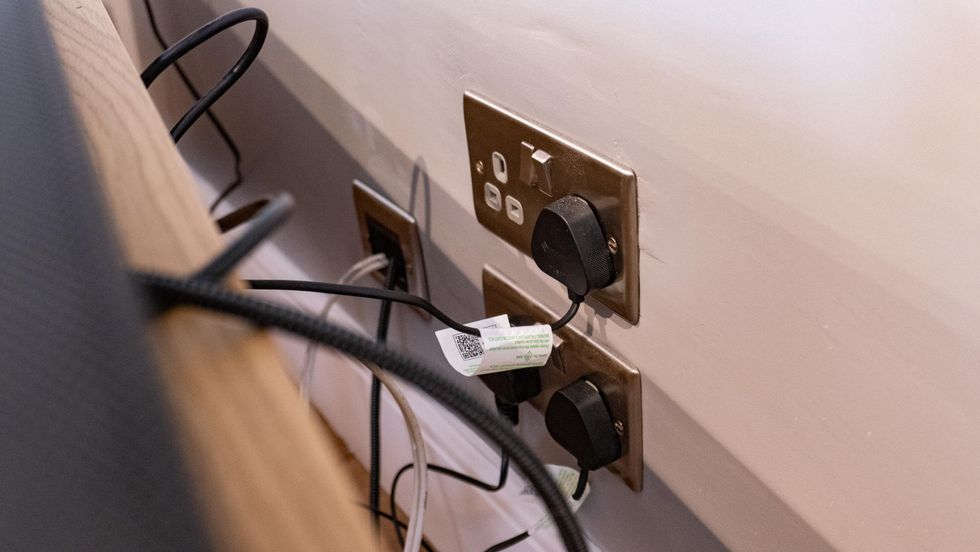 Wall outlets and channel (left) for cables fed up to the televisionGearBrain
How can cables be hidden behind the wall?

You have a couple of options when it comes to cabling. The first is to let the cables hang down to the wall outlets by the floor, but unless you have a Samsung TV with a One Connect box and its single, near-invisible cable, this is a somewhat unsightly solution.
Instead, you will want to fit wall outlets both behind and below the TV. The wall outlet behind the TV will be used to power it, and can also be used to power any smart lighting you choose to install to the back of the screen.
For everything else, we recommend you have an electrician install several wall outlets below the TV, or wherever you plan to locate devices like games consoles, media streamers and a cable or satellite TV box. To hide the cables running from here to the TV, a vertical channel can be chased into the wall, with an access hole behind the TV and a hole by the lower power outlets. You can then run HDMI cables through that channel to connect everything to the TV.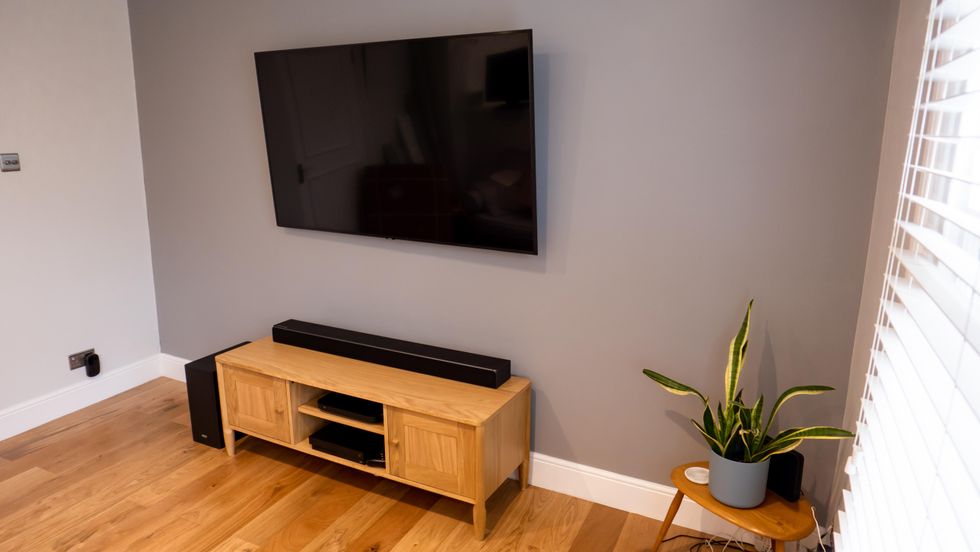 Wall-mounted TVs usually need tilting down slightly if viewed from a sofaGearBrain
We recently had this work done in our home, as photographed for this article. In our case, we had a pair of outlets installed behind the TV and two pairs at floor level, plus a channel chased into the wall to carry a single HDMI cable from the TV to a sound bar. We then have a satellite TV box and game console attached to the sound bar, meaning all cables are neatly hidden. There is also a pair of cables running from a satellite dish outside, under the floor, then into the same channel dug into the wall. With this setup, the two satellite cables emerge from the wall directly behind our media unit.

If we want to connect another device to the TV (because the sound bar only has two HDMI inputs) then an HDMI cable can be fed through the channel in the wall.
Remember to use an HDMI cable that is long enough and of the highest quality you need for what your TV is capable of. In other words, make sure to use an HDMI cable capable of carrying 4K at 120Hz (or even 8K resolution) if that's what your television is capable of. Otherwise, when it comes to connecting a new game console and running games at 120Hz, you'll have to run a higher-quality cable through the wall channel. For much more on HDMI, have a look at the GearBrain guide here.
All of this can be done by keen amateurs with decent DIY skills (and tools), but for everyone else we recommend hiring a professional who can take care of the drilling, chasing and mounting, as well as the installation of new wall outlets.
Check out The GearBrain, our compatibility find engine to find the right smart TV for our smart home.
The GearBrain, First Compatibility Find Engine for Smart Devices www.youtube.com
Like GearBrain on Facebook