The Tokyo Motor Show kicked off on Wednesday, serving up a hearty dose of electric and hybrid car news, plus a couple of far-out concepts, and even a Lexus with a drone to carry your luggage.
As ever, the show has so far given us a mix of vehicles due on sale very soon, plus those — like that Lexus — which are glimpses at what the future of the car might hold, rather than anything more concrete.
Read More:
Naturally, and echoing the Frankfurt Motor Show in September, a key theme in Tokyo is electrification. Nissan, Toyota, Lexus and Mazda all had electric vehicles on their stands, and so too did Suzuki, Mitsubishi and Mercedes.
Here are some of the battery-powered highlights to land in Tokyo this week:
Lexus LF-30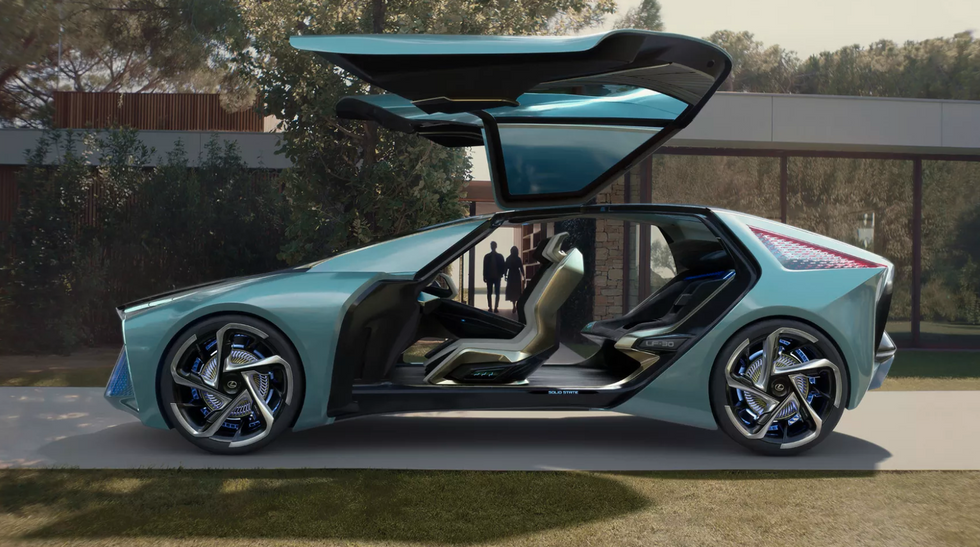 Lexus LF-30Lexus
Ahead of unveiling its first production-ready electric car next month, Lexus used the Tokyo show this week to reveal something far more outlandish — the LF-30 concept.

The car is all about sharp angles and future technologies, like gesture controls, a holographic user interface projected onto the all-glass roof, and a drone the company claims could be used to carry your luggage from the car to your front door.
As for the drivetrain, Toyota's luxury car brand claims the LF-30 is designed to house a 110 kWh battery pack with a range of around 310 miles using Europe's WLTP test cycle (so the number will be a bit less using EPA figures). The carmaker claims the car can go from zero to 62 mph in just 3.8 seconds.
Thee's artificial intelligence, of course, and a voice assistant too, which Lexus says will learn about the driver and passengers the more the car is used. Naturally, Lexus makes claims of the car being partially autonomous too, but this being a concept the company can say whatever it wants, so we're not holding our breath on that — or the drone — for now.

That said, we like the design language of the car and hope that some details like the door creases and angular rear lights make their way into future production models.
Mazda MX-30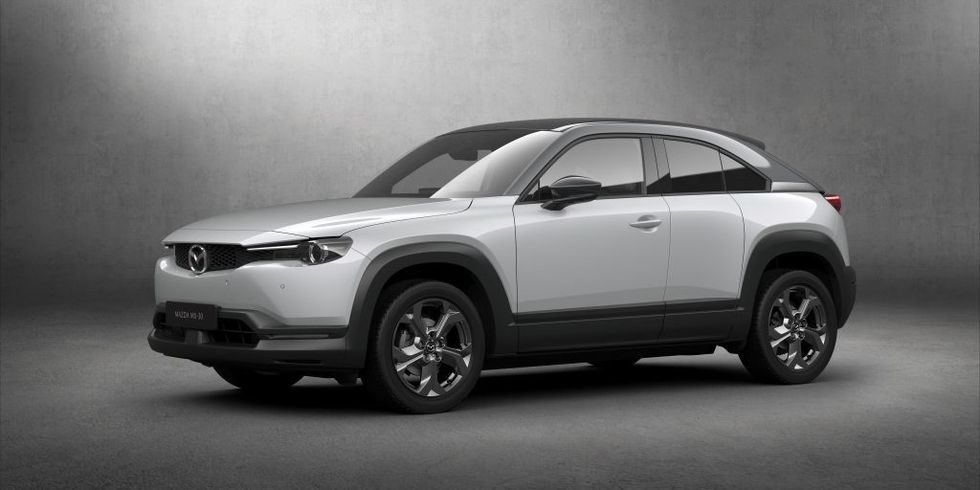 The MX-30 has a range of just 124 milesMazda
Taking a few steps closer to reality, Mazda used the Tokyo Motor Show to reveal its first electric car. Mazda fans will recognize the backwards-opening rear doors from the company's RX-8 sports saloon, and on a similar note the company says the MX-30 "has been developed for customers who don't want to sacrifice driving pleasure when they buy an electric car."

That said, the MX-30 is more of a crossover than a sports car, so we wonder just how far Mazda's claims of driving pleasure really go.
As for stats, Mazda is fitting the MX-30 with a rather small 35.5 kWh battery which offers just 141 horsepower and a range of 124 miles. That's around the same power output as the company's pint-sized Miata roadster, and the range is half of what we've come to expect from electric cars is this category. It'll launch in late 2020.
BougeRV Level 2 EV Charger (240V, 32A, 25FT) Portable EV Charging Cable EVSE Electric Vehicle Charger with NEMA 14-50P for Chevy Volt, BMW, Nissan Leaf, Fiat, Ford Fusion, Toyota Prius Prime
Toyota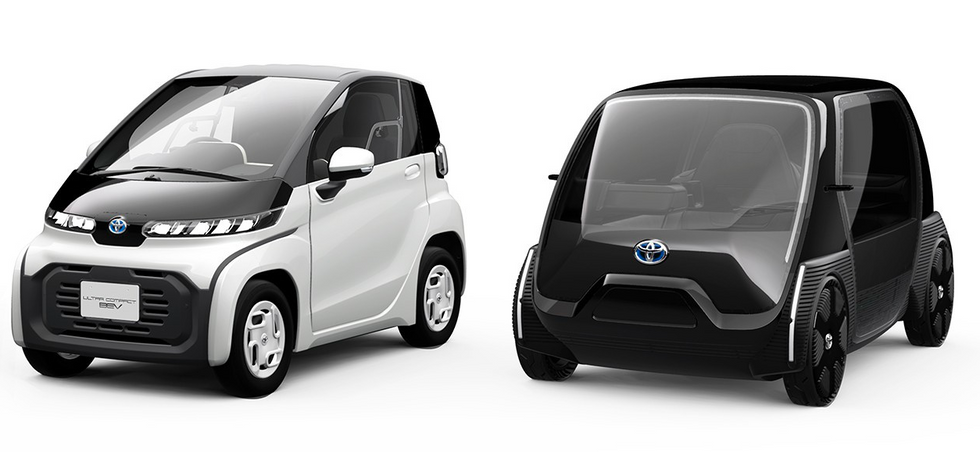 The unnamed electric vehicles are designed for urban use onlyToyota
Toyota this week announced an as-yet-unnamed two-seat urban electric car, and a compact electric van. The car is just just 2.5 meters long and 1.3 meters wide, and has a claimed range of just 62 miles - so it really is a vehicle for city commuting and not much more, especially given the 37 mph top speed.

The van is built on the same chassis and is expected to offer a similar range. We think that vehicle makes a great deal of sense, and can see such a van being used for inner-city Amazon or Uber Eats deliveries — and it will surely become a reality before drone deliveries go mainstream.
Elsewhere on the Toyota stand, the company showed off its new second-generation Mirai, the hydrogen-powered electric sedan. Toyota promises a range of 375 miles and the same five-minute refueling time as its predecessor — if you can find a hydrogen station, that is. We applaud Toyota for sticking with its hydrogen dreams, but wonder if the tide has shifted too far towards plug-in electric cars for hydrogen to really take off. Toyota clearly thinks otherwise, and perhaps we shouldn't bet against the world's largest car company just yet.
Mitsubishi MI-TECH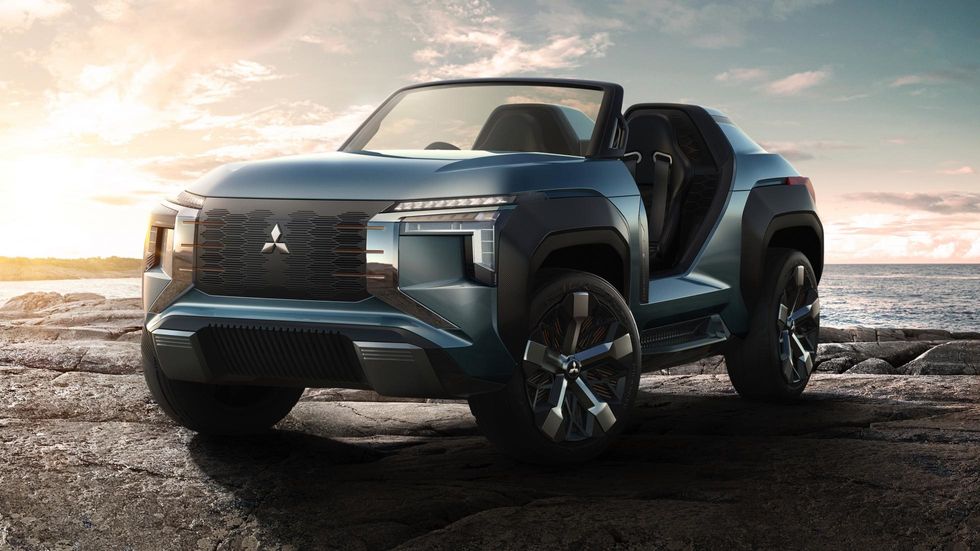 The MI-TECH is unlikely to go into production any time soonMitsubishi
Back to the wacky end of the show and we have the MI-TECH concept by Mitsubishi. This dune buggy-like vehicle has no windows, doors or roof, and there are no back seats either.

And, while there are four electric motors and a plug for charging, the battery can also be refilled using...an onboard jet turbine.
This isn't as mad as it sounds, as the turbine can be powered by a range of fuels, including diesel and kerosene - so if you're miles from a charger you can top up the turbo with diesel and use that to fill the battery.
Mitsubishi hasn't said much else about the concept for now, but it's certainly an interesting take on the future of the car — and one which, if it ever actually gets made, could provide some competition for Volkswagen's ID. Buggy concept.
Honda Jazz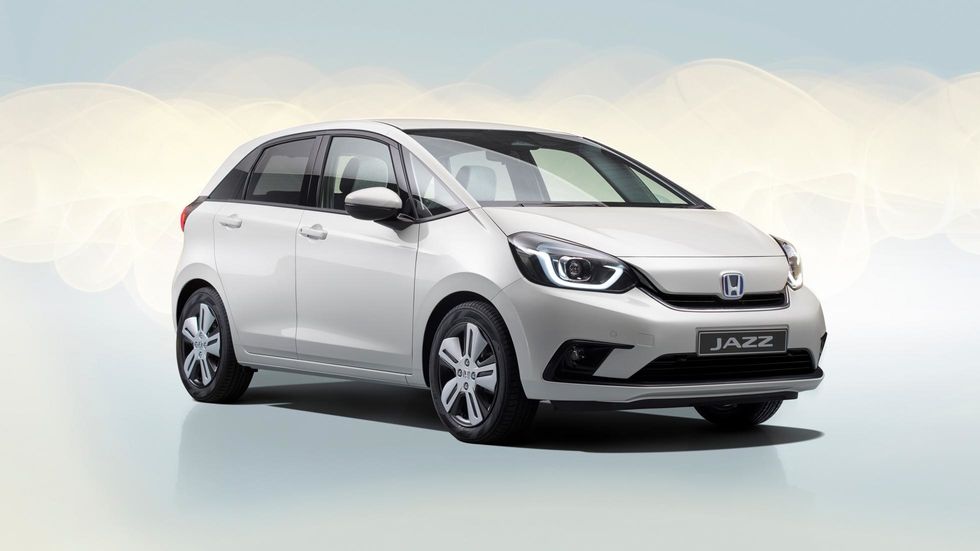 The new 2020 Jazz will be a hybrid for the first timeHonda
Back again to the sensible side of the Tokyo Motor Show, and Honda revealed its new Jazz, with an all-new look and hybrid power. The car doesn't borrow much from its adorable all-electric sibling, the Honda e, but instead takes the current Jazz and smoothes off the edges to create something which looks smart and somewhat futuristic, but also inoffensive.

Other than saying the car is a hybrid — meaning a petrol engine helped out by a battery pack and electric motor - Honda is keeping quiet on powertrain details for now. What we do know, is that the car has Apple CarPlay and Android Auto on its dashboard touch screen, and there's a WiFi hotspot too. Sales are expected to start in mid-2020.
Separately, Honda also used the show this week to announce that it will electrify its entire range in Europe by 2022, three years earlier than it had originally planned.
ChargePoint Home WiFi Enabled Electric Vehicle (EV) Charger - Level 2 240V, 32A Electric Car Charger for All EVs, UL Listed, ENERGY STAR Certified, Plug-in, 25 Ft Cable
Nissan Ariya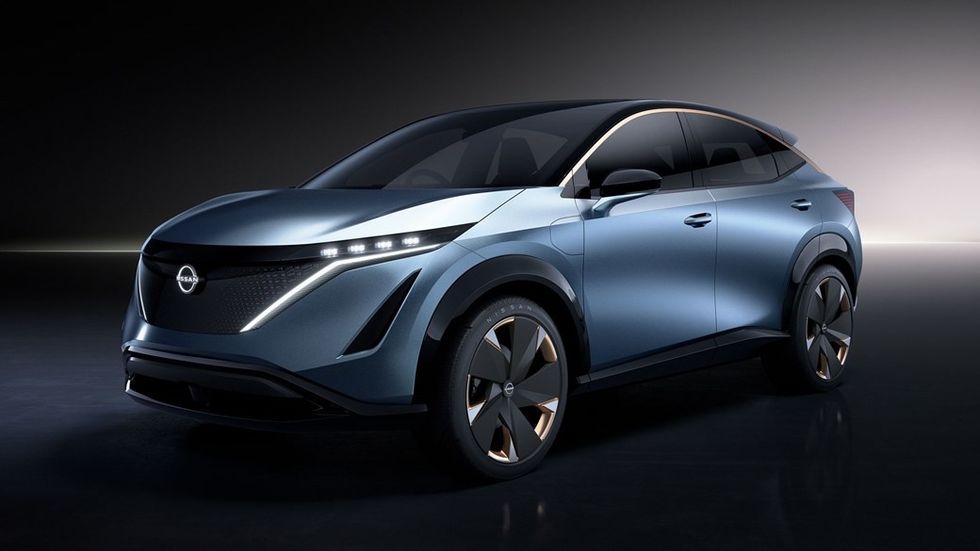 Nissan Ariya ConceptNissan
Nissan today showed off the Ariya Concept, a crossover electric car which has a claimed 300-mile range and we think looks really smart. The design is a breath of fresh air compared to the company's other fully-electric car, the Leaf, and we hope the Ariya doesn't change too much as it transitions from concept to production-ready.

Features include the company's new ProPilot 2.0 semi-autonomous driving system and a cabin accented with copper details. The 0-60 mph time is a claimed five seconds, which is pretty swift for a car in the crossover category.
Suzuki Waku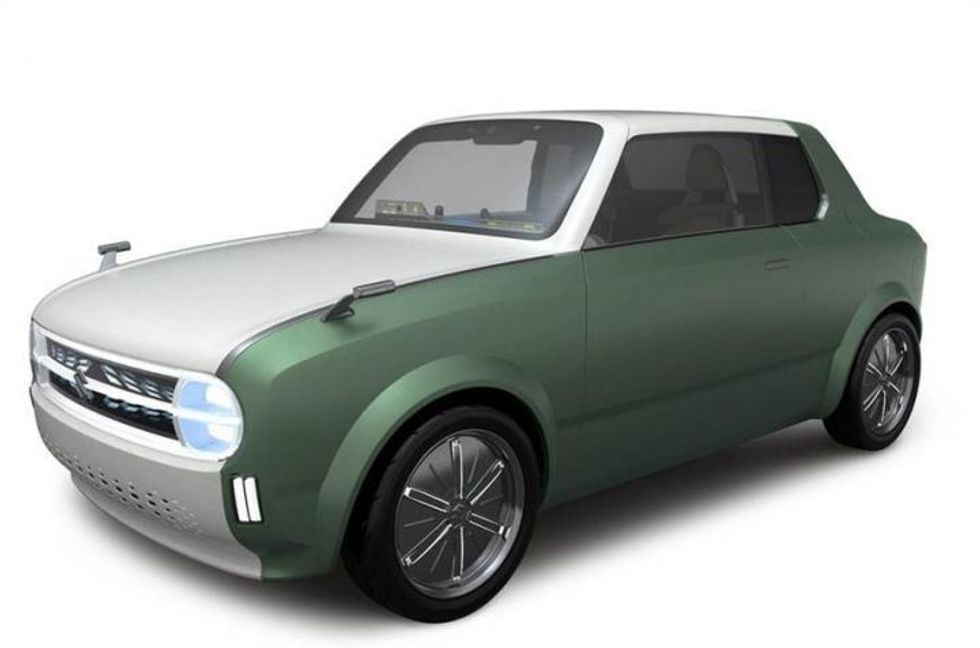 The Waku is a retro-styled electric concept from SuzukiSuzuki
Retro styling is the order of the day for the Waku plug-in electric hybrid by Suzuki — but that's all we really know for now. The car is on Suzuki's stand in Tokyo, but the company isn't giving away any details about the electric powertrain, or what the car might cost — or even if it will go into production.

We suspect some styling details will crop up in future vehicles, however, and the interior could well be a minimalistic glimpse at the company's future, complete with wood details and an all-touch interface.