Like GearBrain on Facebook
Nearly a year into this pandemic, your home Wi-Fi is no doubt feeling the strain of competing Zoom calls, Disney + binge watching, and multiple Twitch streams. Let's face it, whether you upgraded a few years ago or still use the router some cable company rented to you, your Wi-Fi probably needs an upgrade.

Enter the TP-Link Deco Voice X20. It's a Mesh WiFi system with a smart speaker that gives it voice control. The Mesh technology is powerful enough to cover a 4,000 square foot house (with a 2 pack), and TP-Link promises you'll be wandering around gaming, streaming, and video calling all over your home without any signal drops. It even a CES 2021 Innovation Awards Honoree.

The TP-Link Deco Voice X20 has Amazon Alexa built in so it supports all the smart-home management of Amazon's platform, as well as voice control and music streaming.

The Deco Voice X20 is part of a family of Wi-Fi 6 products that operate on the newly-opened 6GHz band that offers blazing speeds including AX7800 Whole Home Mesh WiFi 6E System -- Deco X96, which offers 7800 Mbps with tri-band WiFi, AX5400 Whole Home Mesh WiFi 6E System with Smart Hub -- Deco X76 Plus, which adds a smart hub, and AX7800 Tri-Band WiFi 6E Router -- Archer AX96, which offers 7800 Mbps with tri-band WiFi and smart antennas to boost coverage and improve wireless connections.

To protect it all, TP-Link is also introducing HomeShield, a security service that keeps your home network safe with cutting-edge features for network and smart home protection.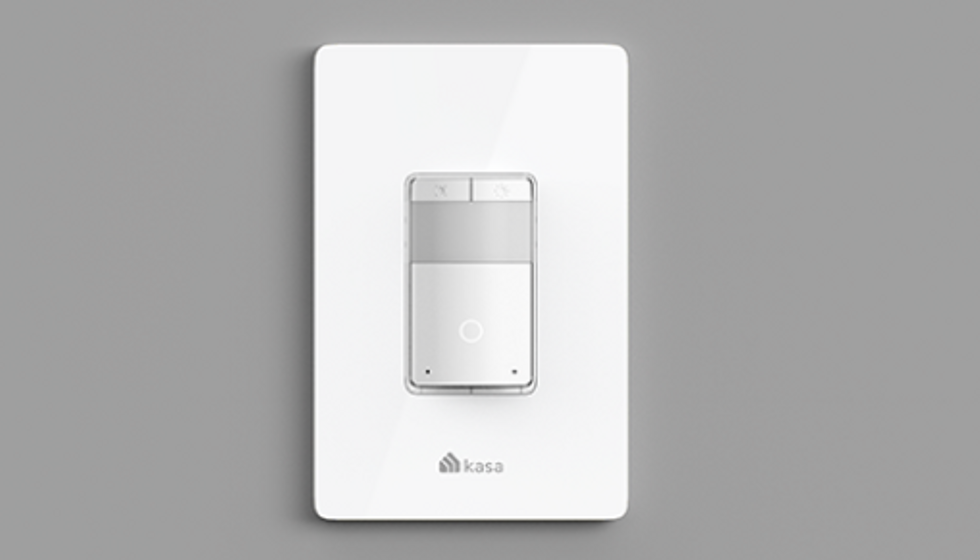 The Motion-Activated Kasa Smart Dimmer Switch works with Alexa, Google Assistant and Samsung Smart ThingsTP-Link
TP-Link adds a bevy of new smart home launches too


On the smart home front, TP-Link is unveiling a raft of new products for its Kasa Smart line as well.

The Motion-Activated Kasa Smart Dimmer Switch, also a CES 2021 Innovation Awards Honoree, automatically turn lights off at a set time based on motion. It also comes with a built-in Ambient Light Sensor to keep them from turning on during the day. Voice control enables you to use voice commands to control your connected lights with Alexa, Google Assistant, and Samsung SmartThings.

Second, the Kasa Smart WiFi Light Switch with 3-Way Dimmer Kit lets you convert your traditional 3-way lighting to smart wireless WiFi lights. This switch boasts smart dimming that automatically adjust the brightness of your lights to set the perfect mood.

Next, the Kasa Smart Doorbell comes with 1080p Full HD video and A.I. person detection that lets you distinguish a person from other objects. It also includes secure local and cloud Storage so you can save footage continuously on a microSD card or subscribe to a Kasa Care plan for 30-day cloud storage.

The Kasa Spot Pan Tilt with 24/7 Recording is also launching with 2K HD Video with 4 MP high resolution, allowing video capture with intense detail and colors — even when you zoom in. The motion tracking feature detects a subject and then tracks and follows it to keep it in within view. Additionally, with Patrol Mode, you can set multiple distinct viewpoints and program your camera to keep an eye on each region at selected intervals.

There's also a new Kasa Cam Outdoor with 24/7 Recording (KC420WS) which has 2K HD Video, and provides razor sharp 4 MP high resolution that offers greater detail and colors, even when you zoom in too. In addition, IP65 weatherproofing ensures your camera stays protected against rain and dust.

Finally, the Kasa Smart Wi-Fi Outdoor Plug (single port) features long Wi-Fi range with a built-in power amplifier. You can set your smart plug to turn plugged-in devices on and off automatically while you're home or away.
TP-Link Deco Whole Home Mesh WiFi System – Up to 5,500 Sq.ft. Coverage, WiFi Router/Extender Replacement, Gigabit Ports, Seamless Roaming, Parental Controls, Works with Alexa(Deco M4 3-Pack)
From Your Site Articles
Related Articles Around the Web
Like GearBrain on Facebook