Like GearBrain on Facebook
As more of us continue to work from home and add additional smart devices to make our homes smarter, you need to have a quick, powerful and secure wireless network. A good router is a key and many of our cable or ISP providers offer one as part of your monthly subscription. But some of these routers are old or not as powerful as the new Tri-Band Mesh Wi-Fi systems coming out today. We recently got to test a new Tri-Band Mesh Wi-Fi 6e system by TP-Link to see what all the fuss was about these new mesh systems. Well, we were pleasantly surprised on how easy it was to not only setup, but to operate. You don't need a technical degree to use this system. Check out how the TP-Link Deco AXE5400 Tri-Band Mesh Wi-Fi 6e System did during our testing in one of our smart homes.
What is the new TP-Link Deco Wi-Fi6e mesh system?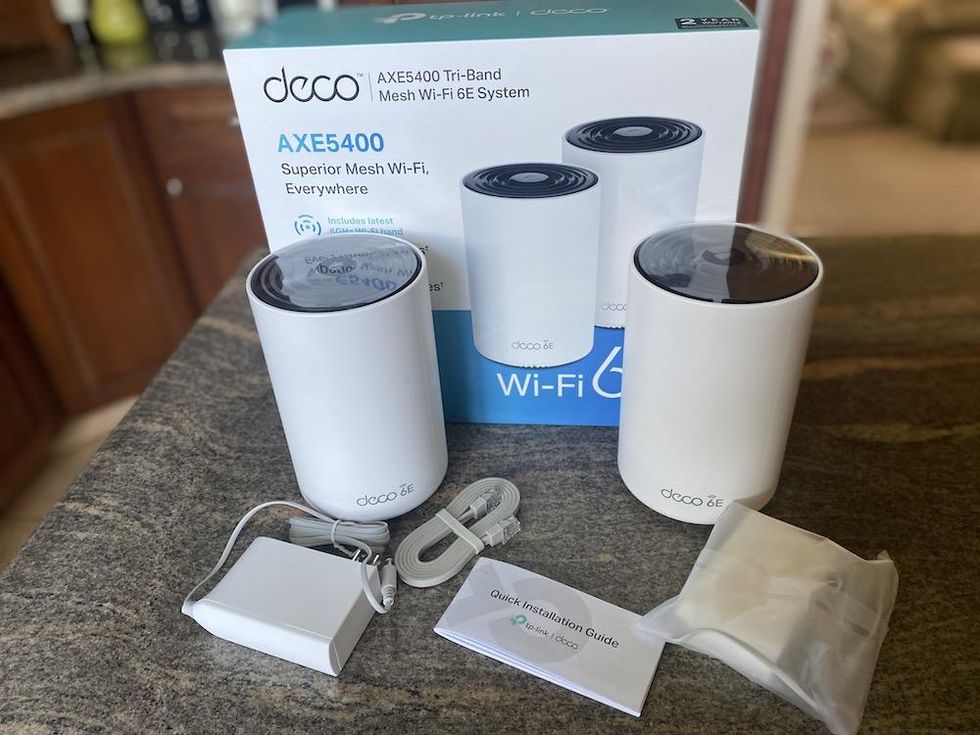 TP-Link Deco axe5400 Tri-Band Mesh Wi-Fi 6e system unboxed.
GearBrain
The TP-Link Deco XE75 is a Wi-Fi 6e mesh system with HomeShield built in. This system helps kill Wi-Fi dead zones in your home by providing a strong Wi-Fi 6e wireless connection. The TP-Link Deco delivers a connection that is stable and safe throughout your home. The system is AI driven and uses AI roaming to create the ideal mesh Wi-Fi solution for your smart home. TP-Link Deco Wi-Fi 6e system gives you seamless roaming on one Wi-Fi name which creates a unified network. Key to securing any Wi-Fi network in the home.
TP-Link Deco Tri Band Mesh Wi-Fi 6e system features network protection, parental controls, quality of service, comprehensive reports on your networks performance, can connect up to 200 devices, is backwards compatible with dual band routers and easy to install.
What is Wi-Fi 6e?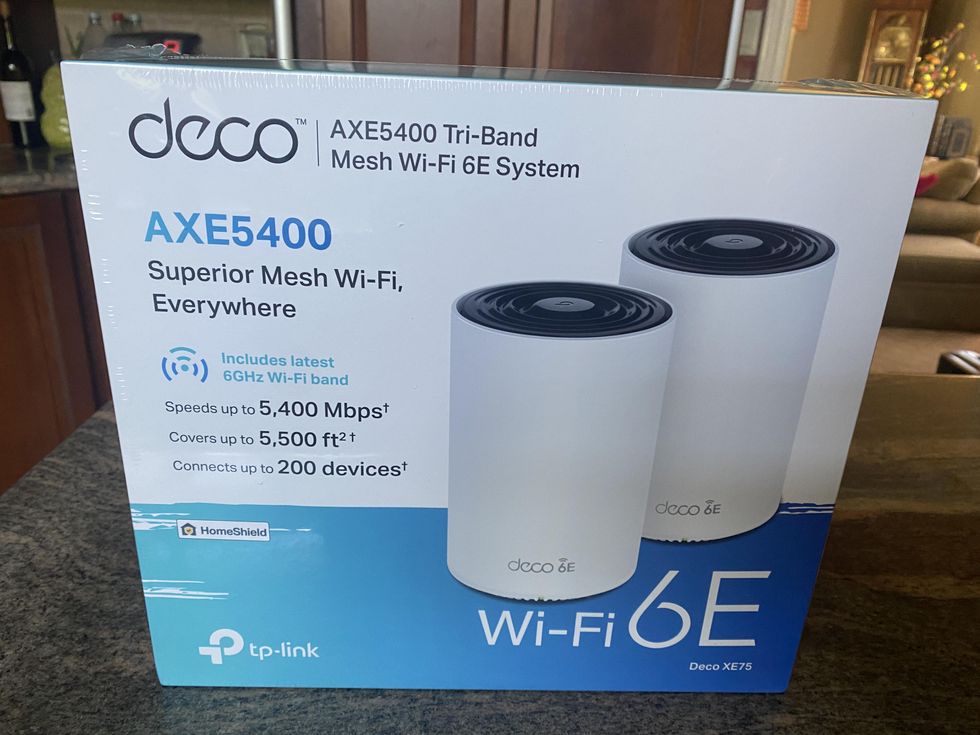 Tp-Link Deco AXE5400 Tr--Band Mesh Wi-Fi 6e system works on a Wi-Fi 6e wireless protocol
GearBrain
Wi-Fi 6E is part of the 6 GHz Wi-Fi band. Wi-Fi 6e delivers the fastest Wi-Fi yet enabling multi-GB low frequent latency connections. Back in 2020, the Wi-Fi Alliance worked with the FCC and electronics manufacturers to set a new standard for Wi-Fi technology. It was the Wi-Fi 6 GHz wireless spectrum. This new standard (Wi-Fi 6e) provides faster speeds with lower latencies then earlier iterations of the Wi-Fi spectrum such as 2.4 GHz and 5 GHz bands. Wi-Fi 6 and 6e are ideal for smart devices especially if you have many in your home.
Wi-Fi 6e is the most recent version for Wi-Fi 6 band. If you're looking to get a new modem, many work on Wi-Fi 6 connection and are backwards compatible. This means your devices that work on a 2.4 or 5 GHz Wi-Fi connection will work with the Wi-Fi 6 or Wi-Fi 6e router.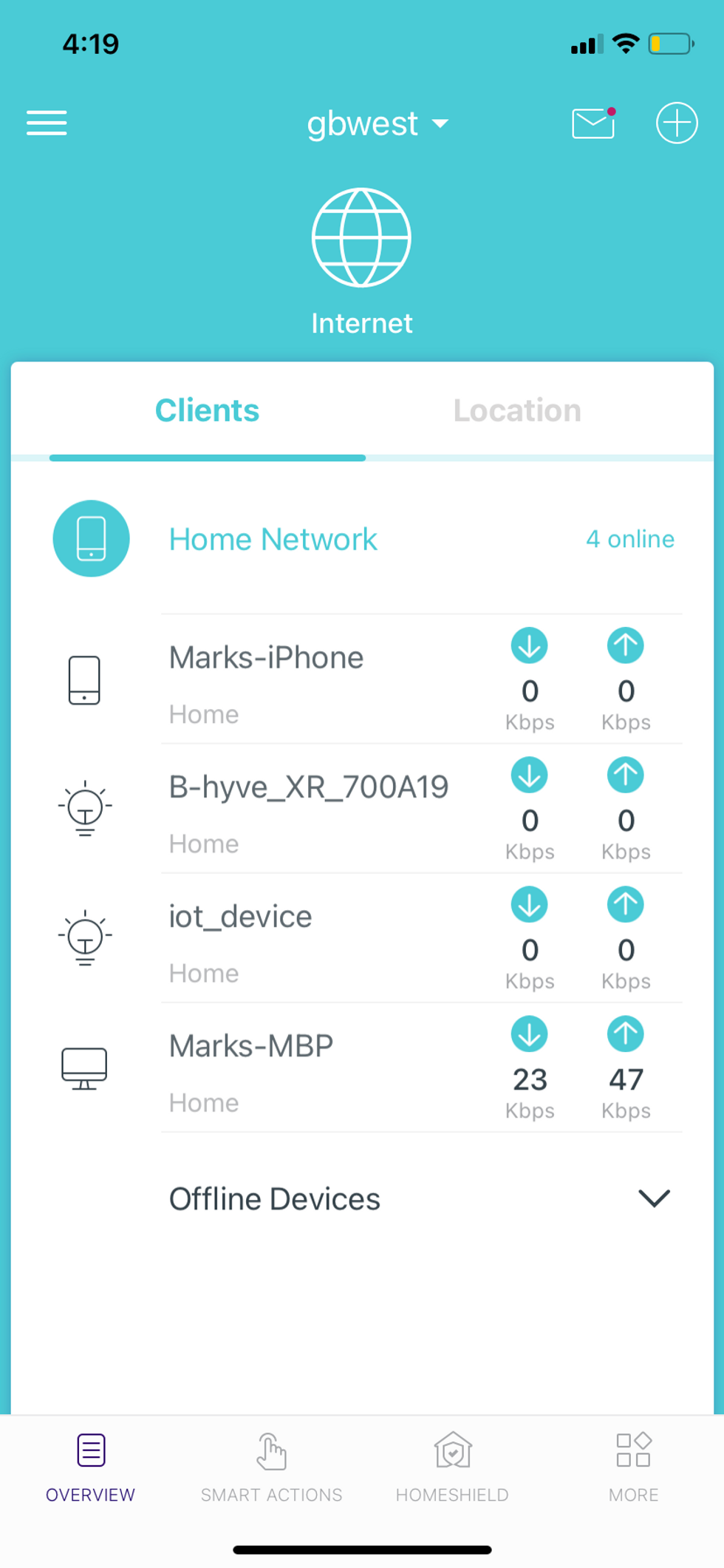 Overview screen in Deco AppGearBrain
How to setup your TP-Link Deco AXE5400 Mesh System?
How to Setup and Install TP Link Deco EXE5400 Tri-Band Wi-Fi 6E System www.youtube.com
Setup for your TP-Link Deco Tri Band Mesh Wi-Fi 6e system is quick and easy. Download the Deco app from either the App Store or Google Play. Unplug your existing modem and power up your Deco. Then connect the Deco to the modem using the supplied Ethernet cable. Then power up your modem and follow the instructions in the Deco app. It should take a few minutes for your Deco to establish a connection. Once it's connected, you can continue the setup process for HomeShield, a security system that comes with the TP-Link Deco. HomeShield provides a 30-day free trial for their security system which secures the wireless connection.
What makes TP-Link Deco Wi-Fi mesh systems so unique is that you can connect up to 200 smart devices in a home. It also provides Wi-Fi coverage up to 5500 square feet. It's the perfect solution for a big home specially if it has a lot of connected devices.
Smart Home Integrations
TP-Link Deco Wi-Fi Mesh System is compatible with Amazon Alexa voice platform. It is not compatible with Google Assistant currently. You can use Alexa voice commands on your Amazon Alexa enabled smart speakers or displays to pause your Wi-Fi to a specific device like a gaming system on your network.
In addition to smart home integrations, Deco AXE5400 works with all internet service providers, such as Comcast, Charter, AT&T, Verizon, Xfinity, Spectrum, RCN, Cox, CenturyLink and Frontier. Just check with your carrier to see if a modem is required for most internet service providers and if you can use your own.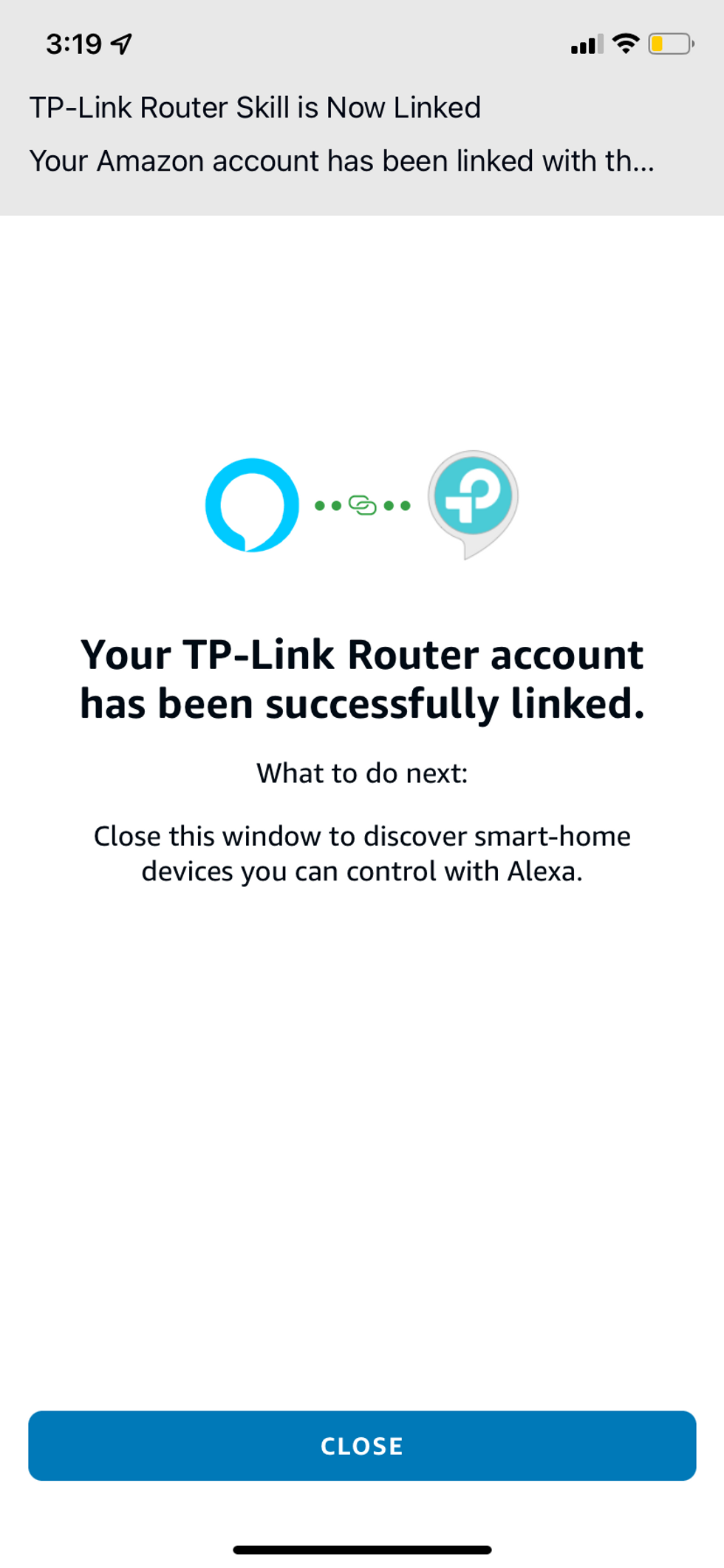 Connect Alexa skill to Deco app for voice control of your Wi-Fi 6e system.GearBrain
How much does TP-Link Deco AXE5400 cost?
Cost the TP-Link Deco AXE5400 Tri Band Mesh Wi-Fi 6 system is $299.99 and available on Amazon, Best Buy and other consumer electronics retailers. Right now, the company is offering $20 off when you use Code 20DECO6E on Amazon.
Is this a good price? If you have been shopping lately for a mesh Wi-Fi 6e router, you will notice a good one starts around $600. We did find one router, the Amazon eero Pro 6E tri-band mesh Wi-Fi 6E router, with built-in Zigbee smart home hub that costs $299. However, unlike TP-Link Deco, Amazon eero gives you only one unit and it only comes with two ethernet ports per unit. If you want two units like TP-Link Deco, eero does offer a second one but you will have to pay $499. So, the Deco AXE5400 is a excellent price.
Performance
Testing the TP-Link Deco Tri Band Mesh Wi-Fi 6E system was easy. We have tested many Wi-Fi systems and found setting up those systems could be overwhelming to some people, especially if you're not tech savvy or comfortable working with smart devices, routers and modems. However, TP-Link does a nice job of walking you through the setup process in the Deco app. You will not have to access your existing modems system settings or try to troubleshoot any issues. Just follow the Deco app instructions and you'll be up and running in no time.
For our testing it took a few days before the Deco Tri Band Mesh Wi-Fi 6E system kicked in. Remember, this system comes with AI built in to help it deliver the best Wi-Fi connection, especially in those dead spots in your house. It started to learn the devices on our network and improved the coverage in our house which is slightly less than 2,800 square feet. It was able to fill in low signals in areas of our house which was nice.
We did conduct a few connections speed tests. We placed one Deco in the basement while the main unit was on the first floor next to our FiOS router. We compared the wireless speeds for the Deco and our FiOS router at both locations. (Note: we had a 1GB connection.) The Deco outperformed the FiOS router, especially in our basement. The Deco's Wireless Download speed from our basement was 302 and Upload 116 while the FiOS Wireless speed in our basement was Download – 265 and Upload - 8.44. (Note: FiOS router was on the main floor and we use the second Deco in the basement to record these speed scores.)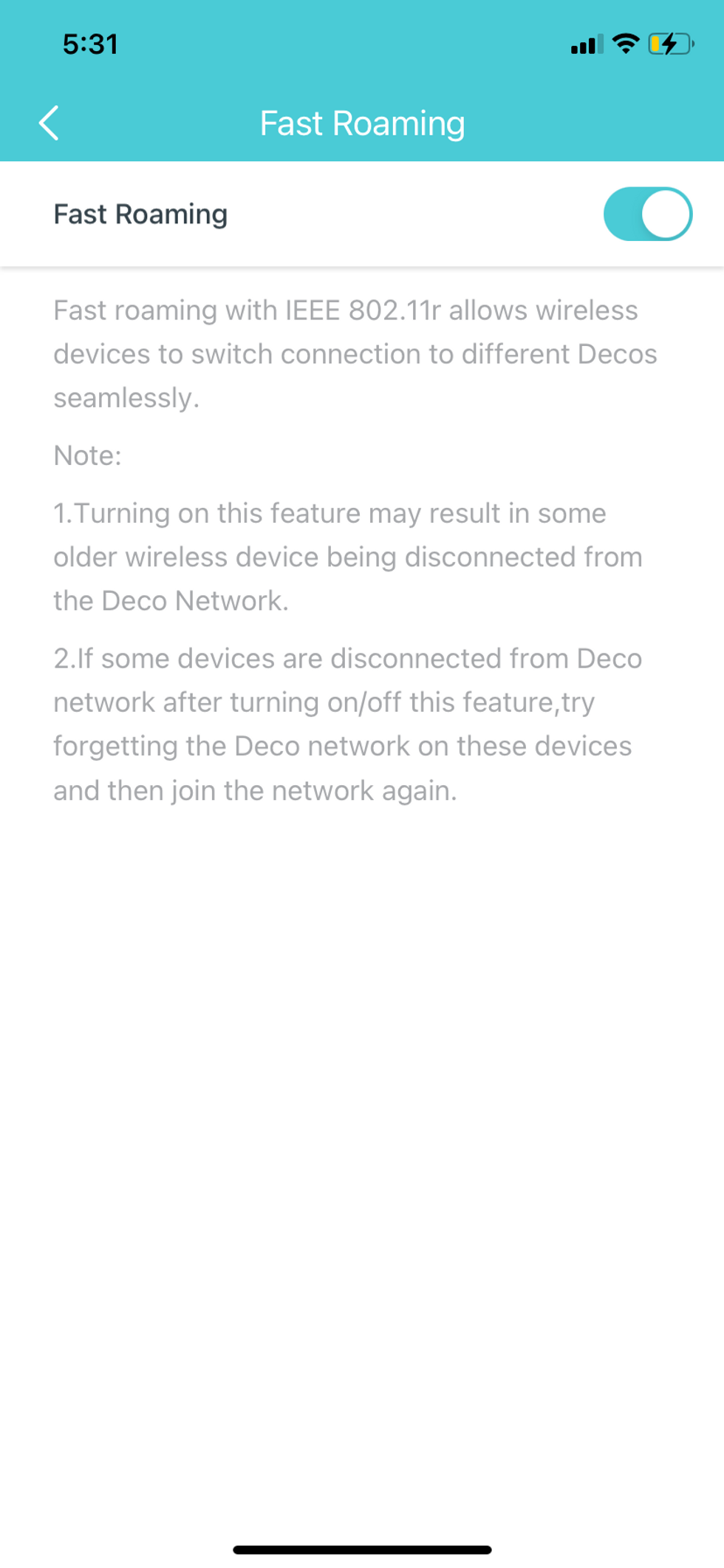 Fast roaming feature in Deco appGearBrain
However, there were times during our testing we did experience a slowdown or some devices not working properly. We contacted TP-Link and they mentioned "performance may be different when devices are connected to a different Deco or different Wi-Fi frequency bands (2.4GHz, 5GHz)." So, we checked which devices were connected to each Deco and adjusted their frequency band. Then we re-measured the speed. You can do this test yourself right from the Deco app. We did and made sure our smart devices that only work on 2.4 GHz connection were connected to this frequency.
Another unique feature the Deco AXE5400 Tri-Band Mesh Wi-Fi 6e System offers today is its automatic networking function that optimizes the networking every time a Deco unit disappears or is added to the network. We moved the Deco around our house to find the optimal location. We just powered down one Deco and moved it to the second floor in our house. Then we powered it up and the entire network adjusted to the optimal networking settings. If you do this in your home, remember to wait for the networking to complete and Deco's LED to turn green. It will take a while for the light to turn green. It did for us during testing.
In addition, if you activate the fast-roaming feature which allows devices to switch connections to different Deco seamlessly, you might experience some performance issues. When we turned on this feature some of our devices we're not working or would disconnect. We had to disconnect them from the Deco network and then rejoin the network to get them to work again. Also, if you activate the beamforming feature in the Deco app you might experience similar problems. It seems older devices on the Deco network will have performance issues and need to have their setting corrected if not done so by Deco during setup.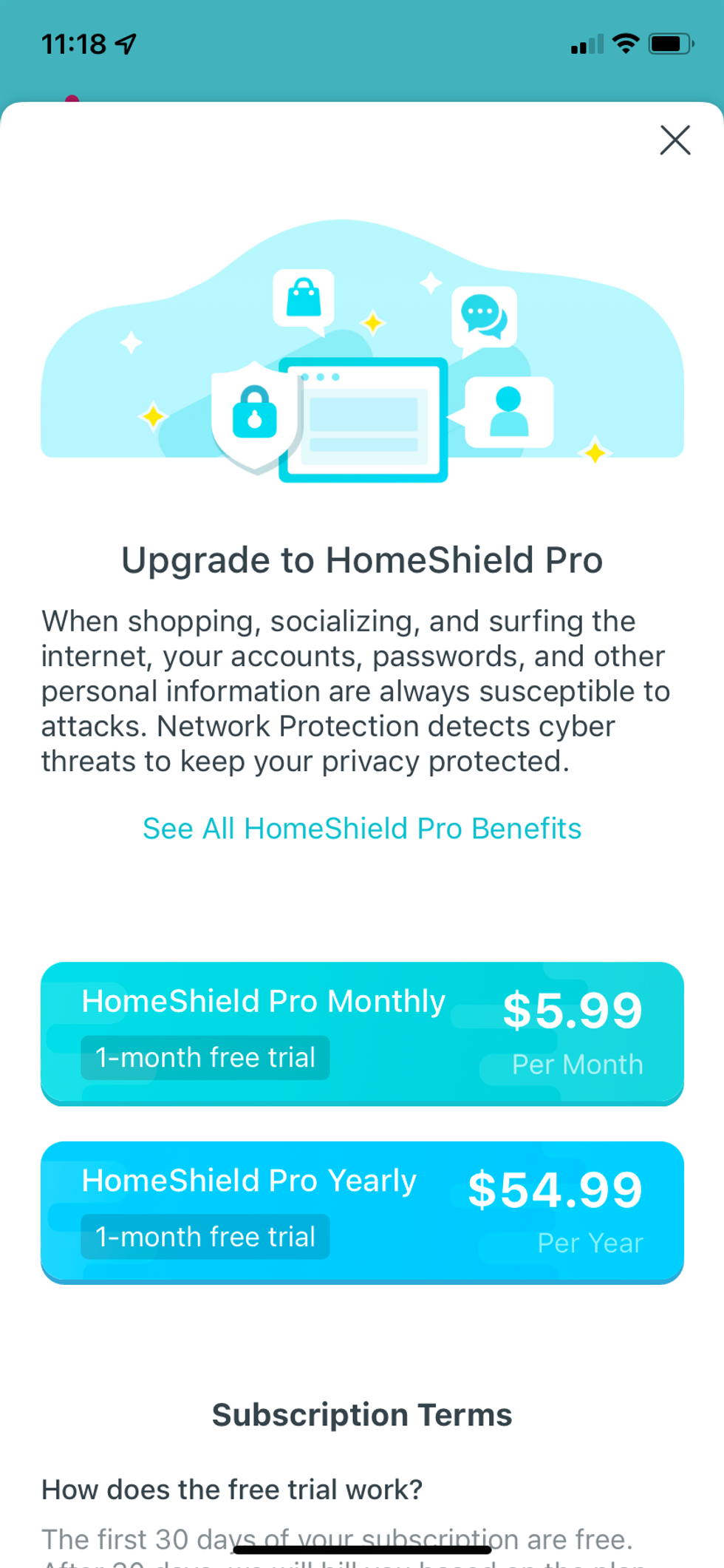 Sign up for HomeShield Pro in Deco appGearBrain
One special feature we liked was HomeShield. A big concern today with smart devices is security. The only way you can really prevent hackers from accessing your network through a smart device is to secure the wireless connection. That is what HomeShield provides, a layer of security for devices like motion sensors, window sensors, and wireless security cameras. Yes, there is an additional cost for this feature, $54.99 per year of $5.99 per month. If you have a lot of devices and family members in your home, you should try the free trial. You will be able to see how the network protection and parental controls work. You will get custom reports and notices when new devices come into your home or there was a security event. All vital information to help you keep your network secure.
Summary
The TP-Link Deco AXE5400 Tri-Band Mesh Wi-Fi 6e System is an excellent router to have in your home, especially if you work from home and have a lot of smart and connected devices. It's easy to setup and manage. The features are good, and it comes with a free trial of HomeShield which we recommend you try. Securing your smart devices is important, especially if you have cameras and video doorbells. But the best feature of the Deco AXE5400 is the price. A Wi-Fi 6e router with two units for less than $300 is a great price.
Today, many ISP providers give you a router with your monthly plan. Depending on your plan's internet speed, this router might be a Tri-Band Mesh router capable of Wi-Fi 6, 5 GHZ and 2.4GHz wireless connections. And some might come with security built in like McAfee Home Network Protection or HomeShield. But you pay extra for this unit which might be $20-$25 per month. If you want to save money on your ISP bill, you might want to consider buying a Wi-Fi 6 or Wi-Fi 6e mesh router system. It could save you money (renting a router from your ISP for 2 years can cost $480.) And with the cost of Wi-Fi 6 and 6e routers coming down, and how easy it is to install and operate these devices, it makes it easier for you to break away from your ISP and buy your own router, like TP-Link Deco XE75 AXE5400 Tri-Band Mesh Wi-Fi 6e System.
Pros
Price
Easy setup
Backwards compatible
Works with Alexa
Cons
Pay extra for security
Need to adjust settings in app for devices that don't work on 6GHz connection
Check out our compatibility find engine, The GearBrain to find compatible devices to TP-Link Deco AXE5400 Tri-Band Mesh Wi-Fi 6e system or any other mesh networks.
How to Find Products in The GearBrain, Our Compatibility Find Engine for Smart Devices www.youtube.com
Like GearBrain on Facebook