Like GearBrain on Facebook
With millions of people now working and socialising from home due to the coronavirus, webcam sales have soared, causing widespread stock shortages.
In a bid to offer a makeshift solution, budget smart home company Wyze has rolled out a software update that turns its security cameras into webcams.
Read More:
Wyze Cam 1080p HD Indoor Smart Home Camera with Night Vision, 2-Way Audio, Works with Alexa & the Google Assistant, White, 1-Pack
The software is to be considered as a temporary solution, but it will help Wyze Cam v2 and Pan owners to get involved with video conferencing and socializing over the coming weeks.

We should make clear that instead of an update adding an extra feature to the cameras, this is a software flash, which means it is completely removing the camera's firmware and replacing it with a new one.
As such, the Wyze Cam can only be used as a webcam or a security camera. To switch between functions, you have to flash the camera and reinstall its firmware.
Wyze makes clear that this isn't a perfect solution, but is to be used as a makeshift webcam. "Wyze Cam vs (and Pan) were not designed to be used as a webcam. This firmware is for folks who need a webcam but can't buy one. This solution should be used 'as is.' We are not planning on continuous improvements or bug fixes," the company states on its website.
Wyze also points out that the camera will not communicate with the Wyze app when it is running the new webcam firmware. But this can be reserved, as when the original firmware is reinstalled the camera returns to how it was before.
Wye says the webcam firmware works with Mac OS 10.13, as well as Windows 7 and 10. It has been proven to work with the following applications:
Zoom
GoToMeeting
Blue Jeans
Google Hangouts
Skype
Cisco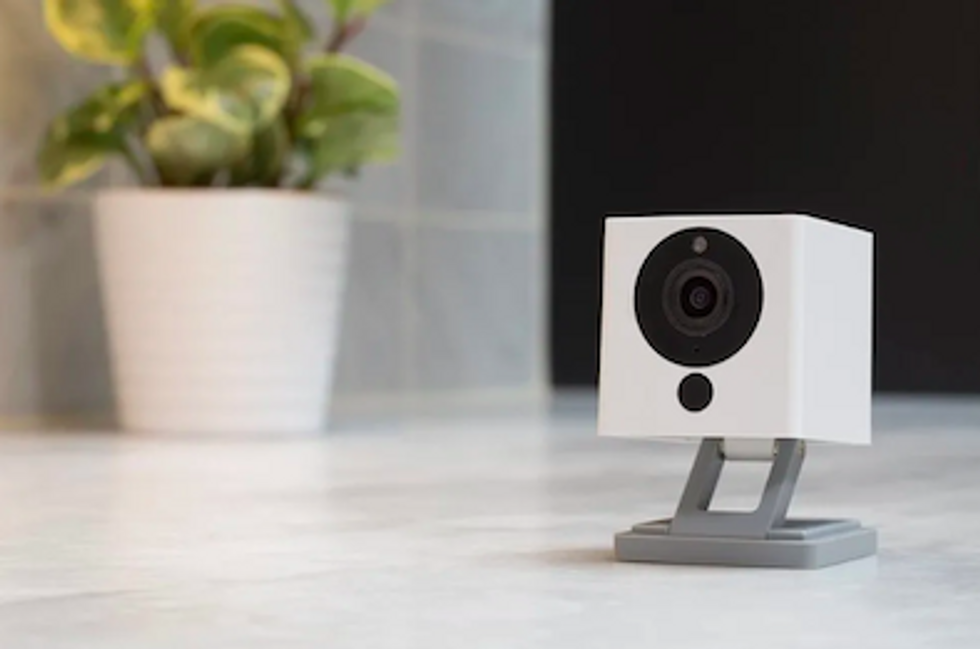 The Wyze camera can be used as a makeshift webcam Wyze
Wyze states that the camera, speaker and microphone all work properly, but that microphone audio level may be low.

Before you start you'll need the new webcam firmware, which can be downloaded here. You'll also need either the Wyze Cam v2 or Wyze Cam Pan, the microSD card the camera came with (or any other you have), and a USB A to A cable.
You then need to carefully follow the instructions on Wyze's website. In short, this involves plugging the microSD card into your computer (you'll need a USB dongle if your computer doesn't have an SD card slot), transferring the new firmware onto it, then slotting it back into the camera and forcing it to reboot.
Here are Wyze's instructions in full:
Download the webcam's special firmware here.

Windows 10: Right-click on the folder and select Extract all.
Mac OS: Drag and drop the folder on the root directory of your microSD card.

For both Mac and Windows, rename the file to demo.bin.

Unplug your Wyze Cam from power and insert your microSD card.
Press and hold the Setup button, then plug in your USB cable. Continue holding the setup button for 3-6 seconds until the light is solid blue, then release the button.

Note: The "Solid Blue" in this case is not the same as the one normally seen on the camera. Instead, both the blue and yellow LEDs will be on at once, appearing as a lighter blue.

Wait 3-4 minutes. The camera will reboot, and the light status will change during this time.
Once complete, the status light will flash yellow and blue at the same time (not alternating).

Note: Wyze Cam will continue to flash yellow and blue at the same time if the webcam firmware is installed properly and the camera is turned on.

Connect the USB A to A cable to the Wyze Cam USB port and computer USB port.

You do not need a power cable or microUSB.

In your video conference tool (ex. Zoom), change the camera source to "HD USB Camera."
We recommend you use a different source for the speaker and microphone functions.
Wyze Cam Pan 1080p Pan/Tilt/Zoom Wi-Fi Indoor Smart Home Camera with Night Vision, 2-Way Audio, Works with Alexa & the Google Assistant, White - WYZECP1
From Your Site Articles
Related Articles Around the Web
Like GearBrain on Facebook