Like GearBrain on Facebook
As you doubtless know by now, Wyze is a Seattle-based smart home company best known for its low prices. There's the $20 security camera, $20 home sensor kit, $7 smart light bulbs, a $25 fitness tracker — and now this, the $20 Scale.
A smart scale to rival the far pricier Withings Body range, the Wyze Scale has a digital display for showing the basics, then connects to your smartphone over Bluetooth, where the Wyze apps give a more detailed look at your body composition.
Read More:
This data is tracked over time using simple graphs, and can be shared with the Apple Health and Google Fit apps, ensuring all of your fitness data is in one place.
You may think $20 for a smart scale sounds too good to be true, especially when even the cheapest Withings scale costs $60, and the most expensive is a full $150. So, having used a few Withings scales over the years, we were keen to find out if Wyze really can match the industry leader at a fraction of the price.
Wyze Scale review: Hardware and setup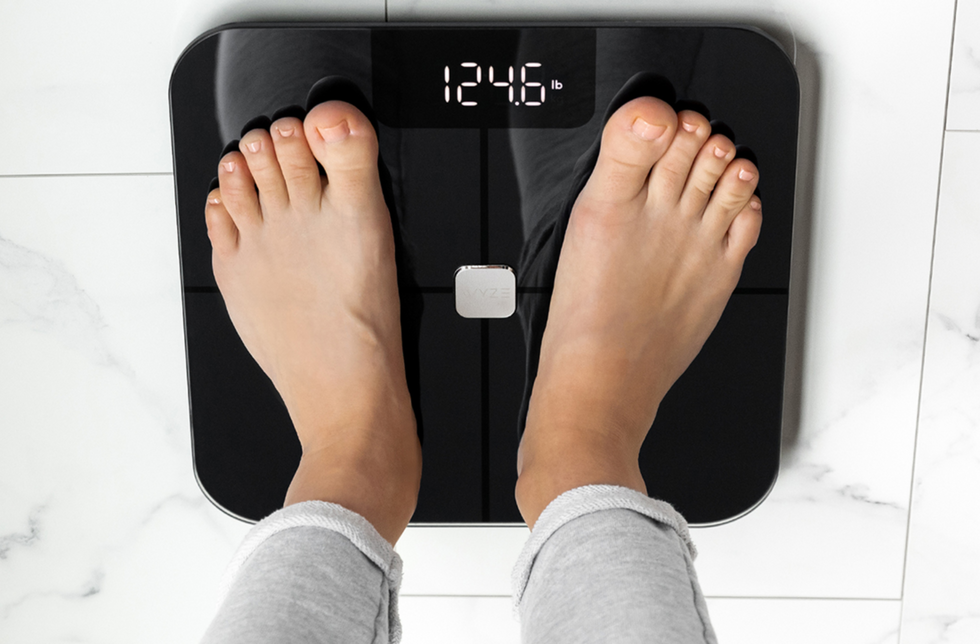 The Scale automatically recognizes the user based on their weightWyze
Like most other smart scales, the Wye Scale is made from glass and has a simple digital display to show key metrics like your weight, heart rate and body mass index. It is powered by four included AAA batteries.

Setting up the Scale is very simple, and uses the same Wyze app (iOS and Android) that all of the company's products interact with. As we noted in our review of the equally new Wyze Band, it does feel somewhat incongruous to interact with a health and fitness device from within an app primarily made for controlling smart home products.
We wonder if Wyze might create a separate app for its fitness devices, but for now it means we have to head into our iPhone's 'Smart Home' application folder to open the Wyze app and check our Scale measurements.
During setup, the Scale quickly connected to our phone over Bluetooth, then the app asks for basic details like gender, height, year of birth, and whether we wanted to use 'Athlete Mode' or not.
This is only recommended for people who exercise more than 10 hours a week and have a body composition which differs from the norm — in other words, Wyze says, a body fat reading of around four percent instead of the usual range of 12-30 percent.
Up to eight people can be added to the Wyze Scale. If their weight differs enough then the scale will automatically recognize them when they stand on it. If multiple people have a similar weight, the Wyze app will check who is on the scale before taking a reading.
Like most smart scales, the Wyze is designed to work on hard floors only. If placed on carpet it will give an incorrect reading, and unlike with scales from Withings there are no alternative feet supplied in the box to overcome this. So you'll need to use the Wyze exclusively on a hard floor, like in the bathroom.
You should also stand on the Scale with dry feet, as it only has an IPX3 waterproof rating, which means it can survive a light spray of water (or the humid atmosphere of a bathroom), but nothing more. Also, being made from glass, it is slippery when wet. Also only stand on it with bare feet, otherwise it doesn't work properly.
Wyze Scale: Software and features
The Wyze app is attractive and easy to use, clearly showing just your weight, BMI, body fat, muscle mass and body water content by default. A tap of the downward arrow reveals six further metrics. These are:
Lean body mass
Bone mass
Protein
Visceral Fat
Basal metabolic rate
Metabolic age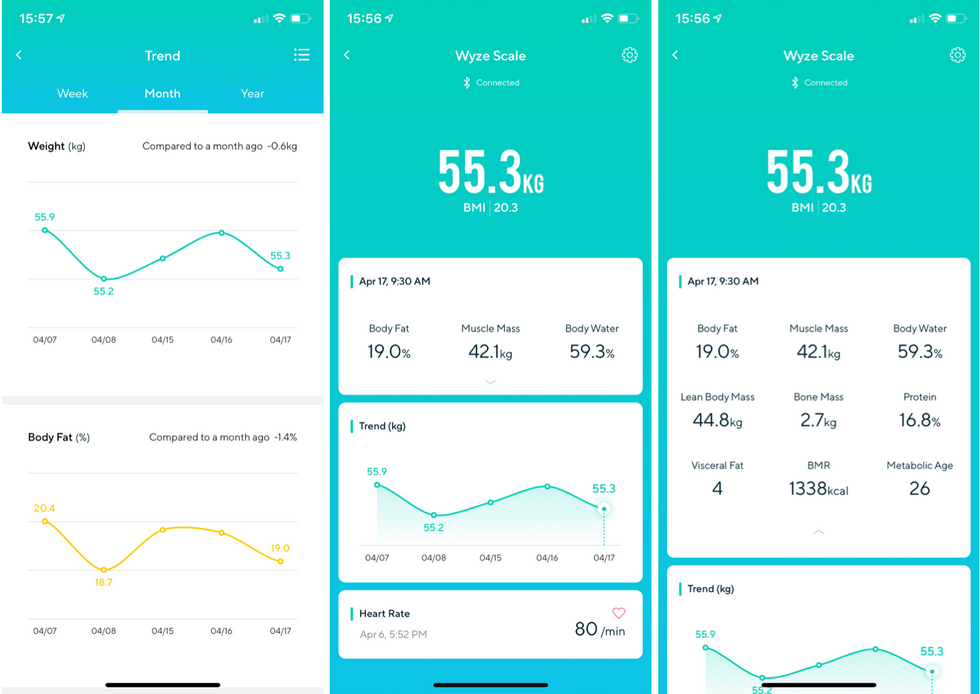 The Scale measures nine different body metricsGearBrain
Tapping on any of these brings up a page explaining what the metric means and why it is measured. This is useful, but the app does not attempt to add context to your own readings, so the experience isn't personalized in any way, and the app cannot offer advice based on your own statistics.

Below all that there's a line graph showing your change in weight over time. Tapping on this reveals a more precise look at the data, and a second graph showing the change in your body fat percentage over time.
Tapping the extra information icon in the top-right corner shows a complete history of every time you stepped on the Scale, along with the time and date. Tap on one of these readings and you can see all nine metrics for that day in one place.
The app also shows a reading for your heart rate the last time you stepped on the scale. This seems to be accurate when compared to other devices, but we remind readers to be aware of when this figure is recorded. You shouldn't step on the Scale right after a hot bath or shower, for example, as your heart rate will be higher than normal.
The Wyze Scale features a 'safe mode,' which when enabled switches off its bioelectric impedance analysis (BIA), which can potentially pose a risk to pregnant users or those with a pacemaker. Enabling safe mode under your own profile in the Wyze app turns the device into a simple scale, measuring only your weight when you step on it.
Data collected by the Scale can be exported to Apple Health and Google Fit, so you don't actually need to use the Wyze app, and can instead log all of your health and fitness data — including that collected by a device like an Apple Watch — in one place.
Verdict
We weren't completely sold on the Band fitness tracker, but are happy to say Wyze is back on form with the Scale. It takes as many measurements as a $150 alternative from Withings, yet costs just $20.
The Scale is also attractive and feels well-made, is easy to set up and use, and we particularly like the integration with Apple Health and Google Fit. Extra water resistance would have been welcome, and some users might want to see more data on the display itself, not just their weight and body fat percentage. But opening the app to see all of the data is no real hardship.
Otherwise, it is hard to fault the Wyze Scale. For anyone who wants to gain a closer look at their body composition, but is on a modest budget, the $20 Scale is what you're looking for.
Pros
Low price
Easy to setup and use
Apple Health and Google Fit integration
Cons
Limited waterproofing
Doesn't show all data on the scale itself
Uses same app as all its devices
From Your Site Articles
Related Articles Around the Web
Like GearBrain on Facebook