Twitter has shared screenshots and information on a pair of major upgrades that could completely change how you use the service.
Shared on Twitter (of course) by one of the company's designers, the two features include a new way to share tweets only with select people, and to tweet from multiple personas associated with your account.
Read More:
There is no guarantee that these new features will roll out to all users, or to anyone at all. But it is proof that Twitter is working on some major changes, and is keen to receive feedback from users on what it is doing.
The first feature is simpler to explain, and works in a similar way to how Instagram stories can be shared with all followers or a select group of followers. In Twitter's case, tweets can be shared with all followers (or all users if the account is public), or with 'trusted friends'. This can be as many or as few people as you like.
Going by the name of A Designer, the Twitter designer said: "With Trusted Friends, you could tweet to a group of your choosing. Perhaps you could also see trusted friends' tweets first."
This would give users the chance to make Twitter a more personal experience, where tweets are shared with a select group of friends instead of with all users.

The other approach shared on Twitter last night (July 1) is more complex but potentially more powerful for users. Here, screenshots show how a Twitter user could tweet using several different personas all tied to their account. In this example, a user called Brad can choose to tweet from personas called 'Brad', 'Brad at Work', 'Daddy braddy', and 'Brad on a Bike'.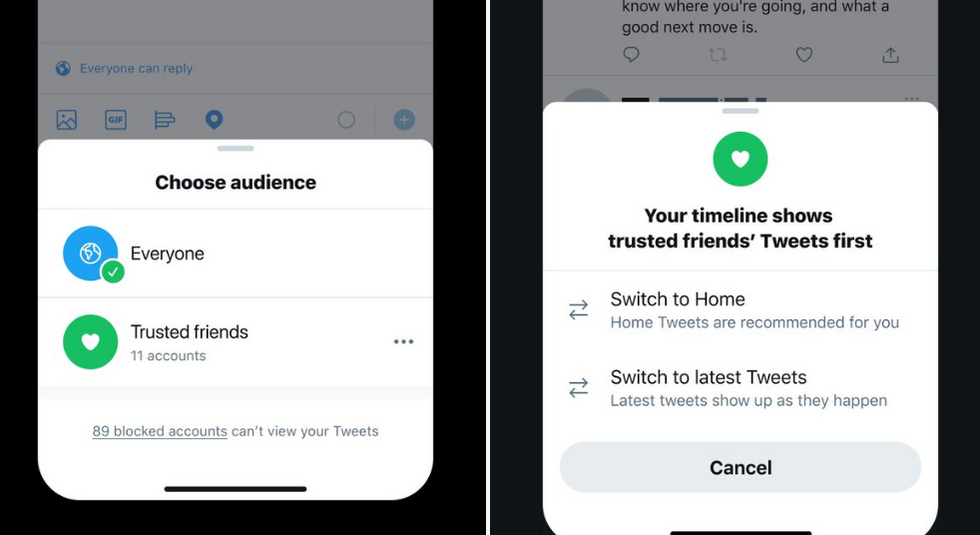 Twitter is exploring the option of a 'trusted friends' system for tweetsTwitter
The Twitter designer said: "Here's another approach, embracing an obvious truth; we're different people in different contexts (w/friends, fam, work, public)...Facets, an early idea, lets you tweet from distinct personas within one account. Others can follow the whole account or just facets they're interested in."

We like what Twitter is doing here and see it as a bid to make the social network more friendly and intimate, with users sharing more targeted content with fewer, more engaged people.
It is still early days for these features, but we look forward to seeing them develop and hopefully roll out in the future.
Apple AirPods Pro