Like GearBrain on Facebook
Budget wireless headphones are rarely a sound investment. They're often cheaply made with poor connectivity, and the quality of what you hear is typically lacking. Urbanears Plattan 2 are a nice departure from that adage, a pair of very inexpensive headphones that deliver a solid experience with good sound and a pleasing design.
Urbanears Plattan 2: The basics
Urbanears is fairly well-known for their budget headphones with a modern design. The Urbanears Plattan 2 meet those expectations, with a simple look including heavily cushioned ears, and arms that can extend for a better fit. These have one button for turning them on and off, skipping tracks, picking up a call and also connecting via Bluetooth.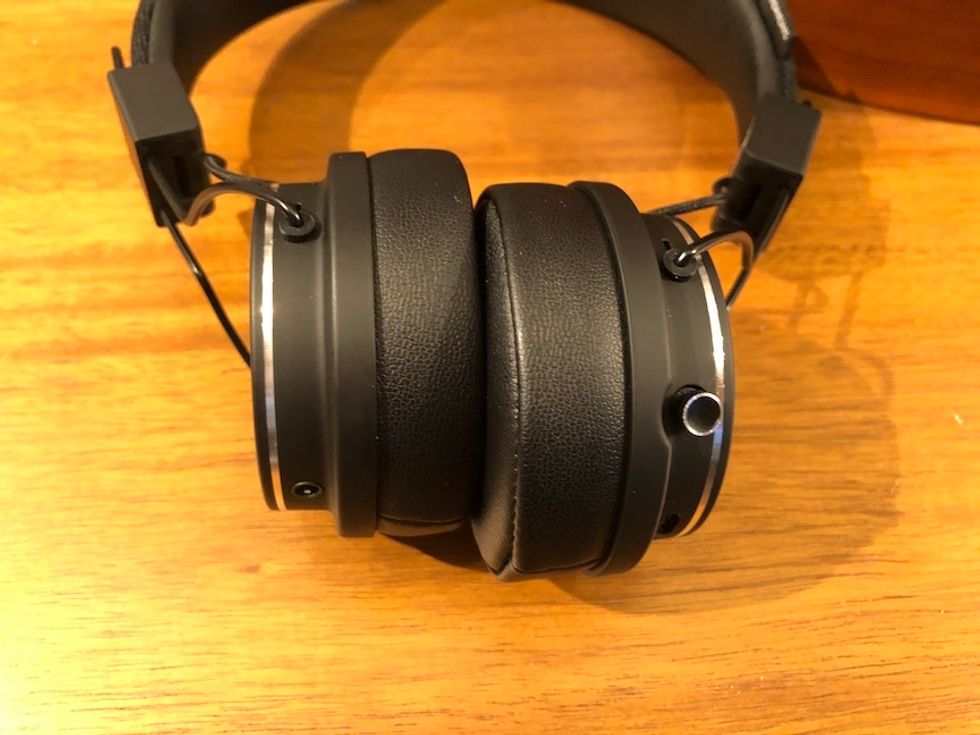 One button controls all the features on the Urbanears Plattan 2GearBrain
The headphones promise 30 hours of continuous use over Bluetooth. I found they held to their promise, not needing a top off over several days, which is nice. They also stayed connected to Bluetooth on the last device where they linked. That doesn't always happen, so again, a solid plus.

Setting them up was simple. I pulled them out the box, charged them via the enclosed charging cable, and was able to start using them within a few hours. The packaging too is actually very sturdy. You don't get a carrying case with these, but the box is hardcore, and if you wanted at home you could easily reuse this to store the headphones.
Urbanears Plattan 2: Sound quality

Sound was, to my surprise, very good considering these are $69 headphones. Dialogue, music, movies — all played clearly. These didn't give me a wide range of tones, and music was a bit flat, but for a budget price they were excellent.
I didn't get a lot of left and right differentiation, but that's fine. What's key is that I really feel I was missing anything while listening to them. So while I'm not getting the highs or lows you might find with an excellent pair of high-end headphones, they also didn't takeaway while watching a movie, or listening to an online lecture.
I also didn't hear any Bluetooth lag, which can often happen with wireless headphones. This is where someone's mouth is moving but the sound is a second or less off, making a movie feel very disjointed. Considering the budget price of these, and the fact there wasn't any Bluetooth lag, this was a big plus.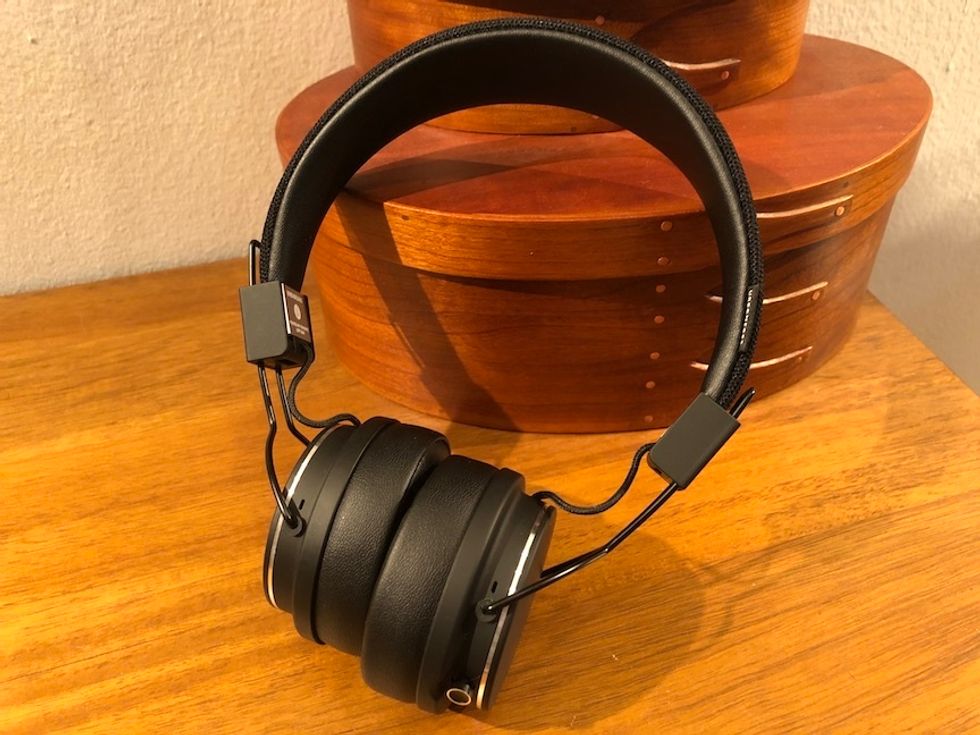 The Urbanears Plattan 2 have heavily padded ears but a lightly padded headbandGearBrain
Urbanears Plattan 2: Style

The look of these wireless headphones is very clean, a retro hint with the exposed wiring along the arms, and some minimalist detailing including a circlet of silver around the edges of the ear pads. The headband is not heavily padded, but has a bit — enough for the top of your head.
The headphones are also quite small with the ear pads just covering the ears, making them on-ear headphones rather than over-the-ear headphones which enclose the ear.. For those who find high-end headphones quite large, and don't love the air traffic controller look of them, these are likely going to appeal.
They're exceptionally lightweight which does give them an inexpensive feel. But the tension of arms is strong, perhaps a bit too. Urbanears says the headphones have an "ergonomic fit," that helps you wear them all day long. Yet, I found the headphones were quite tight on the ear, and after about 30 minutes I begin to feel that. Throw in a pair of glasses, which I need for writing, and they pinched a bit around the side of my head.
The tightness is good, though, for blocking out sound creating a quasi active noise cancellation effect, though not a proper one, of course. (Remember — $69 here.) So that's a plus.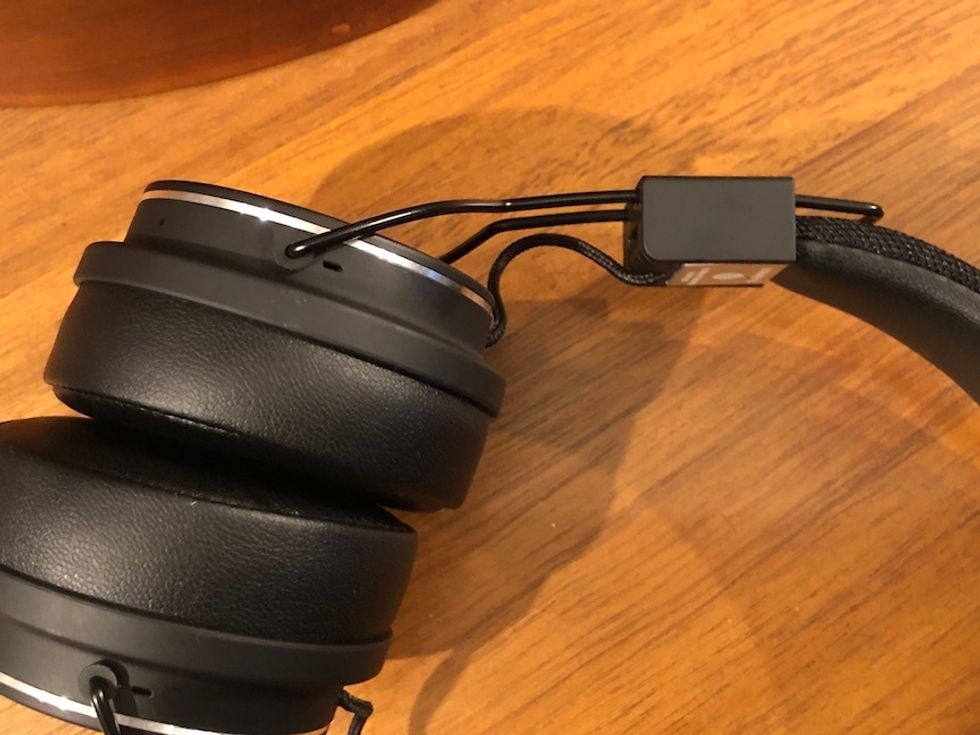 The tension keeps the Urbanears Plattan 2 firmly on the earsGearBrain
Urbanears Plattan 2: Price

The Urbanears Plattan 2 are $69. But we've seen them for much lower including on Amazon. You can pick them up in a number of colors, including a royal blue, pink, black, grey, white and more. Some colors appeared sold out on Urbanears own web site, but you may be able to find options from other sites.
Urbanears Plattan 2: Worth buying?
For their $69 price tag — which is likely lower this holiday season — the Urbanears Plattan 2 are a very decent option for anyone looking for an inexpensive, basic pair of wireless headphones. Throw in the fact that these have a long battery life, decent sound, solid Bluetooth connectivity and fun color choices, and they're a great option, even a nice gift suggestion, especially for students or anyone looking for a budget holiday present this year.
Pros:
Price
Good battery life
Strong Bluetooth connection
Cons:
Fit is a bit tight on the head
Not a lot of padding on the headband
Feel a bit flimsy in their construction
Introduction of The GearBrain, The First Compatibility Find Engine for Smart Devices www.youtube.com
From Your Site Articles
Related Articles Around the Web
Like GearBrain on Facebook