Smart audio glasses first came to market back in 2016 and it wasn't Bose who came out with the first pair. Many think it was Bose and their Alto and Rondo frames that came out first to help users listen to music and/or answer phone calls on their smartphone with just the touch of the leg of the frame and costed around $200. It was Vue who ran a successful Kickstarter campaign for smart audio glasses back in 2016. Since then, we have seen numerous manufacturers introduce new smart audio glasses including Amazon, Fauna and they are all still expensive. Recently, we were sent a new pair of audio glasses by Vue to test. Here is what we found testing Vue Lite 2 smart audio sunglasses, the company's second generation of their Vue Lite smart audio glasses.
What are Vue Lite 2 Smart Audio Glasses?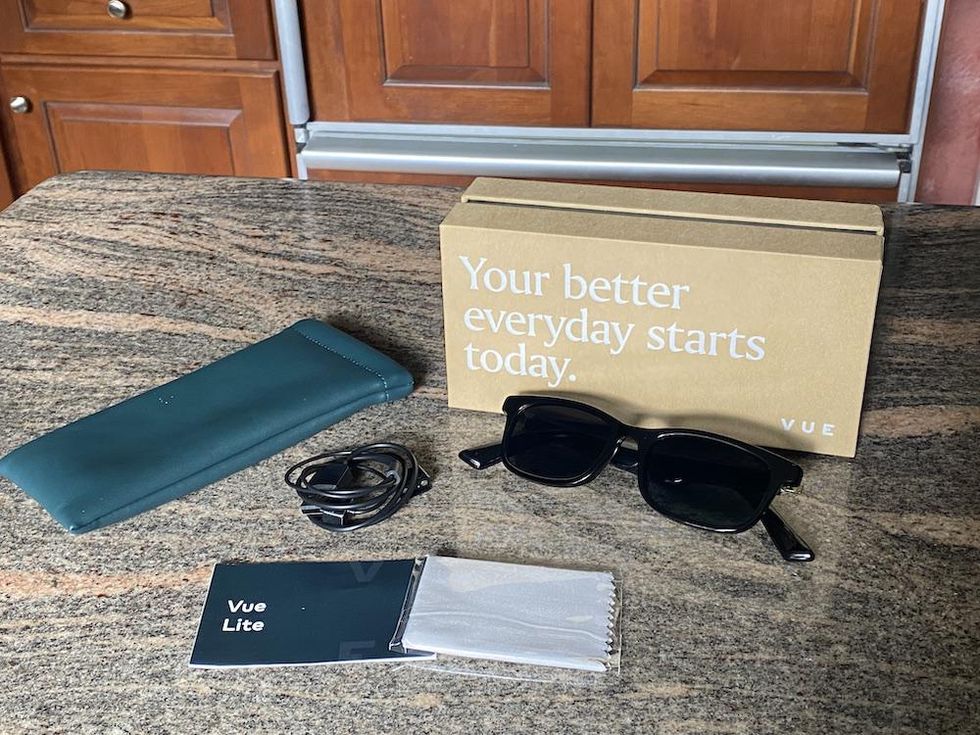 Vue Lite 2 Smart Audio Glasses unboxed
GearBrain
Vue Lite 2 is the second generation of the company's Vue Lite audio glasses which were launched in 2020. These smart audio glasses enable users to listen to music, podcasts, make hands-free calls on your smartphone with a Bluetooth 5.0 wireless connection. You can also talk to Siri, Alexa or Google Assistant if connected to your cellphone.
Like most smart audio glasses, the sound from the Vue Lite 2 audio frames is broadcasted by two second generation directional speakers which are located on the bottom of each leg of the frame. This location helps aim the sound waves from the speakers toward your ears. There are also noise-cancelling microphones on each leg to help make your calls noise-free.
Vue Lite smart audio glasses come with a variety of lens. You can get clear lenses, sunglasses or blue light blockers. All lenses come with UV protection, anti-scratch and anti-reflective coating. The smart audio glasses are also rain and sweat resistance. If you want to wear Vue Lite 2 smart audio glasses at the beach on a hot sunny day or if you get caught in a rainstorm, no worries. Your Vue Lite 2 glasses will not be harmed. They have a IPX5 waterproof rating which is considered water resistance. This means don't wear them in the ocean but it's ok if you get splashed with them on.
Inside the Vue Lite 2 box you will find the glasses, a carrying pouch, magnetic charging cable, microfiber lens cloth, warranty card and quick start guide.
How to use Vue Lite 2 Smart Audio Glasses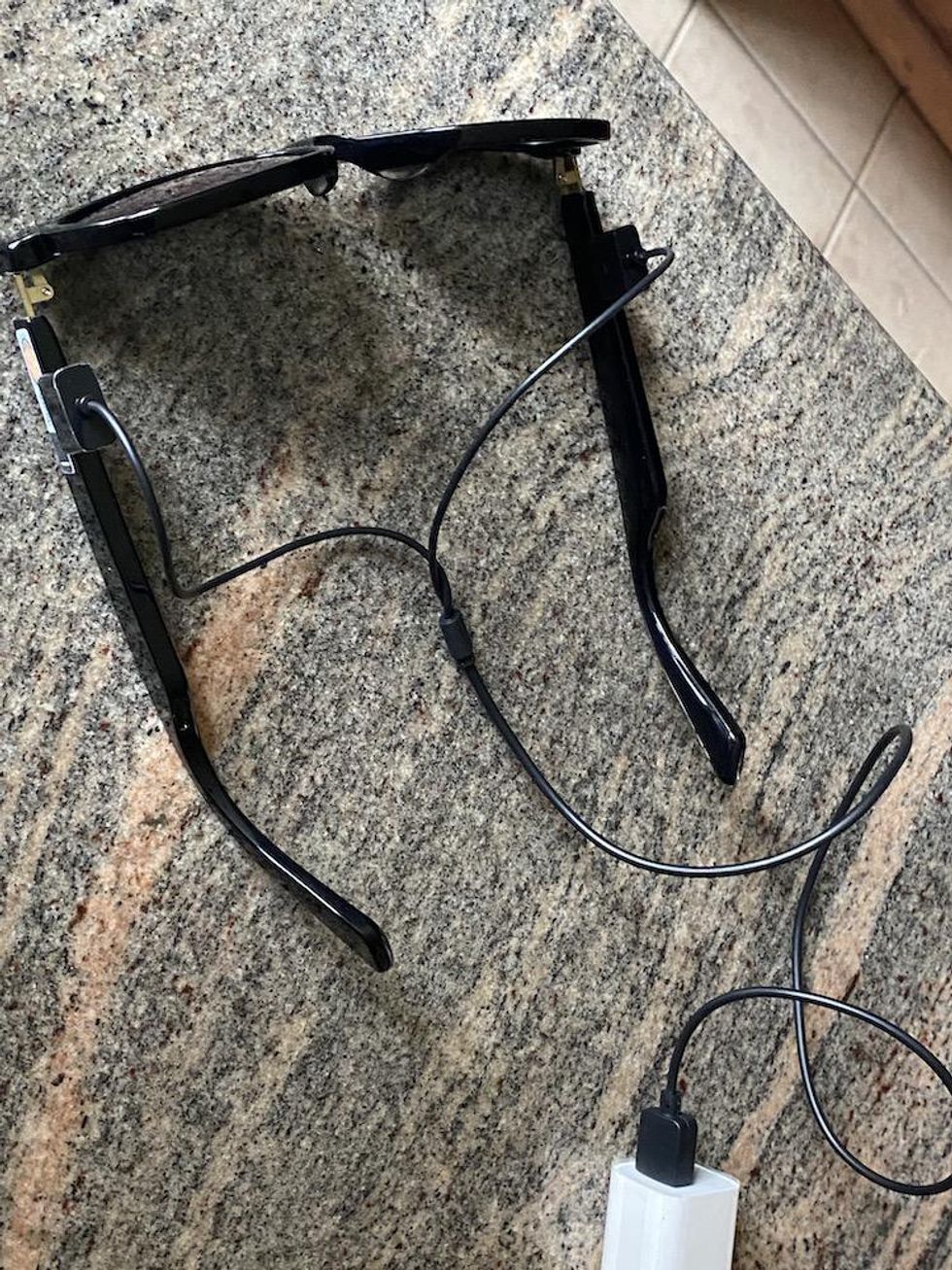 Charging Vue Lite 2 Audio Glasses requires AC adapter
GearBrain
Most controls on audio glasses are located on the sides of the legs of the frames. These touch panels have sensors that allow you to start and stop music, answer phone calls, play/pause music and access voice assistants. With Vue Lite 2, it is no different. The touch panels are the logo on each leg and can be very sensitive. Make sure you firmly touch the panel. You will hear a beep when you touch them.
When you first take the glasses out of the box, make sure they are charged. There is a status light on the leg of the frame. If no light is lit, this means the frames are fully charged. If you see a red light, it means they need to be charged. To charge the frames, use the supplied magnetic charging cable. You will need an AC adapter to plug the cord into an outlet. The magnetic charging cable snaps onto your frames nicely. While charging, the red light will be flashing. When the red light disappears, it means your frames are fully charged.
After charging your frames, make sure you remove the protective tape over the touch panel on the side of each leg.
The last step in setting up your Vue Lite 2 audio glasses is to connect them to your smartphone using Bluetooth. Turn on your Vue Lite glasses by simultaneously holding each touch panel on each leg for about 6 seconds. Once you hear "Power On" you are ready to connect the Vue Lite 2 to your smartphone. When paired, the frames will say "paired."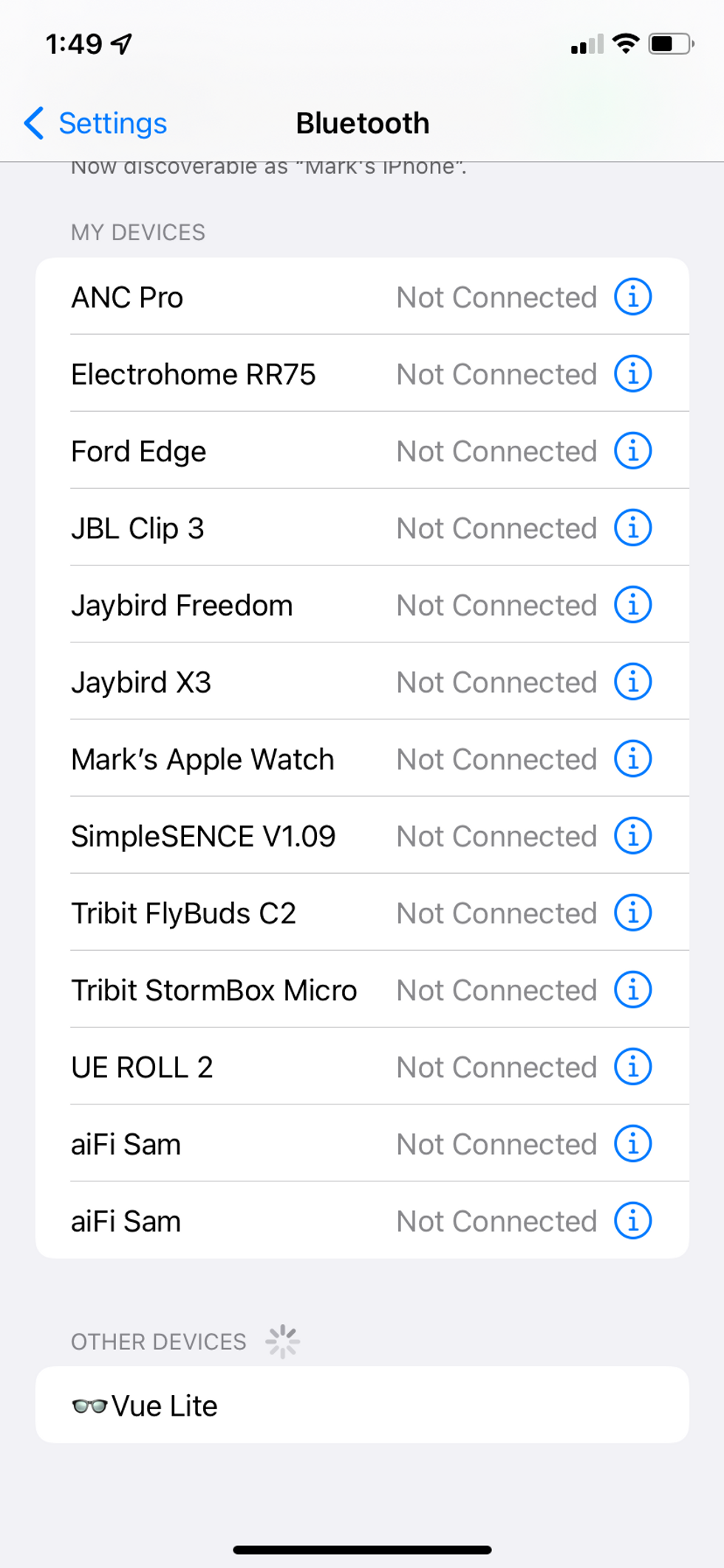 Vue Lite 2 Smart Audio Glasses requires a Bluetooth 5.0 connection.GearBrain
Cost

The cost of the Vue Lite 2 smart audio glasses start at $199.00 and are available on the company website. The price includes prescription lenses but will vary based on the frame and type of lenses (i.e. progressive, reading and specific prescription types) you select. Sunglass lenses available are tinted black, tinted brown, polarized black or brown and photochromic. The Prescription types available are non-corrective, single vision 1.6 standard, reading, progressive and single vision, 1.67 high index. The frames for sunglasses with photochromic or polarized lenses start at $279. For eyeglasses, frames with blue-light or Photochromic lenses also start at $279.
Vue Lite 2 smart audio glasses come in 8 different sunglass models and seven eyeglass modes. Here is the list of models for you to choose from:
Cygnus
Cygnus – Low Bridge Fit
Leo
Lyra
Orion
Orion Low Bridge Fit
Columba
Taurus (Sunglasses only)
Gemini (Eyeglasses only) - New
Ara (Sunglasses only) - New
Note: Taurus is only available in sunglasses.
To help you pick the right frame, Vue has a size guide and virtual dressing room on their site. In the size guide, there are three categories for you to choose: narrow, medium and wide. For the virtual dressing room, just click on the "Try it on virtually" and allow Vue access to your computer or smartphone camera. Then you can see how you look with the glasses you selected. It's very helpful.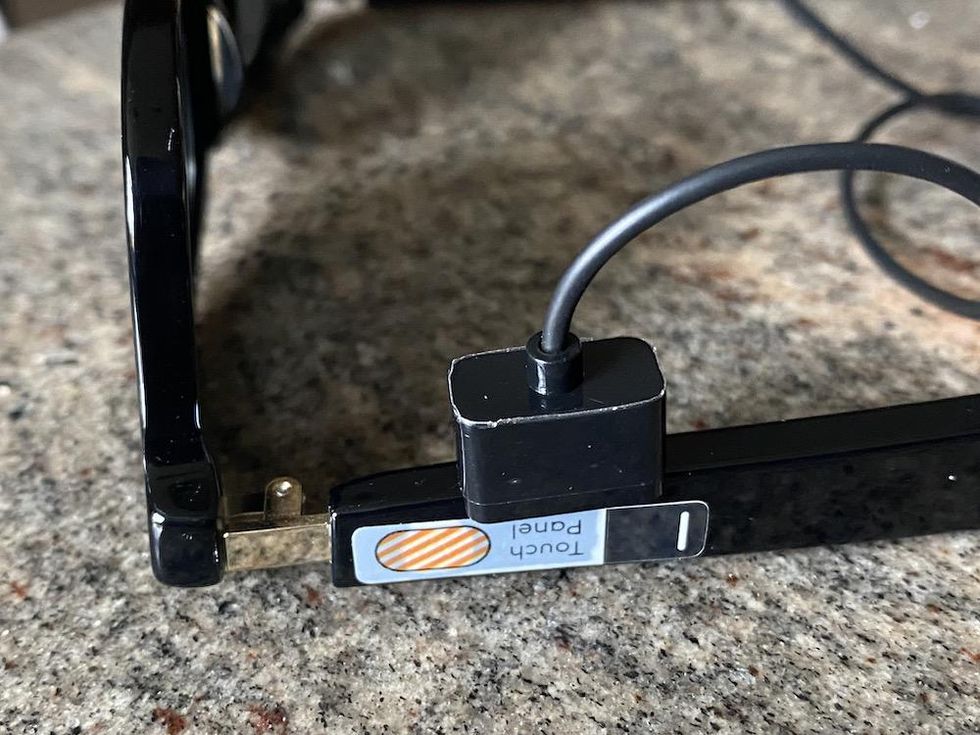 Vue's power charging cable snaps onto the sensors of Vue Lite 2 frames for secure fit during charging.GearBrain
Performance
For our test, we were sent Cygnus sunglasses (non-prescription) model. Unboxing and setup were very easy. We had no issues with connecting to our smartphone via Bluetooth. Charging was simple and we liked how the magnetic charging cables snapped onto the legs of the frame. It formed a nice tight connection which we don't normally find with smart audio glasses.
When it came to test the sound of the Vue Lite 2 audio glasses, we were a little disappointed. While listening to music, the loudest sound setting was not as loud as other smart audio glasses we have tested. We tried to adjust it but you can't adjust the sound on Vue Lite 2 frames. There is no app to use to adjust loudness or sound quality. And there is no control on the leg of the frame like other smart audio glasses offer users. For Vue Lite glasses, you need to use your smartphone to increase or decrease sound levels. This was surprising to us.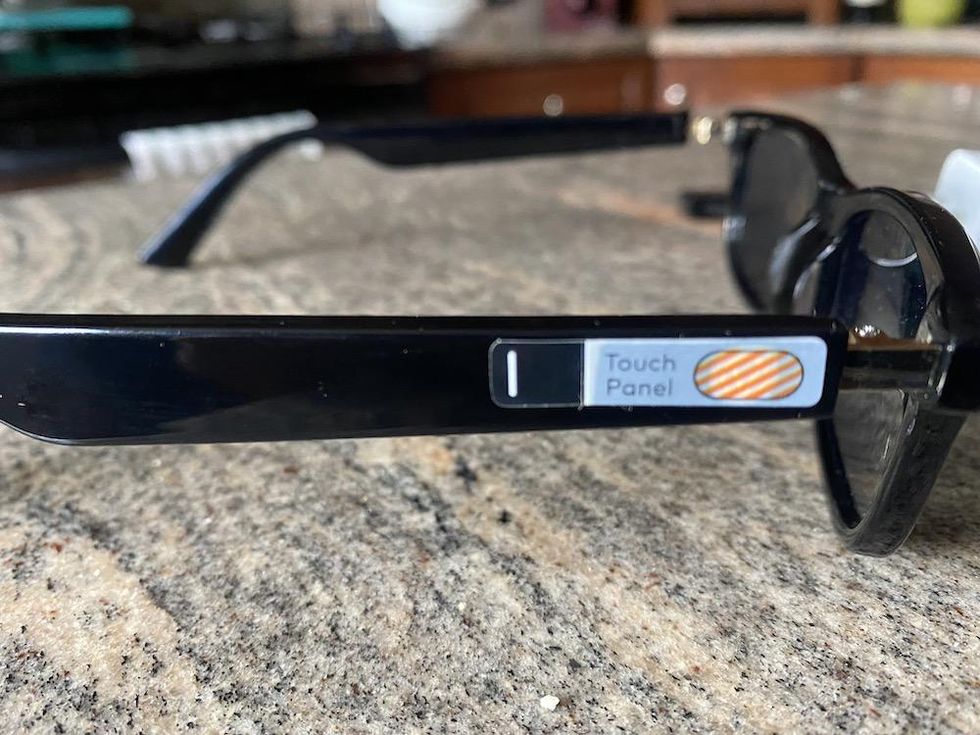 Touch panel on the side of Vue Lite 2 Smart Audio Glasses is not too sensitive but it does not control the volume. It does control start/stop music, answer phone calls and access Amazon Alexa, Siri or Google Assistant on your smartphone.GearBrain
However, we did find the touch panel not to be overly sensitive like other smart audio glasses. And the glasses were lightweight, and the legs of the frames were not bulky like other smart audio glasses we tested.
But the best feature of Vue Lite 2 audio glasses is its wide selection of frames and lens. Most smart audio glasses like Echo Frames or Bose Frames, there is a wide lens selection but limited frame styles for you to choose. Vue offers 8 different frame styles with different lens and prescription types which is excellent. You are bound to find the right look too using the virtual dressing room before purchase.
Summary
Being a music lover who likes to a quality sound experience with a nice bass and treble mix, I have found audio glasses are not for me. They don't have the immersive sound you get with over the ear headphones or earbuds. And with many smart audio glasses you can't adjust the sound quality. However, smart audio glasses do have a purpose for some people. If you don't like things in your ear or walking around with headphones the size of earmuffs, audio glasses are a nice alternative to consider. If you want handsfree access to your smartphone without an earpiece, audio glasses will work for you. And if you like wearing blue light glasses that can work as a headset on Zoom calls, audio glasses are a good choice to consider.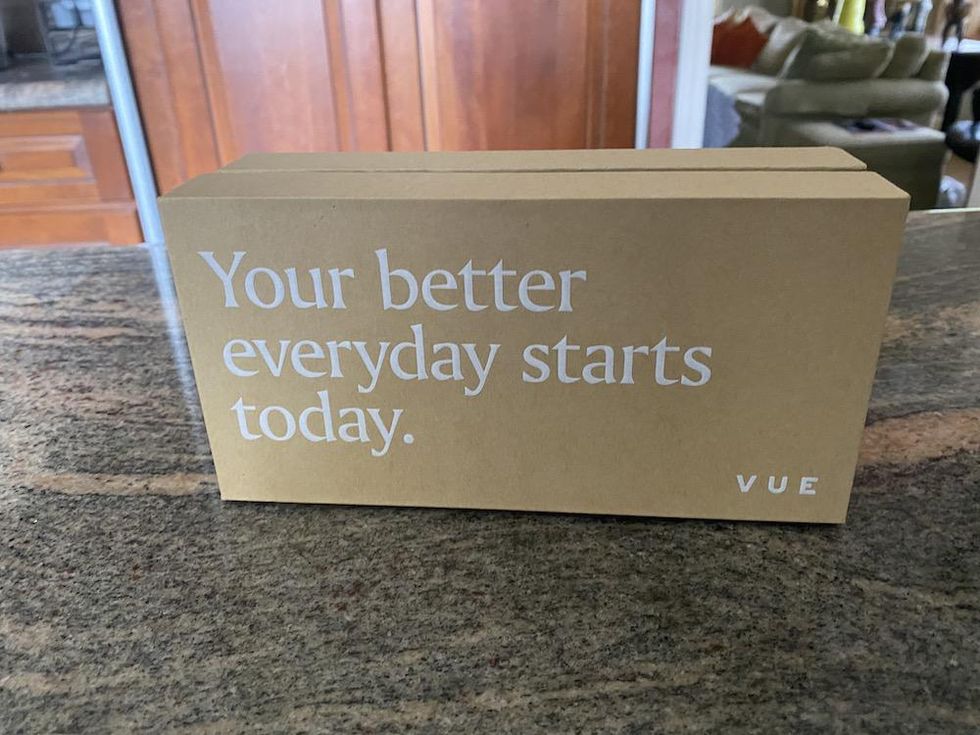 Vue Smart Audio GlassesGearBrain
Based on the smart audio glasses we have tested, Vue Lite 2 Audio Glasses are a good pair of smart audio glasses. Despite the lack of a full body sound, their sound was one of the better sounds we have heard from smart audio frames. Also, Vue's wide selection of styles for both frames and lens are bigger than any competitors product line. And their frames are not bulky or heavy like other smart audio glasses. And through testing, their touch panels were not overly sensitive and were easy to stop/play/pause music, answer calls and even access our smart assistant Alexa with just a touch and voice command.
If looking for smart audio glasses with prescription lenses or maybe a new pair of reading glasses that have speakers built-in or want sunglasses that have built-in speakers and can be used on hands-free calls, you should investigate Vue Lite 2 smart audio glasses. You are sure to find the perfect design frame and lenses to meet your look and needs.
Pro
Wide selection of frames and lenses
Easy setup
Works with Alexa
Virtual dressing room
Cons
Cost
No loudness controls on frames
Sound quality is poor (not immersive)
No app to control bass/treble levels.
How to Find Products in The GearBrain, Our Compatibility Find Engine for Smart Devices www.youtube.com