Smart audio glasses blend eyewear with audio features — from sunglasses to blue light glasses, and even frames that need prescription lenses. Answer calls, listen to music or podcasts, all without picking up a smartphone. One brand in this arena is Fauna, which sent GearBrain a pair of their new smart glasses with speakers, the Fauna Audio Glasses. Here's what we found after testing them for a few weeks.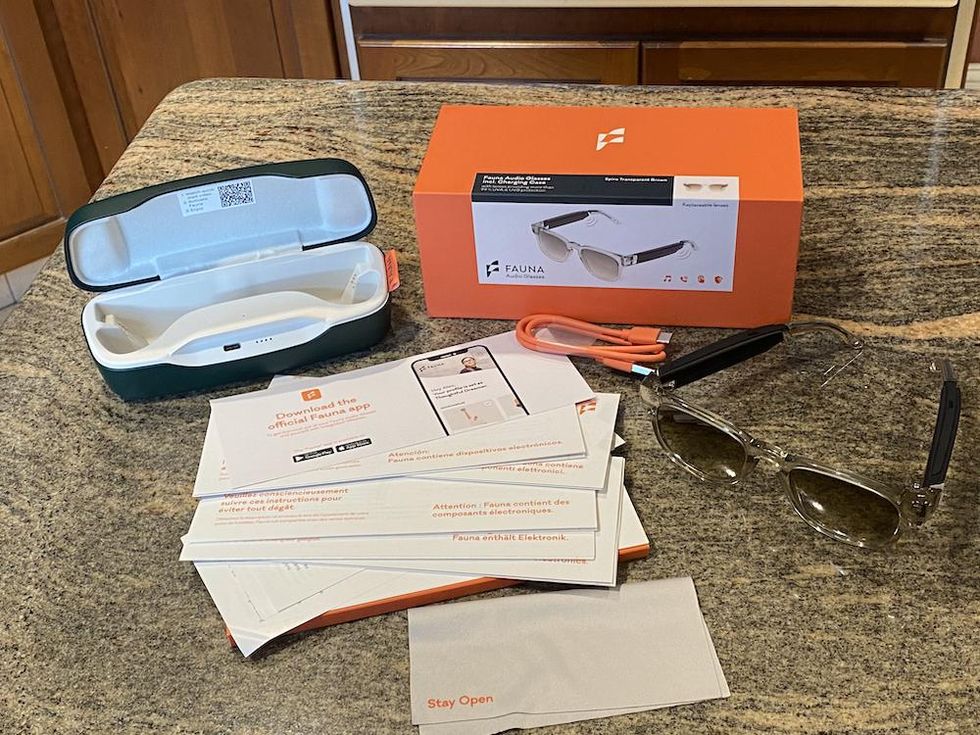 Fauna Smart Audio Glasses unboxed.GearBrain
What are Fauna Smart Glasses?

Fauna smart audio glasses are eyeglasses with speakers built into the frames, pushing out crystal clear and vivid audio sound. When connected to a smartphone via Bluetooth, touch controls on the frames manage audio features such as an answering a phone call. You can pick up Fauna audio glasses in both regular lenses or tinted lenses, wither Zeiss Dura Vision Blue Protect lenses and Carl Zeiss Vision lenses for sunglasses, and even have an optician or optometrist retrofit the Fauna smart glasses with prescription lens. All lenses are also BPA free.
Custom lens can also be purchased online from Fauna's partner, Mister Specs. Fauna's frames and glasses are water and dust resistant (IP52 rated), meaning they can be used outside in snow and rain. And you control them by sliding or touching the pads on the sides of each temple, to start and stop music, answer and hang up phone calls and lower or raise volume.
Plus, if you work for long hours in front of a computer screen, Fauna also offers special blue light and blue light filtering lenses to be installed on the smart audio glasses.
Fauna has four models of smart audio glasses: Havana, Levia Black, Spiro Transparent Brown and Fabuleux Crystal Brown. All of these models come with a charging case.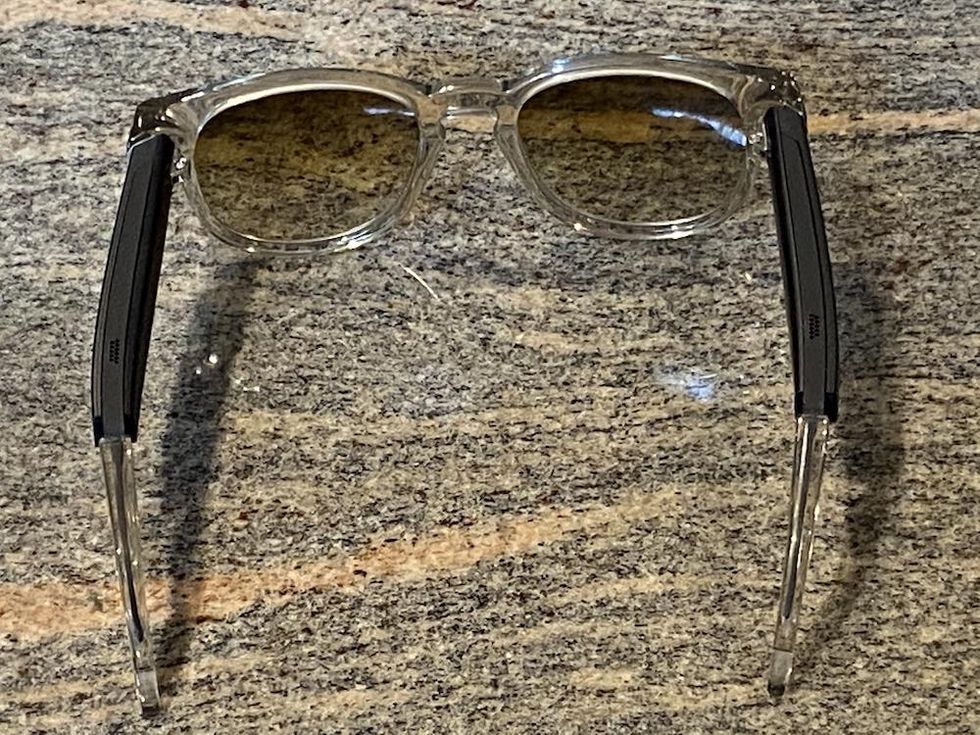 For our test, we used Fauna Spior Transparent Brown sunglasses.GearBrain
How do you use smart audio glasses?

Fauna audio glasses tap into Bluetooth technology (Bluetooth 5.0), which means you can use these hands-free for phone calls, or even record voice messages when they are connected to your smartphone.
Fauna smart audio sunglasses weight 50 grams and come equipped with two microphones, two wolfers, two mems speakers, two touchpads, and either blue light filter or sunglass lenses. There's also a charging case with an integrated power bank for up to four Fauna eyewear charging cycles, a cleaning cloth and a USB cable for charging. Frames should be able to recharge in about two hours. The audio glasses are compatible with the iPhone 5 or higher running iOS 10 or higher, and most Android devices with Android 6.0 operating system or higher.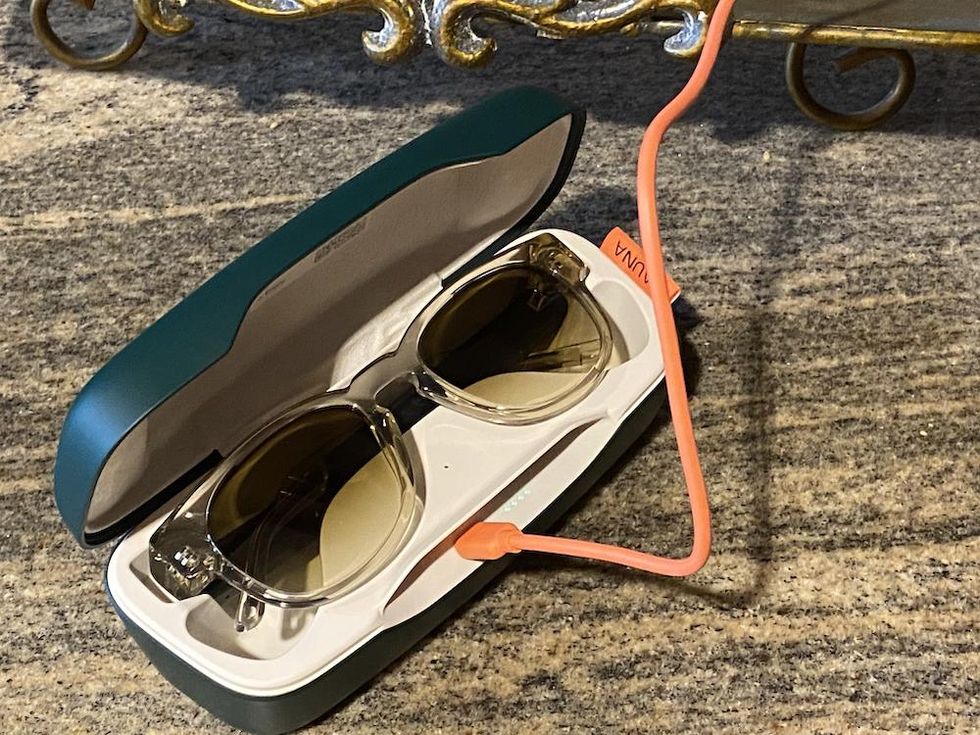 Easily charge Fauna glasses and case at the same time.GearBrain
Fauna audio frames allow people to hear ambient noise, which is a bit safer if you're listening to music on a busy street than if you're wearing active noise cancelling headphones, for example. On the other hand, if you are an audiophile, and are looking to immerse yourself in the music, these smart glasses might not meet your demands. They don't offer the sound quality that makes you feel like you're standing on stage with the band. But they do offer a big convenience when it comes to set up and playing your music. We found the sound to be exceptionally good for just sitting around outside , or even while working in from a computer screen.
Fauna app

The Fauna glasses work with the Fauna mobile iOS and Android app. There are three modes you can select in the app that add on to how the glasses work: Relax and stay mindful, Remember to drink, and the third is, Check your posture. The Relax and stay mindful feature allows you to pick a song from the Fauna library that focus on relaxing and uplifting tunes. The Remember to drink function sets notifications to help remind you to drink water without having to always check your phone constantly. And the Check your posture is a feature that pings you to check how you're sitting to help your spine.
Smart home integrations
Fauna audio glasses do not have any built-in voice assistance currently. But you can use voice control through your Bluetooth connection with your smartphone by just touching the side temple on the glasses to activate either Siri for iPhones or Google Assistant on an Android phone. Fauna also told GearBrain that they are looking at forming partnerships with additional voice assistant companies rather than develop their own, something they're hoping to do in the near future.
Cost

Fauna smart audio glasses cost €249, or about $300. They're made in Italy and available for purchase on the company's website. Also available on Amazon.
Summary

Fauna competes with two other well known smart audio glass makers, Bose Frames and Echo Frames. GearBrain has not tested these devices yet therefore we can't really tell you how Fauna stands up against these products. But when buying audio glasses, you should take a look at three elements: speakers, frames and lenses. Do you want lens for sunglasses or prescription glasses? Are you interested in blue light lens to help protect your eyes from the computer screen? Do you want frames that are heavy or light? What type of style or color do you want your lenses and frames? What is the sound quality?
Fauna offers regular lens, Blue light lens and tinted lens, but they only have four models today. The company informed us they are working on adding new colors before the summer and a new frame design before the end of the year.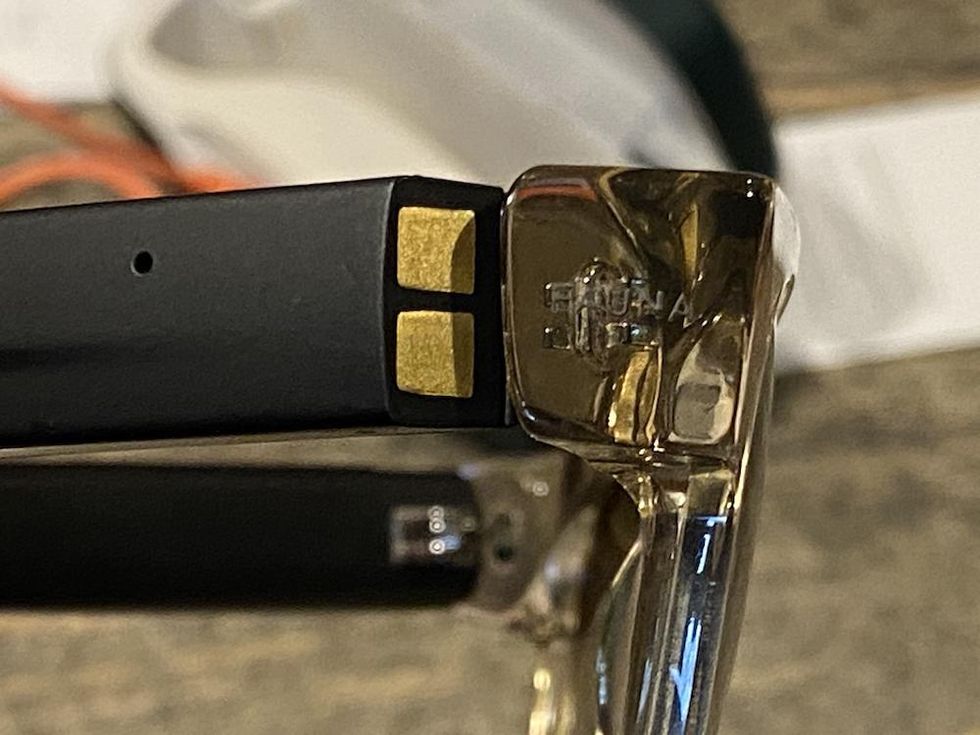 Fauna's frames are well-built and durable. Charging connections built into the frames for easy charging while in their case.GearBrain
You're also going to want to consider the sound quality. With Fauna audio glasses, you're not immersed in sound, and even more keenly if you raise the volume too high, we found other people could hear what we were listening to if they were close. Luckily, if you're in doctor's office or somewhere with people, you can turn off music or even lower the volume with Fauna's audio glasses just by sliding your finger forward or backwards.

We did like the ability to hear what's going on around us, as well as the music with Fauna smart glasses. We also liked the sturdiness of the build of the frames, which were not heavy but durable enough to withstand taking them on and off repeatedly, and even placing them down on counters.
If, however, you are looking for high quality sound, music that's fully immersive, you will be disappointed with Fauna or any smart audio glass glasses. But if you're looking for a way to listen to music while working or walking outside, and even a simple way to pick up phone calls without picking up your phone, Fauna Audio Glasses are worth your consideration.
Pros:
easy to use
Well built frames
Wide variety of lens: clear, prescription, tinted and blue light
Charging case
Cons:
Price
limited models to choose from today
sound is not immersed
FAUNA Unisex Designer Audio Glasses with Exceptional Open-Ear Audio and Bluetooth Connectivity – Comes with Charging Case – Blue Light Filter Lenses, Memor Havana