Like GearBrain on Facebook
You might not have heard of Rimac, the Croatian electric car company which makes $1M+ hypercars in very tiny numbers — they made just seven of their first car, for example. But that doesn't matter, because traditional carmakers getting into electric have heard of Rimac — and these companies are buying Rimac's batteries. It's a direction Tesla may want to note.
Founded in 2009 by Mate Rimac, the company supplies batteries and other electrical drivetrain components to Aston Martin, Jaguar, Renault, SEAT (part of the VW group in Europe), and fellow hypercar maker Koenigsegg.

Read More:
It also sells battery packs, infotainment systems, drivetrains, driver assistance systems and other vehicle electronics to giants further up the auto food chain, like Siemens, Brembo and car production company Magma.
Sure, Rimac sold a handful of its Concept One car — one famously destroyed by Richard Hammond of Amazon's The Grand Tour — and up to 150 examples of its follow-up C_Two will also be built. But Rimac knows the real money is in being a supplier to the bigger brands. Porsche recently acquired a 10 percent stake in Rimac for an undisclosed fee — convenient, as the German company gears up to start producing its first electric car, the Taycan, in 2019.
Rimac is also behind the Greyp G12, an electric bicycle with a 120km range without pedaling and an 80-minute charge time. Perfect for the growing on-demand scooter hire services.
Bigger still is the potential of the Chinese market, getting onboard with electric cars and their infrastructure in a big way. Rimac holds a 40 percent stake in a joint venture with China's Camel Group, which will see a new Chinese factory produce 50,000 electric motors and batteries annually.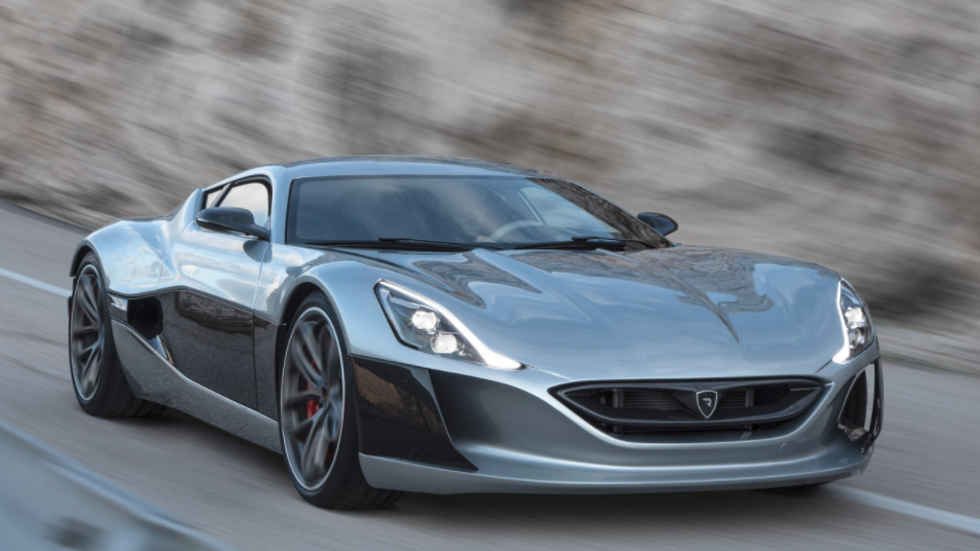 Rimac
What's this got to do with Tesla?

Simply put, Rimac is doing what Tesla should. It has a limited run hypercar as a headline-grabbing halo project (like Tesla's upcoming Roadster). It helped make the electric E-Type Jaguar used at Prince Harry and Meghan Markle's wedding (surely a scoop right out of Elon Musk's playbook), and it has struck deals with established, blue-ribbon partners like Aston Martin to make the rest of the auto industry sit up and pay attention — something Tesla lacks.
Tesla and Elon Musk's "production hell" has been well-documented over the last couple of years, as it struggles to meet its own Model 3 delivery targets. Stories of bumpers falling off when driving through water, rear doors of mismatched colors breezing through quality control, and brand-new cars arriving damaged - or being stuck in parking lots for weeks awaiting delivery — have only stoked the flames lit beneath Tesla by Musk himself and his wayward use of Twitter.
@nick_thesun are you interested in this - colleague of husband's brand new $78,000 dollar Tesla Model 3- in a gleaming interior of whiteness, 3 white door pads and, um one brown one. Nobody had noticed pic.twitter.com/kSuABacTml
— Angela Dowden (@DietWrite) August 15, 2018
The love for Tesla remains strong, both among the die-hard fans who camped out to secure their Model 3 orders back in 2016, and Wall Street, which responded well to the SEC fining Musk $20 million and demanding he vacate the chairman's seat. The company also finally met its Model 3 production goal in the last quarter, with 53,000 rolling off the production line.
But it still feels like the company is walking a tightrope to stay alive, and Musk admits those finished cars find themselves in "delivery logistics hell" as the company struggles to offload new vehicles to their owners.
The worst may be over — and the so-far mythical $35,000 Model 3 Musk promised in 2016 might finally go into production — but rivals like Audi, BMW, Jaguar, Mercedes and Volkswagen are closing in fast, with centuries of combined experience, well-oiled production and delivery systems, and deep pockets. But they haven't got a Gigafactory.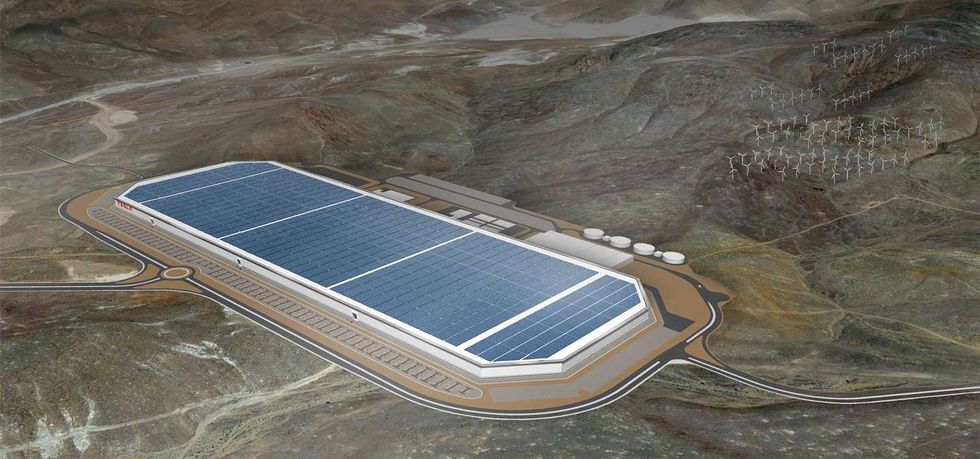 Render of what the completed Gigafactory 1 will look like Tesla
Tesla should consider selling its battery tech to others

It should not be forgotten that, for its faults, Tesla is a world-leader in lithium battery production. Its Gigafactory 1 in Nevada is vast and, along with Gigafactory 2, a solar panel production facility in New York, will be joined by several more in the coming years. When complete in 2020, Gigafactory 1 is projected to produce battery packs for 500,000 Tesla cars annually, equating to more lithium batteries than were produced globally in 2013.
As well as car batteries and solar panels for roof tiles, Tesla also makes batteries for home and commercial use, and produced the world's largest battery in 2017 to help stop state-wide power cuts in southern Australia.
Tesla also has its Supercharger network - an international recharging infrastructure which for now is unmatched by any of its rivals. Selling access to batteries, drivetrains and the Supercharger network — the parts of its company Tesla has nailed - to other automakers seems like a logical step towards increased profitability and wider brand recognition.
Building cars should only be seen as part of what Tesla does, and what it will do in the future. After all, it changed its name from Tesla Motors to Tesla Inc in 2017, echoing Apple dropping the 'Computer' from its own name a decade earlier with the launch of the iPhone. Apple still makes Macs, but they account for just 8.9 percent of revenue.
Making a car company from scratch is clearly difficult, as Tesla has proved almost continuously since its inception in 2003. Meeting the Model 3 targets might be a sign it has finally cracked it, realizing Musk's mass production dream laid out in his grand plan from 2006. But will the Model Y launch be trouble-free? Will Tesla's semi trucks be built and delivered without a hitch? What about an updated Model S? And the pickup truck?
If Tesla trips up at any of these future stages - and previous form says it almost certainly will - a backup plan of selling batteries in huge quantities to other automakers must surely look attractive. Musk can keep showing off with the Roadster in the same way Rimac does with its own cars, but behind the hypercar glitz there could be Gigafactories quietly churning out masses of batteries with names like VW, Ford and GM stamped on the shipping containers.
And on these cars there could be a small badge reminding everyone of the pedigree of its powertrain. "Powered by Tesla."
Like GearBrain on Facebook