Like GearBrain on Facebook
Withings is adding another smartwatch to its lineup, the new ScanWatch which can pick up on not just heart arrhythmia but also sleep apnea, and is designed to be worn, then, while someone is asleep at night.
The watch has a long battery life — 30 days — and will come in two different sizes, a 38mm size for $249, and a larger 42mm display for $299. It has a stainless steel case, a sapphire glass watch face and is waterproof.
The ScanWatch is still waiting clearance from the U.S. Food and Drug Administration and also CE certification from the European Union.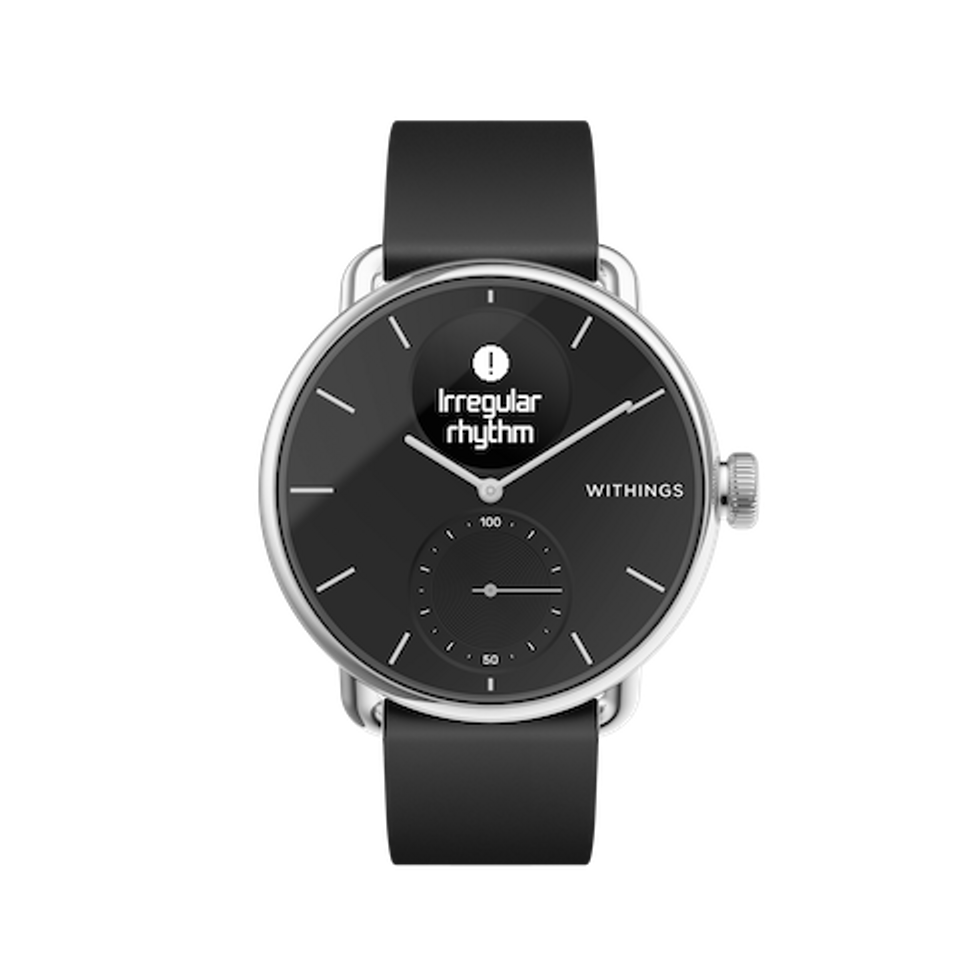 The Withings ScanWatch shows results of its readings right on the watch faceWithings
Heart rhythm

ScanWatch acts like other electrocardiogram (ECG) wearables — including those from Withings such as its cuff, the Withings BPM Connect — worn at the wrist and able to pick up on whether someone has an irregular heart rhythm, also known as AFib, or even it their heart is beating, higher or lower than normal. The watch can take an ECG at request through the display, which can be completed in 30 seconds through electrodes built-in, and accessed by touching the sides of the bezel, or frame, around the watch.
You can then read the ECG on the ScanWatch's display, or through Withings' Health Mate app.
Withings BPM Connect - Wi-Fi Smart Blood Pressure Monitor
Sleep Apnea
Added to the ScanWatch is also a new sleep apnea feature, able to pick up on this disorder through a sensor that sends a light wave through blood vessels, and reads oxygen saturation levels. This is similar to the Withings Sleep device, but instead of the feature in a mat which is placed under the sheets, is now in a watch form.
The device also reads someone's sleep patterns and tells its wearers about the quality of their sleep, how long they slept and how deeply. And the watch includes a feature that wakes people up through a vibration, turning that one at the best time in someone's sleep cycle.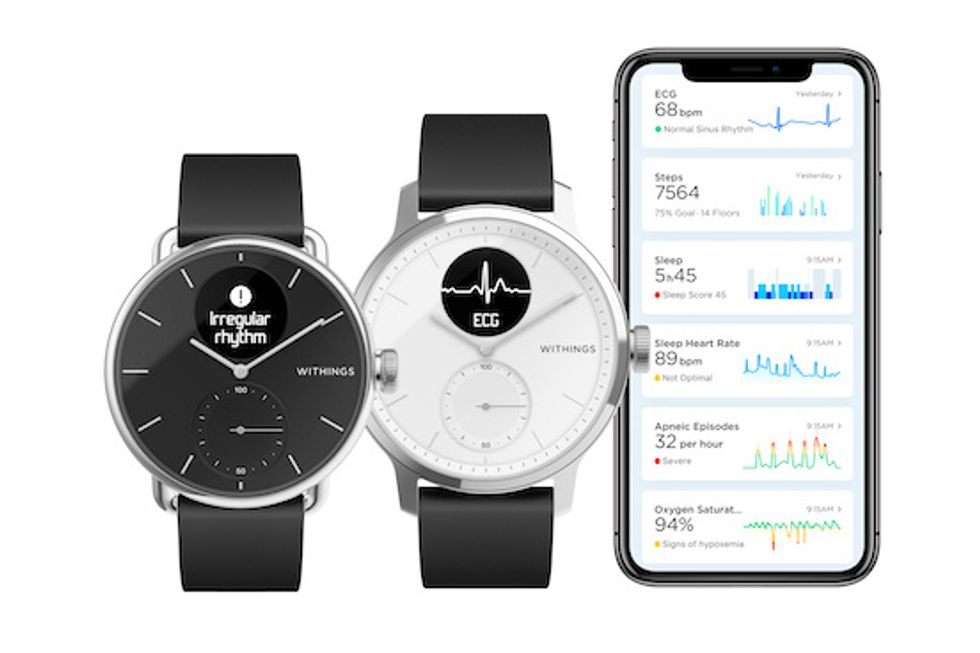 The new Withings Scan Watch works with the Health Mate app, and can also port its data to other apps including Apple Health, Google Fit, Strava and MyFitnessPalWithings
Other fitness details

Like other fitness devices, the ScanWatch also includes health details like heart rates, distance someone has moved through activities from swimming to cycling, the calories spent and the percent of someone's step goals they've reached throughout the day. You can access these details through the Health Mate app, and also connect that data to Apple Health, Google Fit, Strava and MyFitnessPal.
The ScanWatch will go on sale sometime in the second quarter of 2020, and will be available in multiple colors, with silicone and leather wristbands.
Like GearBrain on Facebook