Withings, a French health tech company, was acquired by Nokia in 2016 and turned into its new Nokia Health division. But the Finish firm couldn't make a success of this new venture, so sold Withings back to its co-founder Eric Carreel exactly two years later.
Now, the entire range has been rebranded as Withings once again, and the company has released a new hybrid smartwatch, the $200 Steel HR Sport.
Read More:

This is a hybrid wearable which can alert you to notifications from your smartphone, via its small monochrome display and vibration feature, but it is more of a fitness tracker than a smartwatch. Features separating this model from the Steel HR include a new breathable silicon strap, an updated design, connected GPS, and the ability to estimate your VO2 Max, a useful fitness metric.
Withings Steel HR Sport review: Design
The Sport borrows much of its design from the Steel and Steel HR, which in turn share more than a passing resemblance with Withings' first watches, the Activite and Activite Pop.
Those early models set a high benchmark for hybrid smartwatch design, blending attractive and traditional watch aesthetics with a carefully-applied sprinkling of technology.
As with those previous models, the Steel HR Sport has a pair of analog hands and a regular watch face for telling the time, and supplements this with a second dial. This counts up from zero to 100 percent, to show how close you are to achieving your daily step target — a target you can set in the Health Mate smartphone app, available for iOS and Android and used to set up the watch. The time and date are automatically adjusted by your phone.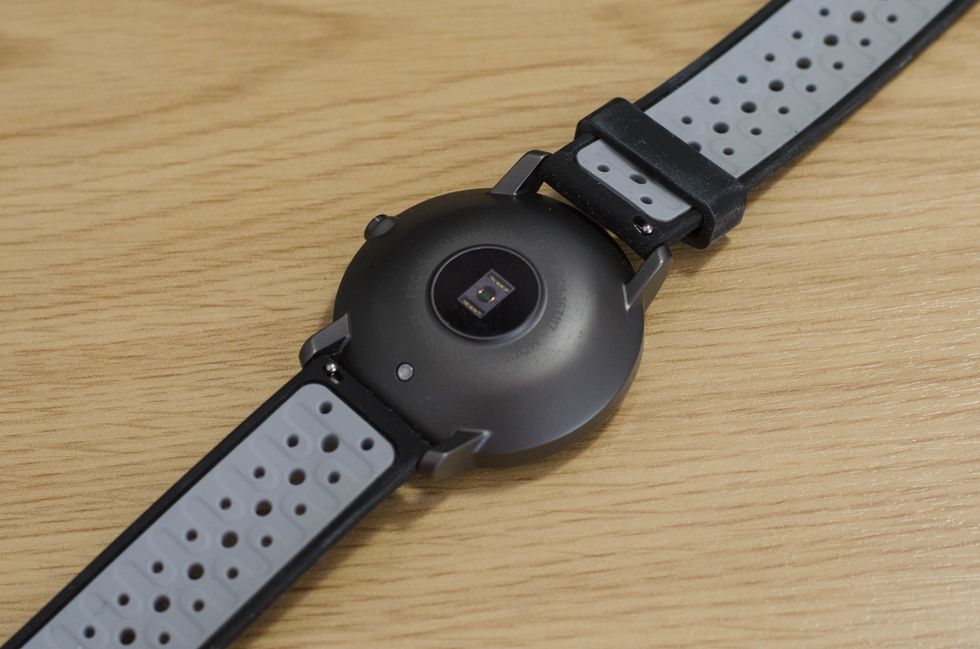 GearBrain
Unlike hybrid watches from the Fossil Group, Withings wearables do not use this second dial to alert you to notifications or display any other information.

Instead, this is found on the Steel HR Sport's circular monochrome display, located at 12 o'clock. This can show your daily step count and calories burnt, along with your heart rate, notifications like incoming text messages, and more. It is also used to start a workout, although the watch can identify and log some forms of exercise automatically.
The watch can only be bought in one size (40mm diameter) and one case color (dark gray), but there are two options for the face (black and white) and four for the strap (two silicon, two leather).
We're big fans of the design of the Steel HR Sport, and how subtly watch-like it is. However, we would say that the black option is preferable, as it does a better job of hiding the monochrome display, which is blank most of the time. On our white review sample we felt this black circle stretching from 11-1 o'clock looked strange when not in use.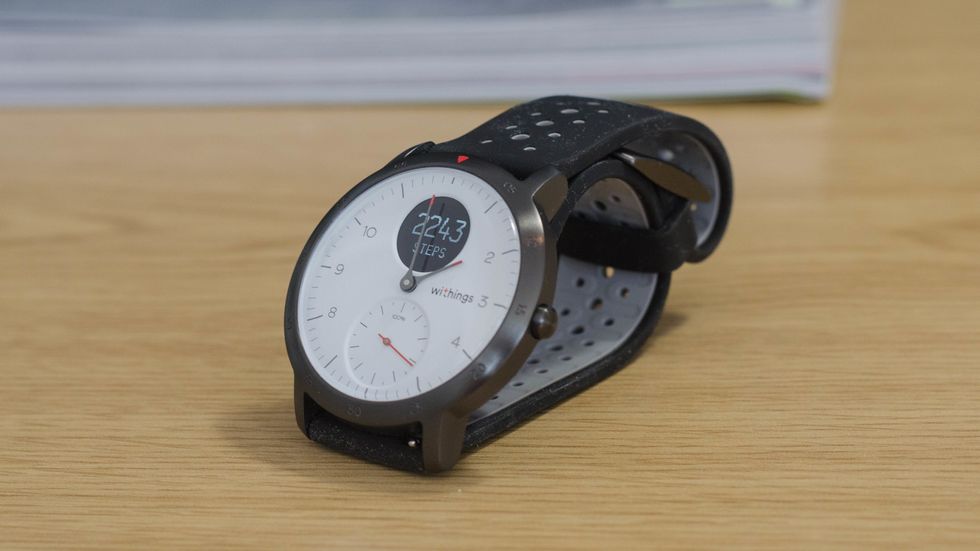 Withings Steel HR Sport smartwatchGearBrain
We'd also say that the silicon strap is quite long, so those with smaller wrists will be forced to have it loop right around itself, almost touching the top of the bezel.

At 13mm thick, the watch feels comfortable and not at all bulky on the wrist - a fact helped by how the rear of the case tapers from the edges to the heart rate monitor in the middle.
We found the Withings very comfortable to wear. It is light, relatively compact, and the silicon strap fits well. We also left the watch on at night (to test out its sleep-tracking abilities) and didn't experience any discomfort. Finally, it is water-resistant to a depth of 50 meters, so swimming with it is fine.
Withings Steel HR Sport review: Features and fitness tracking
The monochrome display remains blank until you press the button at 3 o'clock, with each press cycling through the date and time, your current heart rate, the number of steps taken today, calories burned today, battery percentage, and the time of your alarm (if set via the app).
You can change the order and contents of this menu in the phone app. For example, you can also add a distance walked stat to appear after your step count, or add in a shortcut for switching notifications on and off.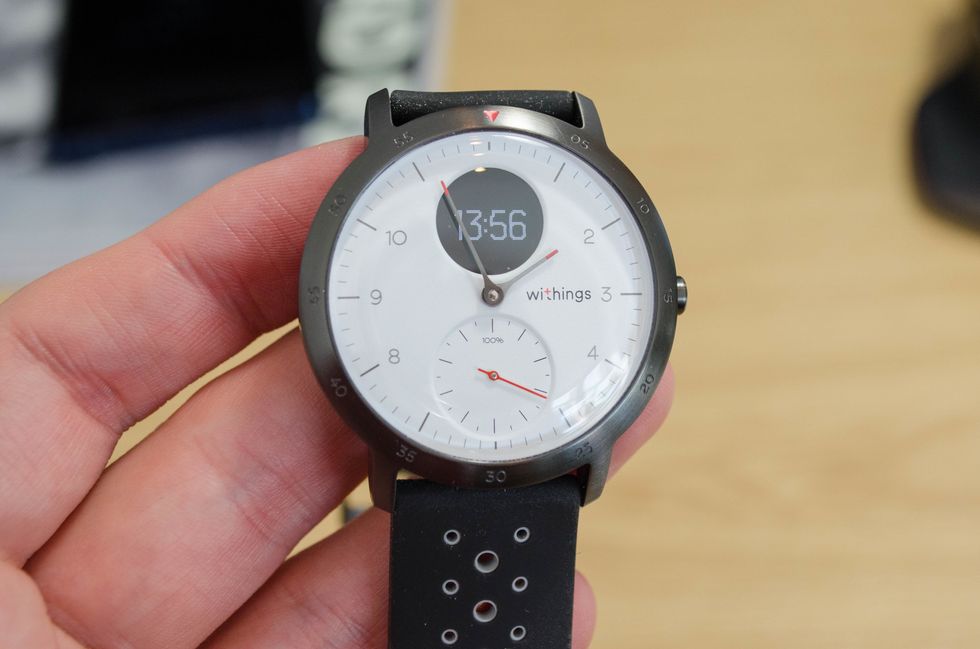 GearBrain
When a notification comes through, the watch vibrates and information about the alert - plus its contents (like a text message) - scroll across the display. Being so small, the display can't show many character at once, so longer messages take a while to scroll across. It's often easier to check who the message is from, then reach for your phone if it needs to be read right away.

While notifications work at this basic level, this is admittedly not a strong point for the Withings. In fact, we were happy to switch off notifications entirely and accept this device is a watch and a fitness tracker, not a wrist-mounted smartphone.
By default, the Steel HR Sport is set up to track walking, running, cycling, swimming and 'other', which you can then label later in the smartphone app. To start any of these, press and hold the button for a couple of seconds, then press it to cycle through to the option you want (running, for example), and long-press to start an activity.
This then shows a stopwatch on the display, which can be swapped for your heart rate or a live readout of calories burnt with a press of the button.

Withings says how the watch can track over 30 exercises. This is true, but you have to dig into the smartphone app to enable the ones you want to use, so that they appear on the watch's own menu. However, only a total of five can be listed on the watch at once, so if you regularly run, swim, cycle, play golf and lift weights, you can add these to the watch. But if you also do yoga and want to log that, you'll need to open the phone app and swap yoga in for, say, cycling, on yoga day.
Wear OS, Google's smartwatch platform, and its Fit app does a much better job here, allowing for the tracking of a huge number of exercises. But that is the strength of a 'proper' smartwatch, compared to a cheaper, simpler hybrid like the Withings.
During exercise, the Withings constantly tracks your heart rate and plots this on a graph, labelling when your heart is working lightly, moderately and heavily. The duration of this exercise and the calories burnt are also logged, and there's the option to add a photo and notes too.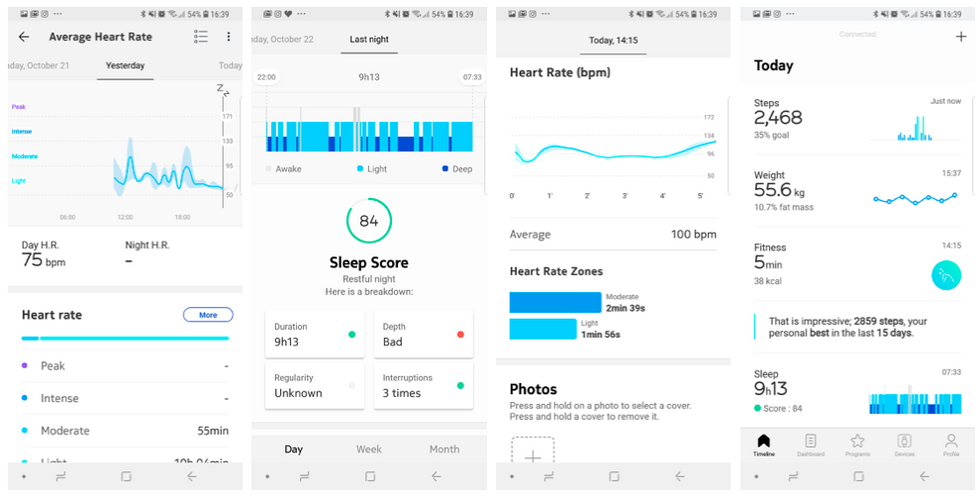 GearBrain
Each day's steps are also neatly logged on a graph against time, and data pulled from other Withings (or Nokia Health) products will appear in this timeline, too, such as stats from the company's smart weighing scale.

Sleep tracking works much like other smartwatches and fitness wearables. This means the Withings automatically detects when you fall asleep and when you wake up, then shows you via the app when you were in light sleep, deep sleep, and when you were awake. The app also gives you a score out of 100 for each night, based on length of time asleep and how much deep sleep you achieved.
The stats presented to us felt about right, but we noticed how an hour of watching Netflix before bed counted as sleep, presumably due to us not moving.
The watch can be set to vibrate each morning, and there's the option for a 'smart' alarm which wakes you up when you are least asleep.
One thing missing from this watch is integrated GPS. To track the route of your outdoor runs, the watch needs to connect to your smartphone over Bluetooth, which means carrying it with you. This is our only real criticism, but we appreciate that including the power-hungry feature would harm battery life.
Withings Steel HR Sport review: Battery life
The great thing about hybrid watches is how they offer far longer battery life than smartwatches, like those made by Apple and Samsung. Withings claims the Steel HR Sport can last for up to 25 days between charges, and to us this feels about right. After a week of use our watch is still at 75 percent.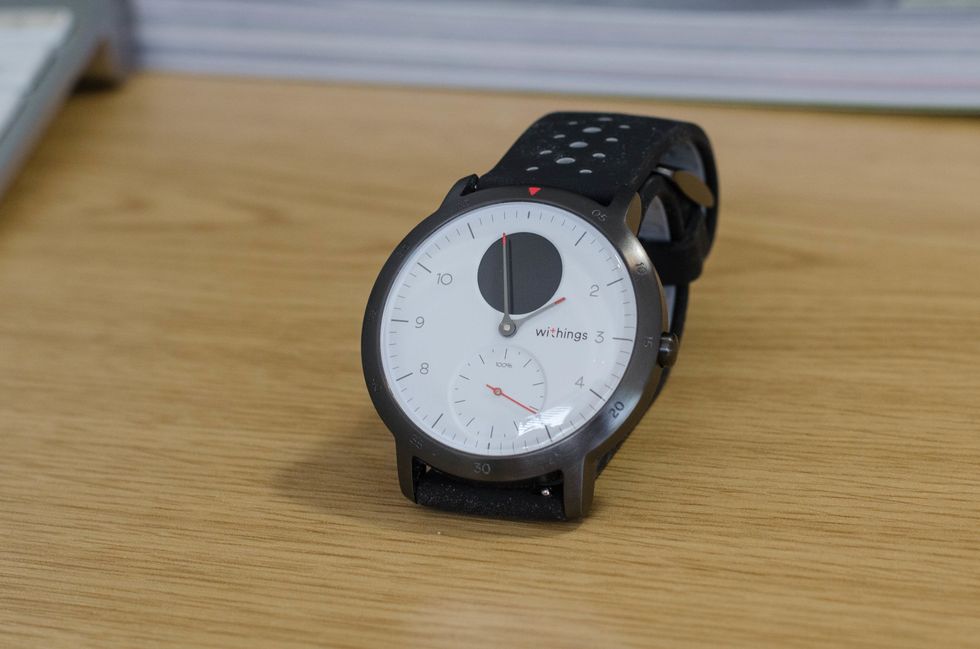 GearBrain
Verdict
We have always been fans of Withings and are glad to see the company survive after a difficult two years at Nokia. The HR Steel Sport is a good flagship to lead this relaunch and is a very likeable hybrid smartwatch. It combines subtle and traditional looks with enough smarts to provide genuinely useful health and fitness information.
Smartwatches can do more, of course, and the lack of integrated GPS is a shame, but we still think this watch shows Withings is well-and-truly back in the game.
Pros:
Thin, lightweight and subtle design
Comprehensive health and fitness tracking
Color options and interchangeable straps
Cons:
GPS is connected, not integrated
Blank display can look strange on white model
Basic notification support
the fitness tracker buying guide video - GearBrain www.youtube.com