Like GearBrain on Facebook
It has been a busy week for smart home companies pivoting to subscription models. October 7 was the last day IFTTT granted unlimited use of its home automation platform for free, and now cut-price smart home company Wyze has begun a subscription service too.
We have covered IFTTT's situation in more detail here, and if customers haven't already started paying a voluntary amount, they will now be charged $9.99 a month for the new Pro tier. Those who don't pay are now limited to just three custom applets each.
Read More:
As for Wyze, the situation is a little different. The company first rolled out an AI-powered person detection system in 2019, where its cameras were upgraded via a software update, enabling them to spot the difference between a person and other objects, and only record the former.

This was a great free upgrade at the time, but the company behind this artificial intelligence pulled the plug on Wyze when it was acquired by Apple, exposing flaws in Wyze's contract and forcing the feature to be removed from cameras. Wyze then promised to create its own free AI-powered person detection system, but this proved impossible, as it would result in ongoing server costs. These costs had to be passed on to the end user.
Wyze's new person detection system became available in September 2020, but from October 6 customers will have to start a subscription to continue using the feature.
Now there are two options for Wyze Cam owners to make, should they want to keep AI-powered person detection. The first is to subscribe to Wyze'e Cam Plus service, which costs $1.99 per month, per camera. Or they can pay annually, for which the cost has currently been reduced from $23.88 to $14.99 per camera.
Wyze Cam Plus includes person detection, but also allows for an unlimited amount of video recording. Without this, the cameras record for 12 seconds when movement is spotted, then will not record for the next five minutes.
The second option is to pay for person detection only, and for this Wyze is letting customers set their own price. The company says a monthly payment of $1.48 is required to cover its costs, and for this users unlock the feature for all of the Wyze cameras they own.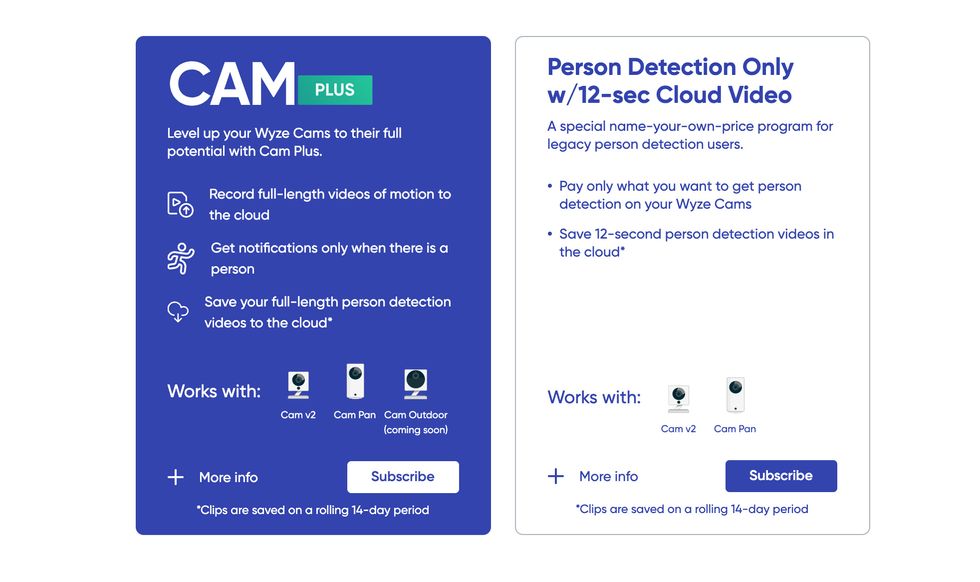 Two optional subscriptions are offered by WyzeWyze
Alternatively, customers can pick their own price, Default options range from $1 to $10 a month, however they can choose to specify their own amount, and this includes.

Wyze would rather you didn't do this, of course, and entering $0 opens a message on the Wyze website, stating: "Would you be willing to up your subscription to $1 so we can get closer to break even on your use of the service? That way we won't need to find as many other Wyze users to make up the difference and cover the cost."
Paying for AI person detection (and not Cam Plus) is only available to Wyze users who created their account with the company before November 26, 2019, as this is the day Wyze emailed to say its own AI feature would be free. Essentially, those who had the feature taken away are now being offered the chance to buy it back at whatever price they like. The amount paid each month can be adjusted by customers whenever they like, Wyze says.
Customers don't have to pay a penny, and they don't have to sign up to either subscription plan. In this case, their Wyze products will continue to work as normal, but person detection will be disabled.
On whether the subscription payments will cover the ongoing cost of AI person detection, Wyze says: "We don't know yet. We are going to evaluate the results of this experiment after a few months and see if we have enough contributions to at least subsidize the cost. If it doesn't work, we will come up with a new plan, but it is possible that free 12-second person detection will be discontinued."
The 5 Best Questions To Ask Before Buying Security Cameras - GearBrain www.youtube.com
From Your Site Articles
Related Articles Around the Web
Like GearBrain on Facebook