Like GearBrain on Facebook
At GearBrain, we've recently been impressed with cut-price smart home devices from Wyze. So far, we have reviewed the company's indoor security camera, door, window and motion sensors kit, and smart light bulbs, and they have all scored highly.
Not least because they are priced incredibly aggressively, with the camera costing $20, four smart bulb priced at $30, and the sensor kit also at $20.
Read More:
Each component also has a good range of features and settings to adjust, and compatibility with voice commands through Amazon Alexa and Google Assistant. But there is a third type of connection which elevates the functionality of these products even further — IFTTT.
Short for If This, Then That, IFTTT is a service which lets smart home devices from different manufacturers interact with each other in new and useful ways. In the case of Wyze, it brings useful location-based control to the devices, and more.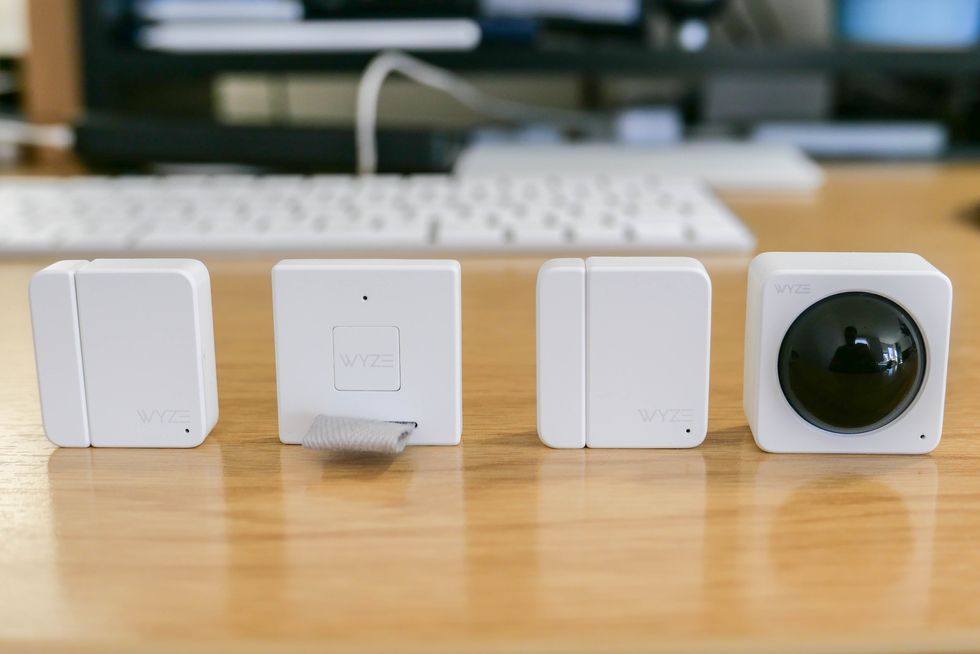 The $20 Wyze Sense smart home security kitGearBrain
Here are some of the most useful IFTTT applets to use with Wyze products:

Turn off push notifications when I am home
Created by Wyze itself, this applet stops all notifications from Wyze devices when you are at home. That way, your smartphone won't bother you every time you open a window or door with a Wyze sensor attached.
This works by giving the IFTTT app access to your smartphone's location. Then, once you enter a small geofenced area around your home, notifications are switched off.
Wyze Cam Pan 1080p Pan/Tilt/Zoom Wi-Fi Indoor Smart Home Camera with Night Vision, 2-Way Audio, Person Detection, Works with Alexa & the Google Assistant
Turn on push notifications when I leave home

After the above applet is enabled, you'll want to set this one up too. Now, when you leave that same geofenced area around your home, notifications from the Wyze app are switched back on so you can be alerted to movement in your home, or if you've accidentally left a window or door open.
Enable motion detection when I leave home
Similarly, you can use this IFTTT applet to switch off the Wyze motion detector when you are at home. That way, the motion sensor you keep walking past won't bother you, but you will still receive notifications from your Wyze window and door sensors. This could be helpful if your children are always leaving the back door open when they shouldn't, or you keep forgetting to close the bathroom window.
If you have enabled the above applet, you'll want to set up this one too — Disable motion detection when I am home.
Additionally, if you want to switch off the Wyze Cam when you're home, but keep the door, window and motion sensors active, you'll need this applet - and this one to enable the camera when you go out.
Record a video clip when smoke alarm is heard by Wyze Cam
A useful feature included with the Wyze Cam is how it can alert you through the Wyze app when it hears a nearby smoke or CO2 alarm. With this applet enabled, the camera will start recording, thus potentially capturing evidence of whatever has caused the alarm to go off. This applet will record a video when a CO2 alarm is heard, too.
Turn on Kasa smart plug when motion is detected
This applet can turn a lamp and the Wyze motion sensor into a simple burglar deterrent, or a useful motion-controlled light. Once enabled, a TP-Link Kasa smart plug will switch on when Wyze detects motion — useful if walking to the bathroom at night, or as a deterrent by the back door. This applet switches the plug back off when motion is no longer detected.
Kasa Smart WiFi Plug Mini by TP-Link - Reliable WiFi Connection, No Hub Required, Works with Alexa Echo & Google Assistant (HS105)
From Your Site Articles
Related Articles Around the Web
Like GearBrain on Facebook