The Yale Assure Lock SL Connected by August is, essentially, everything you want from a smart lock. You can unlock the door with a PIN code on its touchscreen, through a single tap or with a simple voice command with Amazon Alexa, Google Assistant and Apple's Siri. You even get up to 250 guests codes — ideal for large families, friends, people who work in a home, or spaces used for Airbnb. A confusing set-up, however, adds a wrinkle. Our experience, hopefully, will help you bypass those issues since this is a smart lock worth considering.
Read More:
Meet the Yale Assure Lock SL

In an age when many smart locks are including built-in Bluetooth and Wi-Fi in their smart locks, Yale has taken a different approach with the $299 Yale Assure Lock SL (Connected by August), the YRD256, or its $279 physical key-equipped version, the YRD226. Instead, you can buy this new smart lock in four different set-ups.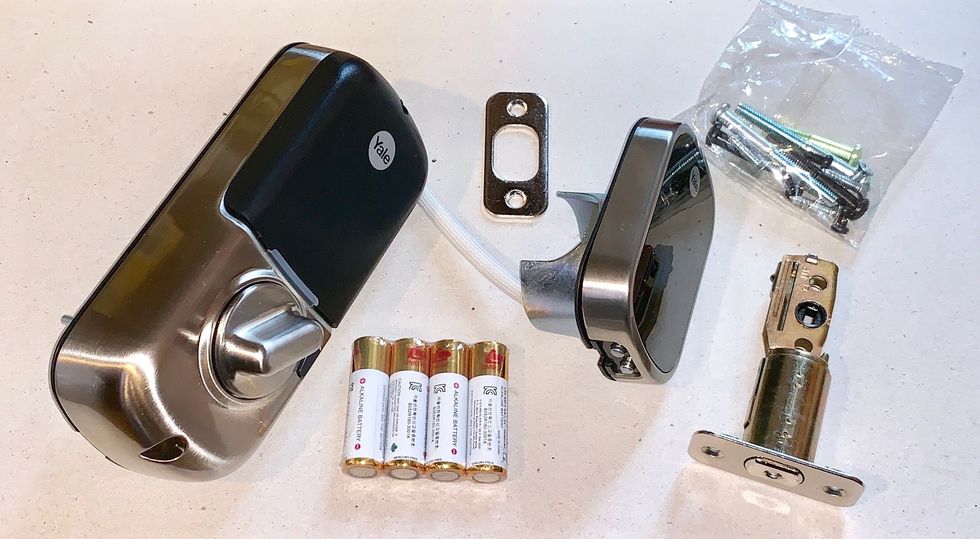 You'll get everything you need, including batteries and screws, inside the Yale Assure Lock SL boxGearBrain
The first comes without any wireless functionality (with just 25 guest codes). The second is the Assure lock with just the iM1 Network Module for local wireless/smart home control. The third is the separate Connected By August kit for Yale Assure Locks, which adds all-inclusive remote control to an already purchased Assure, and the fourth option is the complete bundle, which is what we're discussing here.

You also can opt for one of the Assure lock/Amazon camera bundles from Amazon to get Amazon Key's more advanced automated entry/home security functionalities.
What's inside
Inside the bundled Yale Assure Lock SL YRD256 Connected By August package you get the physical lock, the Network Module equipped with varying wireless capabilities including Bluetooth and Wi-Fi for local smart home integration and control, and a separate Wi-Fi bridge for remote control. Be prepared — you're going to need to install each of these separately.
These are, in detail, the three pieces to the Yale Assure Lock SL Connected by August that other lock makers are beginning to integrate:
The family of physical Yale Assure deadbolt or lever locks, all with backlit touchscreen keypads, including our review model, the YRD256
The Network Module iM1, aka Yale Smart Module, which supplies local smart home wireless connectivity and operation including Bluetooth, Wi-Fi, Zigbee, Z-Wave, Apple HomeKit/Siri, Amazon Alexa, Amazon Key, Google Assistant, Samsung SmartThings, and a host of other smart home ecosystem integrations
The Connected by August Wi-Fi bridge for away-from-home remote tracking and control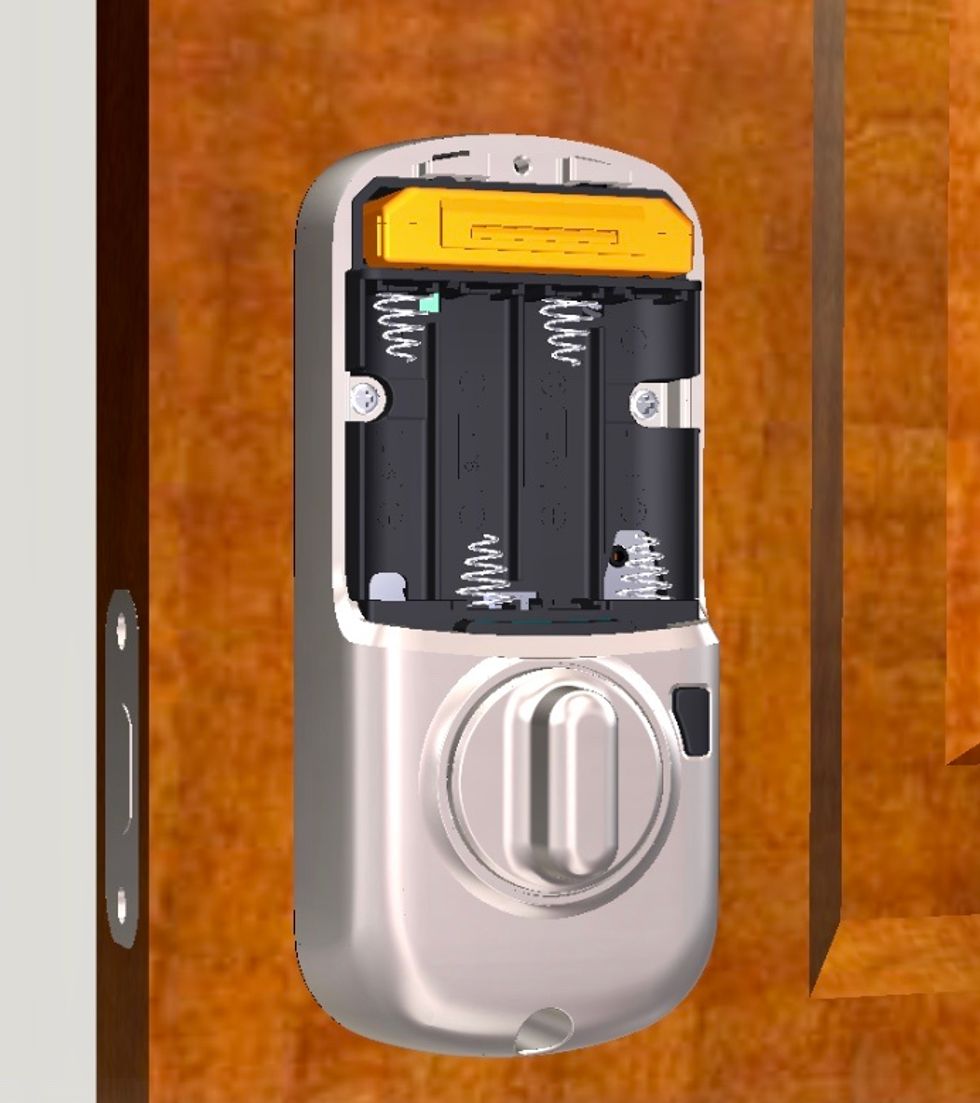 The back of the Yale Assure Lock SL, where you install batteries, is closed by a single screwYale
Ergonomics/Installation/Set-up
Yale – or, rather, Yale's lock industry-dominating Swedish parent, Assa Abloy – bought the smart lock maker August in late 2017. The first Connected by August products of this alliance between old-school lock master and new-school smart lock start-up, including the Assure YRD256 and YRD226, appeared last fall. Earlier this month, Yale added compatibility with the new August View doorbell cam (a review of which we will soon post.)
Instead of creating a new, integrated Yale/August product, Yale largely upgraded its earlier touchscreen/PIN code-operated lock designs and paired them with August's existing Connected by August Kit, this solid pairing has also, unfortunately, created a complicated installation.
The physical Yale Assure lock itself is fairly straight forward to install. There are only a handful of familiar pieces — front keypad and rear housing containing the actual smarts, thumb turn and batteries (which the paper manual refers to as the exterior and interior "escutcheons,") the in-door bolt assembly and strike plate (the donut metal slab you screw onto the inside door jamb into which the bolt slides), the appropriate screws, and four AA batteries.

The front-facing black touchscreen keypad on the Assure is a demur and unobtrusive 2.5 x 3.5 x .75 inches. The screen presents an enigmatic blank black surface until activated. As with all locks, smart or dumb, you can choose from a variety of finishes; in the case of these Assures, Satin Nickel, Oil Rubbed Bronze and Polished Brass. There's also a small speaker on the right perimeter of the "exterior escutcheon" for voice prompts and status confirmations.
Anyone who's ever installed a lock won't really need the instructions, but August includes a paper installation manual and an excellent step-by-step smartphone app-based voice/video 3D guide from an outfit called BILT, which was a joy to follow. There's also an installation video in the August app, but it's buried in the settings and I only came across it accidentally after-the-fact. Even at my purposely deliberative pace for each of the 18 physical installation steps, I got the whole Assure installed in around 15 minutes.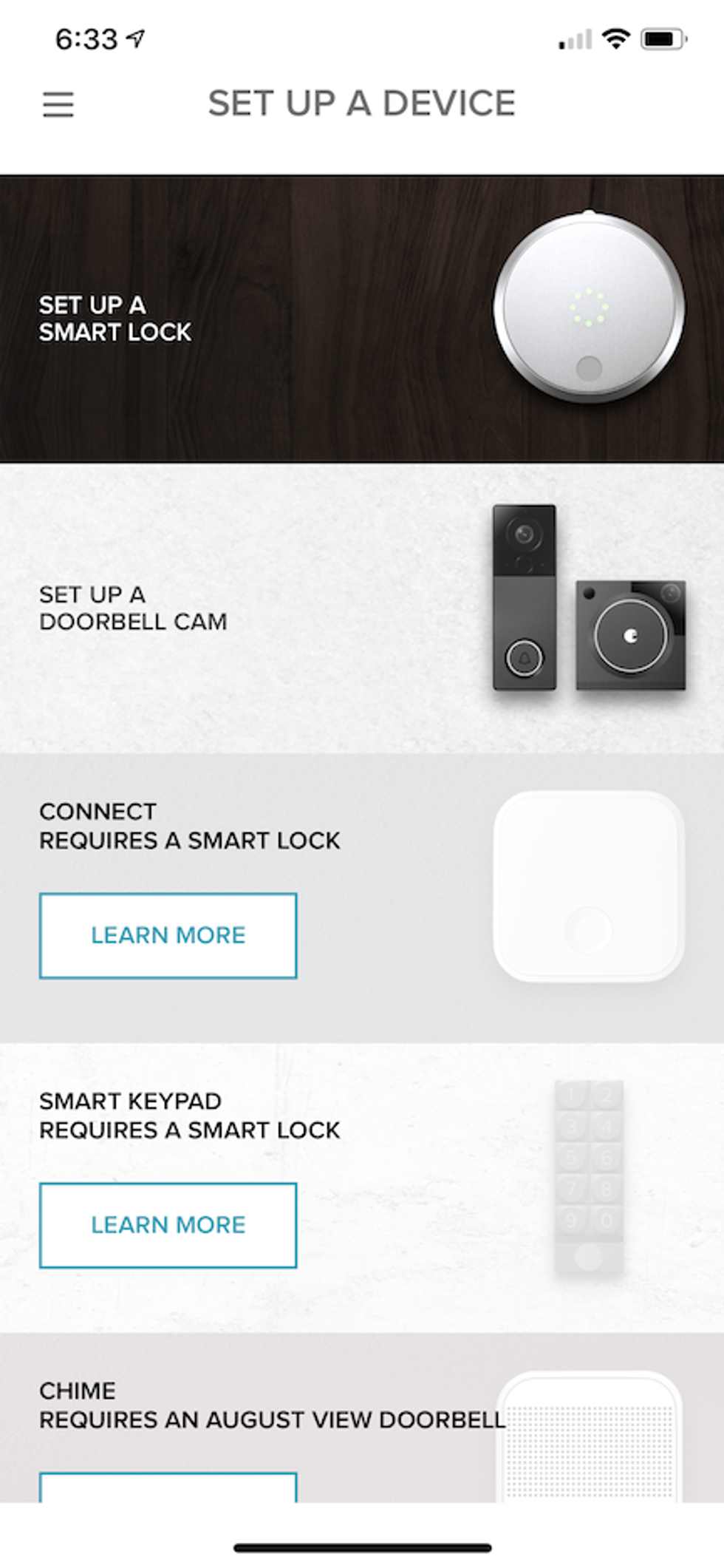 Don't be confused in the app when installing the lock — you'll scroll past this first option, "Set up a Smart Lock"GearBrain
One minor quibble: the slide-up battery cover is oddly and unnecessarily secured by a screw. We think Yale might want to consider making this a smidge less difficult, on the off chance someone might want to mess with it. On the other hand, you can also decide not to use the screw to make it easier to swap out batteries. (Also note: we recommend keeping a 9-volt battery somewhere handy outside your home; you can use it to power the Assure via two battery terminals on the underside of the "exterior escutcheon" in case the batteries die while you're away.)
Once the Assure is installed, you'll then be voice-guided by the lock itself to create of a master administration code, and your first guest code, by tapping through a numbered menu on the lock. You're told to use a three-finger tap to awaken the touch screen, which we found was hit-or-miss. Laying your whole hand or palm across the touchscreen more effectively wakes up the screen.
How to connect to Bluetooth and Wi-Fi

The Assure is clearly designed, and can be used, as an independent, standalone device. But for those who also have the Network Module, you don't have clear instructions for your next step.
What you are supposed to do is install the iM1 Network Module (which is white, not yellow as shown in the BILT app and photos) above the batteries. You are not told where the Module is, just to install it if you have it — I guessed it was in the Connected by August kit box. If you miss installing the Network Module, you can always add it after the rest of the installation.
With the iM1 Network Module installed, you now have Bluetooth and access to an app — not a Yale app but the Connected by August app.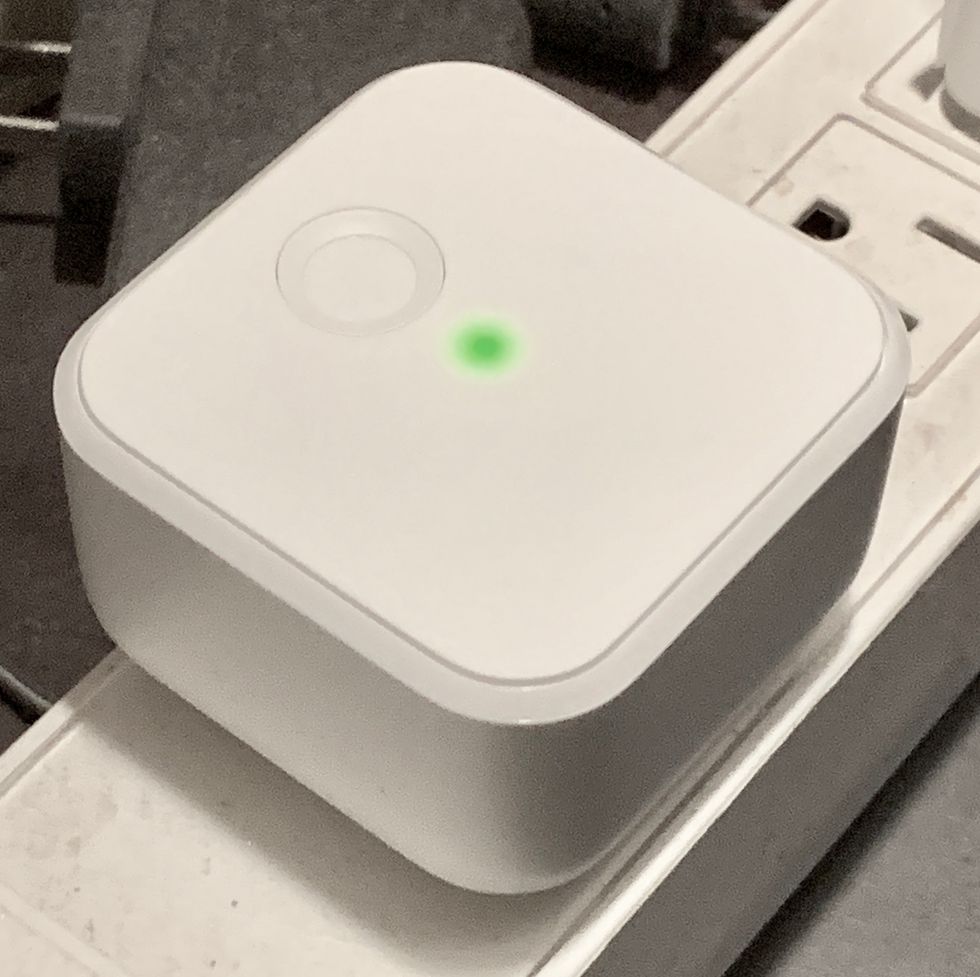 The Connections by August bridge is how you'll link the smart lock to Wi-FiGearBrain
App Control/Wireless Connections

Again, instructions are lacking on what to do next. But after the lock and the module are installed, you'll want to install the Connected by August bridge.
Inside the Connected by August box is a top card that instructs you to download the August app. Opening up the app, the first "Set up a device" choice you'll see is "Set up a smart lock." Cool. But don't click on that as you'll see three existing August smart locks — and not one will this Yale Assure Lock SL.
I contacted the Yale folks — so you won't have to — and was told instead to scroll down to the "Set up a new device" screen, past all the other options to the bottom, and click on "Set up a lock connected by August." There we found the Yale Assure Lock SL Connected by August.
We hope August will either add the Yale locks to the first "Set up a smart lock" choice, or move the "Set up a lock connected by August" selection up so it's the second choice on the device set-up list.

The instructions are pretty simple from this point forward.
First you are instructed to place the small (1.25 x .5 x .5 inches), white DoorSense sensor within an inch-and-a-half of the door jamb opposite the lock. DoorSense allows the app to let you know if the door is open, ajar or closed.
The app then walks you through the simple wireless set-up, a process that exemplifies August's smart lock expertise. It scanned for and quickly found my YRD256 and stepped me through the room/lock-naming, firmware update, registration process, and DoorSense sensor calibration.
Clearly recognizing I was using an iPhone, the app then seamlessly transitioned to setting up HomeKit and Siri control, which includes scanning an included QR code.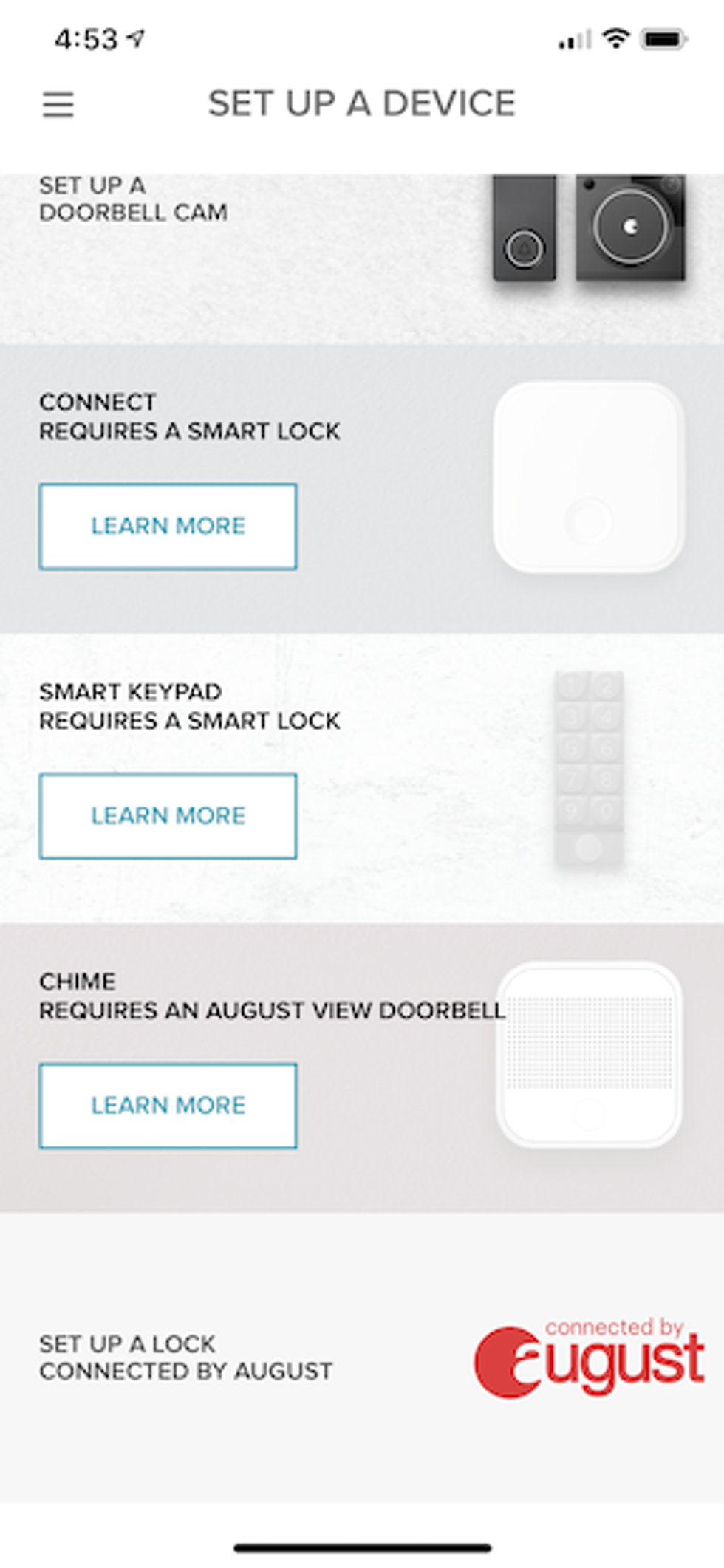 To set up the lock, make sure you scroll in the app to the bottom, to the set up instructions for locks with AugustGearBrain
As part of the process, you are then guided through installing the Connect Wi-Fi remote bridge, which you just plug into an AC outlet as near to your door as possible. My home Wi-Fi network was quickly identified, joined, self-tested, and – done.
I asked Siri to lock the lock and, the lock locked. August clearly knows what it's doing with wireless.
Smart Home Integrations
In the main app menu is an August "Works With" option, which lists (at press time) 14 smart home ecosystem integrations including HomeKit, Amazon Alexa, Google Home, Nest, Airbnb, etc. As noted above, I was guided through HomeKit/Siri set-up during the Connect sequence. I then set up Amazon Alexa, which takes you to your Amazon app and Skills section. I uttered, Alexa, unlock the front door and boom. Perfect.
However, tapping on Google Home gave me an option to sign up, but no option for those who already had Google Assistant set-up to proceed. The Google Home app couldn't find the Assure, and there is no further assistive information in the August app, and the Google Home app failed to locate the lock, so I couldn't set up or test the Google Assistant capabilities.
On the August app's Home splash screen, you get a large yellow, green or red solid or segmented circle to indicate the various lock/DoorSense status of your door: unlocked and open, unlocked and closed, locked and closed, etc. Tapping on the circle locks or unlocks the Assure. You also get alerted to a variety of open/close/lock/unlock activity, and the app can be configured to send you Smart Alerts.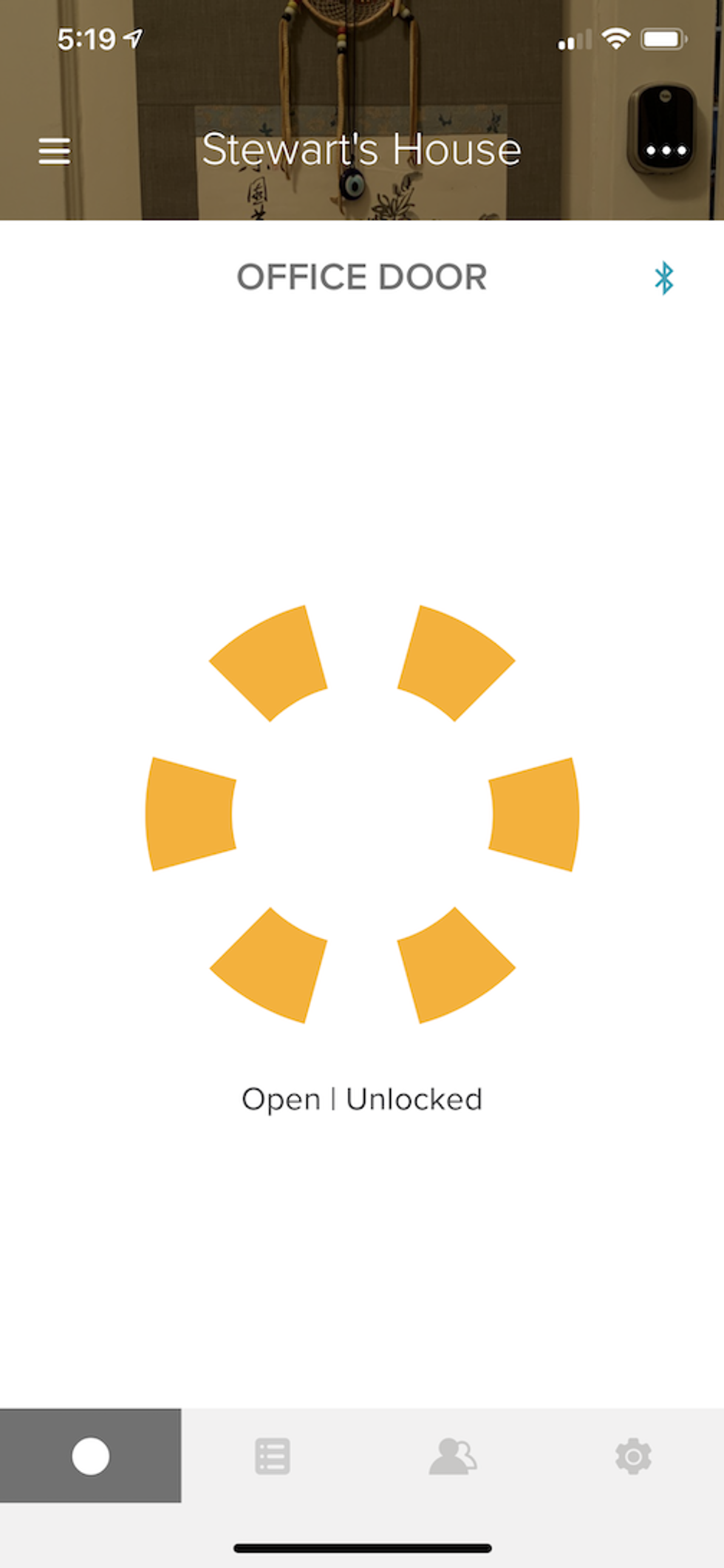 Your Yale Assure Lock SL status is clearly seen in the appGearBrain
Even better, all of Assure's number-coded customizations are duplicated for easy toggling and customization within the August lock settings. This includes the expanded Auto Lock and an Auto Unlock that automatically unbolts your door when you get to within a few feet of your entry — after you've been beyond 200 meters (657 feet) from your locked door, such as going to work and coming home. These are all part of the customizable and automated August Home and Away modes.
Once all set up, the Assure Connected by August operated, well, assuredly. Siri and Alexa voice commands worked every time, I got notified when my wife unlocked and entered, I could use the app to lock and unlock, I got all the Smart Alerts I needed/wanted, the Auto Lock and Auto Unlock operated as advertised.
Cost
The Yale Assure Lock SL (Connected by August), also called the YRD256, is $299. The physical key-equipped version, the YRD226, is $279.
Summary
Personally, I prefer a smart lock that has a physical key lock or a secondary entry method. As a gear head, I know how often tech fails, and getting locked out of my own home because the Bluetooth, Wi-Fi or other digital entry method was glitchy or broken is not my idea of fun. So, if you want the smarts of a Yale Assure, but want to retain old-fashioned entry assurance, I'd opt for the YRD226. Plus, the keyed YRD226 is weirdly $20 less than the keyless YRD256.
If you use this review as a guide, you can avoid the segmented installation and set-up hiccups I encountered, which removes my major complaint about the Yale Assure Connected by August locks. But I'd strongly suggest that Yale/August update the August app to provide a smoother, single, integrated installation process, and create more simplified — and less scarily daunting — paper instructions for the bundled Assure/Connect kit.
Other than these siloed installation and enumerated smart home integrated issues, the initial offspring of the Yale Assure Lock SL Connected by August arranged marriage is a healthy one.
Pros:
Siri, Alexa, Google Home voice controllable
Geo-fencing auto lock/unlock
9-volt battery emergency option
Keyed and keyless versions
Cons:
No built-in wireless connectivity
Confusing wireless set-up
Keyed version is priced lower than the keyless
Specs:
Replaces existing deadbolt with just a screwdriver
Fits on doors 1 3/4" to 2 1/4" thick (*1-3/8" requires thin door gasket)
Backset 2 3/8" or 2 3/4"
Face Bore Hole: 2 1/8"
Edge Bore Hole: 1"- Adjustable latch
Certified ANSI/BHMA A156.36, Grade 2
Finishes: Oil Rubbed Bronze US3, Satin Nickel US15, Oil Rubbed Bronze US10BP
(Check out The GearBrain, our smart home compatibility checker to see the other compatible products that work with Google Home and Home Mini as well as Amazon Alexa enabled devices.)
The 5 Questions to Ask Before Buying a Smart Lock - GearBrain www.youtube.com