Like GearBrain on Facebook
A lever lock uses a set of levers, or mechanisms, to prevent a bolt from moving into a door lock, and are often used inside the home. When smart locks first went on sale, a majority of them replaced single deadbolt locks, those typically found on the outside of a home. Now, smart lever locks are coming to the market, from brands including Yale. We tested its new smart lever lock, Assure Lever Lock, on a real home to see how installation and usage would come together.
What is Yale's Assure Lever Lock?

The Assure Lever Lock is a smart lock for doors with a single hole — not a deadbolt lock. These are typically used on doors inside a home or on a side door that goes out to a backyard or a patio. Yale's new smart lock comes in two models, a keypad version (YRL256) and a touchscreen (YRL236), and they operate the same as smart locks found on deadbolt doors. You can unlock and lock the door with a code on the keypad or screen, they can be integrated into a smart home security system or used as a standalone smart door lock. You can also connect the smart lock to other smart home devices or systems with a Yale smart module and August Connect, a Wi-Fi bridge that works with August and Yale smart locks. You'll also get August's Door Sense, a sensor which will let you know when your door is opened or closed. (Update: Yale just announced there is a keyed version of Yale Assure Lever lock for users who want the option of using physical keys to unlock their doors.)
Inside the box you will find Yale Assure Lever, two academy levers, mounting screws, a door template, four AA Alkaline Batteries, an installation manual and the Yale Smart Module.
Yale Assure Lever Smart Lock Unboxing in less than 10 Seconds www.youtube.com
Features
Yale Assure Lever comes with an acrylic push button keypad, or a capacitive touchscreen and backlit numbers which are built to not wear down from use. The locks do not come with a key, which is both good and bad: You don't have to worry about losing your keys, but you do have to worry about a secondary way to get into the lock in case it malfunctions or runs out of batteries.
Yale's new lever lock is perfect for interior and exterior doors which are 1 3/8" to 1 3/4" thick. Also, with a ANSI/BHMA Grade 2 certification, consumers can know the lock has been tested. Once installed, you can create, and share, unique four to eight digit entry codes as well as customize auto re-lock, privacy mode and tamper alarms within the lock menu.
The lock is available in three finishes: polished brass, oil rubbed bronze and satin nickel. The company states the lock is also 100 percent tamper proof, and the Yale Assure Lever comes with a lifetime warranty for finishes and mechanical, plus a one-year warranty for electronics.

There are two ways for you to control your Yale Assure Lever lock. One is through the August app, available for both iOS and Android smartphones or tablets. You can also connect the lock to your home's Wi-Fi network or to a smart home security system — but you will need the Yale Smart Module, which lets you switch between wireless connection for the lock such as Z-Wave and Wi-Fi. Often, with other smart locks, you have to buy a lock dedicated to a specific wireless connection. With Yale, you don't have to buy an entire new lock to switch wireless connections, and instead just change the smart module in the lock, and it can work on a new wireless protocol.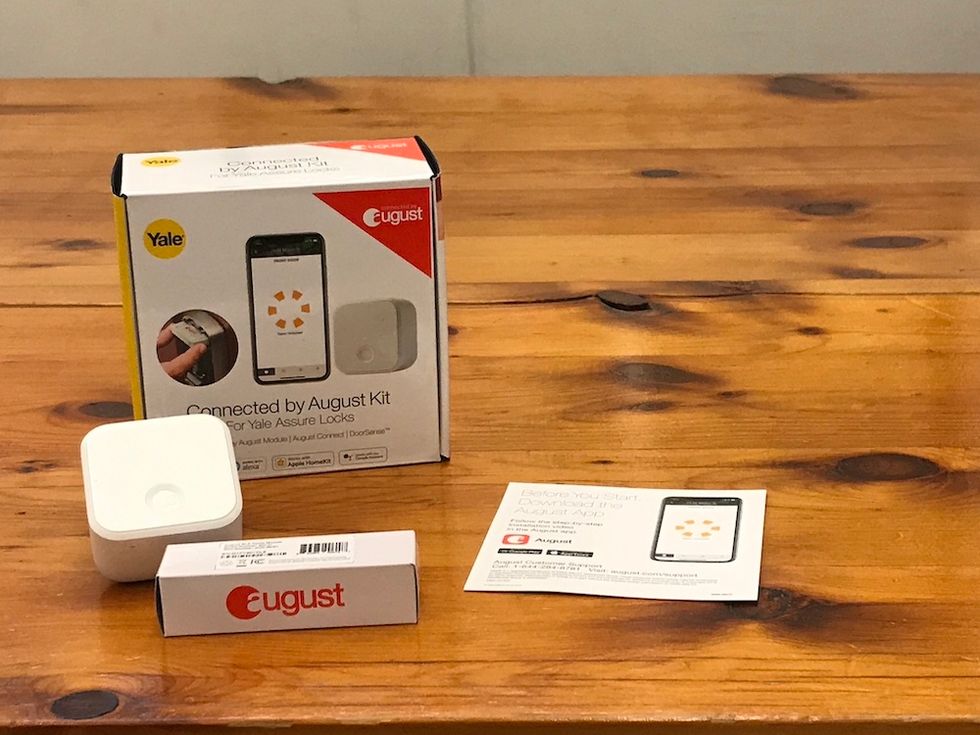 Yale Assure Lever Lock comes with August Connect and August Smart Module to provide excellent connectivity to your lock.GearBrain
Smart home integrations
Yale has a very robust smart home ecosystem integrates into their smart locks. In the August app, a section called "Works With" will show which systems or devices connect to the Yale Lever Lock through the August Connect and Yale Smart Module (August module). Here is the list of devices it's compatible with today:
Airbnb
Amazon Alexa
Apple HomeKit
Google Home (Google Assistant)
Honeywell Total Connect
IFTTT
Liberty Mutual
Logitech POP
Nest
Xfinity Home
Wink
Z-Wave Alliance (FYI You can also use just the Z-Wave Yale Smart Module for these connections.)
Do remember that to pair your Yale Assure Lever lock with these devices or systems, you need the compatible smart module and August Connect Wi-Fi bridge. The company does make a Zigbee smart module for their Yale Assure locks, but it will not work with this specific model, the Yale Assure Lever lock. (Check out The GearBrain, our smart home compatibility checker to see the other compatible products that work with Google Assistant and Amazon Alexa enabled devices.)
Also, Liberty Mutual now offers owners of August smart locks a special discount on home, condo or renters' insurance — something to keep in mind.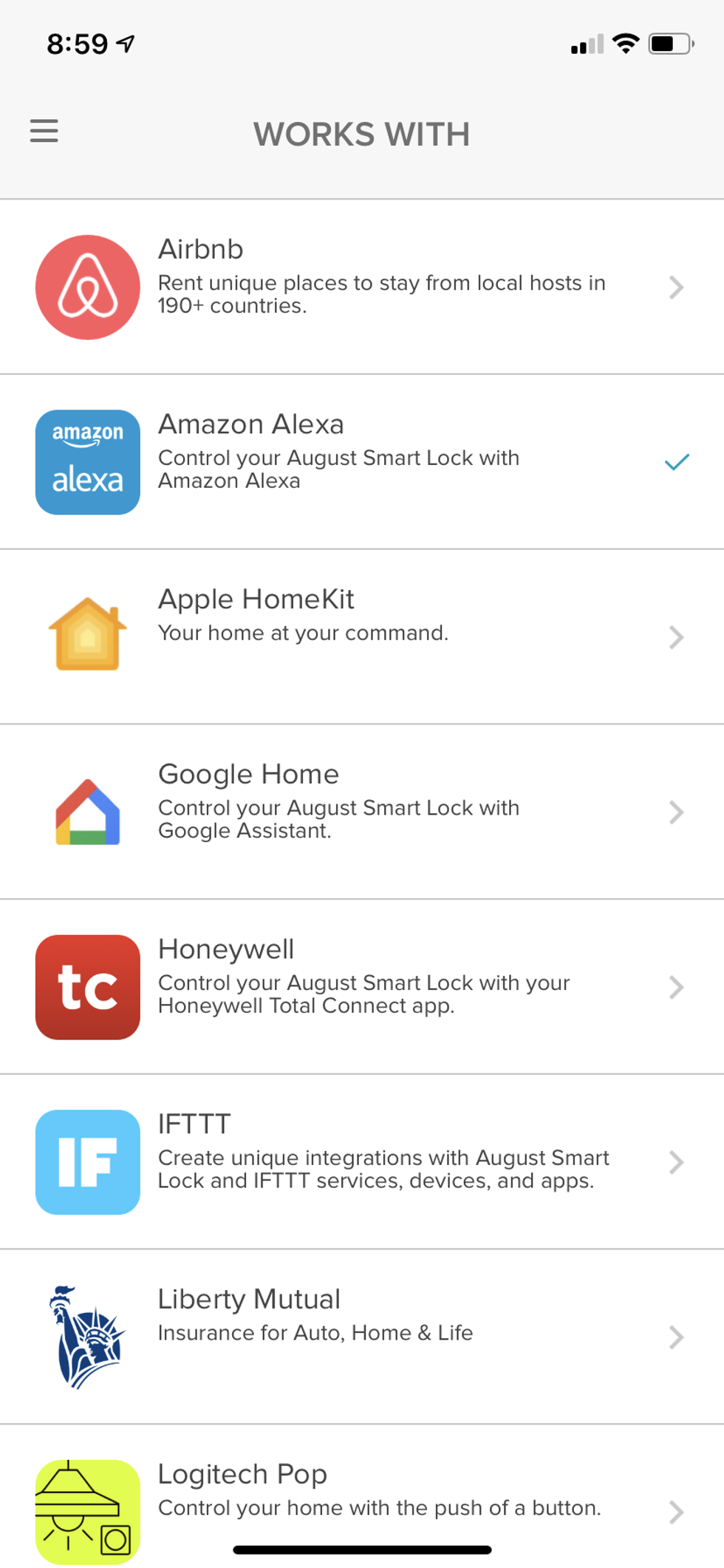 Use August app to connect your Yale smart lock with many best of breed smart device manufacturers and systems.GearBrain
How to install
Installing the Yale Assure Lever smart lock followed the same steps as other Yale Smart Locks. Remove your old lock and follow either the instructions in the box, or those from the August app. Start by going to the "Set Up a Device" section, then "Set up a lock connected by August," then, "Setup a Yale Smart Lock." Installation will take about 30 minutes if this is the first time you've installed a smart lock. For those who have installed a Yale smart lock before, you should be finished more quickly.
You are going to need certain tools, depending on whether you need to drill a new hole or enlarge an existing hole on the door. Make sure you have standing by a drill, pencil, utility knife, wood mortise chisel, tape measure and level. (if you're just replacing a lever lock, you will need just the screwdriver or drill.) Yale does supply the template for you to use, to make sure you get the right hole for the lock. Next, check the measurements of your door. For the Yale Assure Lever lock, your door needs to be 1 3/8" to 1 3/4" thick. If the door is thicker, this lock will not work.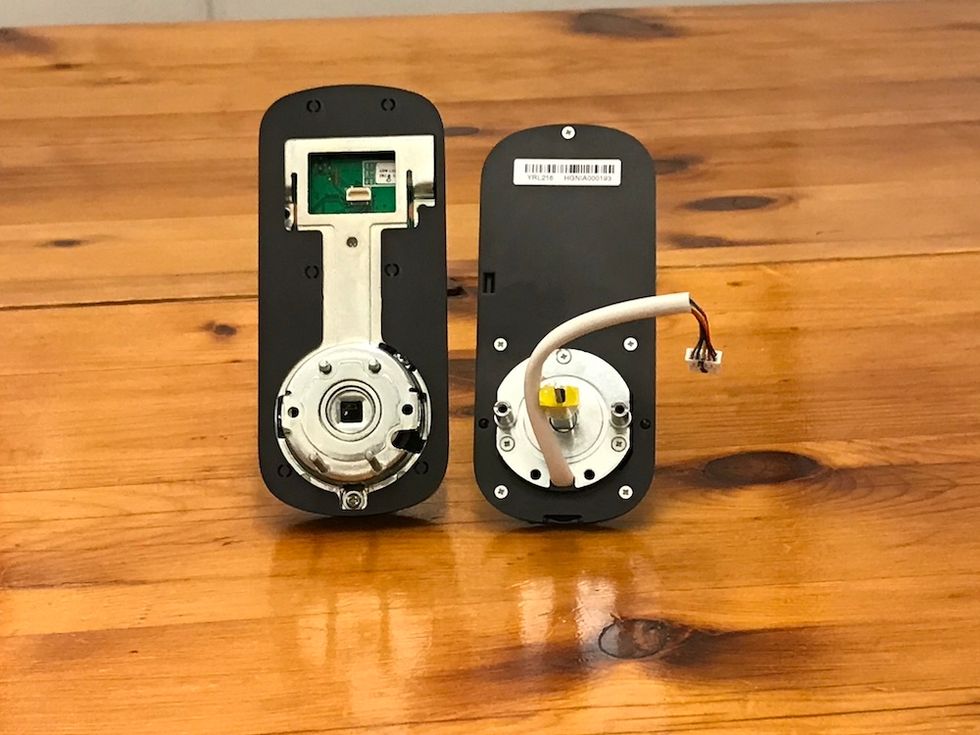 Hardest part of Yale setup is making sure your connect the locks correctly. Cable assembly must be faster correctly through the doors.GearBrain
We found the trickiest part of installation is attaching the cable assembly. Make sure you fasten the cable to the adapter on the lock. The instructions will show you the correct connection. If you don't get this right, the lock will not operate properly.

Once the lock is installed, and you have a Yale Smart Module inserted, follow the programming instructions in the app or supplied instructions. In the past, we have found Yale smart locks are a little harder to program as compared to other smart locks. The Yale Assure Lever lock was easier this time, perhaps because we are more familiar with how to setup a master and user codes.
Performance
The Yale Assure Lever lock performed as advertised for us. We installed it on an interior door which had a lever lock. We used August Connect and the Yale Smart Module (August) and easily connected to other smart home systems, including both Amazon Alexa and Google Assistant-enabled devices. We could easily lock and unlock the lever lock. The only thing we couldn't do was connect the lock to our home security system because we didn't have a Z-Wave smart module.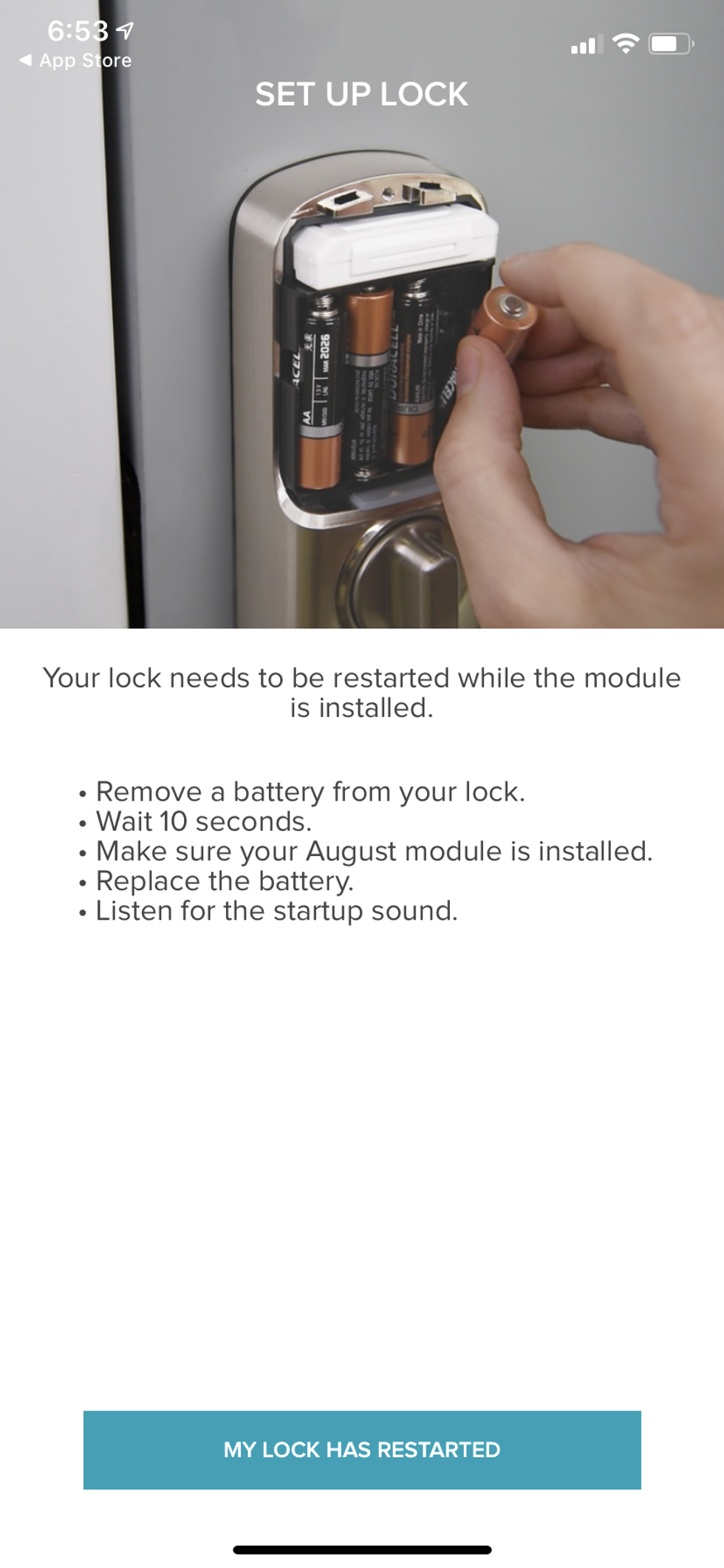 If you have problems connecting your Yale lock, you can restart it by taking batteries out but keep smart module in. This will restart your lock.GearBrain
Cost
Yale Assure Lever with August Connect has a MSRP of $299. The price can vary based on the model you get, such as one with a keypad or a touchscreen.
Yale Security YRL236-CBA-619 Assure Key Free Smart Keypad Lever Lock, Satin Nickel
Summary

We found the Yale Assure Lever to be a good smart lever lock, and particularly liked how the speaker sounds every time you lock and unlock your door — just loud enough to reminds us we had secured the door as we left. The lock is well-built and integrates with several good smart home devices and systems using the Yale Smart Modules and August Connect. For instance, if you have an August Doorbell Cam, you can unlock your Yale smart lock while talking to your visitor through the August app. This is much better than having to leave the video doorbell app to unlock your door.
Who should buy this smart lock? If you have a lever lock on your side door, door leading to your basement or any room in your home that you want to monitor who goes in and out of, Yale Assure Lever is a solid choice. If you have a side door on your garage or a door for your shed, this Yale smart lock would be a good to install. Just make sure you have either good Wi-Fi signal or an outlet nearby to plug in August Connect to assure proper connectivity. `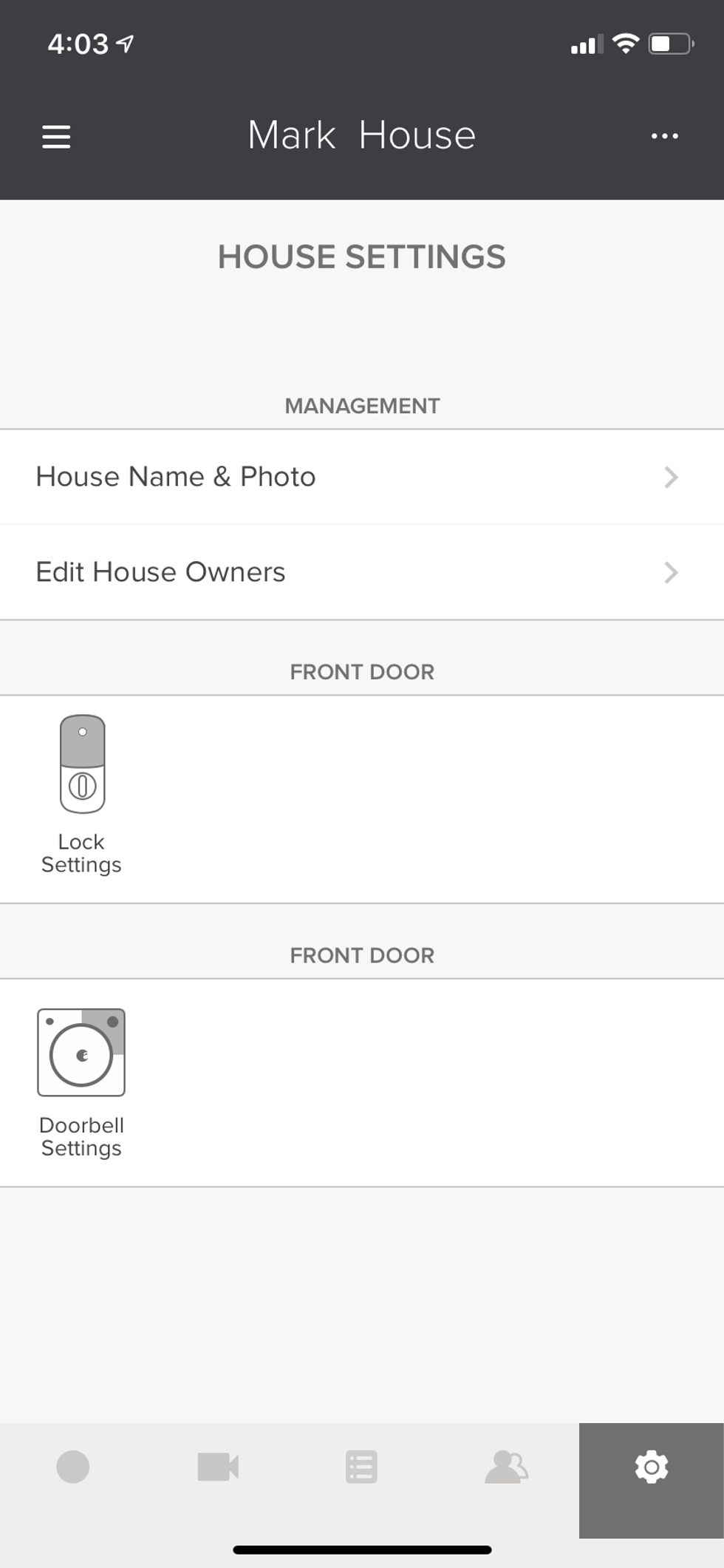 If using August smart module, you will be able to unlock your Yale Assure Lever lock while talking to someone through August Doorbell Cam.GearBraiin
When smart locks were first introduced, they were primarily designed for single deadbolt lock doors. Today, we are starting to see more choices for homes and apartments with locks you can install without needing a latch or a key lock, like a door leading to a wine cellar or maybe a room in your rental property. Yale Lever Lock can also be used effectively by Airbnb owners since the devices work with Airbnb through the August app.

In addition, we like how Yale has integrated with August Home to offer a seamless integration with other smart home platforms like Google Assistant, Z-Wave, Amazon Alexa and Honeywell (Total Connect), offering easy control and monitoring of your smart lock no matter where you are in the world. If you own a current Yale smart lock, this is a nice addition to your collection to help secure your smart home.
Pros:
Well-built
Integrates seamlessly with other smart home platforms
Makes a sound when you lock and unlock your door
Cons:

Needs a good Wi-Fi signal at the point of installation
Only works on doors 1 3/8" to 1 3/4" thick
Lacks a key
Yale Security YRL256-CBA-0BP Assure Connected by August Smart Touchscreen Lever Lock, Oil-Rubbed Bronze
Like GearBrain on Facebook