Like GearBrain on Facebook
Amazon this week rolled out a free new feature for its Alexa voice assistant, called Alexa Care Hub, in a bid to help users stay in touch more easily with their elderly or vulnerable relatives.
At its simplest, Care Hub is a timeline showing how your relative is interacting with their Alexa devices, such as an Echo smart speaker or display.
Read More:
Shown on your Alexa app, the timeline does not reveal the content of the family member's Echo usage – you can't see exactly what they say to Alexa, but instead you'll see the type of interaction, such as 'Weather' or 'Entertainment.' Alexa also won't show you what music the relative is asking for, or the wording of any questions they ask.

Details actually are very simple, and include the time they first interacted with their Alexa device each day, for example. You can also set Care Hub to alert you if a relative hasn't used their Alexa device for a certain number of hours.
Amazon describes the system as "reassurance for you and independence for them." The idea is most users will see this as a home aide and a way to keep a helpful eye on elderly relatives, without spying on them. And this kind of feature could be a particularly useful feature at the moment, given pandemic social distancing measures mean it's more difficult to visit relatives and make sure they are okay.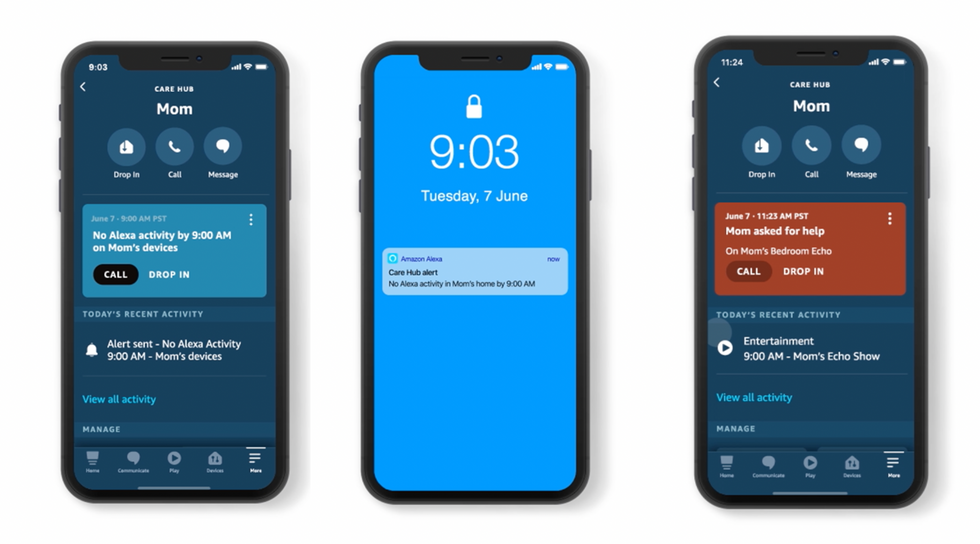 The new Alexa Care Hub feature is a part of the Alexa smartphone appAmazon
If you feel you need more information, Alexa Care Hub can be set to send you a notification every time your relative uses Alexa. But, again, this won't show you exactly what they are saying, but will describe the type of interaction, such as asking for the weather or requesting music, and which device they spoke to. That way, you can see they are moving around the home and aren't sticking to one room all day.

If your relative hasn't interacted with Alexa all day (or for however long you requested when setting up Care Hub), you will receive a notification. You can then act on that by calling them through the Alexa app, or using Amazon's Drop In function to turn their Echo device's microphone and speaker into an intercom.
Meanwhile, your relative can use Alexa as normal, just as everyone else does. But they can also set your Amazon account as their emergency contact. That way, they can say, "Alexa, call for help" and the assistant will call you, text your mobile number and send a notification through your Alexa app, all of which give you a one-tap route to calling your relative through their Alexa device.
To set up Alexa Care Hub, you'll need to use you Alexa app, but you don't need access to the Alexa app or Amazon account of your relative Instead, go to the new Care Hub section of the Alexa app (or go to this Amazon web page if that hasn't appeared for you yet). Note, this feature is only available in the US for now.
Now tell the Care Hub that you want to provide help (rather than receive it), and follow the instructions. You'll receive a setup link to send to your relative, who needs to click that, then sign into their Amazon account, create an Alexa profile if they don't already have one, then follow the instructions to link up with you through the Care Hub system.
Once they have set everything up on their end, you'll receive an email. Tap on the Get Started link in that email, and you can start tailoring how you both want Alexa Care Hub to work.
All-new Echo (4th Gen) | With premium sound, smart home hub, and Alexa | Twilight Blue
7 Tips Everyone Needs to Know About How to Use Amazon Alexa and Google Assistant Enabled Devices www.youtube.com
Like GearBrain on Facebook