Like GearBrain on Facebook
Amazon just threw Nest under the bus, reportedly removing the smart home company's products from its online store once the current stock runs out. The move is part of an ongoing spat between Amazon and Google: both are the main leaders in the smart speaker space.
Alphabet, Google's parent company, brought Nest and its product line back in house in February — a move which likely will see a stronger connection between Nest's thermostats, alarms, doorbells and other devices to Google's own smart speaker Google Assistant. But according to a story in Business Insider, Amazon told Nest on a call last year it would be phasing out its line — months before Google took Nest back into the fold.
But Nest, which Google bought in 2014 for $3.2 billion, is a smart home product line that comes with an Amazon rival attached. Google Home devices, powered by its Google Assistant smart A.I., are also not available on Amazon. Consumers searching for Google's line of smart speakers will pull up Amazon's own smart home line instead, with a few sponsored products that mention Google in their description.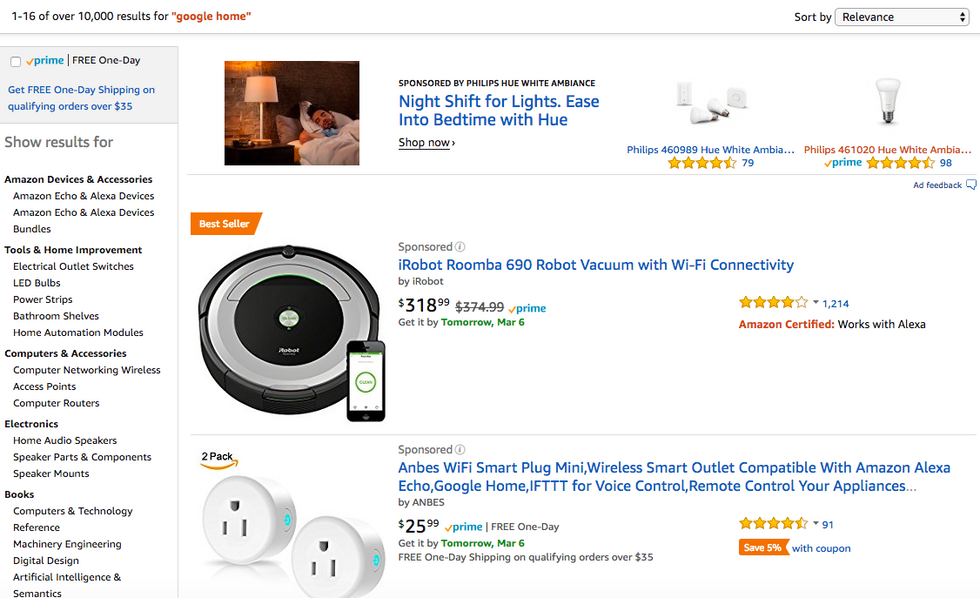 A recent search for Google Home products on Amazon directed buyers to Amazon Echo products instead.GearBrain
Certainly, no one would expect to walk into an Apple store and find Samsung phones on its white gleaming shelves. But consumers don't view Amazon as they would an Apple or Microsoft store. To them, it's an online Walmart where anything from shoelaces to fruit snacks are available at their disposal.
An Amazon order might contain a wide variety of items including a smart thermostat, electric kettle and a bottle of shampoo. When one option is not available — buyers are likely to just select another. The ease of making a purchase with just one click eclipses someone's brand preference.
Perhaps there's a loyalty to a brand of cereal or beauty product that would take someone out of the Amazon experience and back on the rabbit trail of the web. But price is one of the primary ways consumers choose smart thermostats, according to a survey from McKinsey. Amazon makes price comparison very simple.
The smart home space is also still very small, where just 12 percent of users in the U.S., U.K. and Germany have adopted a smart energy product like a smart thermostat, notes Gartner's research vice president Jessica Ekholm in a recent blog post. To her, people need to understand how these products actually help them every day before more will rush out to buy them. Those who are even interested in smart home products are likely to go online to see what's available. When one brand that consumers may not even know about, is missing from an online retailer as big as Amazon, that's a competitive disadvantage.
Nest products do work with Amazon's voice assistant Alexa and Alexa Skills. So this is not a compatibility issue. And buyers can still buy Nest thermostats and the like on Amazon for now, but potentially, eventually, on Nest's web site alone — where you won't be able to toss a new tea kettle and paper towels into your basket before checking out.
(Check out The GearBrain to learn what smart home products and connected devices work with Google Home or Amazon Alexa.)
Like GearBrain on Facebook