Like GearBrain on Facebook
Lenovo's Smart Tabs are multi-functioning tablets that tend to lean to Google Assistant users. After all, YouTube has its own tab on the device, and start asking a question, and its Google Assistant that offers an answer. But the Smart Tab M10 with Alexa Built-in is a departure, a nod to Amazon's smart assistant plus a neat trick — a way to turn the tablet into an Alexa Show smart display. We played with it as a tablet, and as a display, to see what you gain, or don't, by adding Alexa into the mix.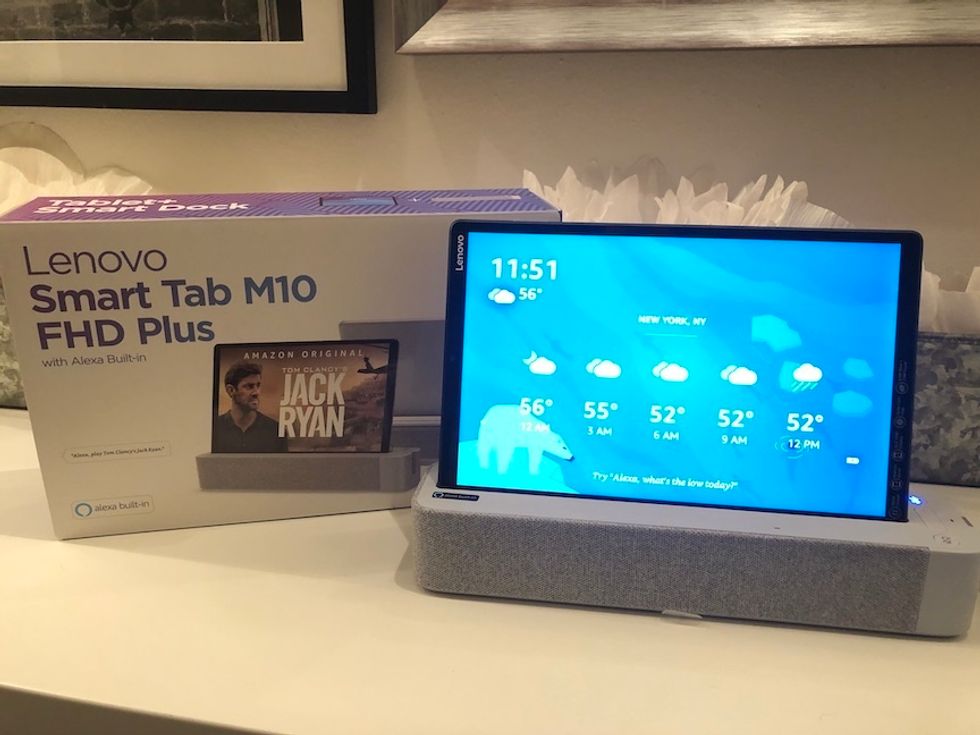 The Lenovo Smart Tab M10 with Alexa Built-in comes with a Smart Dock that both charges the tablet and turns it into an Alexa displayGearBrain
Setting up the tablet and dock

The Lenovo Smart Tab M10 with Alexa Built-in is a bit different from previous tablets that we've reviewed because of its substantial dock. This is the platform where the tablet sits, and it requires a Bluetooth link between the two.
You're going to start, though, by launching the Smart Tab M10 — and then you're going to want to immediately sign into your Alexa account. Don't have one? You're gonna need it, because without an Amazon Alexa account you're not going to be able to use precisely the feature that makes the device: the ability to use Alexa as your voice assistant, and the spin that turns it into an Alexa Show.
Why would you want the Alexa Show mode? That's a display feature that mirrors the Echo Show, and brings up news, weather, lets you make calls to contacts (and actually anyone whose phone number you can read aloud to the voice assistant), and even use some Alexa-only features like Drop-In which records your saying something, "Dinner's ready!") and then send it out to other Alexa devices.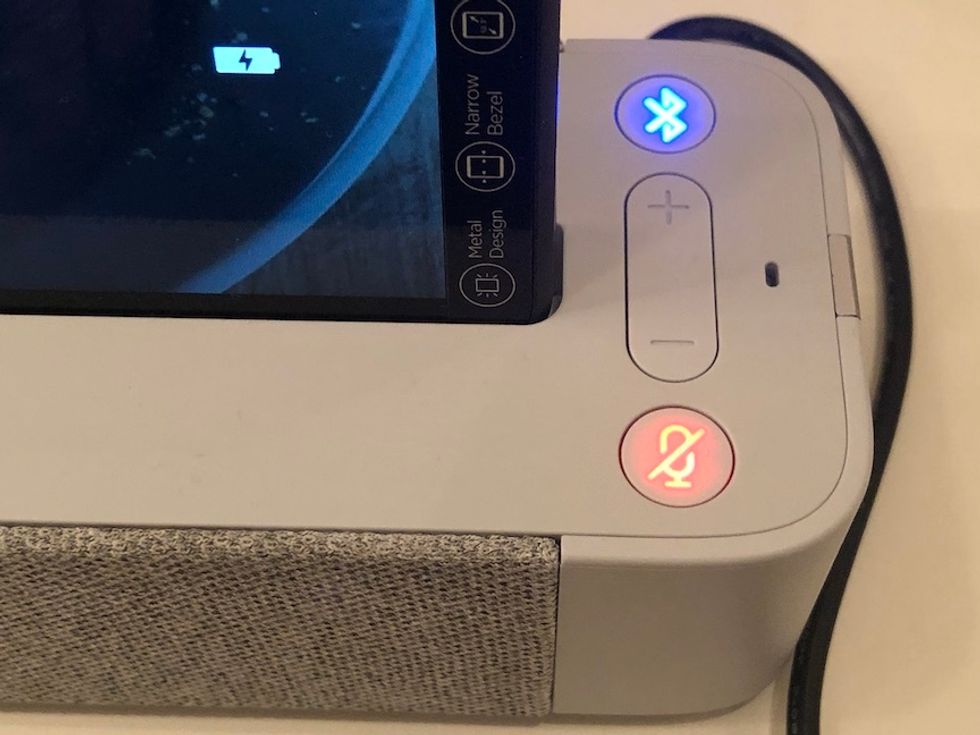 Buttons on the Smart Dock include one that lets you mute the microphoneGearBrain
Without an Alexa account, you're going to end up using this tablet as a Google Assistant device. And that's fine. In fact, to bring up Google's voice assistant you don't even have to sign in at all. And actually, you can sign into the Amazon Alexa app on the tablet and speak to Alexa that way too. But that's not going to link the Smart Tab to the dock and let the display go into Alexa Show mode.

I took this route — bypassing the Alexa option — and found it was tricky to go back and sign in, and also link the dock to the tablet via Bluetooth. I finally did both, but I recommend doing all this at the beginning.
Alexa's Inside

With Alexa inside there's a lot you can take advantage of, including Amazon amenities like Amazon Music. But here's what you can't do — you can't watch Prime Video without downloading a complete separate app from the App Store. And yes, you need a Google account to do that, so you can get into Google Play. YouTube is right there, a Google entity, front and center, with its own tab as with other Lenovo Smart Tab's we've reviewed. But with this Alexa Built-in, you don't have Amazon Prime.
Again, Amazon Music comes up quickly if you ask Alexa, and you can even see the name of the song and the album as music plays. But eventually it will dawn on you that while the dock has Amazon's Alexa built inside — you're really working with a Google Assistant/Android tablet that's bridging into Alexa's goods.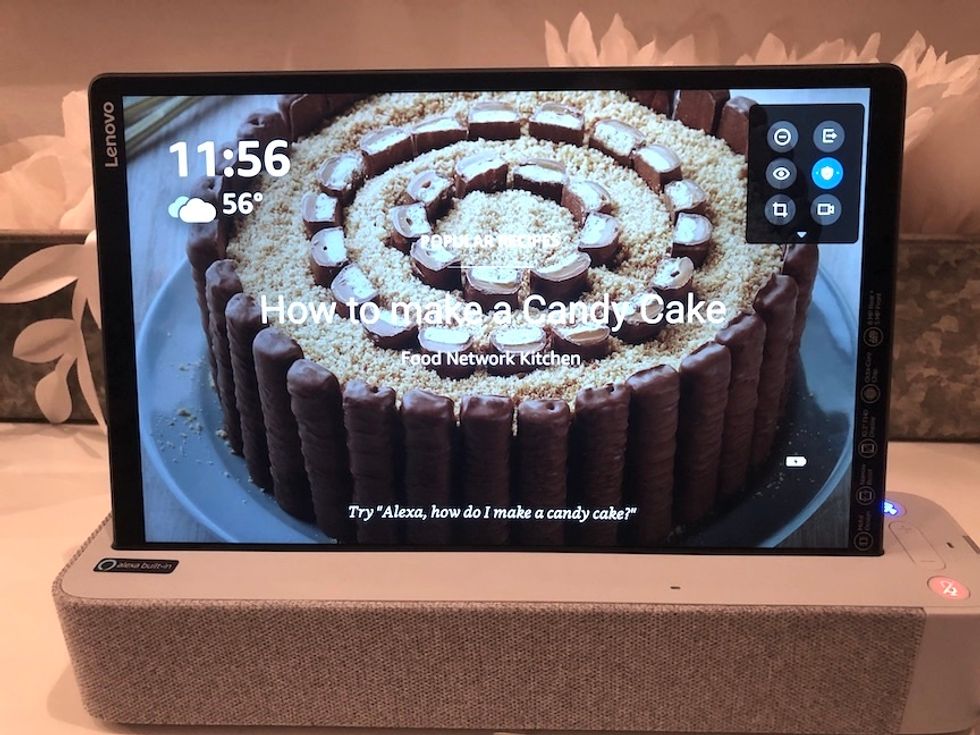 The Lenovo Smart Tab M10 with Alexa Built-in flips into Alexa Show mode if you sign in to the Alexa accountGearBrain
The Alexa Show mode is also something you need to be excited to use — in fact, I'd say it needs to be primary reason you want the Lenovo Smart Tab M10 with Alexa Built-in, if you're buying it. In Alexa Show mode the screen changes constantly, nearly every 10 seconds with suggestions on what I might want to try next in terms of Alexa features from recipes to news stories. I did like the graphics when I asked for specific features, like news, but I probably wouldn't want to keep this on a work station, where I primarily tested it, as I found the imagery changing so often distracting.

I also found the screen, in Alexa Show mode, would occasionally get stuck, specifically on a feature called "Welcome to Where the Truck," which was actually a disconcerting experience where Alexa would read aloud a story. Clearly Amazon was trying here to modulate Alexa's voice to sound more human, and yet it just couldn't get the voice assistant to stop ending sentences with occasional uplifts, and remove those strange ways AI pronounce words and emphasize certain sounds. ("Good morning Dave.") Lenovo doesn't have anything to do with this feature, but it was disturbing enough, it felt worth mentioning.

Once I had to reboot the entire tablet, after I could turn off a frozen screen. And the dock and tablet often disconnected from each other from Bluetooth, going in and out of pairing mode, sometimes while Alexa was talking. This meant sometimes the audio came in via the dock and sometimes via the tablet.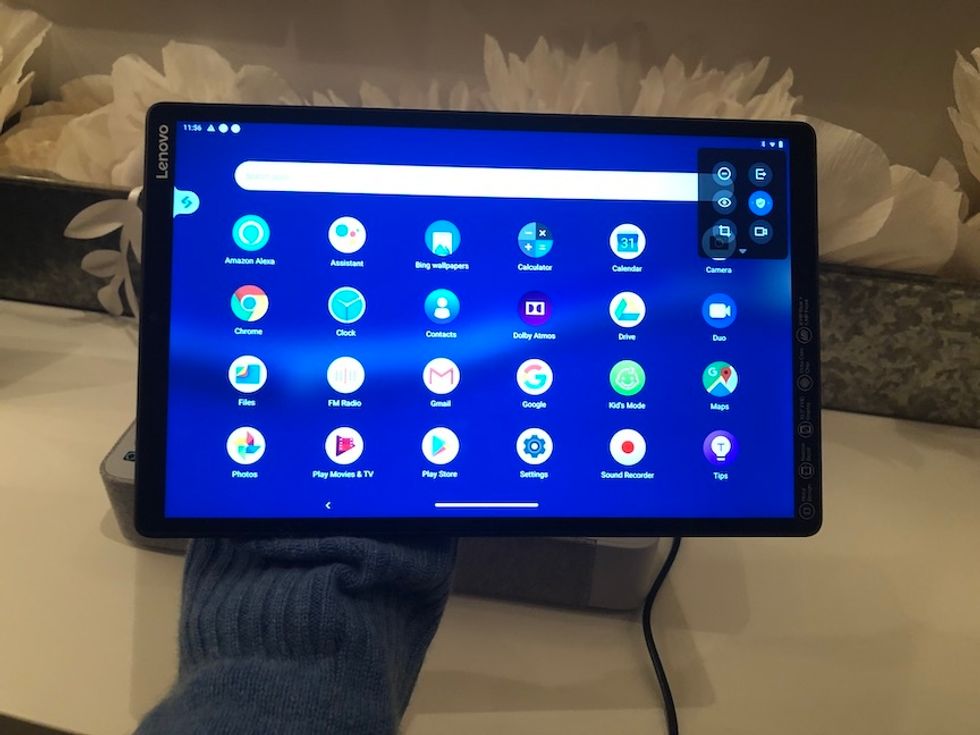 Pull the Lenovo Smart Tab M10 with Alexa Built-in off the dock, and you have a Smart Tab M10 tablet in your handGearBrain
Lenovo Smart Tab with Alexa vs Lenovo Smart Tab with Google Assistant

The tablet, in all fairness, is really the same one you're getting with the Lenovo Smart Tab M10 FHD Plus, both in size and what's inside. Both have 10.3-inch FHD displays, both have two speakers with Dolby Atmos, and both weigh about 1 pound. Cameras are also exactly the same with a rear 8 MP autofocus camera and a front 5 MP fixed focus lens, and both support face unlock. We've done a full review of this tablet — which is one we think is a great value for Android users.
Really, the primarily difference between the two lies with the stand. With the M10 with Google Assistant, you have a simple, very basic plastic holder that also charges the tablet. It has a small footprint, and almost disappears when it's in place.

But this Smart Tab with Alexa Built-in comes with a Smart Dock, a substantial stand that is meant to be seen unlike the one on the Google Assistant version. To start this version is covered in gray fabric, the same that covers many of Lenovo's smart home devices including the Smart Clock. Second there are two 3W speakers built inside, also with Dolby Atmos, along with controls for volume, muting the microphone and the Bluetooth link too.

The Smart Dock changes the feel and look of the entire device. Suddenly, instead of a work object, you really have something that can sit in a living room, or a bookshelf or a kitchen (although with that gray fabric I'd keep it away from the stove.) There, with Alexa Show mode running, the entire device is cohesive and homey. You go from a work tool to a smart home addition — and all because of this Smart Dock.
The Lenovo Smart Tab M10 with Google Assistant on the left, and the Lenovo Smart Tab M10 with Alexa Built-in on the rightGearBrain
Price

The Lenovo Smart Tab M10 FHD Plus with Alexa Built-in starts at $229.99 with 64GB, but the one we tested is the 128GB version and is priced at $279.99. As a comparison, the Lenovo Smart Tab M10 FHD Plus with Google Assistant is $219.99 with 64GB and $269.99 with the 128GB, although the latter version is not currently available on Lenovo's site.
Summary
We've reviewed the Lenovo Smart Tab M10 in the past. It's a solid tablet. Is the addition of Alexa Built-in worth the shift to buying this version — and paying about $10 more? If you're an Amazon Alexa user, and you're in the market for a display and a tablet, the Lenovo Smart Tab M10 with Alexa Built-in is a great item for your space. You get a good Android tablet, you get a pleasant dock that charges and also acts as a mini-speaker, and you get the option to morph the entire set-up into a robust Alexa display. You can make calls, take advantage of Alexa tools, use your Alexa Skills, and still switch back to the regular Lenovo tablet mode.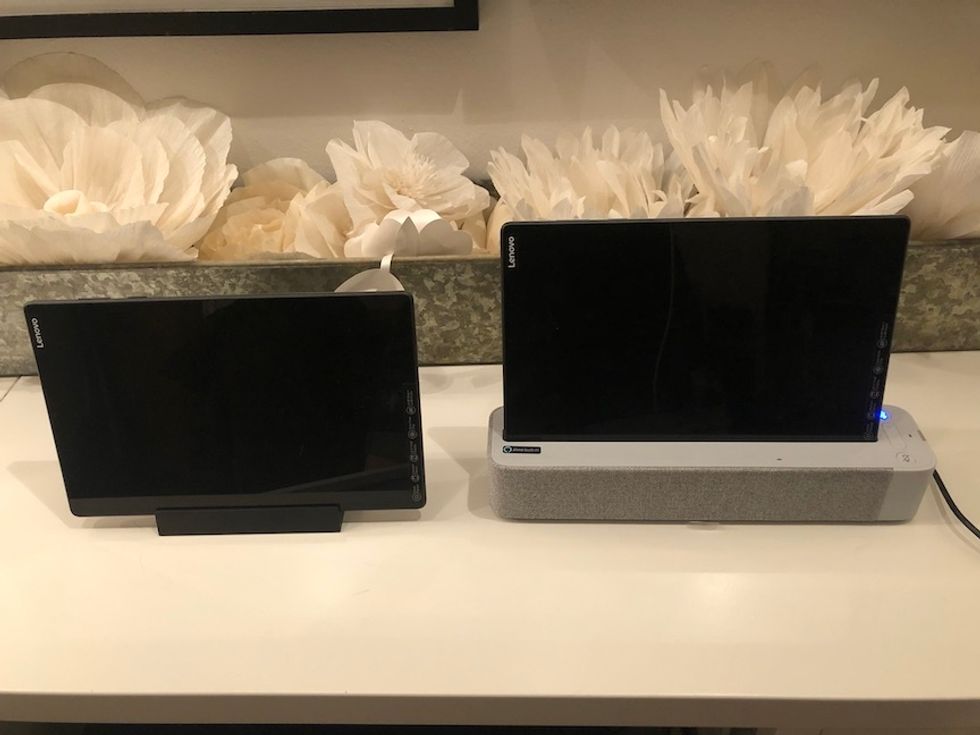 The Lenovo Smart Tab M10 with Alexa Built-in has a more substantial baseGearBrain
If you're not an Alexa user, or you're just not interested in trying out Alexa features, this is a device you can skip. There are cheaper ways to introduce you to Amazon's voice assistant, like the updated Echo Dot (4th Gen) and you're probably going to be just fine with the Lenovo Smart Tab M10.

Still, if you're in the Amazon camp, and you've been eyeing one of the older Echo Show models, you might want to consider the Lenovo Smart Tab M10 with Alexa Built-in. You're getting that Alexa device, plus a tablet. A new Echo Show does have some neat added features, like a camera that can follow you as you move around, like chatting with family while you're prepping dinner, for example. But you're going to pay $249.99 for that device — and it's not a portable tablet you can take with you to school, and it's definitely not going to have Google Assistant packed inside as well.
That makes this a fine tablet for any Alexa user, even given its occasional glitch or two, or someone who wants to try Amazon's voice assistant and have the tablet option as a backup too.
Pros:
Amazon Alexa voice assistant enabled
Supports Alexa Show mode
Doubles as a display and a tablet
Cons:
Designed mostly for Amazon Alexa users or fans
Some glitches with Alexa Show mode
Dock and tablet occasionally disconnect from each other via Bluetooth
Check out The GearBrain, our smart home compatibility checker to see the other compatible products that work with Google Assistant and Amazon Alexa enabled devices.
Like GearBrain on Facebook