Like GearBrain on Facebook
When you're eyeing a good security camera for your home, you're likely going to start with questions: Do you want a security camera that works as standalone security device, or one that can be added to a DIY home security system? Do you want a camera that works on a wireless Internet connection indoors or outside? Or one that works over both wireless and wired Internet connection using either a Digital Video Recorder (DVR) or Network Video Recorder (NVR)? Annke is a camera maker that can cover all these options. We were given the opportunity to test its new IP security camera, the NC400 4MP ACE True Full Color Night Vision PoE Bullet IP Security Camera, and here's how it worked in a home space.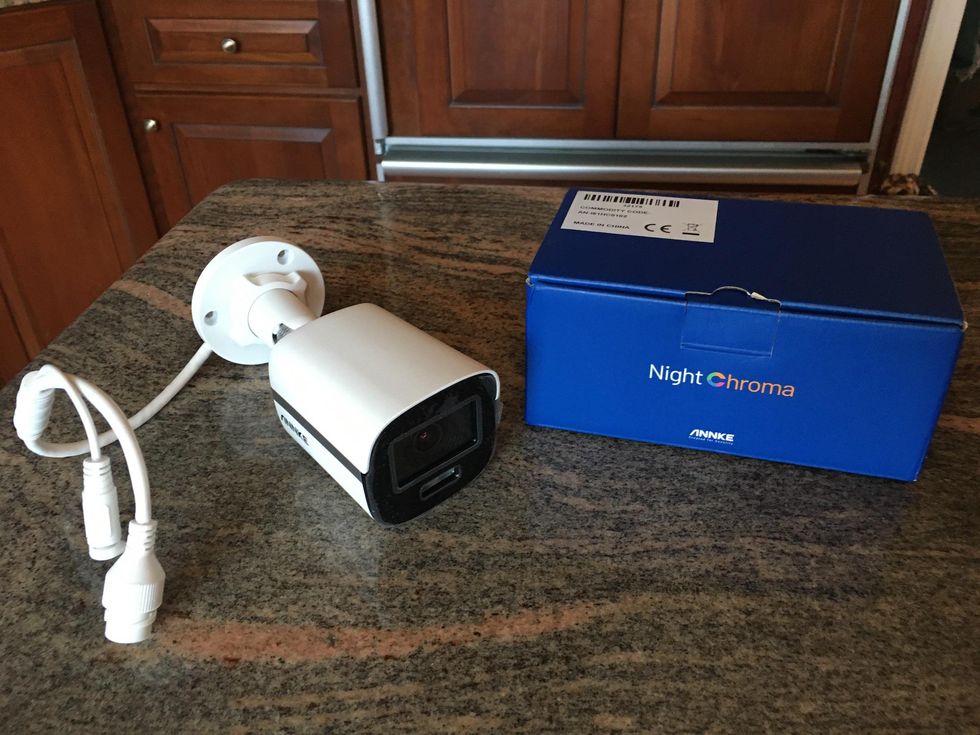 Annke NC400 4MP ACE True Full Color Night Vision PoE Bullet IP Security Camera with NighChroma technologyGearBrain
What is the Annke NC400 4MP ACE True Full Color Night Vision PoE Bullet IP Security Camera?
The Annke NC400 4MP Tender Night IP Cam is an outdoor security camera that captures and records 4MP HD videos. Wired, with a a unique "bullet shaped" design, the camera is designed to work with any Open Network Video Interface Forum (ONVIF) NVR or NAS system, which means it can interact with a number of different products, not just Annke's. But it's best feature is the Night Chroma security solution — providing color night vision up to 100 feet away. You can actually record images of the night sky using the camera's F 1.0 super aperture, as the the lens can capture more light for those dark images you want brighter. In short, this is a good feature to have in an outdoor security camera.
Annke NC400 IP Cam has an A-1 CMSO Image sensor which, when combined with a F1.0 aperture, can deliver super high definition videos at a pixel ratio of 2560 x 1440, and also record at 20 frames per second (fps). The camera connects through a power cord, and also uses an Ethernet connection (PoE) to your home's Wi-Fi router to send videos to your smartphone or computer. It also supports 120 db true WDR, 3D-DNR, BLC & HLC. What does all this mean? Here is a short explanation of each feature:
120 db true WDR is a sensor technology which is used in cameras to produce images with an extremely wide dynamic range.
3D-DNR stands for multidimensional digital noise reduction. It' is used to improve night vision and prevent image distortion.
BLC means "backlight compensation". This is a camera feature that optimizes exposure in the background and foreground of a video.
HLC is short for "highlight compensation". This is a technology used in CCTV and IP security cameras to address image overexposed with bright lights from spotlights or a car's headlights. It works with a camera's image sensor to detect bright lights and reduce exposure to enhance the overall video quality.
Besides exceptional video resolution, Annke's PoE IP security camera is IP67 weatherproof rated, with an all metal housing. This means it's built to withstand cold winters (down to -22 degrees F) and hot summers (up to 140 degrees F) as well as keep the camera safe from any corrosion or dust getting into the casing. We found the camera had a very durable and a high-quality build. And the stand or base easily secures the camera to make it easier to install on the side of your house, and also position it at the angle you need.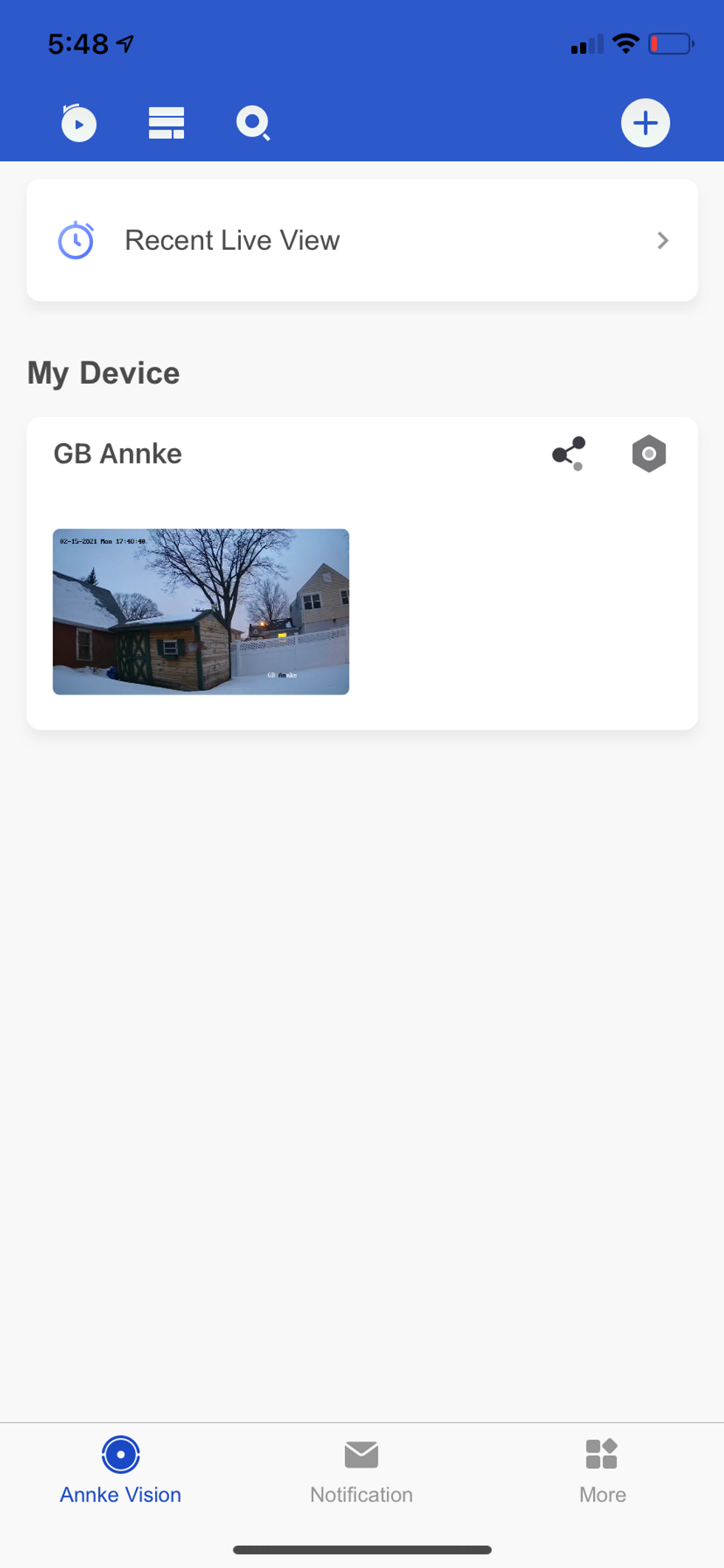 Annke Dashboard in Annke Vision app.GearBrain
Installation

Setting up Annke's NC400 is extremely easy if you already have a network video recorder. The camera comes with a user manual which provides step-by-step instructions on how to setup your camera. You will need to download the Annke Vision app from either the App Store (iOS) or Google Play (Android), which is where you will setup alerts and notifications for the camera. It's also where you will connect the camera to your home Wi-Fi router since it works only on a 2.4 GHz connection. Besides the app, you can use your computer to monitor videos from your Annke cameras if you don't have an network video recorder.
In our tests, we found connecting the camera with a Mac computer to be rather difficult, taking longer than we thought. Annke does provide instructions, which includes downloading a zip file, and then make sure your camera is powered on and connected to your home Wi-Fi. From there, you log in to Guarding Vision and open an account. Once connected, you can setup access to the camera from your computer using either a LAN or P2P. LAN is the recommended connection and what we used for our test.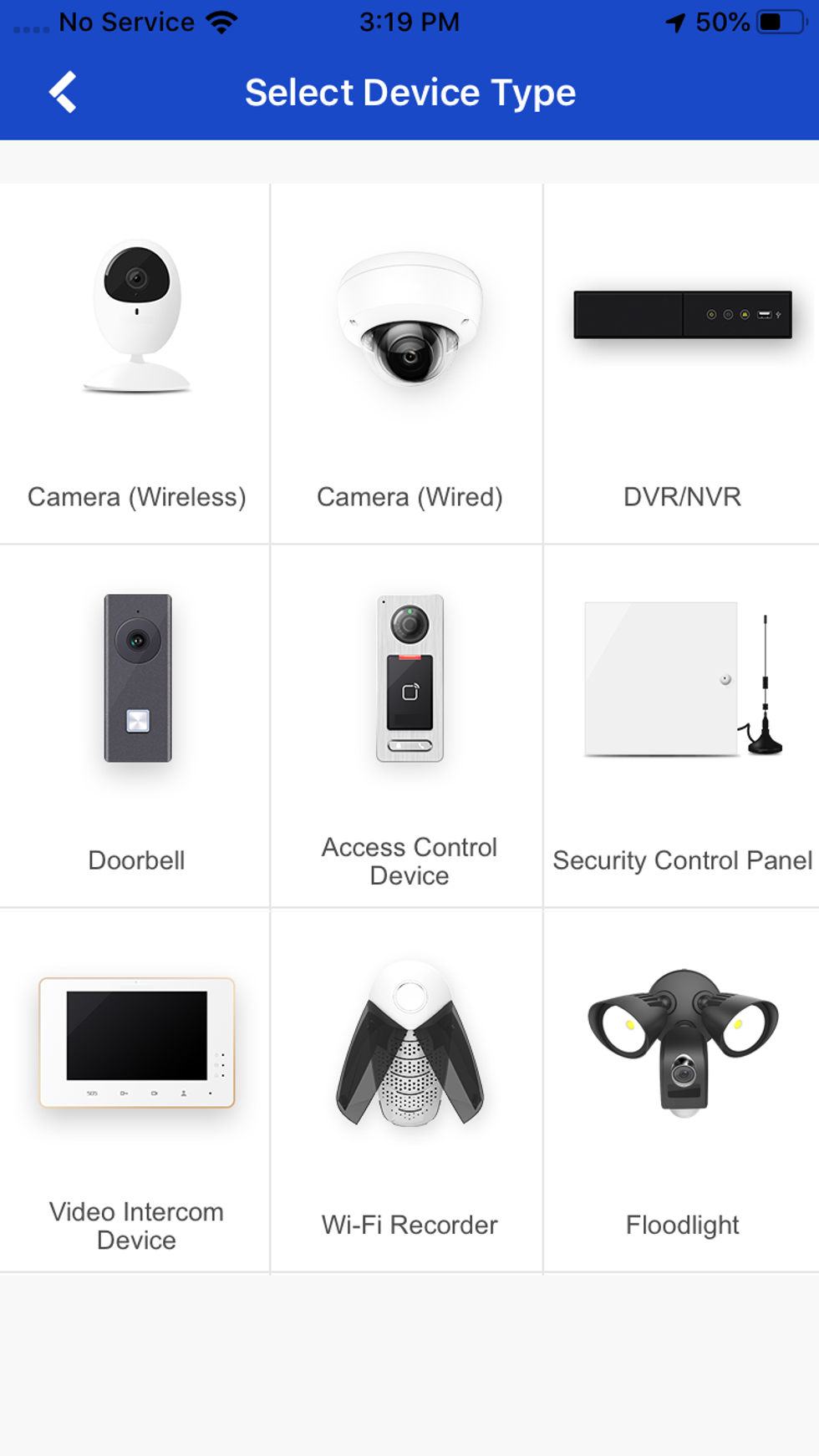 Use Annke app to install your device.GearBrain
Annke's camera is an outside PoE IP security camera. So, depending where you plan to install the camera outside, you will need an outlet for power as well as an Ethernet cable long enough to reach your Wi-Fi router. The Ethernet connection will give your camera the Wi-Fi signal outside your home needed to operate effectively.

How much does Annke NC400 camera cost?
The Annke NC400 – 4MP ACE True Full Color Night Vision PoE Bullet IP Security Camera costs $129.99 and is available for sale on the company's website as well as Amazon, AliExpress and eBay. You can also buy multiple cameras if interested. The company offers packs of two, four, and eight cameras.
Performance
Since we didn't have a network video recorder setup in our space, we only tested the camera as a stand-alone device. We checked its video quality and surveillance capabilities, as well as the installation process in a real home and not a lab.
When dealing with a PoE IP security camera, there are certain challenges you need be ready to address, especially before buying one. Where do you plan to install the camera and is there power at the location? Can I mount the camera to the house? Is there an Ethernet cable standing by that's long enough to run from the camera to your home Wi-Fi router? And can you hide the cable so intruders can't access it or cut the lines? The answers to these questions will help you determine if a PoE IP security camera, like Annke NC400, is right for you.
You also need to decide whether or not you want to communicate through your security camera. Many PoE IP security cameras don't offer this feature. AN400 is a PoE IP security camera which does not have two-way communication. There is no microphone on the camera.
Annke Vision - Daytime Vision in Color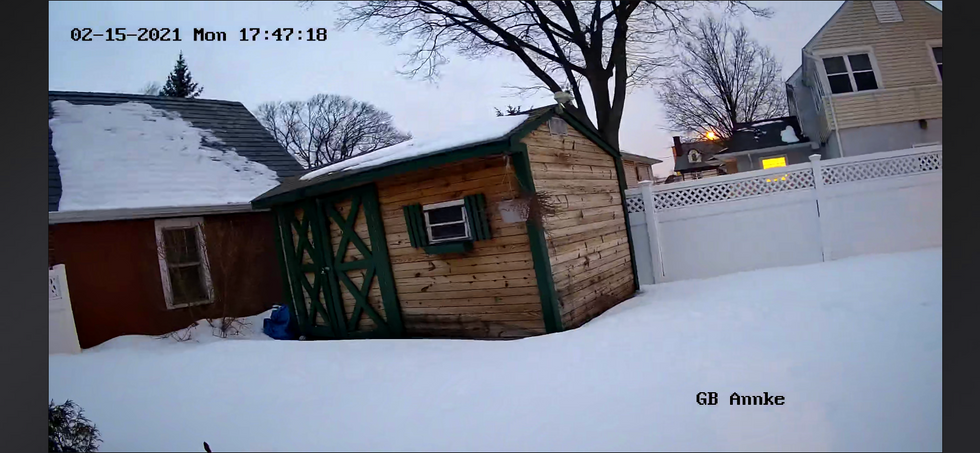 Twilight time viewing with Annke NC400 security camera.
GearBrain
Daytime vision from Annke NC400 is crisp and clean.
Annke Vision  - Night Vision in Color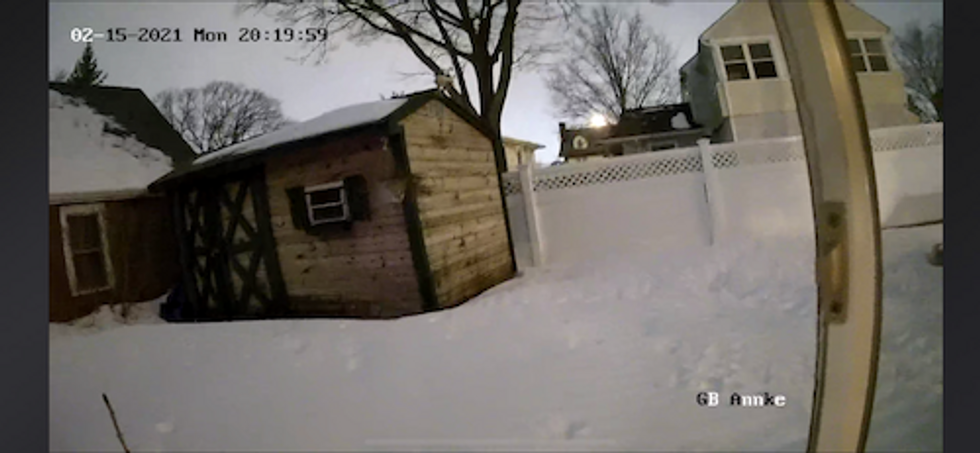 Nighttime viewing with Annke NC400 security camera.
GearBrain
Color nighttime vision is exceptional. If you look at the sky it seems like Twilight, but it's actually dark.
Night Vision from another camera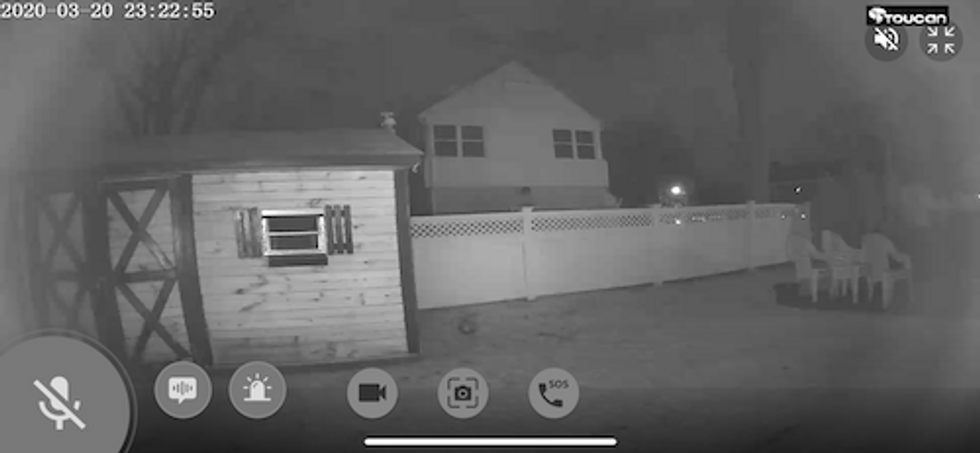 Toucan Outdoor Camera Night Vision is in Black and White and not color.
Not all outdoor security cameras come with color night vision.
Finally, you need to determine what to do with all the videos you record on your camera. Annke does not offer cloud storage nor does it have a microSD card slot for you to record videos locally. It does provide the ability for you to record videos and download them from the app onto your phone or computer. This is not a bad option, especially if you don't want to pay a monthly fee to store your videos.
Overall, the performance of the camera was good, especially the night vision feature. Not many security cameras have color night vision, especially at the range that Annke offers in this camera. We found the picture quality to be exceptional and the night vision easy to see images and objects, even when you zoomed in on a smartphone.
Summary
Today, security cameras come in all shapes and sizes as well as with all types of connection options – wired, wireless, PoE and more. There are some you can install yourself, some that are best for homeowners, with other security cameras good for renters. If you're a property owner, and you want a simple to setup outdoor security camera with good night vision, two-way talk and quality video resolution, Annke's NC400 is not for you. You are better off buying a security camera by Blink or Wyze, as both of these are less expensive than a PoE IP camera and easy to install outside.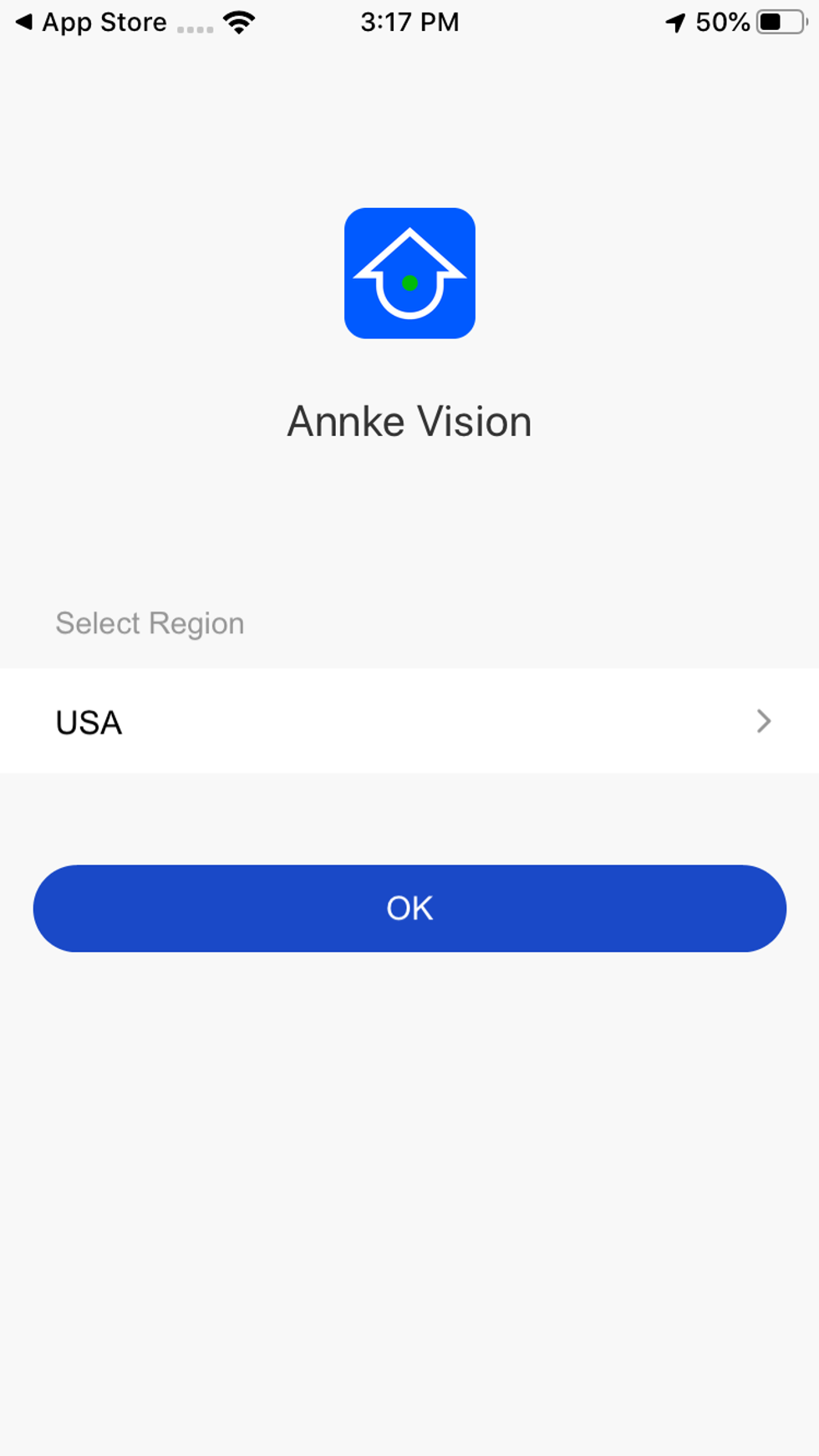 However, if you already own an network video recorded with ONVIF or want to start building a smart home surveillance system, NC400 is a reliable inexpensive PoE IP security camera with durable casing, high quality video resolution and brilliant color night vision for you to consider. It can help you test the PoE IP surveillance camera waters before going out and buying an entire system which could cost over $1,000 for a respectable one. But keep in mind you will need to take a fair amount of time setting this camera up and running Ethernet cables. But once setup is complete, you will not have to worry about the internet connection to your camera outside your home. It works perfectly fine unless the cable gets cut.
Pros:
Night Chroma technology (color night vision)
Works with any NAS devices and NVR systems
ONVIF capabilities
Rugged casing
Cons:
Lacks two-way communication
Need to run long Ethernet cables
No cloud or local video storage on device.
ANNKE 4pcs 4MP PoE IP Bullet Security Camera, True Full Color Night Vision, H.265+ CCTV Surveillance NC400 Camera, Support ONVIF & RTSP
Like GearBrain on Facebook