Like GearBrain on Facebook
When you're looking for a video camera for your home, two things you need to consider are field of view (FOV) and video resolution. The larger the FOV, the more area you can see with just one camera. The better the video resolution, the easier it is for you to find intruders or unwanted guests whether it's day or night. In our recent testing of security cameras, we came across a new outdoor wireless security camera which had exceptional FOV and video resolution. The Toucan Wireless Outdoor Camera also comes with additional security features — all for only $80. Here's what we found while testing this outdoor security camera in a real home.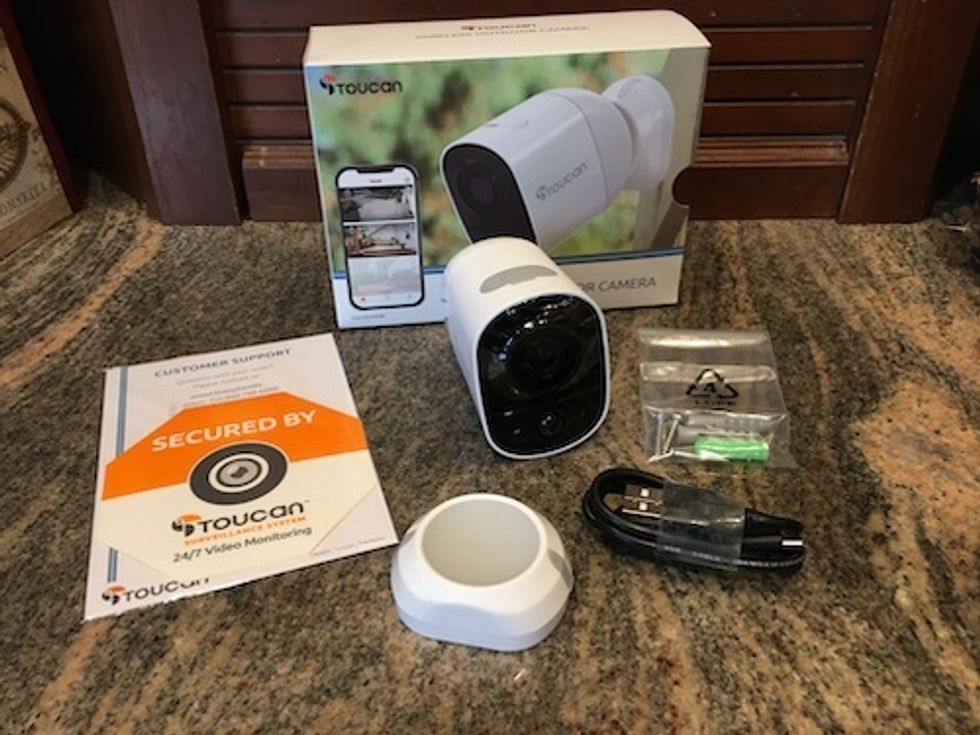 Toucan Outdoor Camera unboxed.GearBrain
What is Toucan Wireless Outdoor Camera?

Toucan Wireless Outdoor Camera is a wireless Wi-Fi outdoor security camera. Features include HD 1080p video resolution, motion detection, two-way communication, a siren alarm and night vision. You don't need a hub to run the camera, and it's waterproof (IP56 Certified), crucial for use outside. There's a lot of flexibility with the camera, through its 131-degree adjustable viewing angle, magnetic mount and the fact that it's battery powered, which means you can practically place this anywhere.
The camera is very easy to setup and install. A quick start guide is helpful, but the instructions in the app are easier to follow. Setup should take you only a few minutes, depending on your Wi-Fi signal outside.
Like most outdoor security cameras, you need a strong Wi-Fi signal for Toucan's camera to work effectively. If your Wi-Fi signal is not strong, you might want to consider getting a Wi-Fi range extender. You'll be able to see how strong your network signal is through the Toucan app. We had two bars — not strong, but sufficient.
The camera has night vision and you can see things clearly for five meters (16 feet), what we consider a standard for good outdoor security cameras. You can set the night vision to auto — what we recommend — or turn it off and on manually from the Toucan app.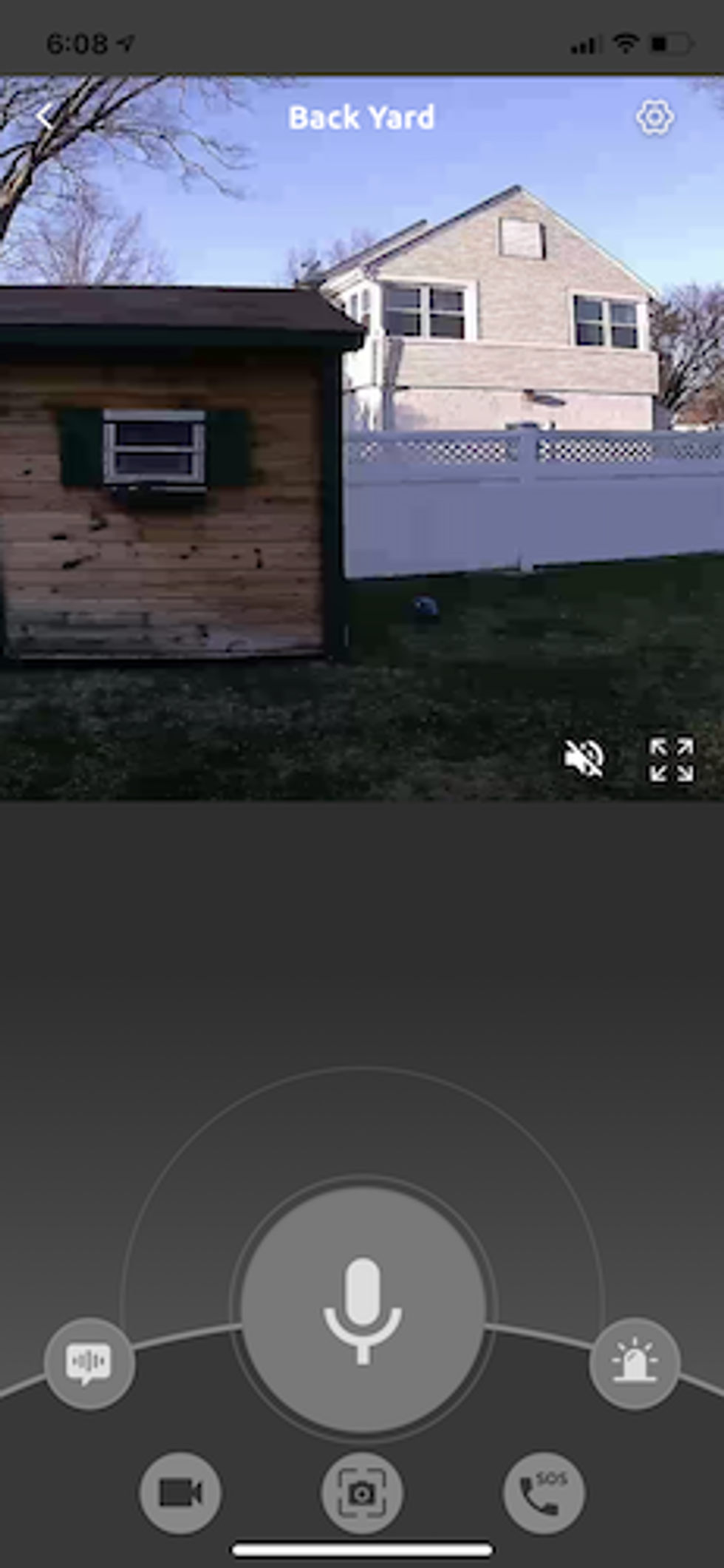 Toucan app provides all the controls you need for your camera.GearBrain
You can monitor the camera's battery life in the app. And while the benefit of a battery powered camera is you have more options for positioning your camera, you will need to take the camera down to charge it. Toucan includes a charging cable for you in the box, but it's not long. We needed about three hours to fully charge the camera, and that lasted about three weeks if we had low activity.

You can also adjust motion sensitivity in the Toucan app, and there are four settings: max, high, med and low. Low is the least sensitive setting, while max is the most. Test the sensitivity levels once your camera is in place and working. We ran into an issue when testing because we were in the yard with friends and we kept getting false alerts, even on a low setting. We were surprised there was no way to turn off the motion sensitivity, and think Toucan should look at addressing this issue.
Overall. though, Toucan app's dashboard is very user-friendly. While viewing live stream video, you can turn on the microphone and speak to someone. There's also an icon to use to call 911 in case of an emergency while live streaming, and a way to easily activate the camera's siren. You can also setup a pre-recorded response from your camera when motion is detected. The camera comes with three four pre-recorded responses: a dog barking and three speaking responses: "Hello, who is it?," "How can I help you?" and, "No soliciting, thank you." I selected the dog barking option — dogs can be good deterrents.
With your video recordings, you can upload and store them in the cloud. There's a free, basic storage plan which includes 24 hours storage and video playback. But know you can only download five videos every month. You can upgrade to Toucan's Pro plan which costs $2.99 per month, and then get seven days of video playback. There is also an Elite plan which provides 90 days of video cloud storage and costs only $9.99. Plans allow you to share your camera with 10 users and bookmark or save 10 recordings.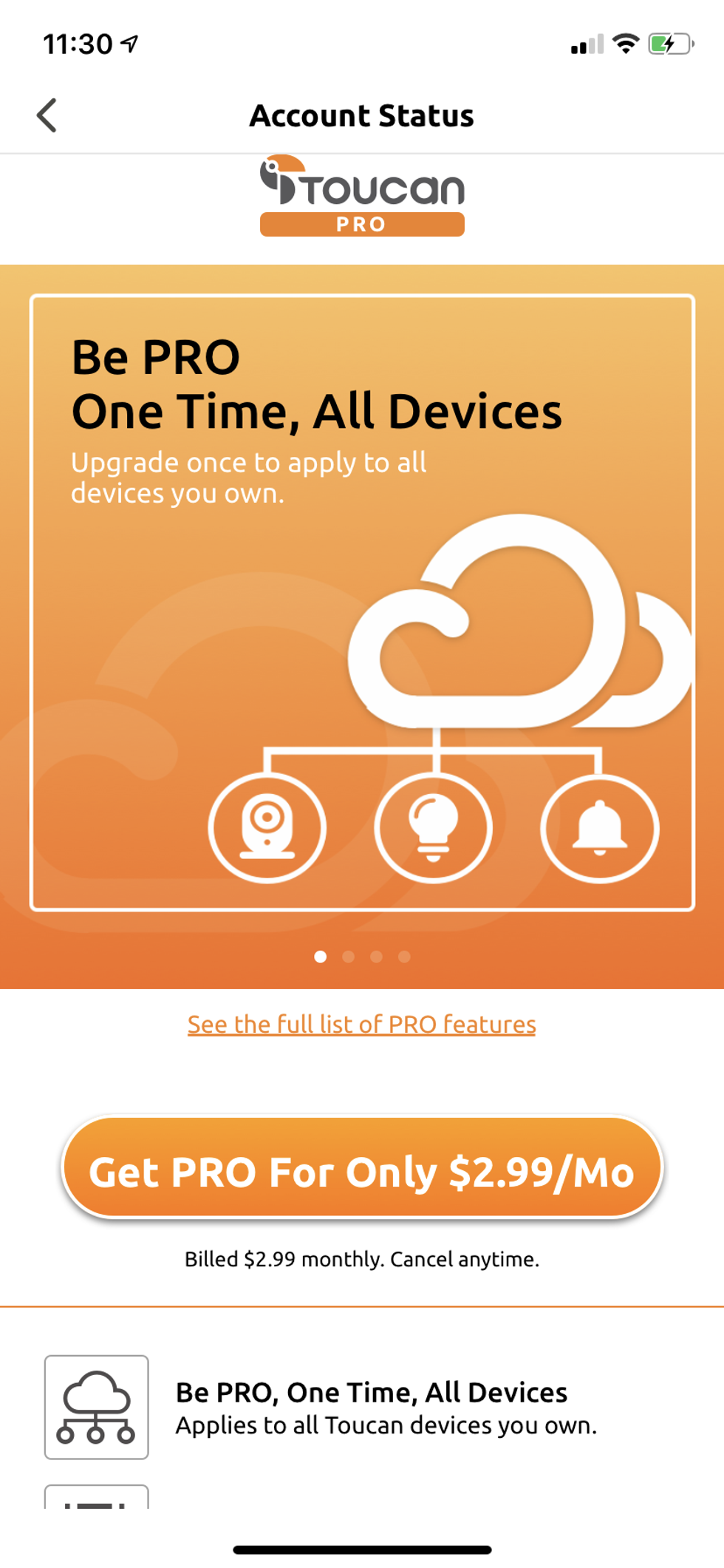 Sign up for Toucan cloud storage in the app.GearBrain
Smart home integrations

Toucan's outdoor camera is compatible with Google Assistant and Amazon Alexa-enabled devices. You can easily activate the Alexa skill for Toucan in the Alexa app and the Google Home app for any Google Assistant devices. It's very easy to setup and view videos from your Toucan camera to smart speaker displays like Echo Show or Nest Hub Max. You can not only see a live stream from your Toucan camera but you can also ask Alexa or Google to sound the siren on your Toucan camera if needed. These are good security features to have in a camera.
Regarding other smart home security integrations, Toucan's camera does not work with any leading smart home security systems like ADT, Vivint or abode. It's a shame because some of these leading smart home security systems could use an outside camera like Toucan.
Toucan Rechargeable Battery-Powered Wireless Outdoor Security Camera with 1080P FHD Video, Smart Home, Motion Detection, Weatherproof, Night Vision, 2-Way Audio, 2.4Ghz WiFi, Works with Alexa (1 Pack)
Performance

Based on our testing of other battery powered outdoor wireless security cameras, Toucan performed at the high end. The quality of the video is good, and daylight videos are crisp and clean looking. When you pinch the screen to zoom in, we found the picture is still rich in color during the day. At night, the video was not as clean looking, but that might be because what you're seeing is in black and white. Compared to other HD security cameras, the Toucan night vision was slightly above average performing.
The camera does have a decent speaker which allows visitors to hear you clearly. There is a slight delay but that is due to the wireless connection to the cloud. The siren was loud enough to grab your attention. One feature we did have trouble with, as we mentioned, was motion sensitivity. Aside from false alerts from neighbors, we also had issues when the wind was blowing, also when we set the sensitivity to a low setting. Be conscious when setting up your camera where you might want to place it to avoid these issues.
Toucan App - Day Vision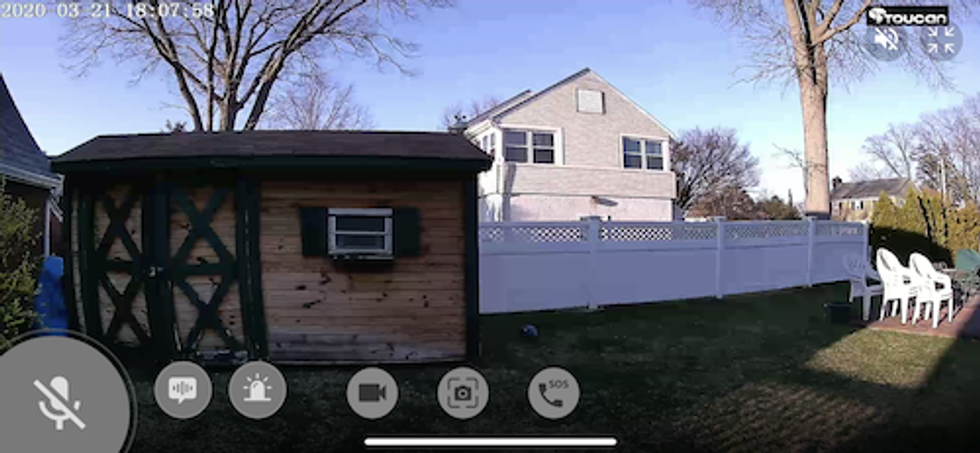 Day Vision from Toucan Camera
GearBrain
Toucan App - Night Vision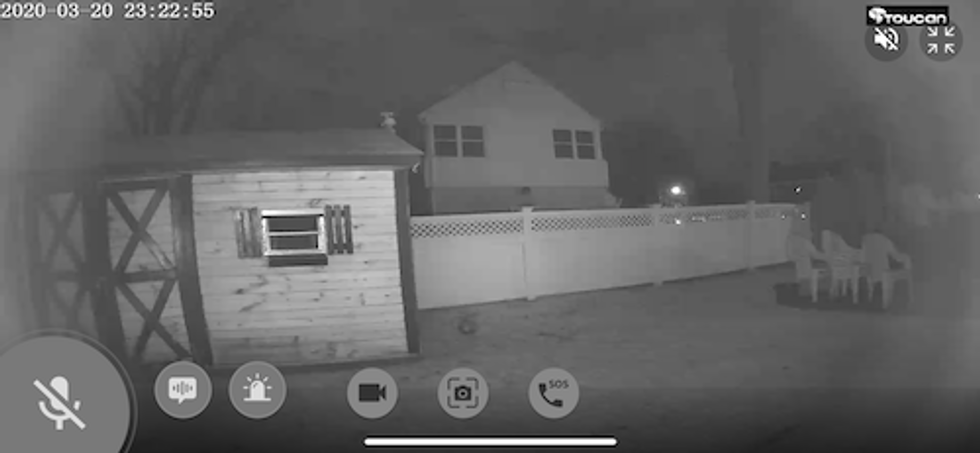 Night vision from Toucan app
GearBrain
The magnetic mount on the camera is a nice feature, allowing you to easily position the camera in the direction you want. It's easy to install the base, but make sure you position this in a place that's hard for intruders to access as the camera can be easily removed from the base and taken.
We liked how you expand the view of live videos in the app. With a 131 degree FOV, users get a 180 video view, which is very wide. And if you view this through a smartphone tilted horizontally, you can really take advantage of this expanded look. Also, the controls are easily marked and accessible when viewing live streams. You can also see the full video feed in portrait mode, but you have to slide the picture from side-to-side.
Cost
The Toucan Wireless Outdoor Camera costs only $80 and is available on the company's website as well as on Amazon. This is a very attractive price for an HD 1080p wireless outdoor camera.
Toucan Rechargeable Battery-Powered Wireless Outdoor Security Camera with 1080P FHD Video, Smart Home, Motion Detection, Weatherproof, Night Vision, 2-Way Audio, 2.4Ghz WiFi, Works with Alexa (1 Pack)
Summary

If you are in the market for a good inexpensive HD 1080p outdoor security camera with motion detection, two-way communication and 24-hour video cloud storage, Toucan's new wireless outdoor camera is one we would recommend you consider. It's easy to install, has a big field of view (FOV), works with Alexa and Google Assistant, and has a good, clean and crisp video stream. We also like how easy it is to use the Toucan app, and how simple it is to turn on the siren or call 911 from the live video stream. The only issues to consider are whether you're comfortable needing to recharge your camera every two to three weeks, and if you're going to want to store more videos in the cloud. Depending on your priorities, we still feel this is a good outdoor security camera for most smart homes.
Pros
Price
Expanded field of view, high video resolution, and pre-recorded messages
Google Assistant and Alexa compatible.
Cons
Overly sensitive motion detection
battery life, and camera can easily be stolen or moved
Doesn't integrate with other smart home security systems
Like GearBrain on Facebook