Like GearBrain on Facebook
Apple's new HomePod and release of the HomePod Mini this year, was significant — the first real update to the smart speaker since launching in February 2018. The new design, round, globe-like, was a shift all its own.
As an Apple user who has spent years testing smart speakers for Amazon's Alexa and Google Assistant, I was curious to see how Siri, in a new home of its own, would work as a smart assistant for my needs.
I ordered the HomePod Mini in November, and have spent the past couple of weeks seeing how useful the smart speaker could be with Apple's smart assistant packed inside. Here's what I've found are the pros and cons of having bought one.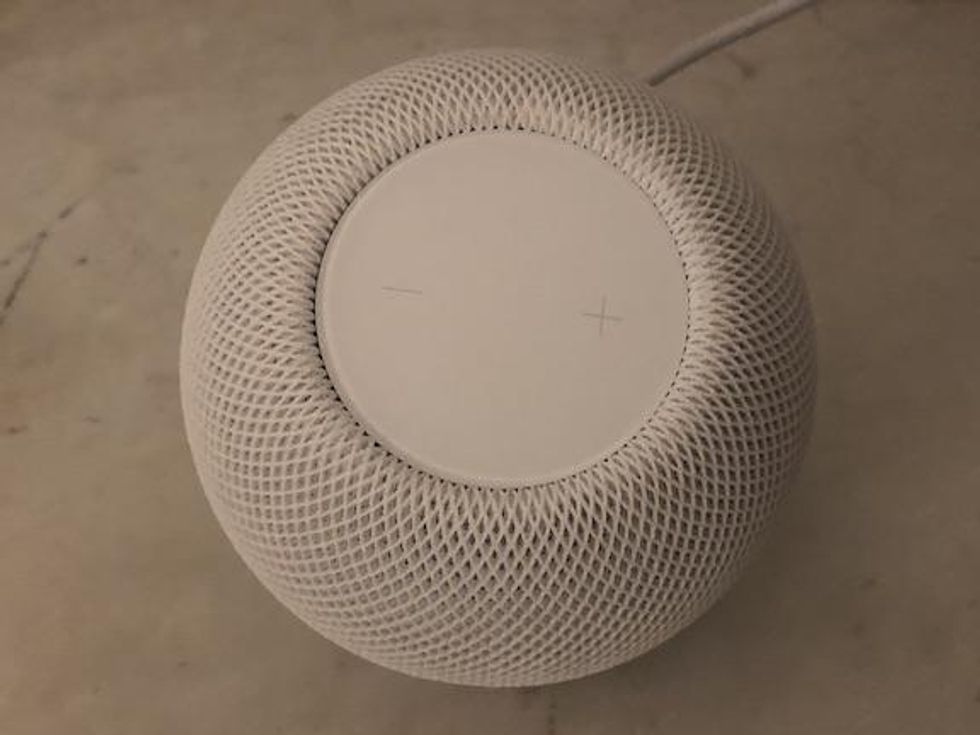 Controls for the Apple HomePod Mini are on the top of the speakerGearBrain
What you get

Inside the box, is the HomePod Mini itself, and a cord. The device took me about five minutes to launch, and connected with my iPhone as well. If there's one thing that Apple does extremely well, it's launching new devices easily. The HomePod Mini also linked up with my music library, songs downloaded to my iPhone — not music in Apple Music. (Although I could easily have connected the Mini to an Apple Music subscription as well.
Design
The design is really innocuous — that is to say, you barely see the HomePod Mini. Just 3.3 inches tall, white or gray and round it almost disappears. I had it sitting on a dark gray counter, and the white did pop. But it's so small that it would disappear behind the coffee maker, or a stack of books, or a bag of sugar. In short — it's small. The body of the speaker is wrapped in a sponge-like mesh which helps you maintain a grip on the Mini when or if you're moving it around.
The Mini really comes to life when Siri is talking, with the top of the HomePod Mini glowing and flowing different colors on its top. The top also allows slightly white when it's in use playing music. There are three microphones inside, plus a fourth that's angled outside to better hear you when you're talking to Siri even while music is playing. That feature worked well — with Siri picking up on my voice whenever I spoke to it.
You control the HomePod Mini through your voice, clearly, but also through touch, with a few buttons on the top that let you adjust the volume, play music, pause or skip a song.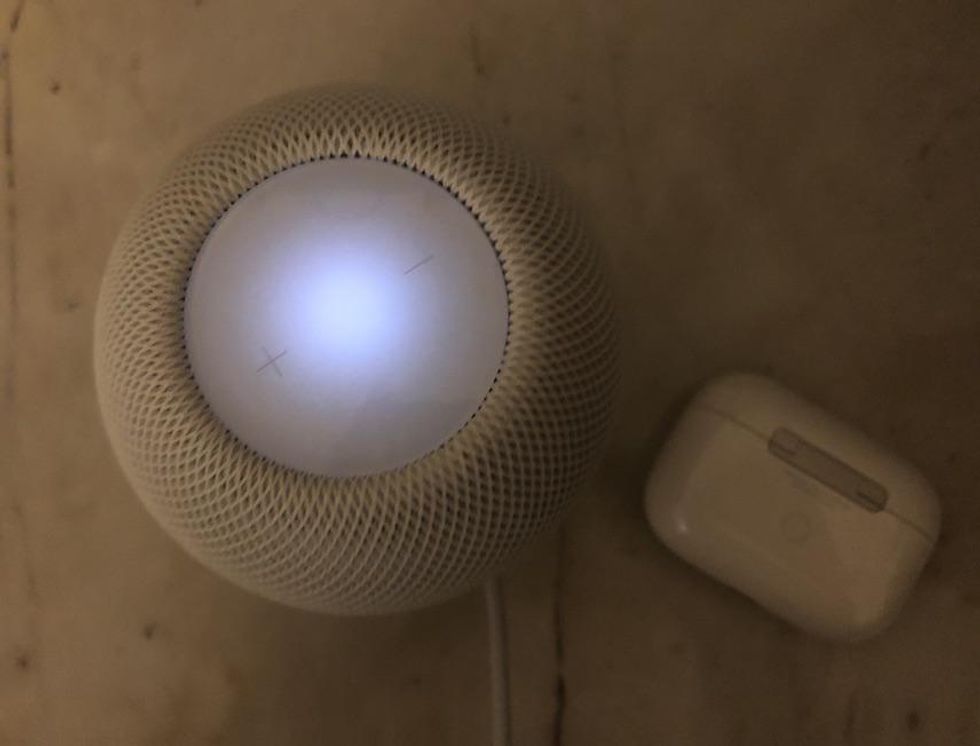 The HomePod Mini glows white while playing musicGearBrain
Music

As a speaker, the sound coming from the HomePod Mini is good. Apple has proven its ability to excel in audio, whether it's the Air Pods Pro, or the original HomePod. The new HomePod Mini pushes out solid sound — and from 360-degrees. I didn't find one side louder, or better, than the other while listening, as you do while using the Nest Audio, for example. Music sounded equally strong all around.
Music also sounded equivalent to the quality I expect from my AirPods Pro — full. Of course, with one HomePod Mini, and not two, I lost the stereo quality two speakers (whether they're in your ear or on your kitchen counter) can produce. I did find the HomePod Mini also leaned slightly towards the bass line. But it is good speaker.
You can also have Apple TV play music from the HomePod Mini. But with just one, you may not want to do that if you have a better system, like a Sonos Beam Soundbar, installed.
I did have some odd issues. If I paused music on the speaker, and then touched it later, it would start up again, playing where it left off. Even a day later. That felt strange, and sometimes intrusive. And sometimes it just started playing music. On its own.
Smart Home hub
With Amazon Alexa and Google Assistant, the smart speakers and devices act as hubs for the smart assistants. You can operate other connected devices that work wit Alexa and Google Assistant through these products like the Amazon Echo or the Nest Audio. Here too the HomePod Mini will let you control other devices that work with HomeKit, Apple's smart home system.
But you don't need the HomePod Mini to build out your Apple HomeKit home. As with Google Assistant and Amazon Alexa, you can use the app for Apple, Home, and even use Apple TV as your hub.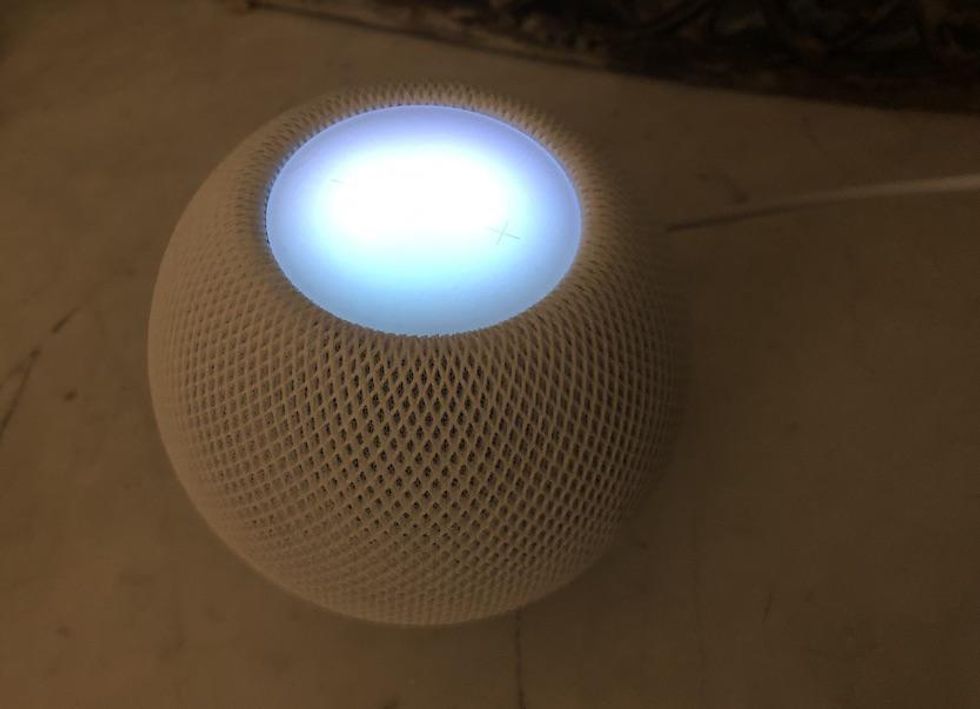 When Siri speaks, the light glows in different colorsGearBrain
Siri

But now we come to the crux of the matter. The HomePod Mini, if not a home for Apple's smart assistant and an avenue to get to Siri's abilities, is really not much more than a speaker. And as I've noted, the speaker is fine. It's certainly nicely designed and produces good sound.
But you're not buying a HomePod Mini for its use as a music speaker. You're thinking about buying it for Siri, and all the things you can do with Apple's assistant just by asking.
Let's start with how Siri operates within the HomePod Mini. You can speak to Siri just as you do in any other Apple device, starting every question or request with the, "Hey Siri," phrase. Just as you can with your iPhone, MacBook or such, you can ask Siri the same requests from seeing a reminder, playing music, or even a basic question.
The problem still with Apple's devices is Siri's limitations. Here's a very specific but core example — Google Assistant is now able to continue a conversation. You can ask, for example, what the weather is today from Google's smart assistant, and then ask a follow question such as, "But what about the next day?" And Google Assistant will know you mean tomorrow. Not Siri. Siri repeats the answer with the weather from today.
Siri is certainly coming along though. The voice sounds less robotic, more nuanced and fluid. And there are fun things you can ask of Siri, such as place a phone call through the HomePod Mini. Getting the call to hang up, though, did not always work. You should be able to say, "Hey Siri, hang up." I typically had to stop the call through my iPhone.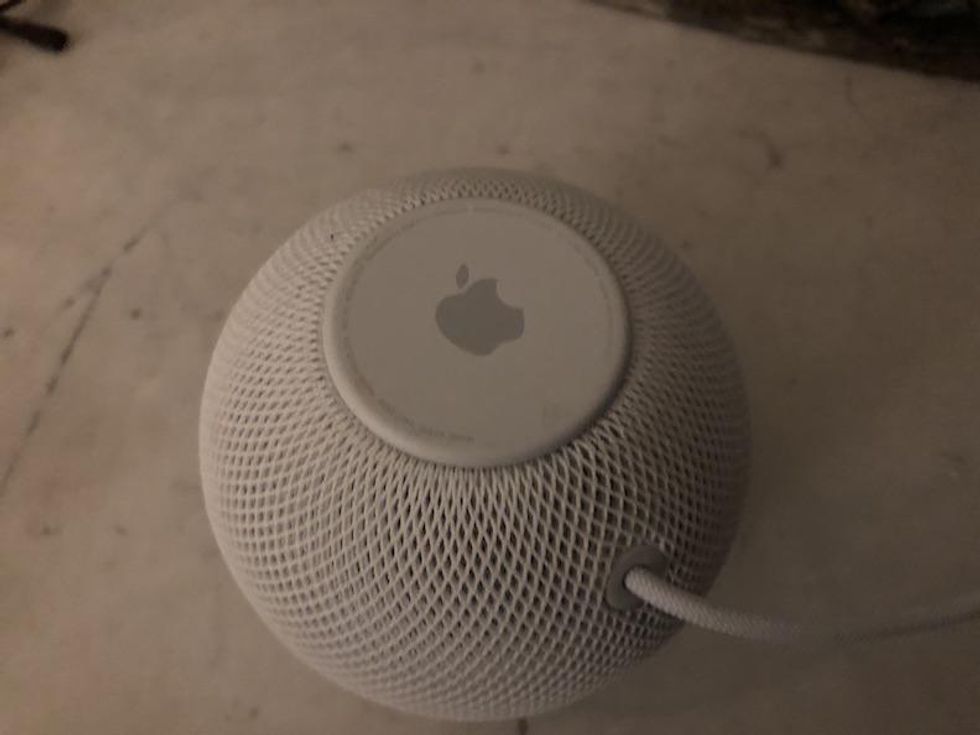 There are three microphones inside, with a fourth aimed outwardGearBrain
Price

The Apple HomePod Mini is $99 from Apple. You can pick on up in either white or space gray.
Worth buying?
I wanted to love the HomePod Mini. After years of having Alexa and Google Assistant chatting away in my place, I was looking forward to Apple's smart assistant — which has been operating in may iPhone and Apple Watch and MacBook Air for years — having a more central space.
I did like the Mini as a speaker, small and innocuous, and a nice sounding device for playing music. Was it better than my Sonos or Bose system? No, but then it's also smaller and has less power.
I did like the handoff between my iPhone and the Mini as well for phone calls and music — and I found Siri more responsive than I recall. But overall, the HomePod Mini feels like an after thought, even one that's nearly two years in the making. It's not needed for building an Apple smart home hub, and it doesn't do much more for Apple users than what you can already do with your Apple devices. And somehow it lacks the imagination and excitement I've come to expect from Apple devices.
So then basically the Apple HomePod Mini is a speaker that fits very neatly into your existing Apple ecosystem. It's certainly a nice speaker, and it's a well-designed speaker. And if you're looking for a speaker that can act as a handoff device for Siri, then this may be the right speaker for you. If a small speaker in your home that can channel Siri isn't your thing, you may not need to pick up the HomePod Mini for now.
Pros:
Design
Works with Siri, Apple's voice assistant
Sound
Cons:
Siri didn't always respond correctly to requests
Most features can be duplicated on other Apple devices
Sometimes started playing music on its own
Introduction of The GearBrain, The First Compatibility Find Engine for Smart Devices www.youtube.com
Like GearBrain on Facebook