If you are in the market for a vehicle from one of General Motors' brands, then you'll want to know more about OnStar, the company's connected car, smartphone app and infotainment platform.
OnStar is a GM subsidiary that was established back in 1995, and first appeared on vehicles from 1997 onwards. OnStar has on occasion been licensed to other vehicle manufacturers, and in 2012 its services could be added to cars using a standalone unit.
Connected Car Services Explained:
The system is currently available on new vehicles built by GM's Chevrolet, Buick, GMC and Cadillac brands in the US. It has also appeared on Vauxhall and Opel vehicles (rebadged Buicks for the UK and European markets respectively), but that arrangement is coming to an end with their sale to France's PSA Groupe, owned by Peugeot and Citroen.
As with most connected car systems, OnStar featured in GM vehicles for the US market comes in several flavors, each with a different set of features and corresponding monthly costs.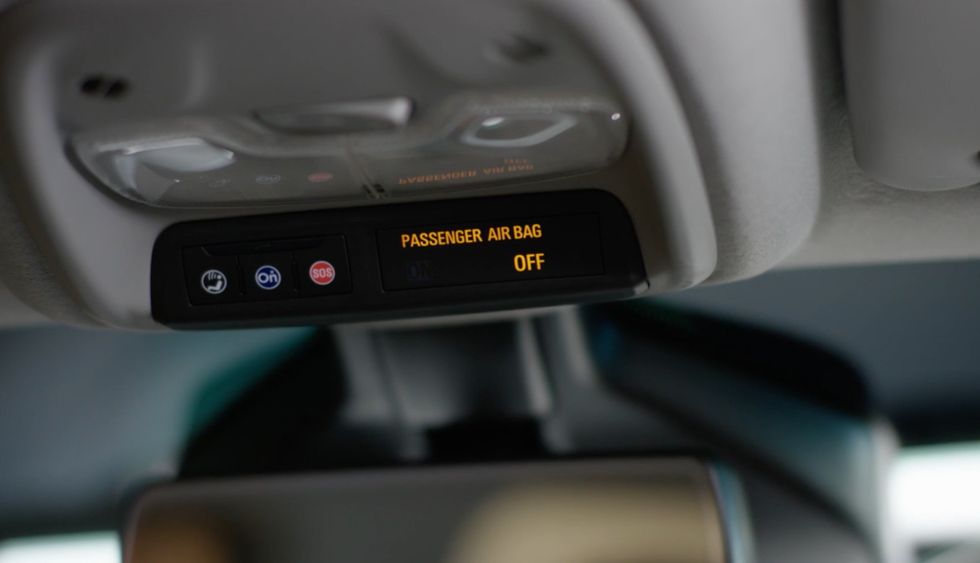 OnStar features assistance and SOS buttons above the rear-view mirrorGM
OnStar draws its data from the car's OBD-II port, granting it access to vehicle diagnostics and airbag data (so it knows when to call for the emergency services), as well as the GPS antenna for locational data, and a CDMA cellular connection for phone calls and data transmission.

Some OnStar features use a smartphone application. Instead of one app for all GM vehicles, there is an iOS and Android app for each of the company's four manufacturers. These are called myChevrolet, myGMC, myCadillac and myBuick, and are free to download.
What features are available through OnStar and how much does it cost?
There are six tiers of features for OnStar. These are called:
Connected Access
Remote Access
Unlimited Access
Safety & Security
Safety & Security + Remote Access
Safety & Security + Unlimited Access
The first is free and includes features that run on the car's own infotainment system, rather than involving a smartphone app. These features include vehicle diagnostics with regular health updates, dealer maintenance notifications, tips to help improve your driving using vehicle movement sensors, access to in-vehicle apps like streaming services (which require their own subscription), and Key by Amazon. The latter lets couriers drop Prime parcels into the trunk of your car, then lock it again.
A step above this, Remote Access costs $14.99 a month or $149.90 for the year, and adds five new features to that list. These include the ability to lock or unlock the vehicle by speaking to your Amazon Alexa or Google Assistant smart speaker from inside your home, and access to a smartphone app that can remotely lock and unlock the vehicle, flash the lights and sound the horn to help you find it in the parking lot.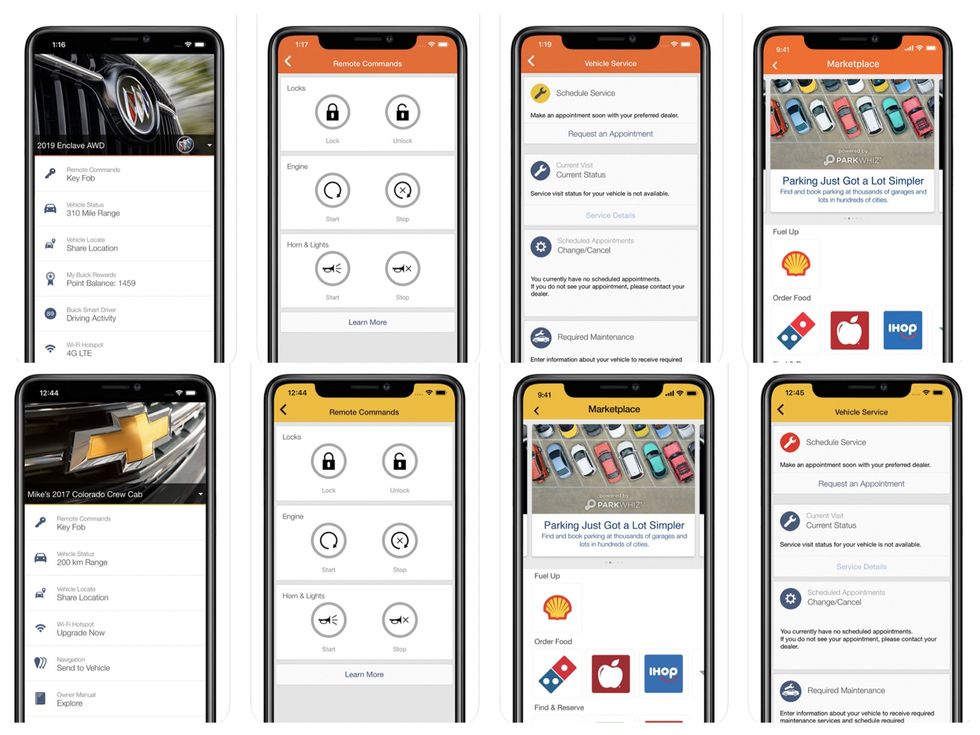 GM offers an iOS and Android app for each of its vehicle brandsGM
The phone app can also be used to view your vehicle's current location and receive alerts if it is driven beyond a user-defined boundary.

The Remote Access package also includes on-demand diagnostics. If your vehicle shows a warning light on the dashboard, just press the blue OnStar button (usually found by the rear-view mirror) and an advisor will be called to help explain the fault.
Next up is Unlimited Access. This costs $24.99 a month and includes all of the Remote Access features, but adds Amazon Alexa to your vehicle, which you can interact with while driving to answer questions, give directions and play music, plus all of the usual voice assistant features.
Paying for the Unlimited Access package also activates the vehicle's turn-by-turn navigation system – complete with real-time traffic data and point-of-interest information — and equips your vehicle's 4G-powered Wi-Fi network (if it has one) with an unlimited data allowance.
Instead of Remote and Unlimited Access, you could instead spend $24.99 per month (or $249.90 for the year) on the OnStar Safety & Security package. This includes the free Connected Access features, but adds Automatic Crash Response, which alerts an advisor when a crash is detected, who can send emergency services to your location.
This package also includes roadside assistance to help if you break down, get a flat tire or run out of gas and find yourself stranded, and Crisis Assistance, which helps with routing if you get stuck in a severe weather situation. Also included is Stolen Vehicle Assistance, which lets OnStar staff locate your vehicle if it is stolen, then work with the authorities to have it recovered. Turn-by-turn navigation is also included in this package.
Alternatively, you can spend an extra $10 a month (so $34.99 in total, or $349.90 a year) to have both the Unlimited Access and Safety & Security packages.
Finally, for a total of $44.99 a month, you can bundle all of the above into one complete package. This means you get the Unlimited Access and Safety & Security packages, plus unlimited 4G data for the vehicle's Wi-Fi hotspot, and connected navigation with real-time traffic data.
Do GM vehicles have Apple CarPlay and Android Auto?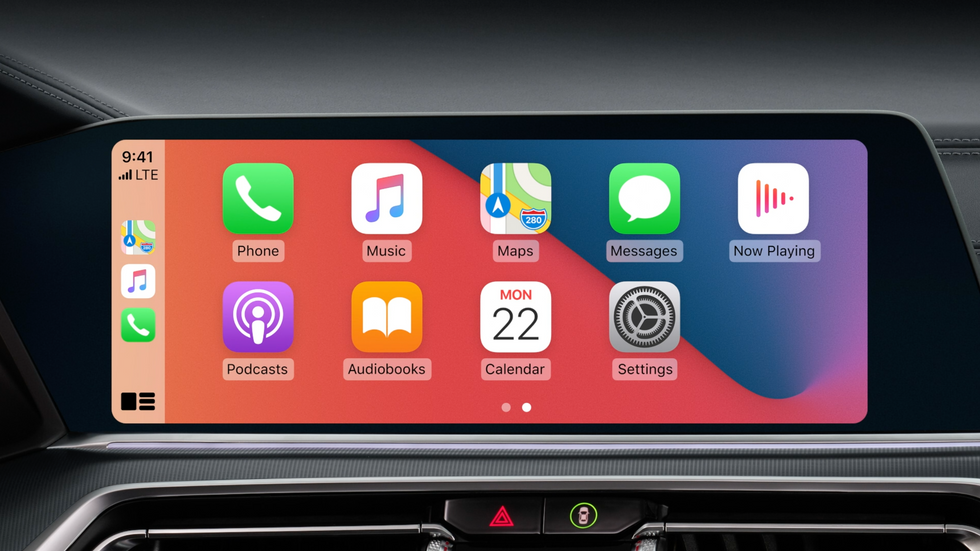 CarPlay on iOS 14 Apple
Yes. GM announced back in 2015 that most of its model year 2016 vehicles onwards would be equipped with both Apple CarPlay and Android Auto.

If you are not interested in using any of OnStar's features, you could connect your smartphone and use that for data, navigation and media streaming instead. However, these systems cannot make automatic emergency calls, nor can they access vehicle data like dashboard warnings messages, fuel level or tire pressure.
Echo Dot (3rd Gen) Charcoal with Echo Auto