Technology that will simplify your life, save you money, bring convenience to your home — or is just simply beautiful — that's what we found this year at CES 2020. As we wandered the miles of halls, back rooms, giant booths and small tables, talking with everyone from inventors to big brands, these 15 stood out to GearBrain as the products and technologies we believe you should know for the new year.

Some are things you can put to use right now, like Google's new update, some are still in the planning stages and some will fit nicely into your budget, while some will clearly not.
But here are the 15 we're awarding as GearBrain's Best of CES 2020 and why we believe they've earned it.
Lenovo Smart Frame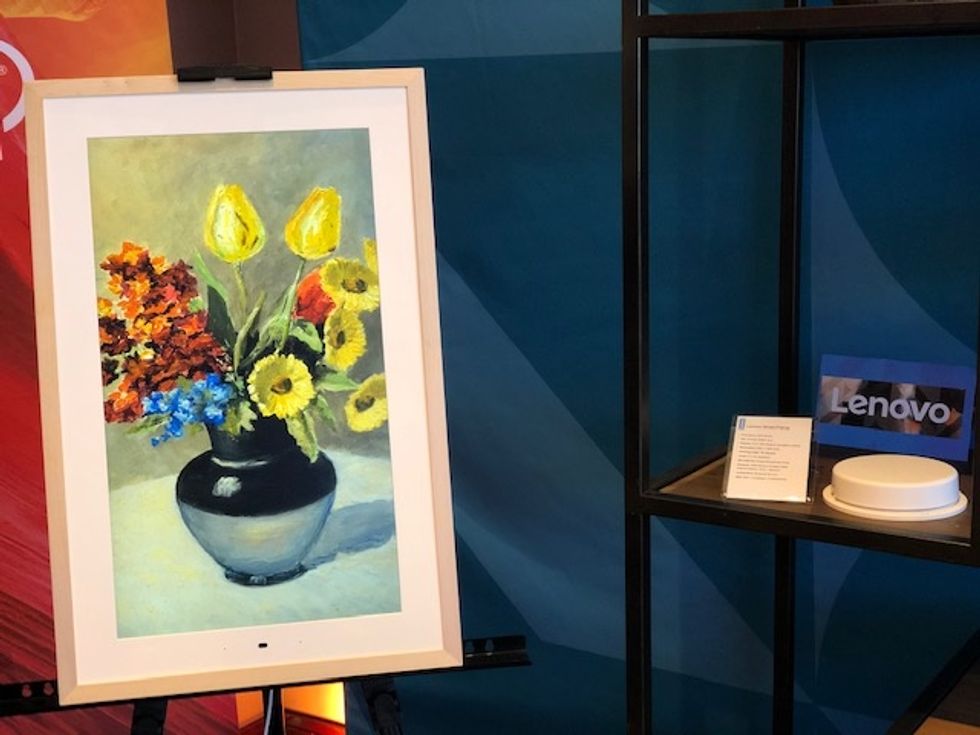 The Lenovo Smart Frame can display both photos and artGearBrain
Lenovo Smart Frame is a 21-inch panel that can highlight your photos or select from hundreds of pre-curated art pieces that are in a free app you get with the screen. What really stands out to us is the quality of the screen, a matte textured quality that really displays images to mimic a piece of art. The wall-mounted screen also flips and turns 360-degrees, plus it has a way to lock in the cord, which is also able to neatly wrap around the back.

For anyone into home design, the device will also — through the app — let you spread a single image across three different frames, creating a collage affect. You'll be able to start buying the Smart Fram in August, and it will come with different framing options, and cost $399.
Ezlo Atom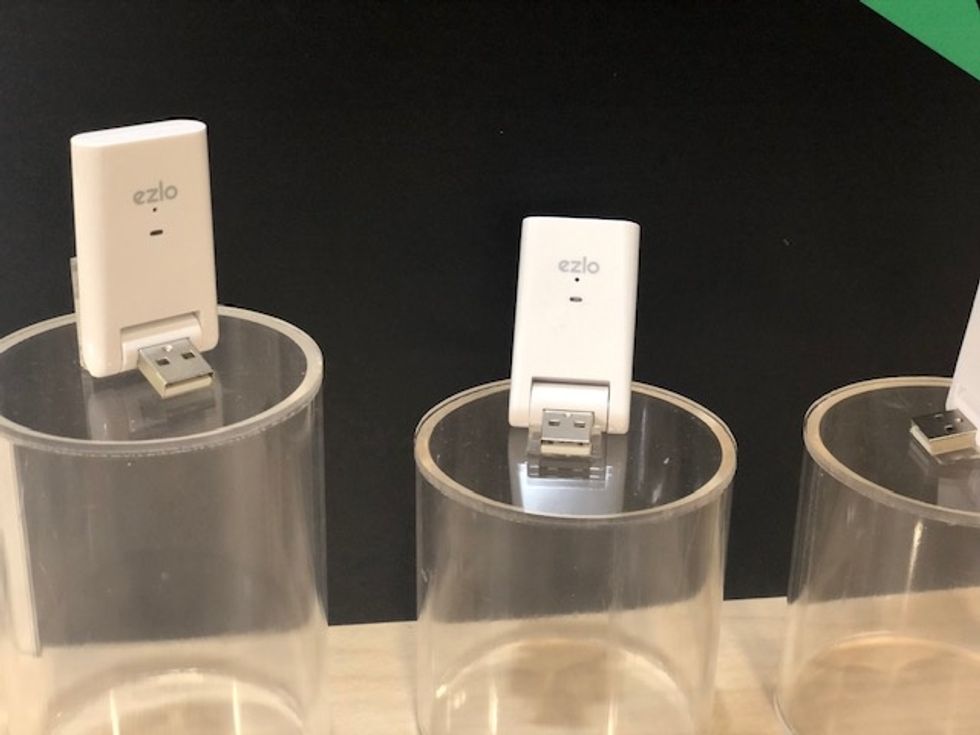 The Ezlo Atom hub is just $29 and works with Z-WaveGearBrain
Ezlo Atom hub stands out to us because it feeds into a real need: smart home devices for renters, those who want to use connected products, but also have move around a lot, and certainly don't have the permission to add wiring, nor often the space or budget to invest in bigger items.

The Ezlo Atom is a practically palm sized, priced at $29 — less than your weekly coffee allowance — and can connect Z-Wave devices (although not smart cameras) such as sensors. For those moving into their first apartment, college buddies sharing a space, for example, they can cobble together a seriously nice security system and still have money left for a weekend pizza party.
Vera EzloAtom-US Ezlo Atom Home Control Hub, White
JBL Bar 9.1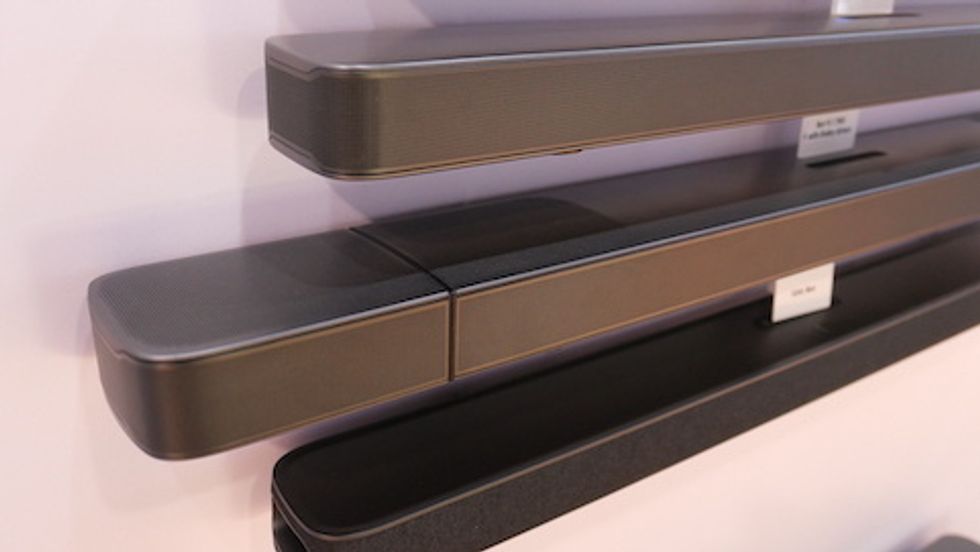 The JBL Sound Bar 9.1 has Dolby Atmos GearBrain
JBL's first sound bar with Dolby Atmos goes about things a little differently. Instead of asking buyers to locate two wall outlets for the rear speakers, or making do with augmented surround sound produced by the sound bar alone, JBL's Bar 9.1 has detachable rear speakers.

These seamlessly attach to the sides of the sound bar, which charges up their batteries when you're watching regular TV and don't need the full Dolby Atmos surround sound experience. Then, when it's movie time, you pull the speakers off and put them at the back of the room. This could be on a pair of shelves or a nearby table, whatever is convenient.
The rear units each contain two speakers, one pointing forwards and one angled upwards to bounce sound off the ceiling. They have a 10-hour battery life and the Atmos sound they produce is every bit as good as other, less convenient options. The Bar 9.1 costs $899 and ships in April.
Samsung Q950TS OLED 8K TV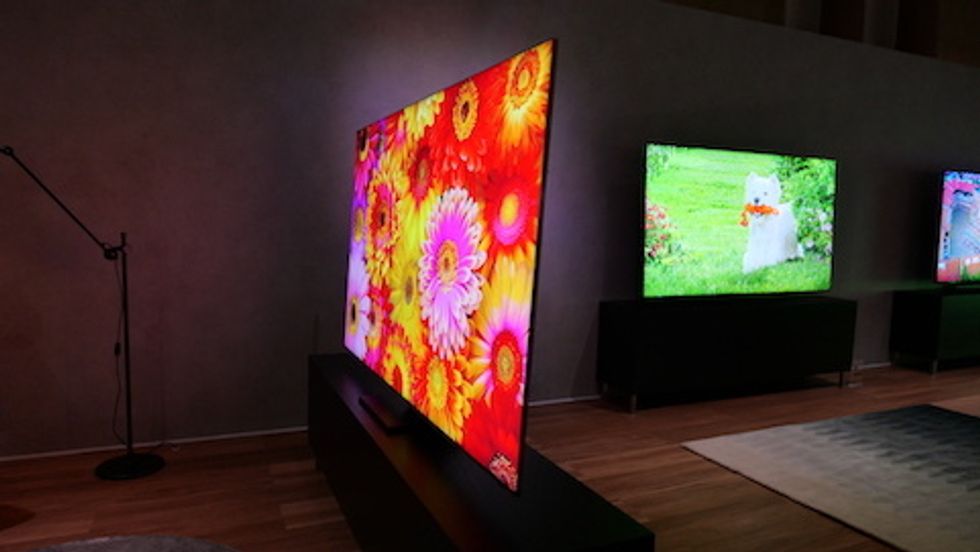 The Samsung Q950TS OLED 8K TV has an almost invisible bezelGearBrain
Samsung's star attraction at CES 2020 was an 8K television which appears to have no bezel at all, a TV that's so beautiful it just appears to float. There is still a bezel, an almost invisible frame at just 2.3mm thick, but it takes up just one percent of the front of the TV.

The television itself is also remarkably thin, at just 15mm, and the 8K panel of course looks jaw-droppingly good — even if there's still no commercial 8K content to actually watch on it just yet.
Instead of relying on native 8K content, Samsung is again offering artificial intelligence capable of upscaling HD and 4K content to the larger resolution. The AI also works to adjust the TV based on what it is showing, sharpening up text, for example, and giving faces a more natural look.
As is still often the case with 8K TVs, Samsung hasn't said when the Q950TS will go on sale, or how much it will cost. (We suspect it won't be in the budget range.)
Omron Healthcare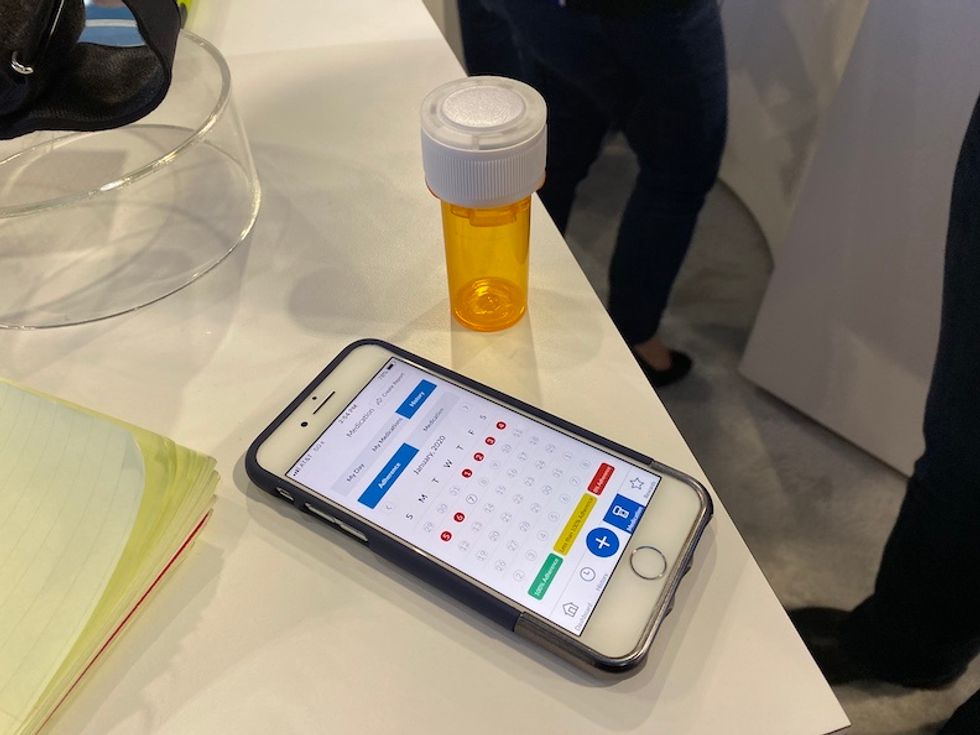 Omron Connect 2.0 app coming out this yearGearBrain
Omron Healthcare's launched its HeartGuide, a blood pressure monitoring smartwatch at CES 2019. The company is launching a new Omron Connect 2.0 app later this year, which tracks user's activity and generates health reports. And to help encourage people to keep on track with their medication, the company has launched rewards program that's tied to a goal of taking their pills on schedule.
Sleep Number Climate360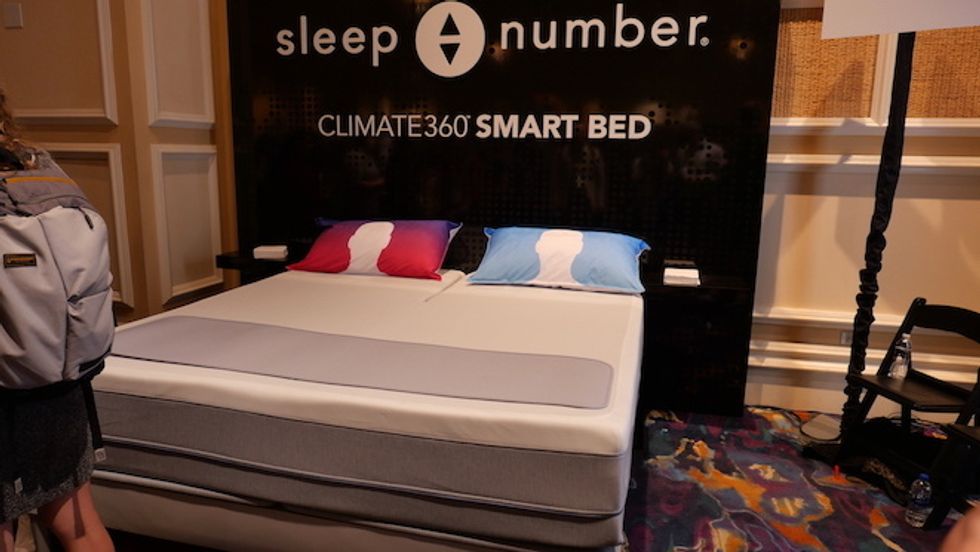 The Sleep Number Climate360 will individually cool each person in the bedGearBrain
Smart bed firm Sleep Number's new Climate360 is a bed which offers customizable firmness on each side, independent posture adjustment and — new for this model — temperature control for each side.

The bed is intended to let couples pick their own temperature, and it can be set to automatically adjust during the night. By default, the bed first warms the feet area, then cools them down again, which is widely regarded as the best way to induce sleep. The bed then stays keep during the night, before warming up again in the morning to wake you up.
The temperature is adjusted using a ducting system where warm air is vented away from the bed to cool down, then is warmed and circulated through the foam mattress to warm up again. Sleep Number says it has a medical advisor onboard, and the bed will arrive in 2021, priced at $7,999 for a queen size.
Voiceitt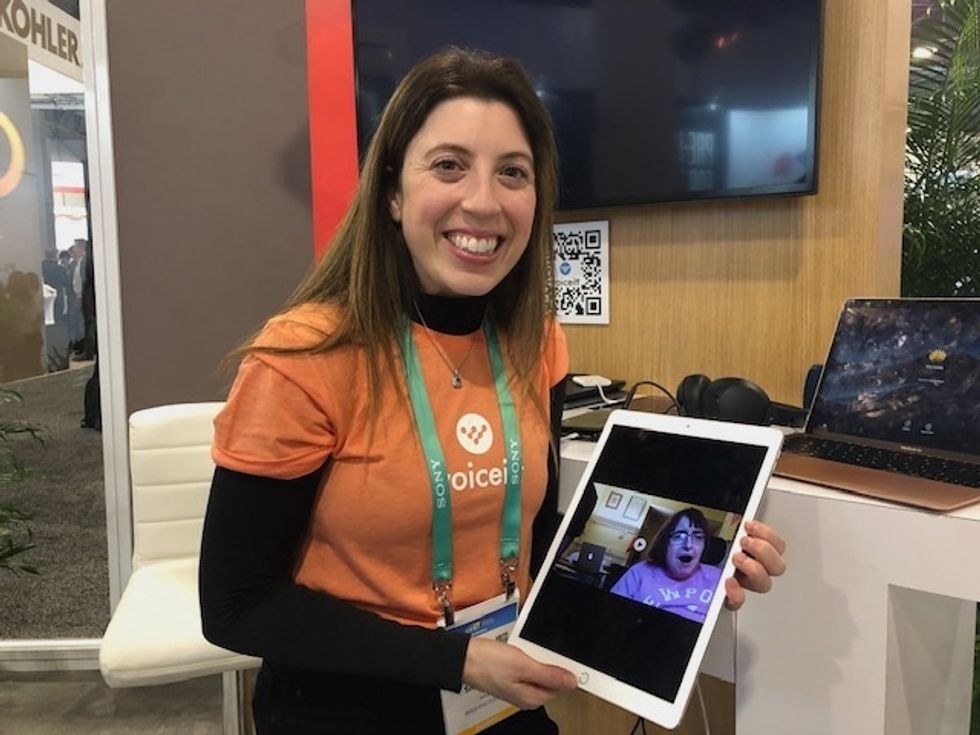 Voiceitt will interpret speech impediments and turn it into actionable wordsGearBrain
Voiceitt's co-founder Sara Smolley was moved to help launch the company after never getting to really know her grandmother, who was diagnosed with Parkinson's at the age of 40. The technology she and her co-founders are developing is a translation software, currently in beta, that can interpret speech impediments and turn them into actionable words, spoken aloud. The result? The ability for people to use voice assistants who may be living with the affects of a stroke, cerebral palsy or Parkinson's.

Smolley believes the technology will help to enhance the independence and quality of life of people living at home. We think it's a fantastic tool that will extend smart home technology to everyone, a way to democratize this new future for all.
Google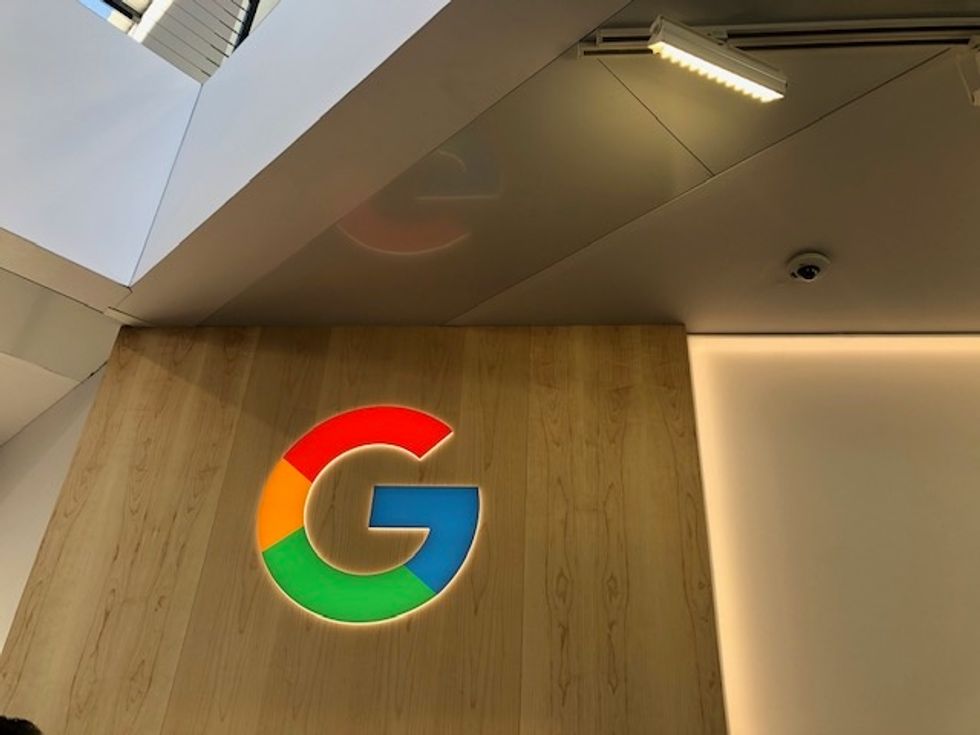 Google added a new feature to Google Assistant this year that help maintain our privacyGearBrain
No, we're not awarding Google for its line of smart speakers, or displays or any of its hardware. We're applauding them this year for a new simple feature we think may have gotten lost in the sea of news around the cool TVs and big appliances. Google released a simple phrase for Google Assistant, a way to just erase what the voice AI may have heard you say a moment ago. The phrase, "Hey Google, that wasn't for you," doesn't require that you open its settings. Nor do you have to pick up your smartphone and start tapping. Just by asking, the last thing you said to Google Assistant is erased.

We're happy to see Google moving in this direction, make it as simple as an ask for consumers to gain a little bit of control over their privacy. Today, more people are using voice assistants — and we know that the majority of people in the U.S. are concerned about the data and details that are being collected about them.
Tech companies need to make it simpler for people to have choices about what data is collected about them, and what is not. It's imperative — and frankly, it's just the right thing to do. We think Google took the right step with this new feature, we'd like to see them do this for all voice recordings (and all data). And we hope to see other companies with voice assistants take this step too.
Wayzn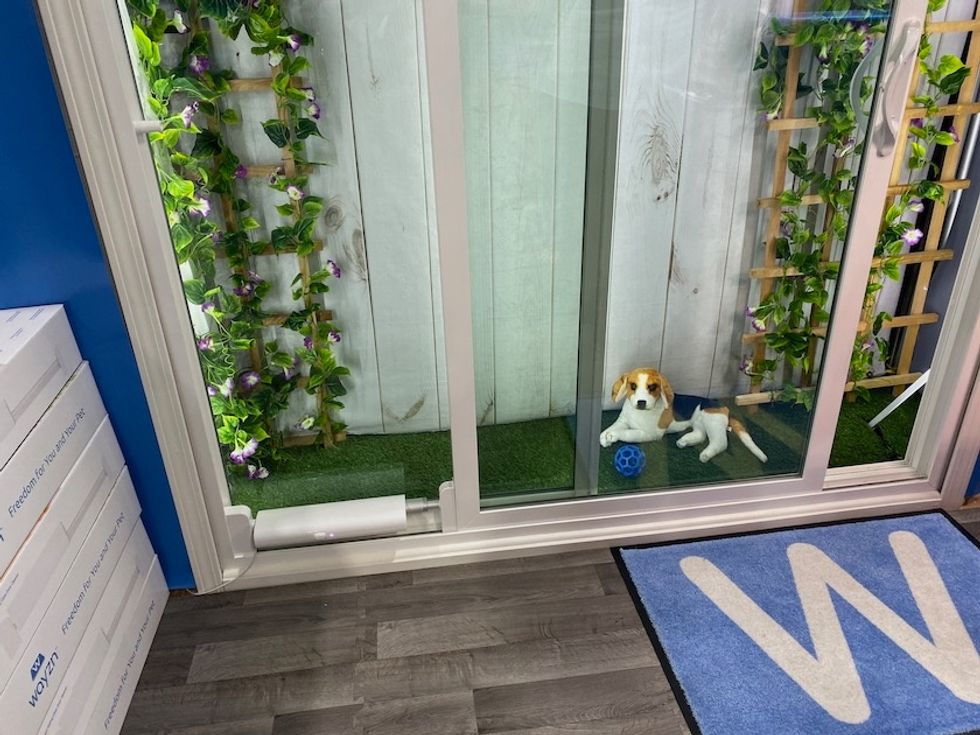 The Wayzn smart sliding glass door opener uses a WI-Fi IoT chipWayzn
Wayzn is a smart sliding glass door opener for homes that's app-controlled and can function as a pet door, or as a very secure door control. The security the company has integrated into this smart device use is unique. They use a Wi-Fi IoT chip which can generate a key for the owner when it's first activated — and this key can't be changed, which reminds us of blockchain technology.

Wayzn has produced a very secured device which is both removable and portable. You'l pay $399 for pre-orders, and the opener will be shipping in the next three to four months to the U.S. and Canada only. When paired with a good outside camera, the opener could function as a smart video doorbell for homes with pets. Wayzn is also working on smart home partnerships with security companies and other smart home devices.
C by GE Wire-Free Dimmer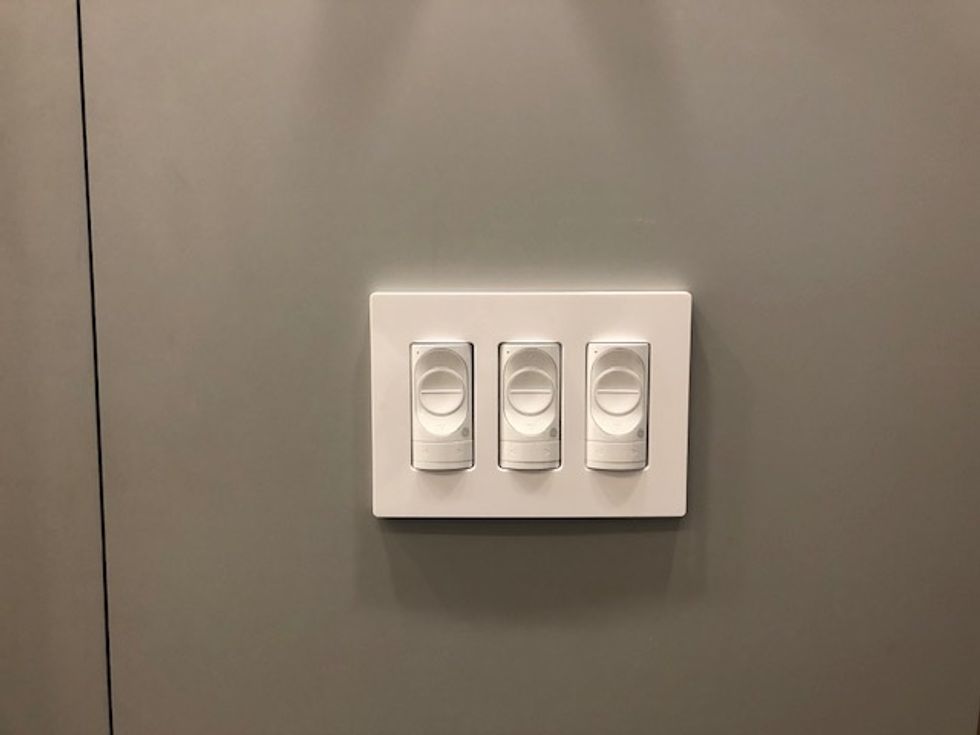 The C by GE Wire-Free Dimmer does not need a hub — or wiringGearBrain
C by GE is also tapping into the smart home renter space with a new Wire-Free Dimmer that works with all C by GE smart bulbs, switches and dimmers. How easy is it to add this new device? Toss the screwdriver, and just peel back an adhesive strip. The Wire-Free Dimmer is battery-powered, and can not only turn on and off lights — and yes dim them — but also control the white temperature colors of the bulbs.

Best to us, you can turn off the light at this switch, and still turn on the bulbs through the app. You don't need a hub, and the dimmer not only addresses the renter market, but also lets you place lighting anywhere you want in a home where there wasn't lighting — or most crucially wiring — before. You'll be able to pick one of these up for $22.99 in March.
LiftMaster WI-FI Garage Door Opener with Integrated Camera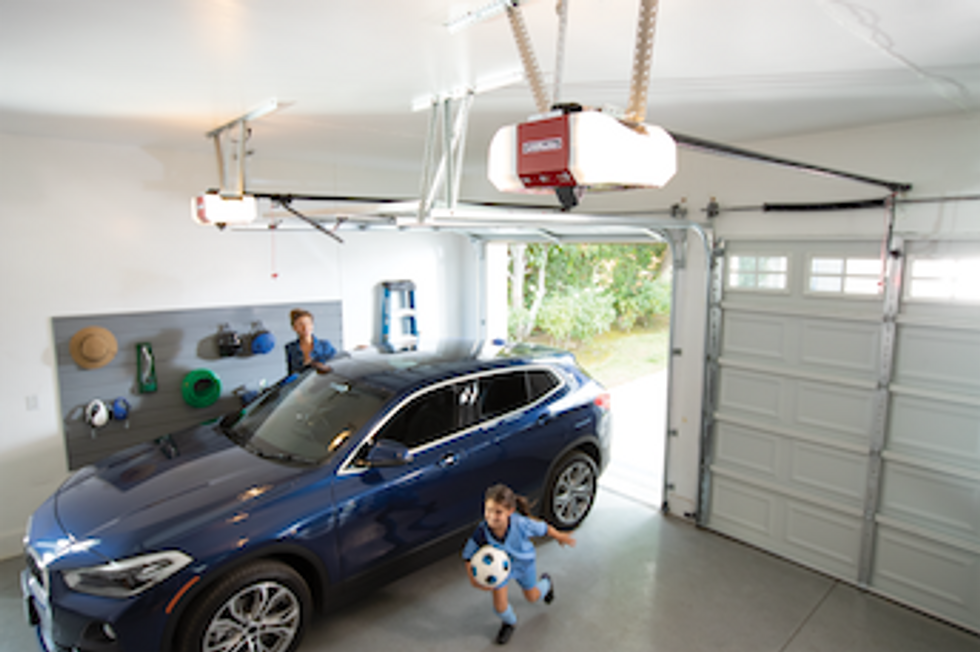 The LiftMaster WI-FI Garage Door Opener with Integrated Camera lets you see who is in the garageLiftMaster
LiftMaster is the first company to build-in a full HD 1080p camera into the garage door opener that allows users to easily see who is inside their garage. While this sounds simple, what we like about this new device, is how it allows you to see and hear what's happening in the garage using the myQ App. Think, for example, of how you use your video doorbell app, and you can now do the same with your garage door opener.

Feature include two-way communication, the ability to receive alerts and recordings when motion is detected, a 360⁰ manually adjustable view, plus night vision for greater image quality in high and low light environments. The new garage door opener costs $450 and up depending on a dealer's installation fees. The device will also work with Key by Amazon In-Garage Delivery for secure and convenient package delivery.
Bluetooth SIG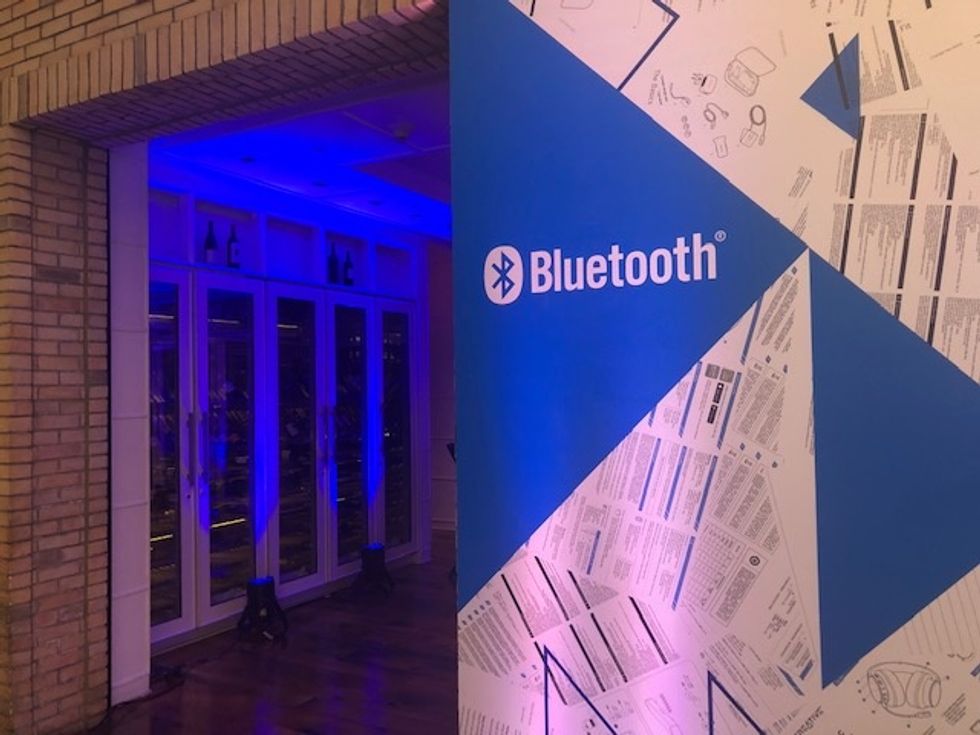 BluetoothSIG released a new standard for audio that will change how devices are designedGearBrain
A game changer from Bluetooth, a new standard for audio called LE Audio is going to enable sound to travel over Bluetooth, but requiring radically less energy. This means the possibility of smaller devices — like heading aids — because they'll be able to use smaller batteries. LE Audio will also support multiple audio stream — which wasn't possible with Classic Audio, what Bluetooth is now calling the original version.

While new devices using LE Audio are still a year or two away, the new standard is going to be a big deal in design for audio device going forward.
Bosch Virtual Sun Visor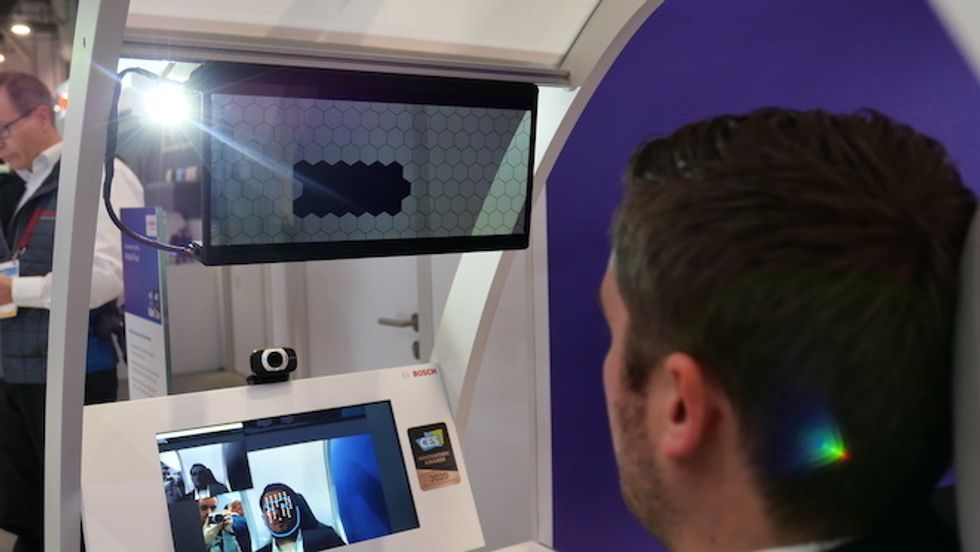 The Bosch Virtual Sun Visor makes select areas of a sun visor opaqueGearBrain
Using artificial intelligence and a transparent screen which can instantly be made opaque, Bosch has created a car sun visor which adjusts instantly to block the sun from your eyes, but without obscuring your view ahead. By monitoring the driver's eyes, the system shields them from the sun by turning small sections of the visor black.

The system works immediately, with the blacked-out section moving as soon as the driver's eyes move. But it isn't perfect just yet, as the transparent parts are actually around 50 percent tinted, so still slightly obscure your vision. That said, it offers a better view of the road than a regular sun visor. The technology remains a concept for now, but Bosch says it is talking to car manufacturers about one day making it a reality.
Schneider Electric - Square D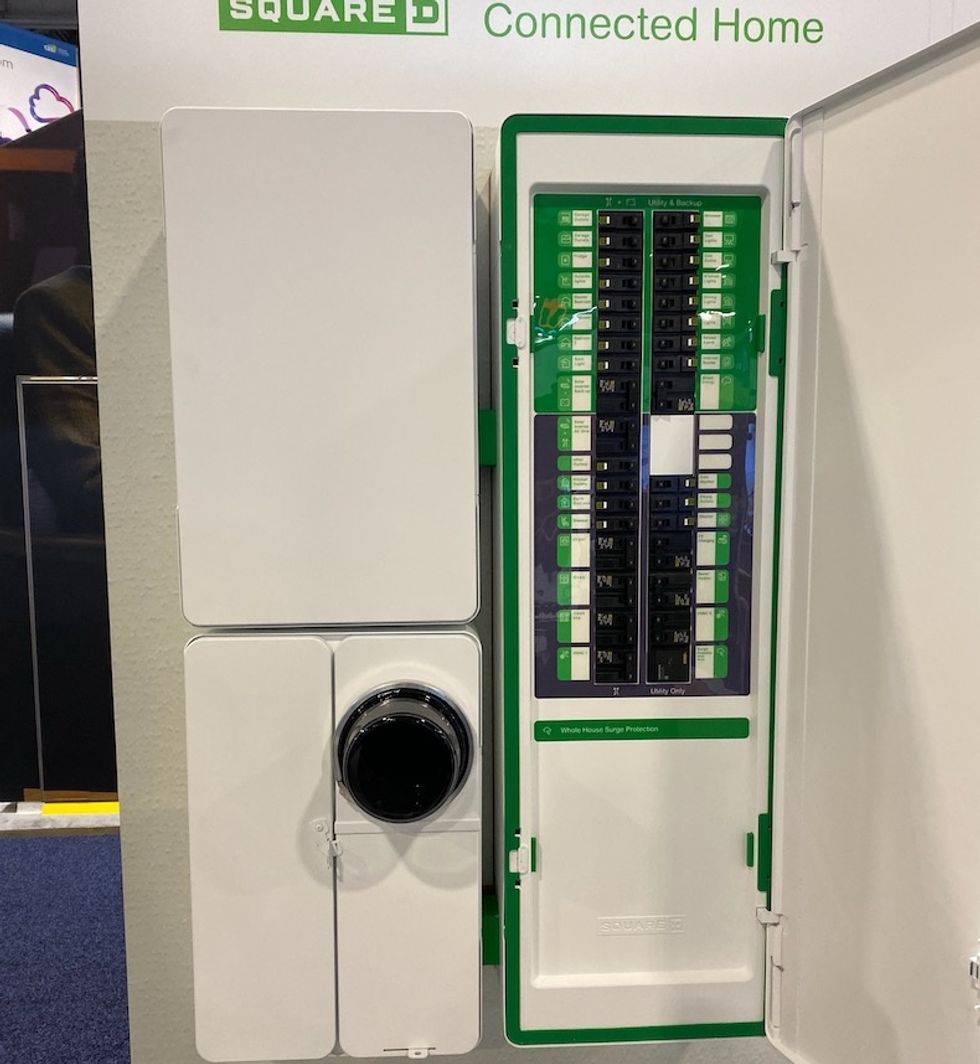 The Schneider Electric Square D electrical panel GearBrain
Do you know that Schneider Electric's Square D electrical panel is in four out of 10 homes? The company has extensive experience in energy usage. Today, they are taking this expertise to simplify the ability to help consumers conserve energy, generate cost savings and keep them safe by using a mobile app. The company's Wiser Smart Energy kit gets installed in your home's electrical panel by a licensed electrician and provides real-time home energy usage and more.

Using its Square D and Sense app, users can now see how the power comes into their home and where it goes. It costs $299 plus installation. We really like this system because it's the first we have seen that closes the loop in monitoring your home's energy usage from when the power comes in and where it goes. Plus, it can generate savings through better energy consumption and possible insurance discounts.
Tanvas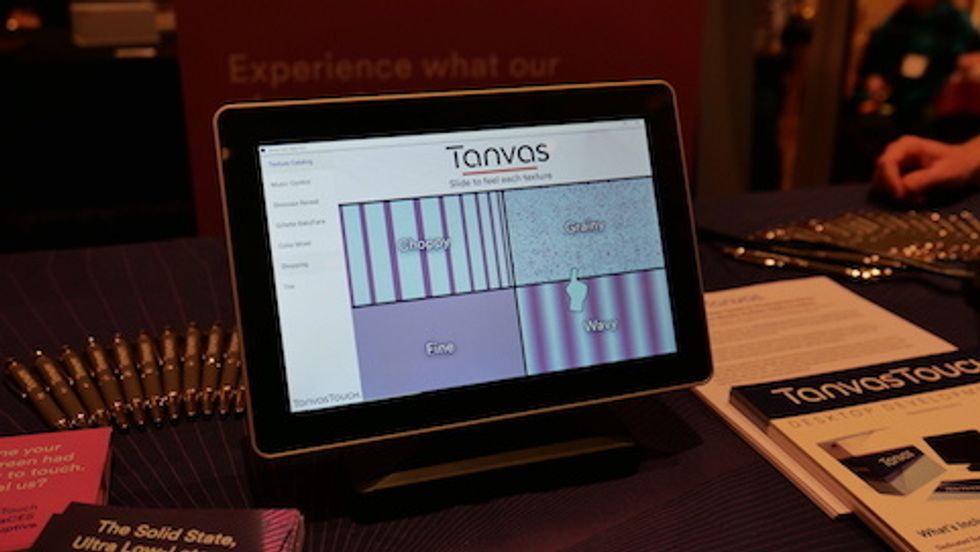 The Tanvas display makes a screen feel like it has a real textureGearBrain
Tanvas produces haptic displays which use an electrical current to make the screen feel like it has real texture. At CES 2020, the company announced a partnership with Innolux, a producer of displays for the automotive industry.

This means future cars will boast touch screens which offer a far more tactile experience than those currently on sale. Even today's car displays with haptic feedback — like that in the Porsche Taycan — issue a clicking feeling to the driver simply because the screen itself clicks back and forth.
Tanvas' technology is far more nuanced than this, meaning the driver could feel a clear difference between adjusting the cabin temperature and music volume. In turn, this means less time spent looking down at the display, and more time with their eyes on the road.
Liftmaster MyQ Garage Universal Smartphone Garage Door Controller, 821 lm