If 2020 taught us anything, it's that keeping afloat is sometimes enough. Yet there were companies and trends that did a bit more than that this year, releasing interesting products and changing the very nature of how we use technology in our lives. There were 12 in particular caught our eye, either for their ability to help people manage one of the more challenging years in a century, or in the way they took a gamble, and in turn made an impact on our lives as well.
Google Meet backgrounds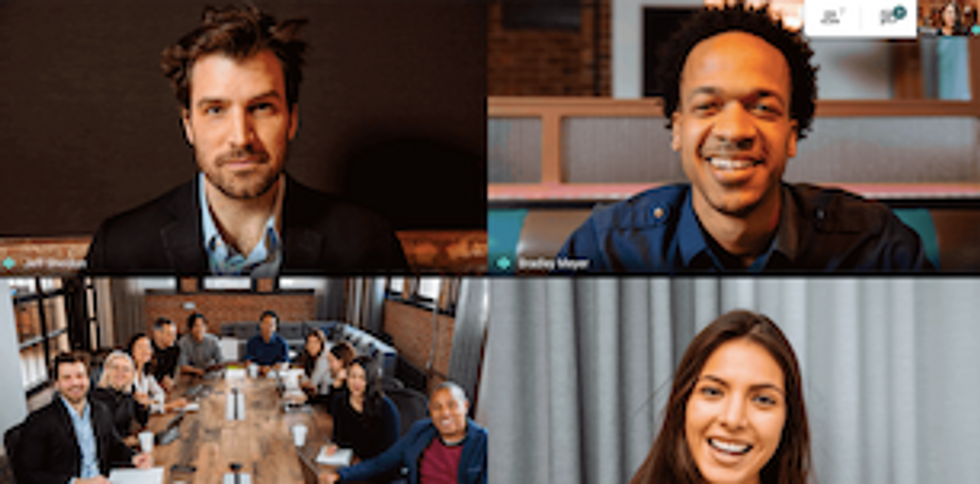 Google MeetGoogle
Sure, there were a lot of video conferencing options available this year — and trust us, we think we've tried every one. But one service that stood out to GearBrain was Google Meet, a video conferencing tool that's free, and keenly allowed many Mac users to tap into the biggest trend of the past few months: virtual backgrounds. Some Apple laptops could not tap into the virtual screens available, for example, on Zoom. Some of us even turned to painting poster board green. (No, that didn't work.) But Google Meet required nothing more than a couple of taps. We're sad it took until the end of November for us to join the rest of the world seemingly broadcasting from their Greek island retreat, but we're glad we can now hide the clutter stacking up in every part of our apartment.
Noise cancelling devices are now more affordable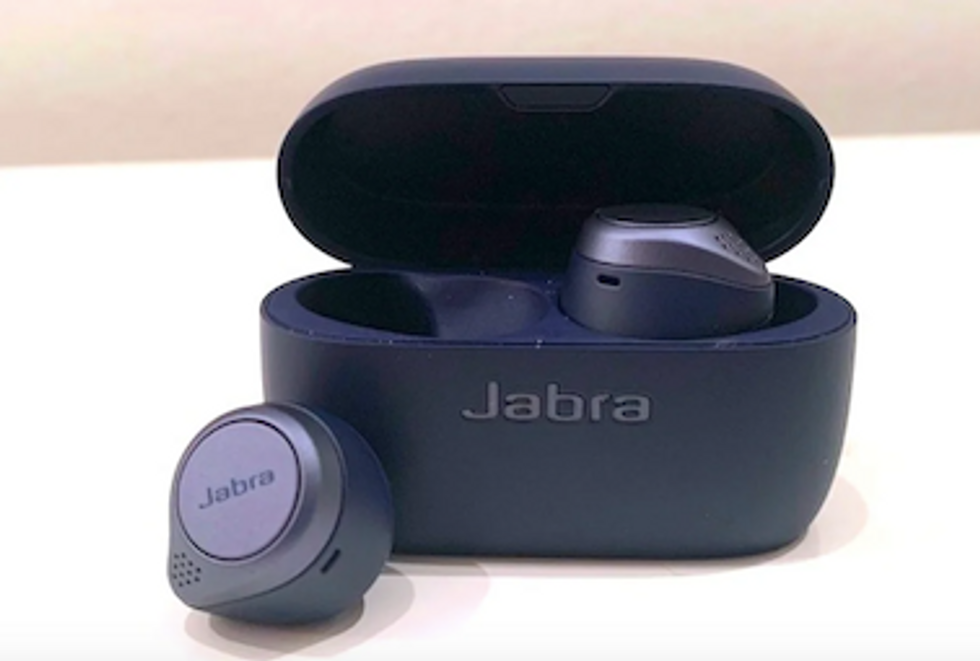 Jabra Elite Active 75tGearBrain
While many people found themselves isolated and alone in 2020, others found they were locked overnight in a small space with roommates or family. Privacy, for them, was an issue — and some silence too. While all headphones and earbuds certainly create some noise dampening, proper active noise cancellation, or ANC, is a major improvement. Typically found in headphones and earbuds that are at least $200 and more, we've seen prices drop over the past few months. Jabra Elite Active 75t earbuds are now available at about $150, and you can pick up the JBL Tune 750BTNC for about $130 on JBL's web site.
AILA Sit and Play came at the right time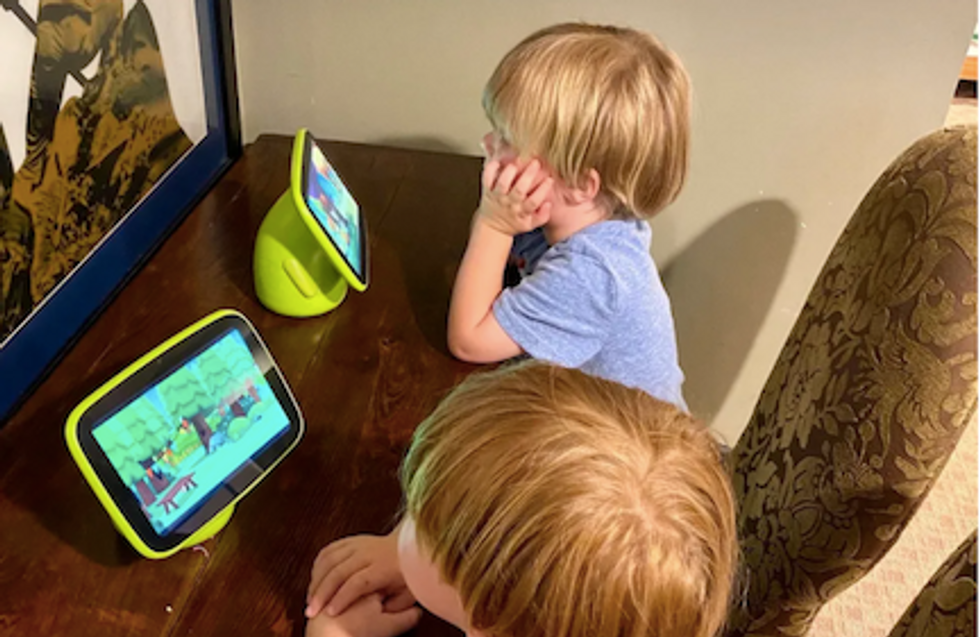 AILA Sit and PlayGearBrain
We remember meeting with the co-founder of this toddler-sized learning computer just about a month before our world turned upside down. The delightful educational toy, AILA Sit and Play, turned into really the right device for the right time, a $199 child-sized computer that updates its content every few months, and intuitive moves lessons along as a child learns. Content, designed for children ages 3 and under, is broken down by age, starting with infants, helping them detect colors and even learn how to self-play. Toddlers learn how to differentiate between me and you, while also helping them identify real words, numbers, shapes and patterns.

Children are not meant to spent too much time in front of AILA. But with the remote learning world many children — and honestly parents — are now thrown into, having a screen that can be educational and fun (at least according to our 3-year-old reviewers) is something every parent can appreciate today.
Smart home design grew less edgy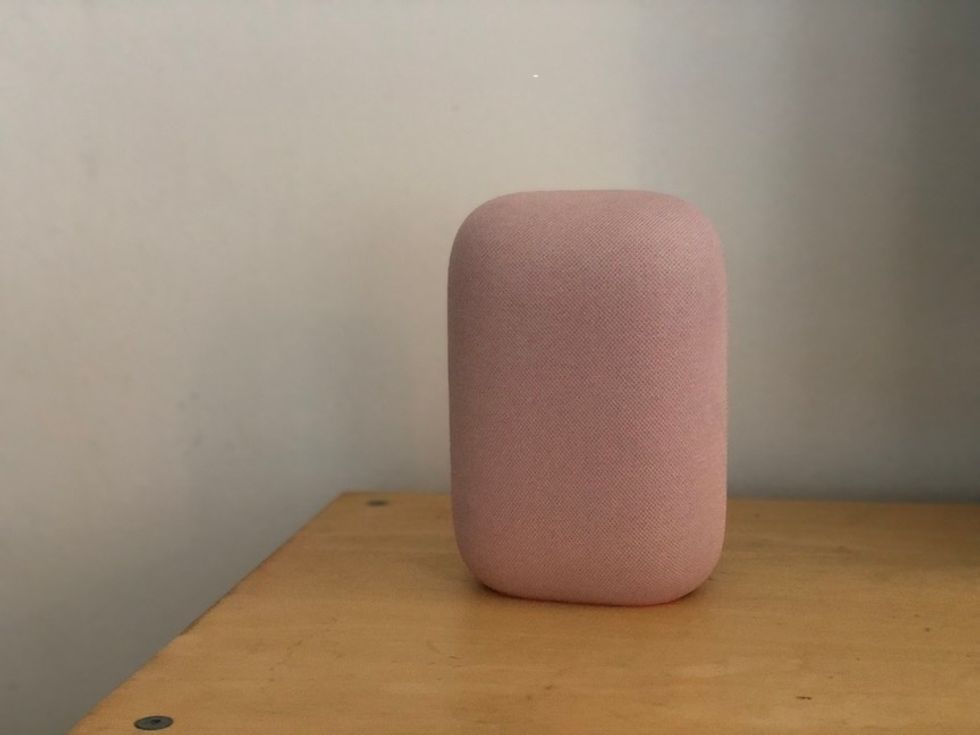 Nest Audio GearBrain
With most of us home-bound for the past 9 months or more, what we placed in our living space was more important than ever. Our home became school, gym, work space and entertaining hub over night, with rarely a break. Dark, hard-edged tech devices suddenly felt a bit, well, cold. We noticed quickly a shift in smart home design as smart home companies unveiled new products throughout 2020 — especially in the smart speaker space. From Google's new Nest Audio to Amazon's redesigned Echo, even Apple's HomePod Mini morphed into a cool globe, more spherical.

Yes, many of these color options have been available in the past, from Google's pink sand to Apple's preferred white. But the shift from squared-off ends to a something that, on its side, could almost look like a pillow, was noticeable — and frankly, welcome.
Robot vacuums got truly smarter, and more useful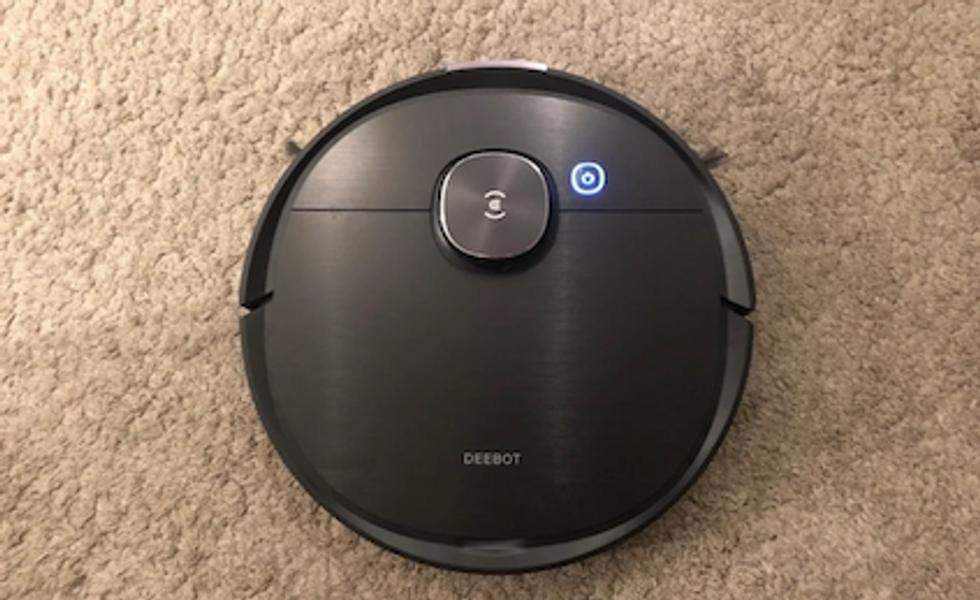 Ecovacs Ozmo T8 AIVIGearBrain
In general, robot vacuums really improved tremendously this year, with upgrades to their A.I. making them less like a blind bat bouncing about your home as they clean, and instead being able to truly sense objects around them. Updates to iRobot's new Genius Home Intelligence platform, for example, stand out for its ability to target micro areas for cleaning, like right in front of the couch or under the kitchen table.

We also liked the device-level addition to the Ecovacs Ozmo T8 AIVI, which added a low camera that creates a live video feed into your home. While we're spending more time at home now, this addition does turn the robot into a roving sentry, which can check in on a pet, or roam around a second home to see what's happening from a ground level. While the camera is stationed towards the base, the angle gives a nice wide view of a space — and even fairly high up — which is a nice merging of two different technologies creating a new unique feature. We saw the same add to the Trifo Max robot vacuum as well, but at the top of the robot. We really feel that 2020 moved the needle on robot vacuums from niche products, to devices that are turning into valuable smart home additions.
Android came along for the ride with Polestar 2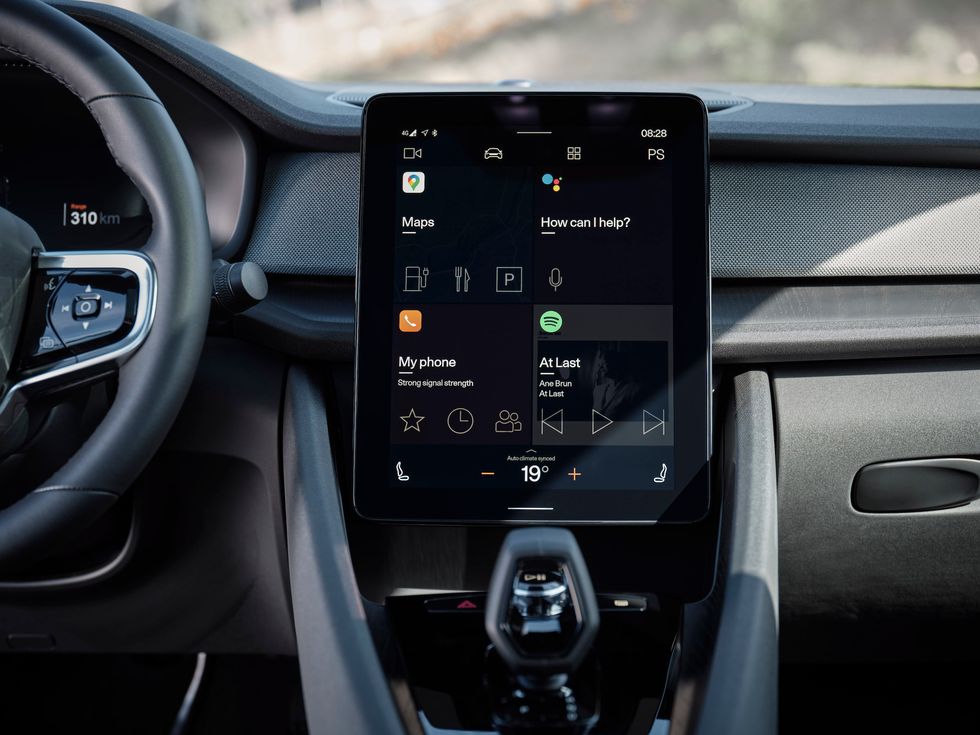 Android Automotive in the Polestar 2 Polestar
Most of us drove less than normal this year, but for anyone stepping aboard the new Polestar 2 electric car, they'd be greeted by the all new Android Automotive system from Google. Not to be confused with Android Auto running on a smartphone, Android Automotive is Google's next step into the car; it's an infotainment system entirely run by Google.

The Play Store is included, with apps like Spotify ready to be downloaded to the car and logged into. And of course the Google Assistant is ready and waiting; no need to press a button, just say "Hey Google" as you would at home. The Assistant can tune the radio, set the navigation system (with Google Maps, of course), adjust the temperature, and even control your smart home while out on the road. We think it's an important step forward for car software, which has increasingly felt outdated compared to our smartphones. (Check out The GearBrain, our smart home compatibility checker to see the other compatible products that work with Google Assistant enabled devices.)
Smart home security options grew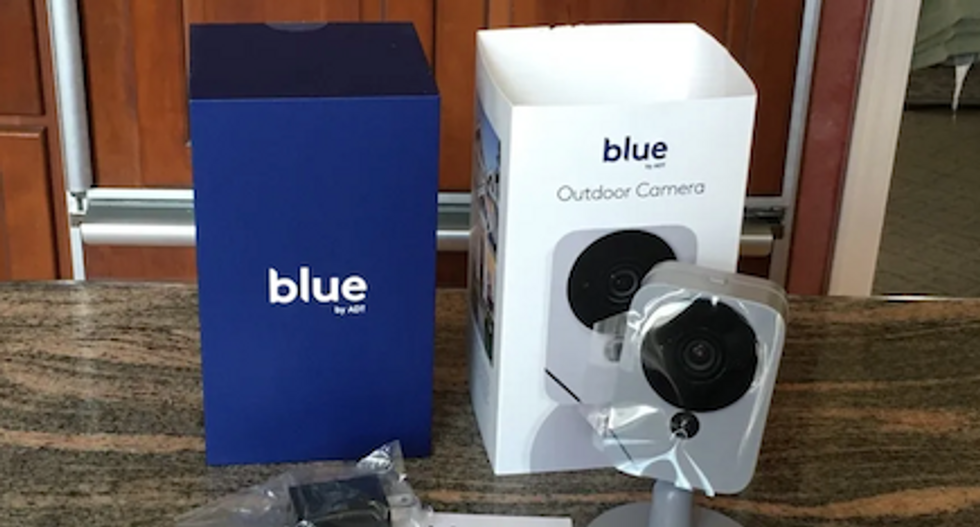 Blue by ADT outdoor cameraGearBrain
From ADT's rollout of Blue by ADT to Level Home's Level Bolt smart lock, which turns an ordinary deadbolt into a smart lock, there were a lot of ways people could really step in affordably and easily into the smart home security space, whether they wanted to manage that step or have a professional come in as well. Blue by ADT really impressed us with its exceptional outdoor camera, at an extremely attractive price point as well as the DIY-installation that people could get professionally monitored.

We also saw newcomers including Yi Technology's Kami Wire-Free Outdoor Camera, which had a very long battery life and really good video resolution both day and night. And we also liked Toucan's new cameras, both an outdoor wireless camera and a wireless video doorbell, which together offered an inexpensive DIY home security system to protect the outside of your home.
Apple's M1 chip was a brave step away from Intel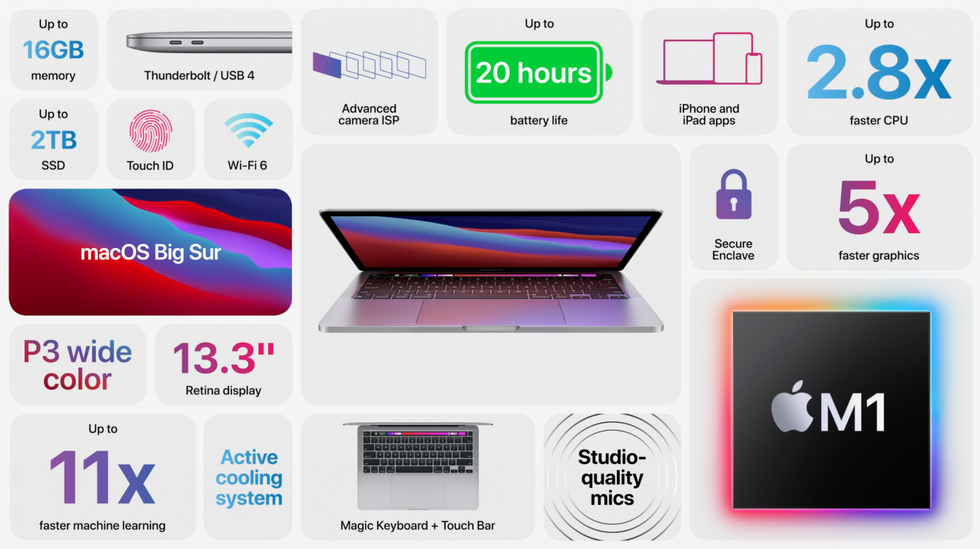 Features of the new MacBook Pro with M1 chip Apple
In what many expected to be a fallow year for the consumer technology industry, many companies pressed ahead as normal. Apple, meanwhile, went even further. Not only did we see three third-quarter product launch events for the Watch, iPhone and MacBooks, plus the last-minute arrival of the AirPods Max. But we also saw a huge step away from Intel with the Mac's processors.

This might not sound as exciting as a new iPhone, but it's a huge deal. This is only the third chip transition Apple has made in its lifetime, and the announcement in June resulted in the first MacBook Air and Pro with M1 chips in the fall. Despite being related to the chips of the iPhone and iPad, the M1 has by all accounts been a home-run for Apple, bringing huge performance and up to 20 hours of battery life to its best-selling laptops, and while charging the same as before.
We can't wait to see what this will mean for the iMac and Mac Pro computers, which are due to get M chips of their own in 2021 – and with no battery to worry about, their performance gains could well be extraordinary.
Wyze: The little smart home firm that could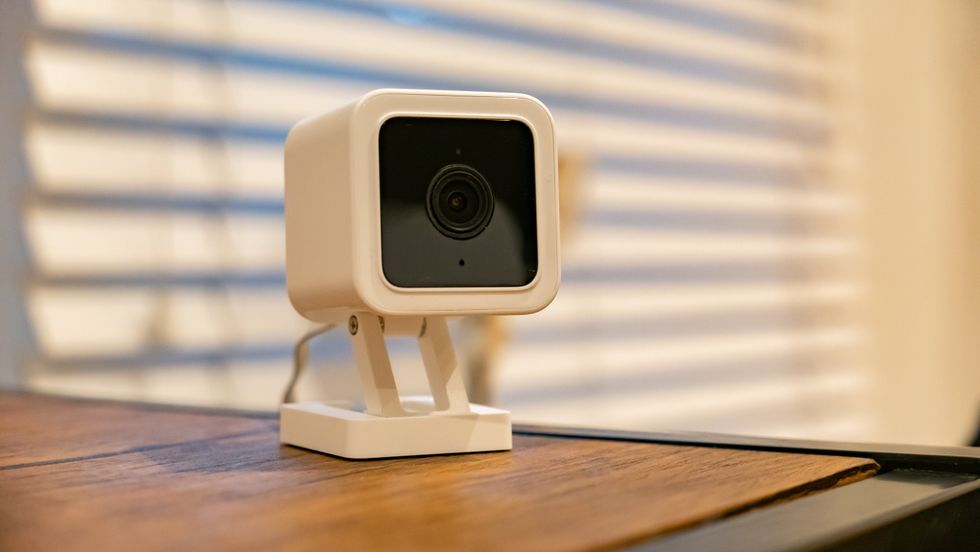 Wyze Cam v3 GearBrain
Despite the pandemic, Chicago-based smart home company Wyze had a busier year than many, announcing a wide range of products on what felt like a monthly basis. There was the third-generation Wyze Cam v3 (still with a $20 price tag), a fitness tracker and smart weighing scale, a thermostat, a robot vacuum cleaning, noise-cancelling headphones, a door lock, a garden sprinkler controller, a complete home monitoring system, and much more besides. All with prices far below the competition.

Wyze even had time to make branded socks and create a crowdfunding campaign for a $20 smartwatch – which exceeded its funding target by over 400 percent. We can't wait to see if the watch lives up top Wyze's claims of nine days of battery life, and what's next for the breakout technology firm that can seemingly turn its hand to anything.
Meditation and peaceful sleep became more important than ever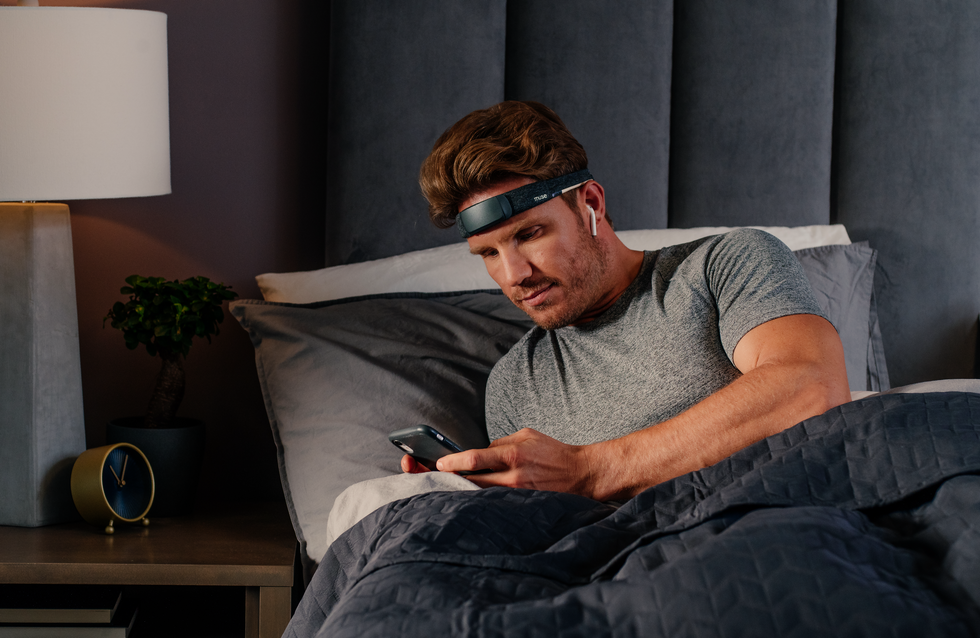 The Muse S is designed to be worn while sleeping Muse
It's been a tough 12 months on our mental health – and we know a switch won't suddenly flick on January 1 – but in 2020 technology was there to help us pause, reset and relax. Whether that be a simple guided meditation session from an app like Calm, or the background noises of Alexa and Google Assistant designed to block out a chaotic world, or even a brain-reading device like the Muse S.

We first reviewed the headband back in January, before we knew little about what was to come. We then revisited the Muse S in December, as it gained sleep tracking via a software update. Now, the soft, comfortable and wireless band can be worn for a guided meditation session at any time of day, during the evening in a bid to calm you before turning off the lights, and as a sleep tracking right through the night. And you know what? It works. It's certainly not cheap, but we found it really works.
More air purifiers and monitors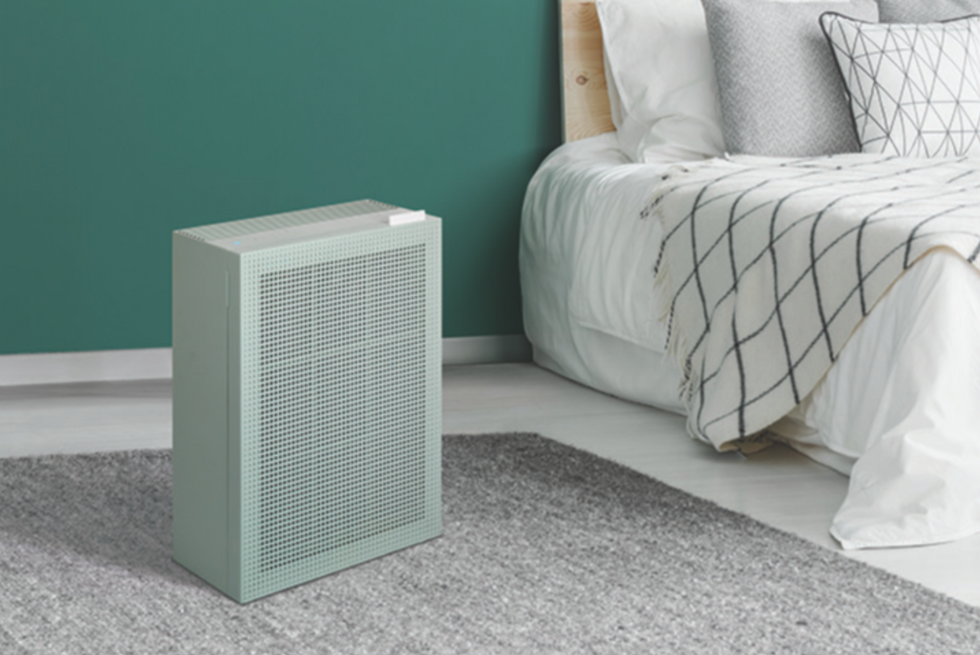 The Coway Airmega 150 air purifier Coway
We saw a lot of air monitors and purifiers come into the market into 2020. Some stood out to us, including the Coway Airmega line of air purifiers — from the Coway Airmega 150, which is small, just $190 and quiet to the Coway Airmega AP-1512HHS, which not only told us if the air was unhealthy it also worked to clean the air, and then let us know when that level ohad been reached. We also liked that it worked on Wi-Fi and that Alexa could control it as well.
Roku Streaming: Put streaming and good sound in any room, on a budget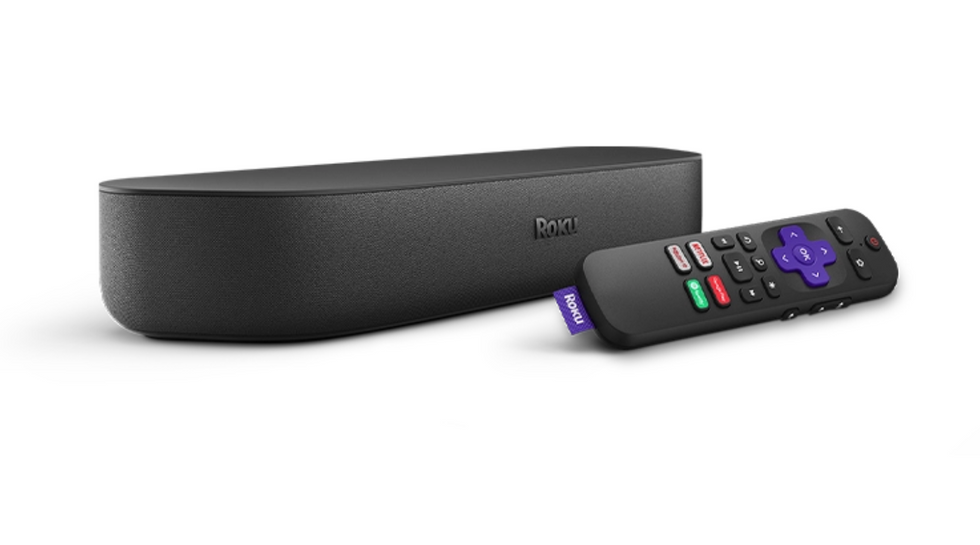 The Roku Streambar is under $130 Roku
We've all spent a lot more time at home in 2020, streaming every movie and TV show we can get our hands on. But with thin televisions often lacking in the audio department, many need a little help from a sound bar. You can spend hundred or even over a thousand dollars if you really want, but with budgets a little tighter than normal we felt the Roku Streambar was the perfect home entertainment product for 2020.

At just $110 (reduced from $130), the Streambar is affordable and compact, yet offers great sound and hooks up to almost every streaming service you could imagine. It is perfect for smaller televisions in your office or bedroom, is easy to set up, and can also be used by a second device, like a games console. For smaller screens with no streaming smarts, Roku has the answer.
Check out The GearBrain, our smart home compatibility checker to see the other compatible products that work with Google Assistant, Amazon Alexa enabled devices and any smart device you have in your home.
Introduction of The GearBrain, The First Compatibility Find Engine for Smart Devices www.youtube.com