Like GearBrain on Facebook
Video doorbells bring both convenience and security to your home by streaming a live view of the doorstep to your smartphone, whether you are on the other side of the door, or the other side of the world.
They let you to check who is there before answering, but also mean you won't miss the door again thanks to your smartphone being notified the moment the buzzer is pressed. If you aren't home, you can speak to visitors or delivery drivers through the doorbell's microphone and speaker.
As well as providing a live video feed which can be accessed at any time, smart doorbells can be configured to record video whenever they detect movement, or in some cases, even unusual sounds like nearby alarms or broken glass.
Most smart doorbells need connecting to the wires powering your current doorbell (as well as wirelessly to your Wi-Fi network).
August Doorbell Cam Pro - $199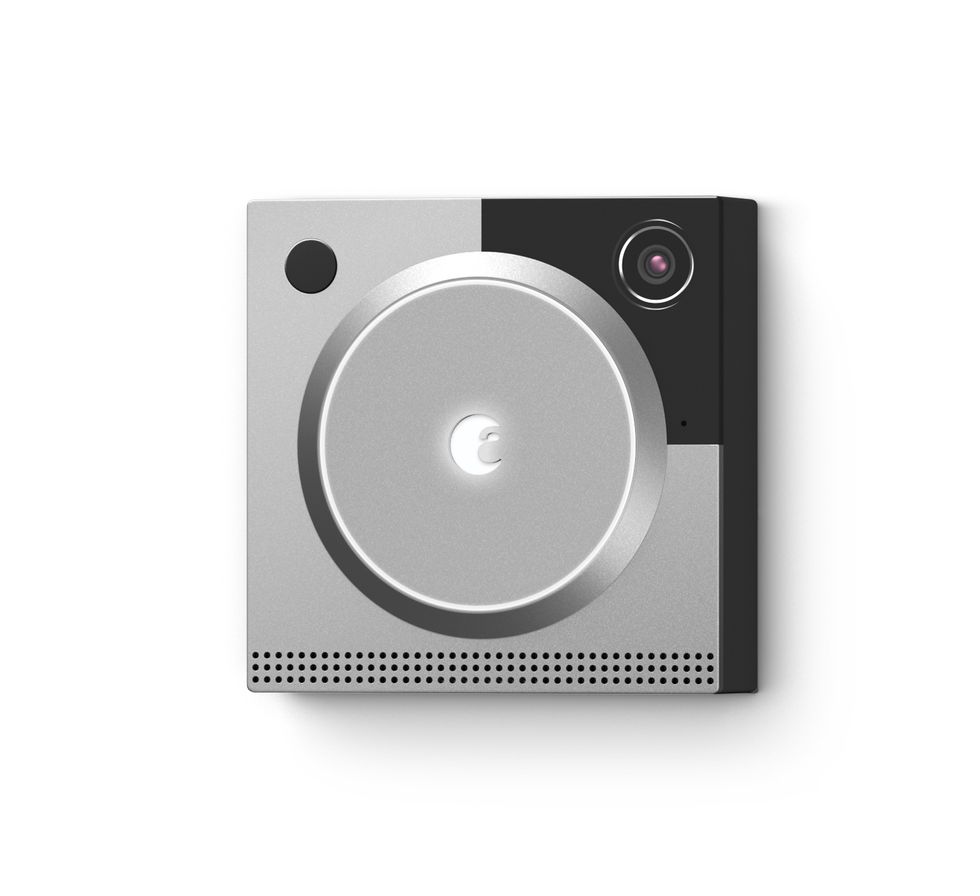 August
Now on its second generation, the Doorbell Cam Pro by August has an improved night mode over its predecessor, shooting nighttime video both in color and HD. The device also features motion detection and it will alert your smartphone when it spots something.
New for this model is an integrated flood light which switches on when movement is detected. This improves the quality of recorded video and acts as a useful burglar deterrent.
When GearBrain reviewed this smart doorbell, we were impressed by the simple installation process, but were surprised at how the field of view hasn't been increased over the previous model. However, the way it communicates with August smart home products is pleasing. For example, if you have an August smart lock, you can remotely unlock the door to let in your cleaner while you are out.

Footage can be viewed live for free at any time, and the most recent 24 hours of recordings are also free to view online. So if the camera detected movement late last night and you want to check what it was, you can view this and download it for free. If you'd like to extend this time period to 30 days, you'll need to pay a subscription of $4.99 a month or $49.99 for a year.
Read the GearBrain review here
Ring Video Doorbell Pro - $249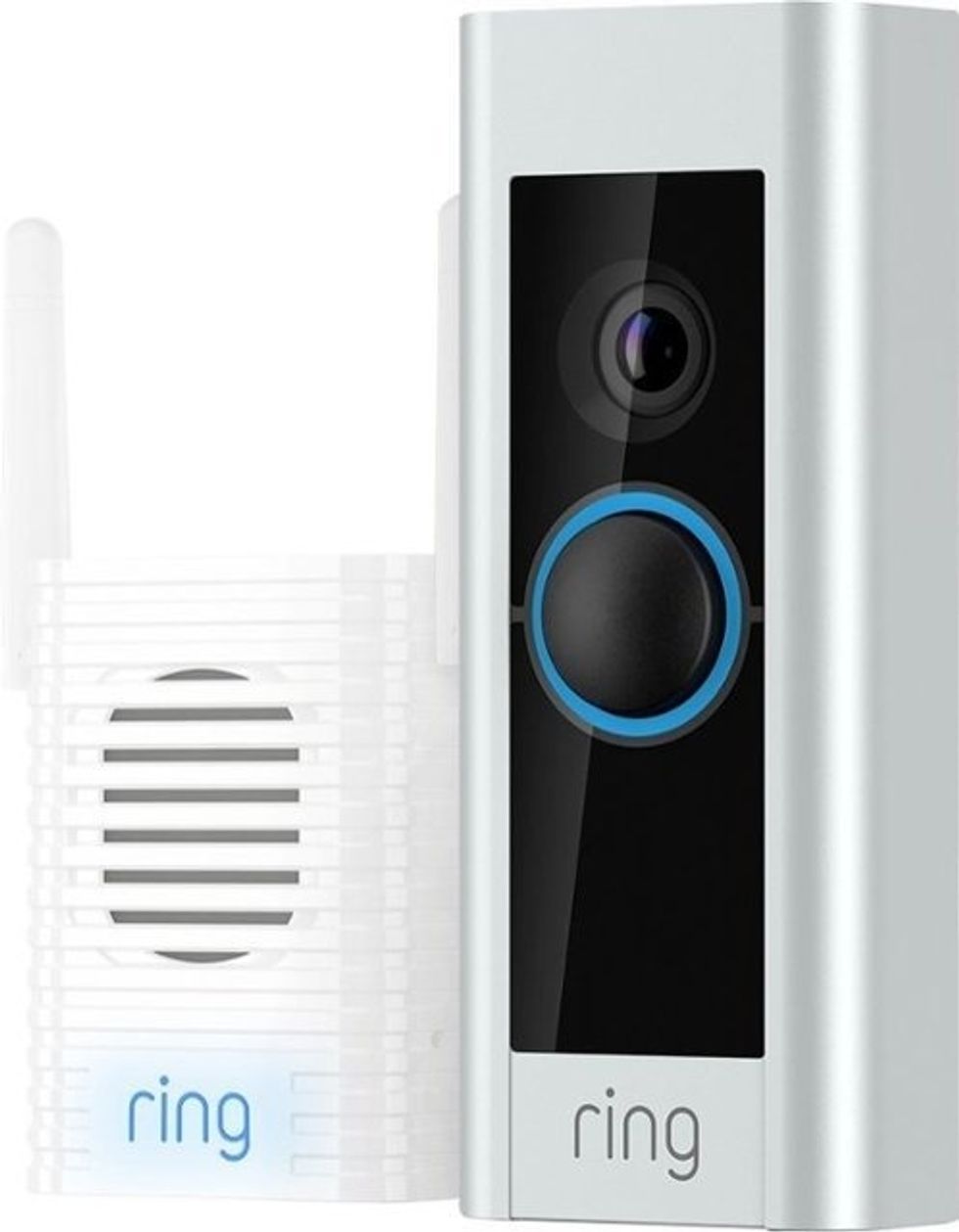 Ring
This hard-wired video doorbell shoots 1080p Full HD video, has a microphone and speaker for two-way audio, can see in the dark with infrared night vision, and can be configured to ignore movement in certain parts of the frame.
As with the August, the Ring Video Doorbell Pro notifies your smartphone when it sees movement, or you can log into the camera to see a live view.
A neat feature of this doorbell is how you can tell it to ignore movement is any section of its field-of-view. So if the street outside can partially be seen (and cars are causing the camera to constantly alert you) you can tell the Ring to ignore that area. If someone steps in front of the camera, it will still alert you and record.
The Ring Pro comes with four faceplates to help it suit the door and outside of your home, while its design is weatherproof and sleeker than older Ring products.When reviewing the Ring Pro we had trouble with connecting it to the very old ringing mechanism in our home. Although we eventually found a solution, via an hour on the phone with Ring customer support, we would recommend that readers check compatibility before purchasing — especially if their doorbell mechanism is old. To Ring's credit, we welcome that they make a smart doorbell which is compatible with both mechanical and digital setups.
Watching live video is free, but viewing and downloading recorded video (for up to 60 days) requires Ring Protect, which starts at $3 a month or $30 a year.
Read the GearBrain review here.
Skybell HD - $199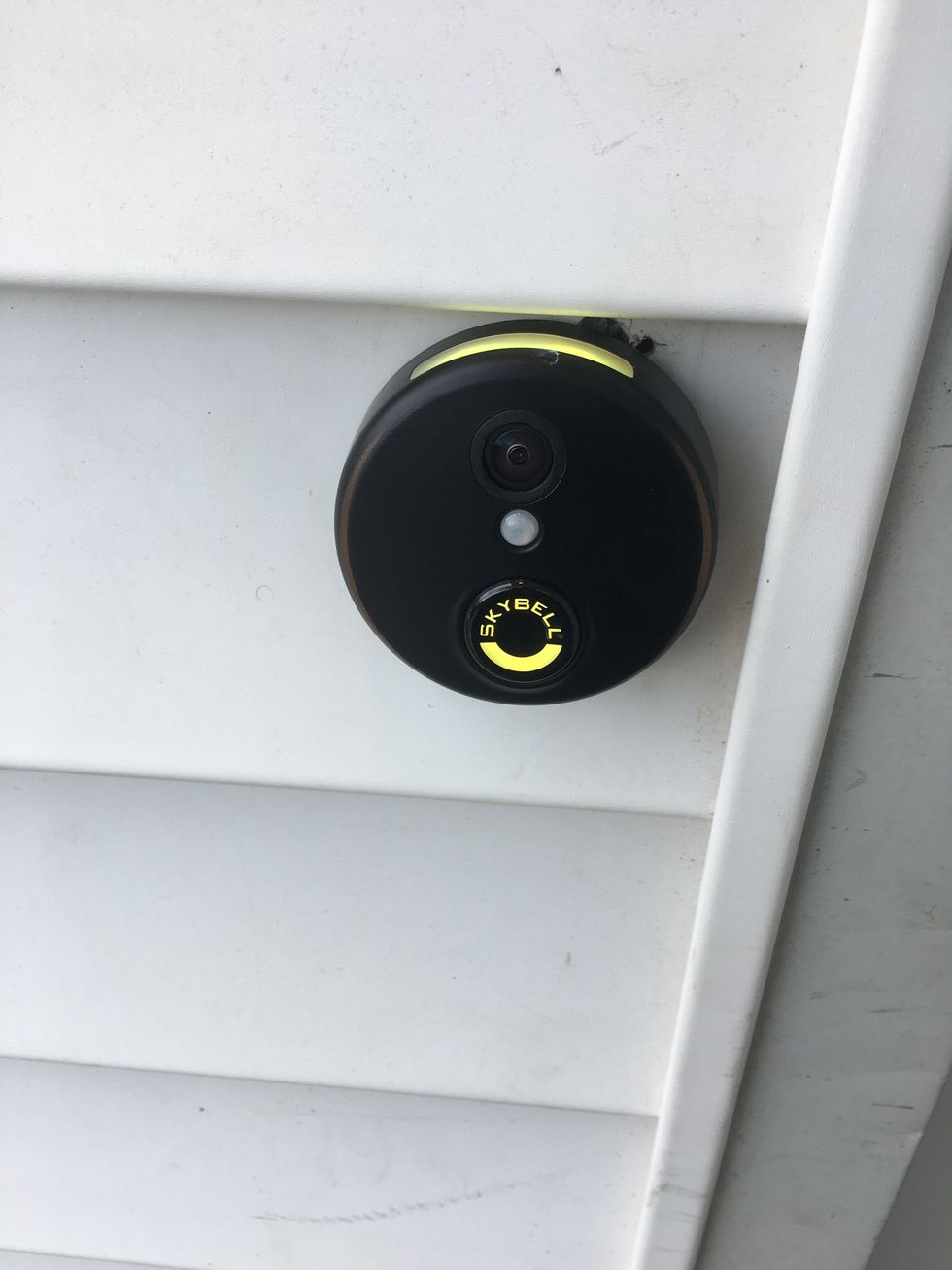 GearBrain
Video can be recorded in 1080p Full HD, or lower resolutions are available if your internet struggles with uploading high-quality footage. There is also an option to switch off the bell's indoor chime, so that it doesn't disturb you late at night, or when a baby is sleeping.
Alexa integration means you can control the doorbell by speaking to your Amazon Echo smart speaker, and there's support for Z-Wave and Zigbee devices too. Skybell are partnered with Kwikset's Kevo smart locks, so you can remotely unlock the door to let in a plumber, for example.
Read the GearBrain review here
Netvue Belle - $249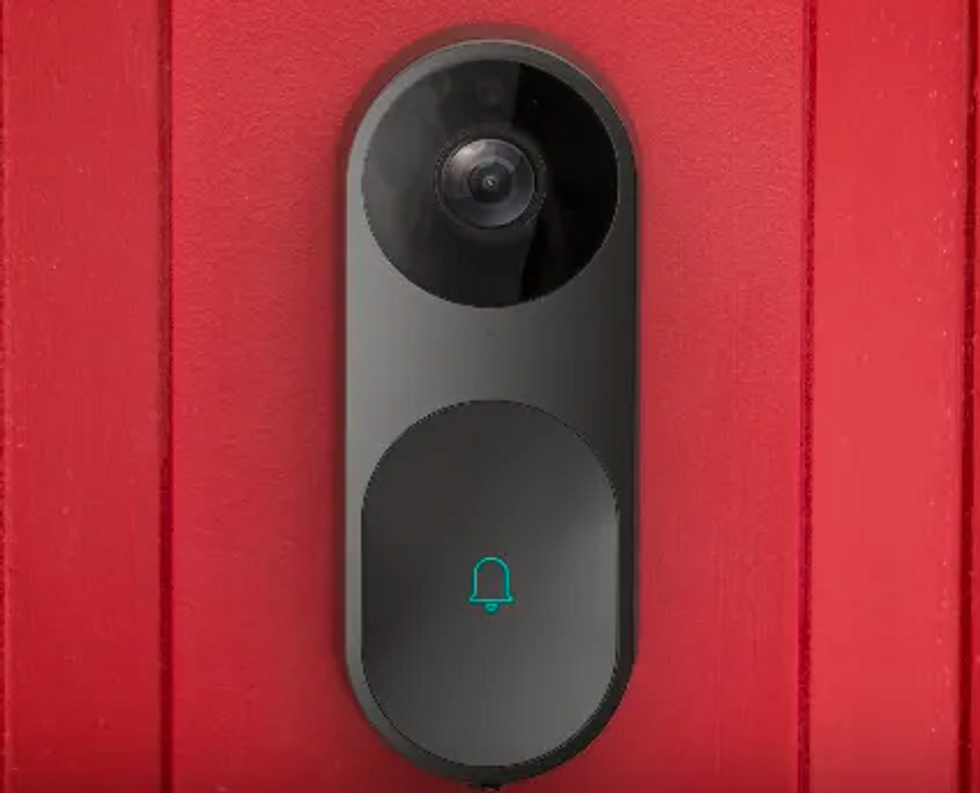 Netvue
While most smart doorbells require you to speak to visitors, the Netvue Belle claims to be the first with artificial intelligence. As such, the device greets visitors with its own voice and asks them to identify themselves, before passing this on to you.
Like other doorbells, the Belle has an HD camera and provides two-way audio so you can speak to whoever is there before opening the door. You can also speak to them remotely if you aren't in; for example, you can tell the delivery driver to leave your package on the doorstep.
Netvue is an Indiegogo project which received 234 percent of its funding goal in March 2018, and plans to ship to backers imminently.

Wisenet SmartCam D1 - $230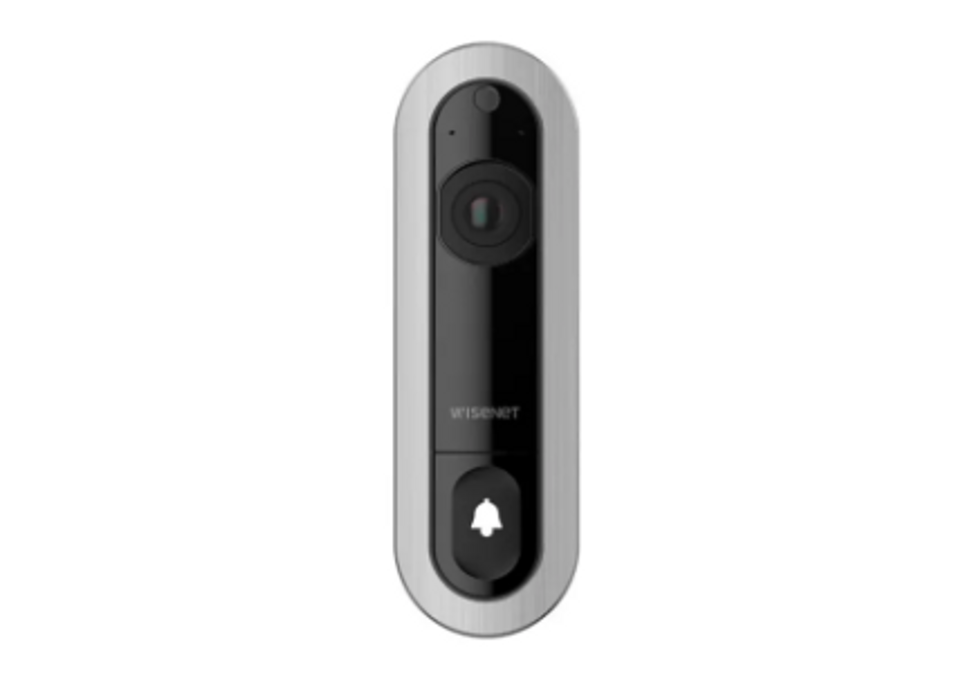 Wisenet
Unlike most of video doorbells, the SmartCam D1 by Wisenet uses facial recognition to help tell you who is at the door. It can't do this the first time someone buzzes (thankfully), but it will capture their face and ask you to identify them. Next time they visit, the app will notify you and suggest who it thinks they are.
If it works reliably, we think this is a convenient way to be told when your friend is at the door and not a salesperson who you might not want to speak to. As well as spotting faces, this camera also knows the difference between humans and other moving objects, like a passing cat, so won't alert you and record unnecessarily.
A feature called 'smart abnormal sound detection' will notify you when the device thinks it has heard a siren, glass breaking, or someone screaming. Live footage can be viewed for free at any time, but the last 30 days of recordings can only be seen with the SmartCloud subscription, which starts at $4.99 per month or $49.99 per year.

Yale Look Door Viewer - $179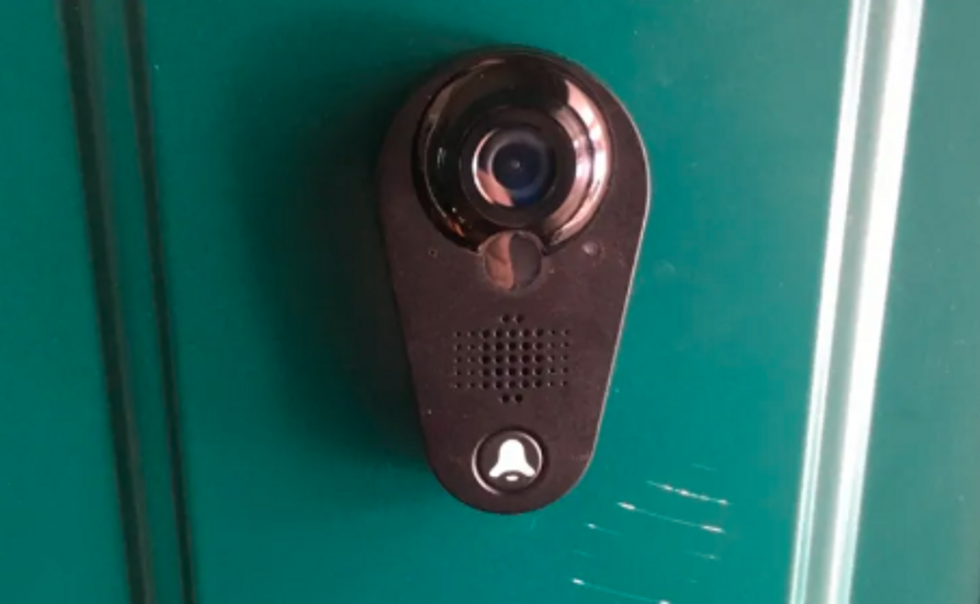 GearBrain
Taking a different approach to the smart doorbell is the Yale Look Door Viewer, which is a camera that fits on the inside of your door, looking out through the peephole. This means the device is less likely to be seen from the outside, and means you don't need to work with any of your home's existing doorbell wiring.
When we reviewed the Yale Look Door Viewer, we liked the easy installation and how it can fit to any door with a peephole. The system also detects motion and offers two-way communication, although we found this to be slightly delayed.
We also felt the camera's 720p video quality could be higher, as it was a little fuzzy at night, and the motion detection was very sensitive during our testing. Also, night vision through a glass storm door was poor, as it couldn't seen clearly through the glass panel.
Like GearBrain on Facebook