Like GearBrain on Facebook
When it comes to equipping your home with a surround sound system, there are two distinct approaches to take, plus a third that fits somewhere in-between. The first is to buy a soundbar, the second is to install a surround sound system made up of several separate speakers, and the third is to combine both approaches and add wireless speakers to a sound bar.
Read More:
All three approaches can handle the latest and greatest cinema sound standards, like Dolby Atmos and DTS:X, and they all allow you to connect a huge range of devices like media streamers, game consoles and more. But physically they take a different route.
First, we will look at the more traditional of the three setups — the conventional surround sound system with separate speakers.
Separate speakers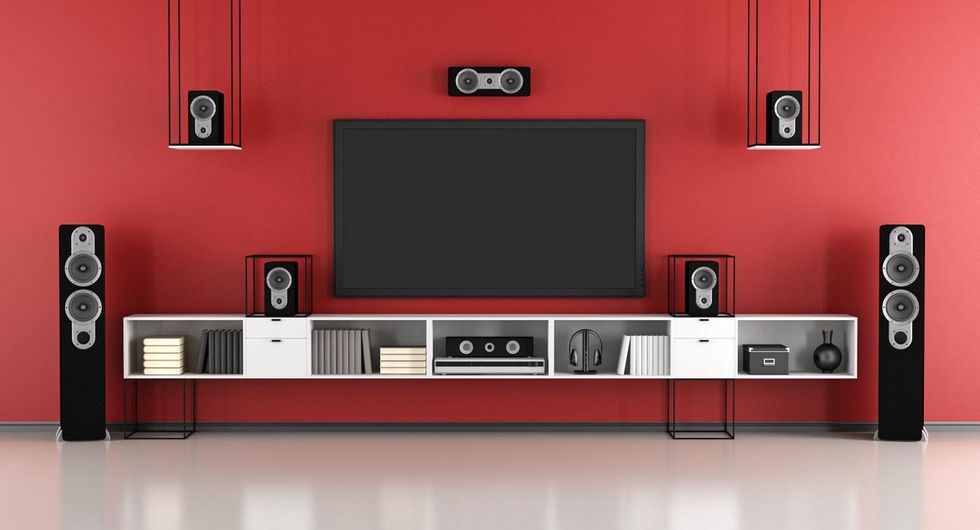 Separate speakers produce the best sound, but require a more involved installationiStock
These began life as 5.1 systems that included five so-called satellite speakers and one subwoofer. The five speakers are split into three for the front of your room, covering the left, center and right audio channels, with a further two located at the rear of the room, facing forwards and carrying the rear left and right channels.

Finally, the one subwoofer can be positioned anywhere in the room as the sounds it produces are non-directional.
These systems have improved and grown larger over the years, with 7.1 setups adding an additional pair of speakers in the middle of the room, directed towards the viewing area (in other words, your sofa) from the sides. A 7.2 setup is also possible, where the two refers to using two subwoofers instead of one for enhanced bass.
The next evolution saw height added to the setup, and another number. This time, a 5.1.4 system would have the five speakers and one subwoofer mentioned before, but with four additional speakers mounted in the ceiling and facing down at the front and rear of the viewing area. Such a setup is compatible with Dolby Atmos, which creates a sphere of sound and is especially good at giving the illusion of height, with sounds coming from above the viewer.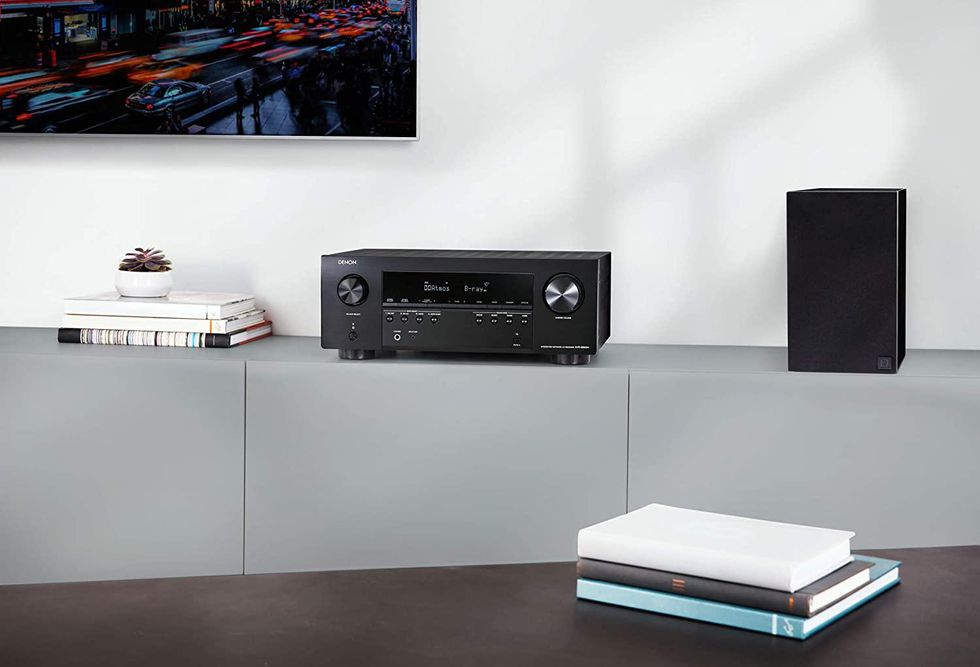 Separate speaker systems require an amplifier like this one from DenonDenon
Naturally, all of this requires a lot of speakers and speaker cable – and in the case of a 5.1.4 setup or greater, the DIY skills (or budget) to fit speakers into the ceiling. While some 5.1 systems can be bought off the shelf, anything larger generally requires a dedicated amplifier, into which you connect the wires for each speaker, along with devices like game consoles, Blu-ray players and media streamers. These amplifiers, pictured above, are usually quite large and often don't fit in the shallow shelves of TV stands and media units.

The benefits of such a system include being able to achieve the best possible surround sound, as you can perfect the position of each speaker, add as many as your amplifier has connections for, and crank up the bass with a second subwoofer. For the best home cinema experience, this is the way to go. But, as you will probably have guessed, this approach can get expensive and means a fair bit of DIY when ceiling speakers are involved.
Examples of separate-speaker surround sound systems include this $399 option from Onkyo, which has five speakers, an amplifier to plug everything into, and a subwoofer. Alternatively, you can buy an amplifier on its own – options from Denon range from around $300 to over $1,500 for an 8K system – and speakers from a wide range of companies. At this point your budget can stretch from several hundred dollars to thousands or even tens of thousands depending on the manufacturer and speakers you choose.

Before we move onto soundbars, it is worth quickly explaining how smart speakers can be used to create a surround sound system. Amazon Echo speakers can be wirelessly paired to Fire TV streaming devices to create a sound system, with the Echo Studio capable of Dolby Atmos. Apple's HomePod speaker can also work this way with the Apple TV, and it too has support for Atmos thanks to a software update. The Nest Audio also works as a surround sound system with the new Chromecast with Google TV.
Being wireless, there are no cables involved with such a setup, but the sound system only works when playing content from the connected device; for example, an Amazon Echo system will only work when playing content from your Fire TV device, and not when watching cable/satellite television or using a game console.
Soundbar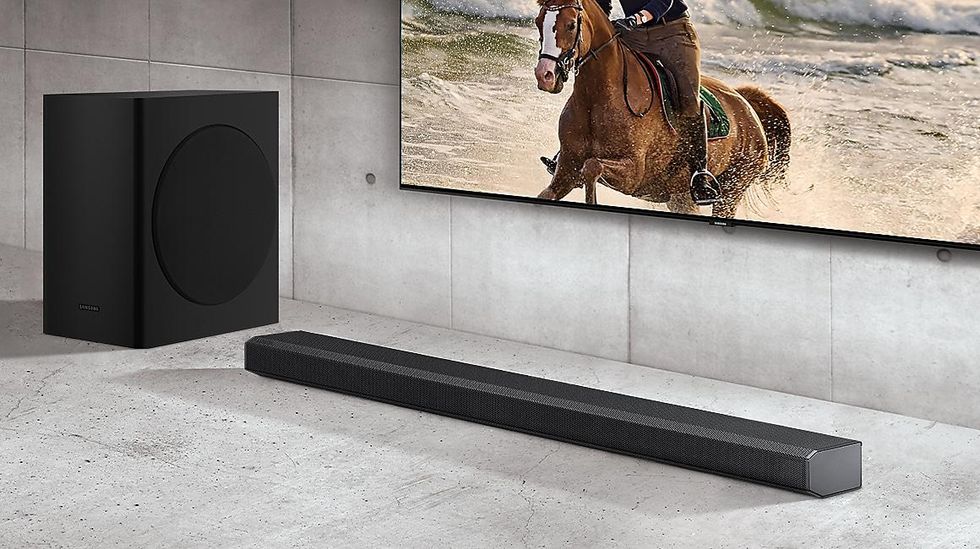 Soundbars contain multiple speakers to create surround soundSamsung
The alternative to all this is to buy a soundbar. They come in all shapes and sizes (and with prices to match) but generally have all of their speakers inside a single unit. At the entry level you will get a soundbar with a three-channel setup for the left, center and right channels we mentioned earlier.

Some also come with subwoofers, which are usually wireless and therefore easy to set up while bringing plenty of bass to the system.
From here, it's a case of upping your budget and cramming more speakers into the soundbar – and more connectivity too, like integrated Google Assistant or Alexa. Many recreate the height of a Dolby Atmos or DTS:X system by featuring a pair of speakers angled to fire sound upwards at the ceiling; this then bounces back down to mimic the in-ceiling speakers we spoke about earlier. These can work very well, but depend a lot on the acoustics of your room, and the relative locations of the soundbar and sofa.
In a similar manner, some soundbars also fire sound out of their sides, bouncing off the walls and towards the viewing area to add the additional left and right channels we mentioned in relation to a 7.1 system earlier. As an idea of just how many speakers can be crammed into today's top soundbars, Samsung's latest flagship, the HW-Q950A, has an 11.1.4 channel setup, meaning 11 regular speakers, one subwoofer and four speakers reflecting sound off the ceiling.

The benefits here are obvious, as there is no speaker cable to hide, no rear or ceiling speakers to install, and soundbars tend to fit neatly in front of the TV. They also usually feature a couple of HDMI inputs for connecting other devices, as well as Bluetooth and Wi-Fi connections for playing music from phones and computers.
What they lack, is the range of inputs of a dedicated amplifier (which in some cases can feature eight HDMI inputs and even a pair of HDMI outputs for running a TV and projector without switching cables. Despite this, they are a far more convenient option that, while not producing a surround sound effect as good as a separate-speaker setup, they offer a huge audio upgrade on your TV's own speakers.
Soundbar with wireless speakers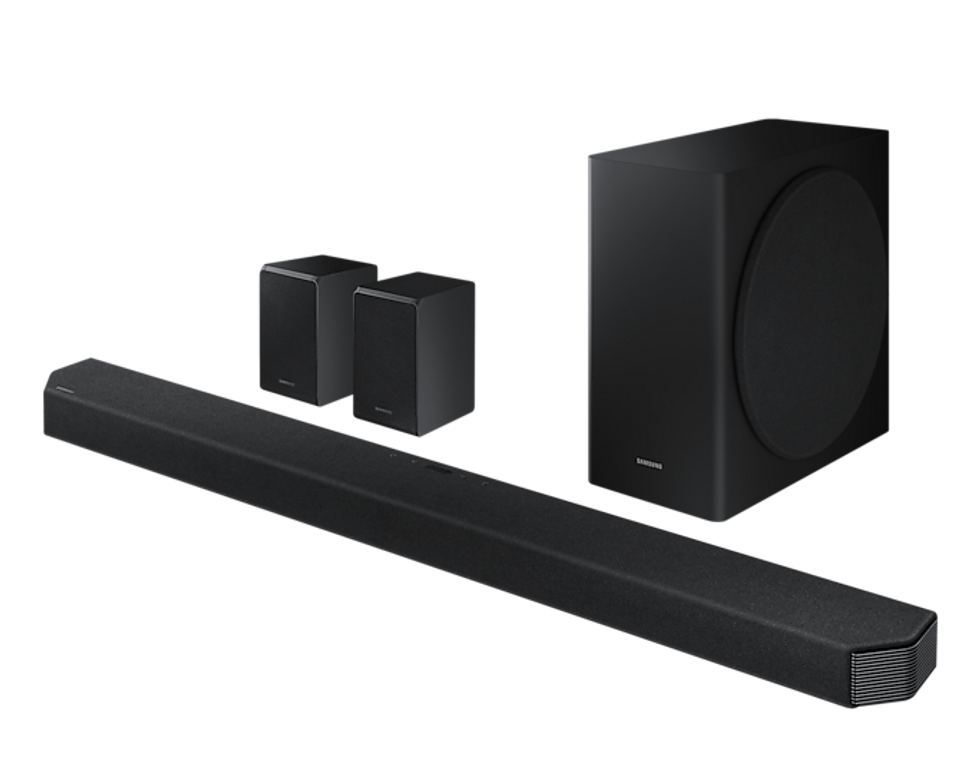 Samsung soundbar with wireless rear speakers and subwooferSamsung
Finally, the in-between option. This is where you take a soundbar and add a pair of wireless speakers to it. Samsung, Sony LG, Roku and others offer systems like this, and in some cases you can buy the rear pair of speakers separately, adding them to a soundbar you already own. This way, you can create a system that has real rear speaker channels, instead of using clever algorithms and reflected audio to simulate rear sound. These rear speakers tend to cost in the region of $130 to $300.
These rear speakers are wireless but still require power, so you'll need to route power cables in such a way that they are hidden from view, which can be tricky in some rooms.
But if you can manage this, you arrive at a system that is almost on a par with one made up of individual speakers, but without the chore of installing speakers in the ceiling and running masses of speaker wire throughout the room. On balance, we think a sound bar with wireless rear speakers is the best option for most people, with a system of separate speakers connected to an amplifier reserved for true home cinema enthusiasts.
Use The GearBrain to find the soundbar that is compatible with your smart home.
The GearBrain, First Compatibility Find Engine for Smart Devices www.youtube.com
Like GearBrain on Facebook