Like GearBrain on Facebook
Codey Rocky is a programable education robot designed for children, giving them a taste of the logic of computer programing. The robot is small, rolls on four wheels and has a digital screen topped with black ears that shows off expressive eyes. Made by robotic toy maker MakeBlock, Codey Rocky can be programmed using a computer or a smartphone, with 10 different modules, which we tested during our review.
Read More: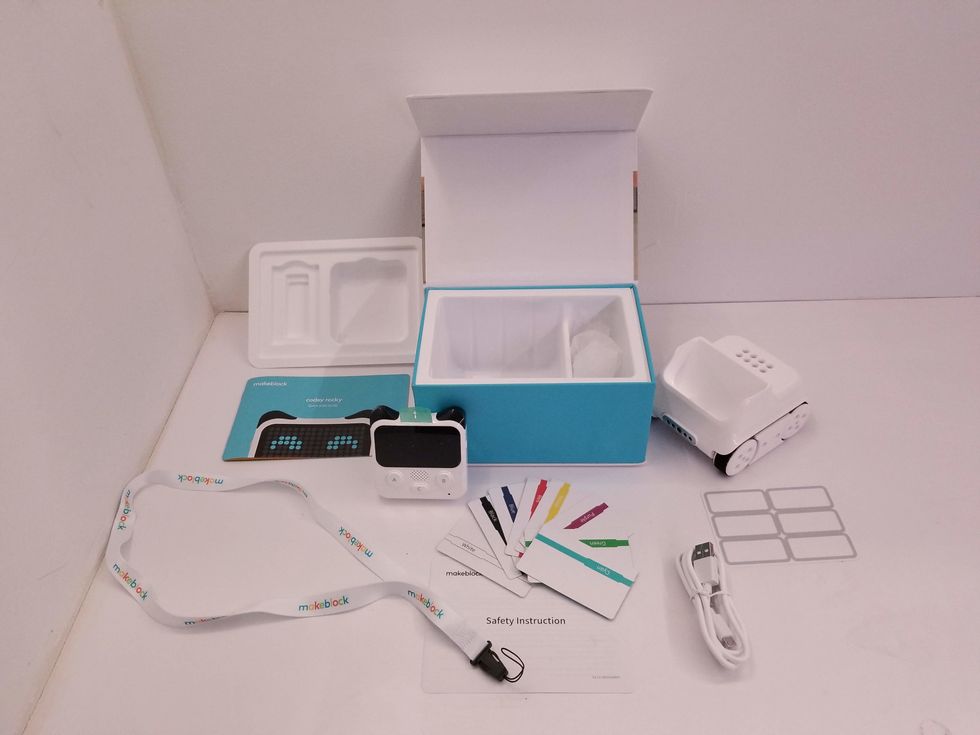 Inside the box, you'll find Codey, the controller, Rocky, the chassis among other elements to learn how to codeGearBrain
Codey Rocky: What is it?

In the Codey Rocky box you will find: a controller with a screen, Codey, and chassis unit that moves on tank treads, Rocky, plus a good quality micro USB charging cable, color identification cards which can be sensed by Codey, a MakeBlock lanyard, six writeable name stickers, a manual and safety instructions.
Codey Rocky: How does it work?
Putting the robot together is very easy. Simply slide Codey onto Rocky as you would a smartphone on to a dock. Then, you can then either download the Makeblock app from the Google Play Store, or the Apple App Store, or as software on Windows or Mac. You connect Codey Rocky through Bluetooth, Wi-Fi, and a micro USB cord. (Note that the Android app asks for location permissions to enable Bluetooth which seems out of place.) The robot charges using the micro USB at 5V and 1A input, and it has a 950mAh lithium battery.
Codey Rocky has a very clever interface using Scratch 3.0, but can also show the actual Python code letting children see what their logic looks like in a true coded language. This is where Codey Rocky shines because it gives kids a head start on coding, and may inspire them to pursue computer science. The robot is fun, and has programs that makes it easy for a child to jump right into the mix. This will ignite their curiosity to make something similar.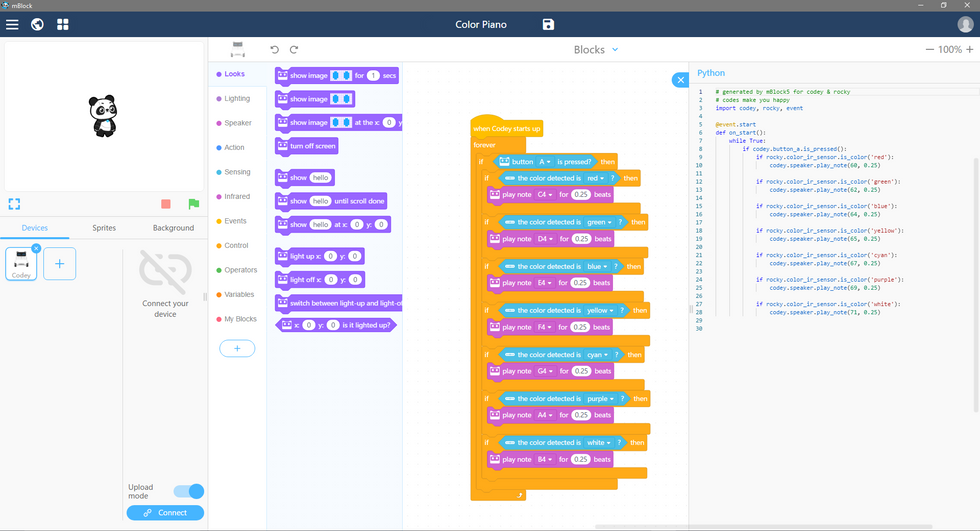 Scratch is on the left, what you'll use to code, and Python is visible on the rightGearBrain
Codey Rocky: Our experience
Codey Rocky, though, does not come without its fair share of issues. Getting the robot to work initially with the Windows software was a chore. The firmware update was hidden away, and I couldn't immediately tell if the latest update had installed, so I reinstalled the update a few times just to make sure the code uploaded to the robot successfully.
I also ran into Bluetooth issues with the Android app, but eventually got that fixed. Also, the software does not have a tutorial and simply throws the user right in. There is a manual, but Makeblock does not explicitly advertise so on the starter guide. The point? A six-year-old is going to need help from an adult to play with Codey Rocky.
As for the Python code that's visible when coding in Scratch — you can only view it, not make edits. Switching to Python mode does not transfer your code, so if you want to go from Scratch to Python you need to copy the read-only code, which I found a big oversight. Plus there is no way to go from Python coding to Scratch. These small issues become glaring ones when trying to write a more complicated program.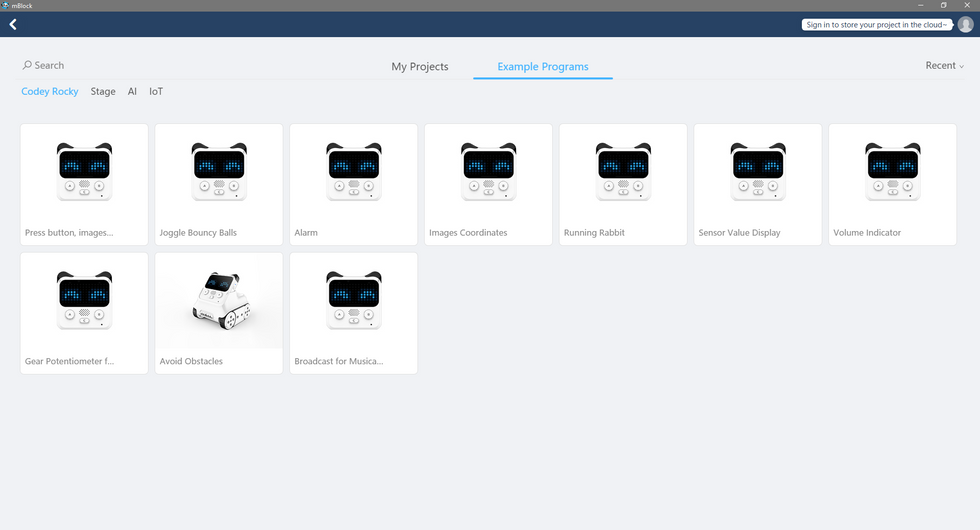 Codey Rocky's app comes with several pre-written programs you can use to make the robot, for example, work as an alarmGearBrain
Nonetheless the device does allow for a lot of creativity. In just five of minutes I was able to make a simple piano out of the color identification cards. When a button was pressed, Codey would sense the specific color and then play a note according to that hue.
The app allows lets kids use Codey as a remote-controlled robot, and can program different display messages on the screen. There's also a feature that directs Codey to follow a line that's drawn. Coding is possible in the app as well, but it's much easier to code on the computer.
Codey Rocky also works with Makeblock's Neuron, a set of blocks for $89 that can be added to Codey to add other features.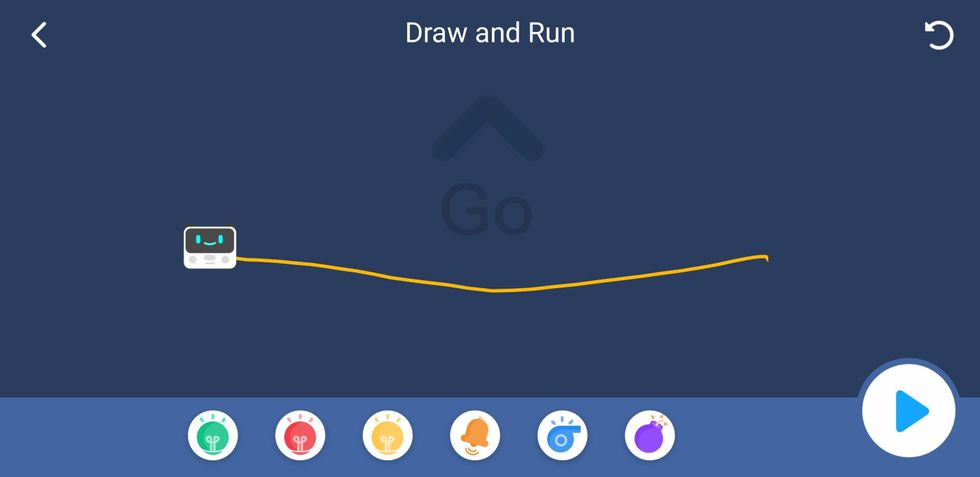 One program lets you draw a line which Codey Rocky will then followGearBrain
Codey Rocky: Cost

The robot retails for $99, which is not a surprising price for a child's programming toy.
Codey Rocky: Should you buy it?
The most important question now. Is Codey Rocky worth the buy? For a science, technology, engineering and mathematics (STEM) children's toy, it really is a good buy, plus adults can pick up some coding skills along with kids. The robot comes with enough out-of-box features to make the robot fun right from the start with the app controller and included programs. Very young children may not be up to handling the frustration of something not working as it should be. However older children, certainly those in the 5th grade and older, are likely to find this toy interesting as long as they're interested in coding. The learning benefit makes this a solid contender in the field of coding children's toys.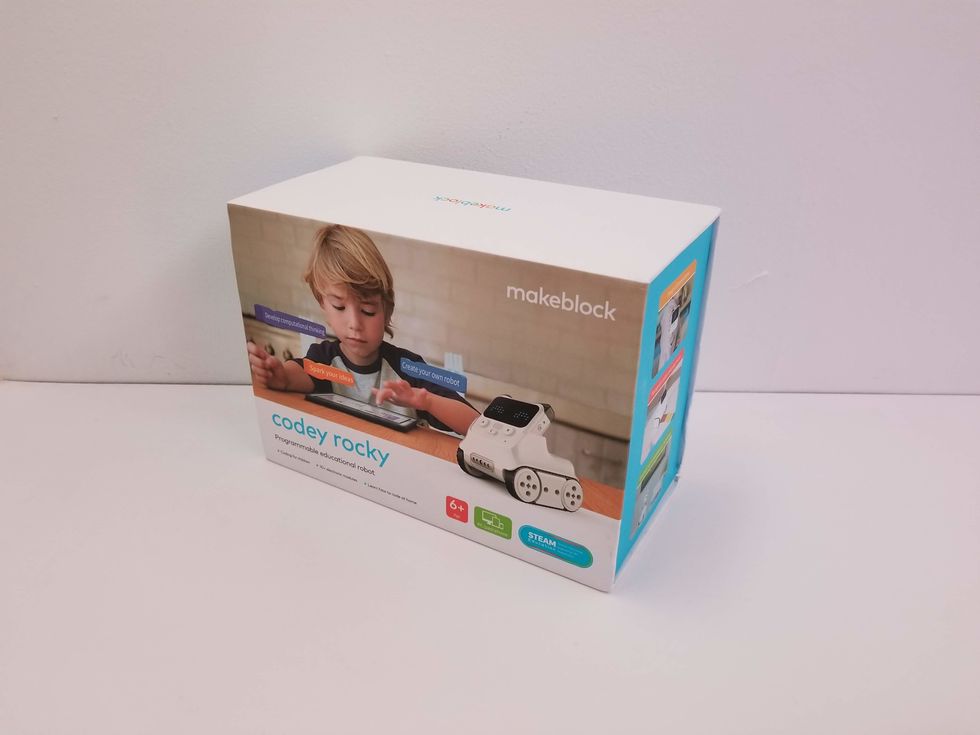 Makeblock's Codey Rocky is $99 and works with iOS and AndroidGearBrain
Pros:
Introduces kids to computational logic and shows their logic in Python
Has many programming options
Cute and charismatic toy
Cons:
Problems fixing firmware issues with the robot
Unintuitive way of handling conversion between Python and Scratch
Children could get bored easily if they do not spend the time to create programs
Specs:

Age: 6+
Assembly Required: No
Main Board: ESP32 Chip
Programable Modules: LED Display, Speaker, RGB LED Indicator, Buttons, Gear Knob, Voice Sensor, Light Sensor, 6-axis Gyroscope and Accelerometer, IR Transmitter, IR Receiver, Color Infrared Sensor, DC Geared Motor
Functionality: Follow lines, intelligent avoidance of obstacles, chasing light, automatic anti-drop adjustment, color recognition, somatosensory remote control, infrared communication, AI, LoT
Connectivity: Bluetooth, USB, Wi-Fi
Compatibility: Makeblock Neuron, Lego Bricks
Battery Capacity: 950 mAh lithium battery (5V 1A input, micro USB)
Dimensions and Weight: 102 × 95.4 × 103mm (L × W × H), 295g
—Written by Daniel Amorim
Like GearBrain on Facebook