Like GearBrain on Facebook
Apple Music now offers lossless and high-resolution audio, as well as Dolby Atmos using Apple's own Spatial Audio technology, at no extra cost.
The upgrade was enabled after Apple's WWDC event on Monday, and is now available for everyone via Apple Music on the iPhone, iPad and Mac. However, there are some limitations to be aware of.
This is a guide to enable lossless, high-res and Dolby Atmos audio in Apple Music, and an explanation of what hardware will and will not work.
Read More:
How to enable Dolby Atmos audio in Apple Music

First, you need to have an Apple Music subscription. Otherwise, the following menu options will not appear in the Settings app of your iPhone or Mac.
Once subscribed, open the Settings app and tap on Music. On this page you will see a larger Audio section than before, thanks to the new options for Dolby Atmos and Audio Quality.
Tap on Dolby Atmos and choose the Automatic option on the next page. This will ensure Atmos audio plays whenever your iPhone is connected to compatible hardware, such as any AirPods that also have Spatial Audio switched on, and supported Beats headphones too.
You can easily flick between Atmos and regular audio to see the difference by opening the Control Center on your iPhone, long-pressing on the AirPods icon and tapping Spatial Audio on and off. We found there is a clear difference when the system is enabled, with the instruments and vocals of audio tracks seemingly more spread out than normally delivered through a stereo, two-earphone setup.
The great news is that spatial audio and Dolby Atmos work with any headphones connected to a device running Apple Music, not just AirPods.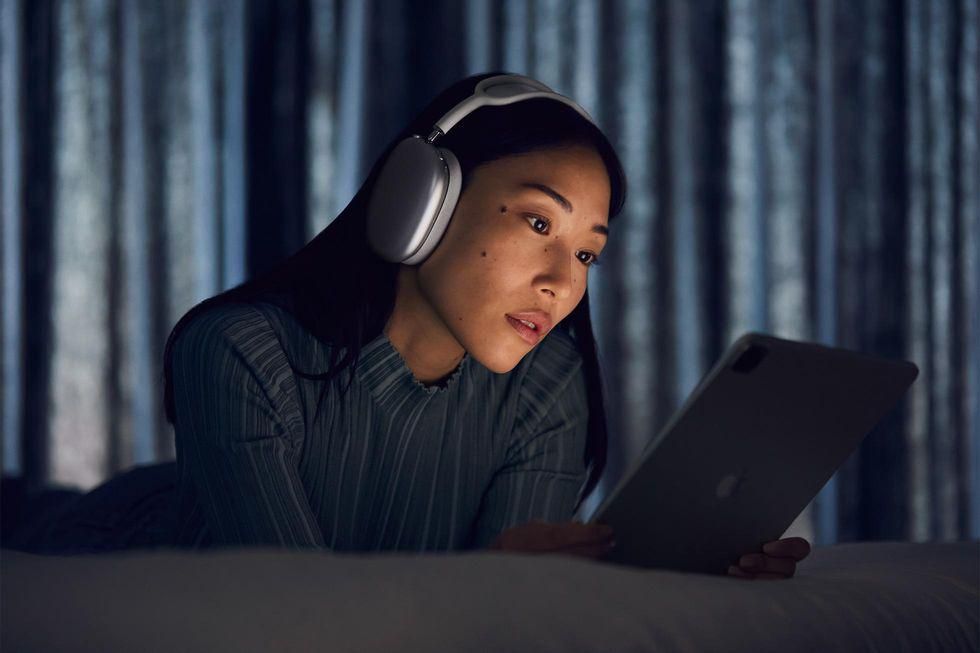 AirPods Max cannot handle lossless and Hi-Res Audio Apple
How to enable lossless audio in Apple Music

Next up is the new, improved audio quality of Apple Music. To enable this, open the Settings app again and navigate to Music then Audio Quality. Now tap the toggle switch to enable Lossless Audio, and tap Wi-Fi Streaming and Downloads to enable it in those cases too.
The latter will require deleting and downloading all of your music again at the higher quality. We suggest that readers only enable lossless for mobile data streaming if they have an unlimited data plan. This is because lossless audio eats up far more data when streamed (and downloaded) than other formats of lesser quality. Apple says 20 million tracks are available as lossless now, with the entire 75-million Apple Music catalogue upgraded by the end of 2021.
How much data does lossless audio use?
To give you an idea of how much extra data lossless and Hi-Res audio takes up, Apple offers this guide for the same three-minute track:
1.5MB with Apple Music's High Efficiency mode enabled
6MB with High Quality enabled at 256kbps (kilobits per second)
36MB with Lossless at 24-bit/48kHz
145MB with Hi-Res Lossless at 24-bit/192kHz
Clearly, that is a huge difference in data demand and, again, we recommend that Apple Music subscribers only stream at Lossless and Hi-Res if they have an unlimited data plan. You might also want to turn down the quality of music downloaded onto your device, especially if you are running short on space.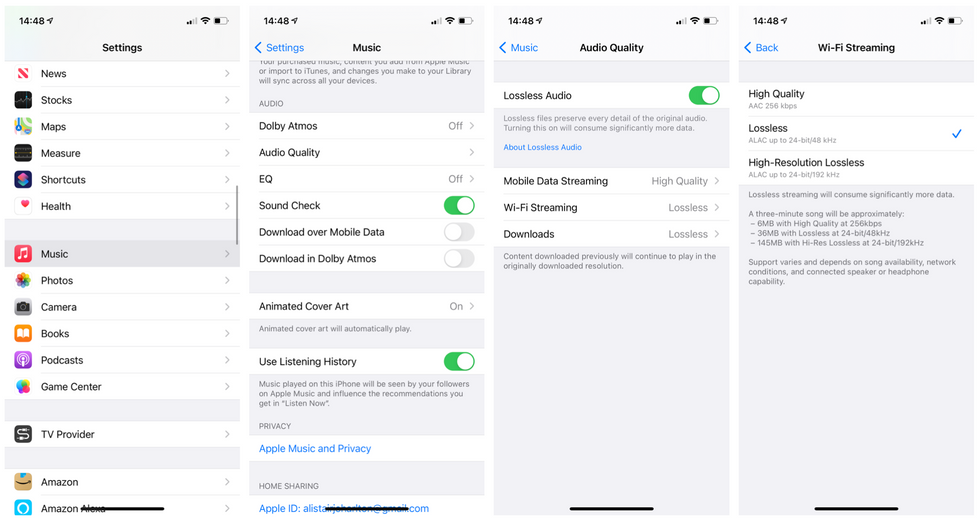 How to enable Dolby Atmos and Lossless for Apple Music on iOSGearBrain
You cannot listen to Lossless using AirPods

While this all seems great on paper, there is a major bump in the road. No Bluetooth headphones can handle the CD-quality music of lossless, not even Apple AirPods Max.
Instead, you need to connect a pair of compatible headphones using a 3.5mm-to-Lightning adapter, or by using the audio jack of your Mac and listen to music there instead.
Apple says its own headphone jack adapter supports up to 24-bit/48kHz audio, but admits the Lightning cable included with the AirPods Max does not allow for completely lossless music, given the analog-to-digital conversion it undertakes when sending music to the headphones.
The HomePod speaker doesn't currently support lossless either, at least until a promised software update due sometime in the future.
For now, the simplest way to enjoy lossless music from Apple is to connect your Mac to a set of compatible speakers using a wired connection.
How to listen to Hi-Res Audio with Apple Music
The barrier to entry is even higher with Hi-Res Audio. Given the huge file size and sample rate, you need to use compatible hardware, like a DAC, and wired headphones that are up to the job.
Apple AirPods Pro
Like GearBrain on Facebook