Like GearBrain on Facebook
Amazon's Echo Plus is the smart speaker with muscle that turned the Alexa device into more of a control center than the original Echo. Along with Alexa's connections and controls, the Echo Plus also linked directly to a number of other smart devices through Zigbee, a separate wireless platform. Normally, these devices — like Sengled light bulbs — needed another item called a hub, which would act as a translator of sorts, speaking with the light bulb through Zigbee and then with Alexa. The Echo Plus was designed to toss the hub, and do all the speaking on its own. That was the plan. While the Echo Plus is a superior speaker than any other Echo device, we found as an all-in-one controller for your home there's still some tinkering to do.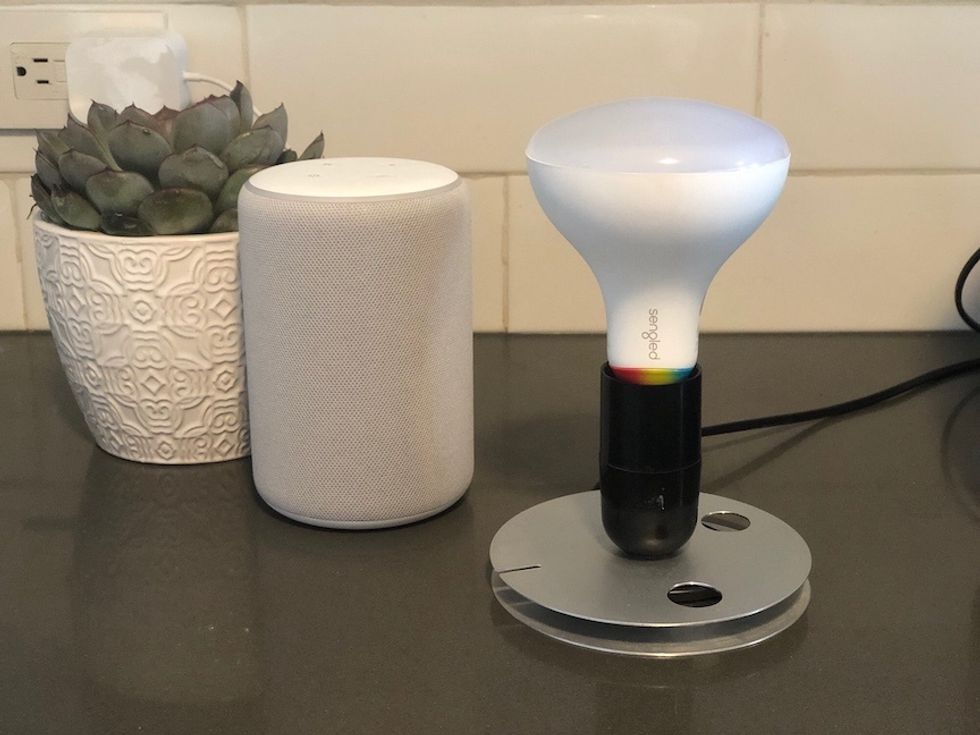 The Amazon Echo Plus acts as a Zigbee hub, which we tested by connected to a Sengled smart bulb pictured hereGearBrain
Meet the Echo Plus
Amazon launched the second generation of the Echo Plus in 2018, which expanded the features of its first version by including a temperature sensor, giving it a fabric cover and adding a better woofer and tweeter. It's rare for the average listener to pick up on the difference between a 3" and a 2.5" woofer — but the sound on this second generation Echo Plus is solid. We never felt cheated, music never sounded tinny, and there was a deep bass emanating throughout the kitchen when we played music through the speaker. On that front, the second generation scored a win.
So too does the Echo Plus stand out on the addition of a temperature sensor. While all of the smart speakers from Amazon, Google and Apple can read off the weather — and the temperature in your geographic location — getting the temperature in your home is a nice perk to have. The feature also can be added to a routine (in theory), so when the temperature hits a certain point, a fan can kick on in the home or you can get an alert
Finally, the Echo Plus, as with the first generation, works as a Zigbee hub. That means some Zigbee devices, including select motion sensors, switches, smart plugs, smart lights and locks, can connect directly to the Echo Plus, and you can operate them through the Amazon Alexa app, or through voice control via the smart assistant. This is the biggest selling point for the device, and the one that's has a few hiccups.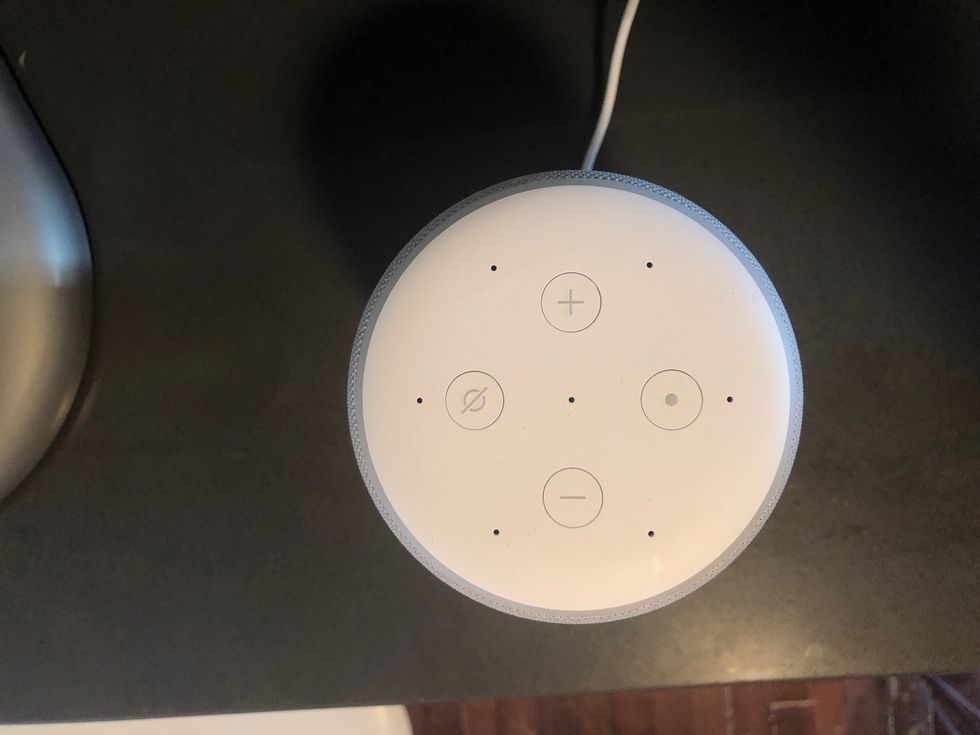 The top of the Echo Plus has familiar four buttons: volume up and down, power and one that turns off the listening featureGearBrain
Zigbee hub
As with all Amazon Echo devices, the Echo Plus works with Alexa, the company's smart assistant — so anything that's Alexa-enabled or works with Alexa can be controlled and run through the smart speaker.
Crucially, the Echo Plus also works as a Zigbee hub. Zigbee is a wireless protocol that links devices together in a set space. These devices speak to a hub, and then to each other. The Echo Plus acts as the hub, which means for some product lines, you won't need to buy this second device. However, the Echo Plus has limitations in terms of Zigbee, and only supports some features through the Alexa app that these products can typically do.
How to launch and install
Launching an Amazon Echo is one of the reasons why people flock to this line of smart speakers: the process could not be easier. Opening the box, you plug in the Echo Plus, and the smart speaker searches for a Wi-Fi connection.
You need to download the Alexa app to your smartphone because this will act as a second control center, and how also to link the speaker to Wi-Fi.
While you can eventually operate the speaker by just talking to Alexa, to set up any routines — those quick commands you'll want to use to turn on lights, for example — you need to create those in the app.
With the temperature sensor, you'll want to give the Echo Plus about 45 minutes to read a room before using it. Once it's calibrated, this information can be added to a routine in the Alexa app, and you can start to direct the device to launch other products, like a fan, when a certain temperature is reached.
GearBrain: Connecting Amazon Echo Plus with Sengled Zigbee smart light GearBrain
Smart home integrations
What works with Alexa? The list is endless, and at GearBrain we have an online engine that can link you to every product that will work with Amazon's Alexa.
The Echo Plus also works with some products on the Zigbee protocol including the Yale Assure Lock SL, and the Philips Hue smart lights. You can connect these to the Echo Plus as a hub through a simple process directly from the speaker itself.
How well did the speaker work?
As a speaker, the sound is extremely impressive, especially when put up against a smaller Echo Dot. With its 3" woofer and the .8" tweeter — compared to the 2.5" woofer and the .6" tweeter on the regular Echo, the sound easily fills a room and loses that muffled quality that is often easily audible with smart speakers.
You can also adjust these settings in the app to bring in more customizations to the way you want to listen to music in your home.
The Echo Plus also has what's called local voice control, which is a feature unique to this speaker and to the Echo Show. This means that you can run the Echo Plus, and the devices connected to it, even if the internet or Wi-Fi goes down. This is a fantastic perk, especially for heavy Alexa users.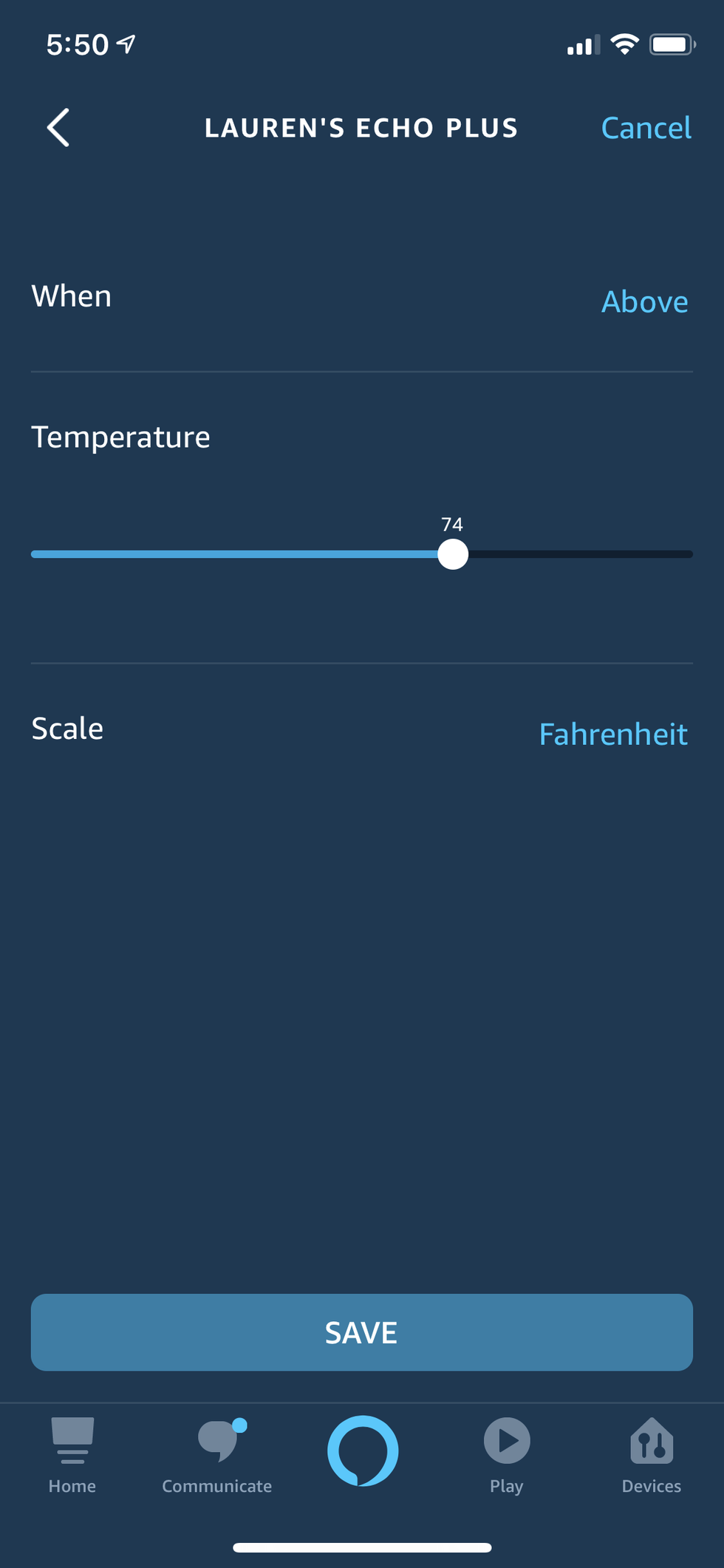 I created a routine, linking the sensor to trigger a reaction from Alexa when it hit a certain temperatureGearBrain
Zigbee hub limits
The Zigbee hub feature worked, but there are limits. We first tried to connect the Echo Plus to the Jasco myTouch Smart Wi-Fi plug. We asked Alexa to "Discover devices," the phrase that tells the speaker to find Zigbee products and it looked — but never connected. That's as it should be: the Echo Plus won't connect to ever Zigbee device, nor every device within a brand. For example, Jasco's GE Zigbee branded line works with the Echo Plus. Its own smart plug? That does not.
Next, we connected the Echo Plus to a Sengled smart bulb — the line works with this smart speaker. The bulb connected within seconds, and we were able to create routines that integrated with the smart light within the Alexa app. In those routines we could adjust the brightness and — since this a color bulb — the colors too. We created two Routines one for some chill time, where the light went green, one for waking up, turning the light lavender. We named the bulb "First Light" so we could tell Alexa which light to turn on and off.

But there are limitations in using the Alexa app for some of the Zigbee devices. The Sengled bulbs are one example, as the smart lights have a range of millions on colors. In the Alexa app, you can select just five shade of white and 15 colors. The same holds true for the Philips Hue smart lights. If you're looking for the full complement of controls that some Zigbee devices can bring through their own hub and their own apps, you won't get that with the Echo Plus — and it's worth bearing in mind.
Temperature sensor details
The temperature sensor is worth having — but never worked properly with Routines. We set one up to have Alexa speak when the room got over 74ºF. It never happened. The room did get that warm — it's in a kitchen, in a New York City apartment on a high floor in late May. But the Routine never triggered. This seems to be an issue discussed on Amazon's own Forums — and for us, it didn't work.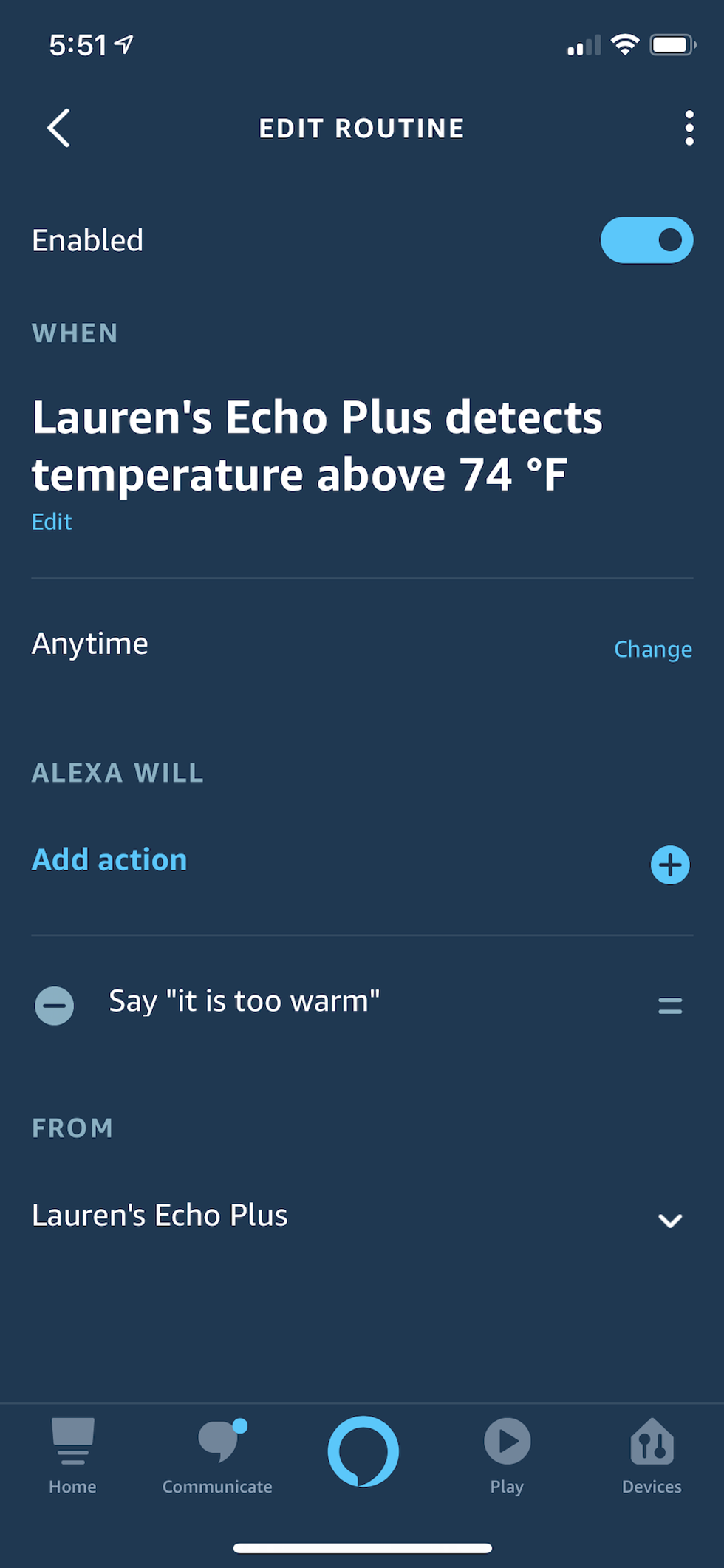 The Alexa Routine tied to the temperature sensor in the Echo Plus never workedGearBrain
Cost
You can buy the second generation Amazon Echo Plus for $149.99.
Summary
A lot of people are comparing the price of the Echo Plus with buying a separate hub and a regular Echo. Yes, a separate hub will give you more features when its designed for the products you mainly use, such as buying a hub built for your Philips Hue lights. However, the Echo Plus offers a small range, and for a wide variety of ecosystems. While you can't use the full extent of features from products including Philips Hue and Singled bulbs, the Echo Plus is a good starting point, and a good way to try out different product lines at once, without having to buy an extra hub.
Multiple Devices need multiple electrical outlets, ports to plugs into, and connections to a Wi-Fi router: Streamlining is key, and the Echo Plus is the right idea.
Ideally, however, it needs to integrate so more features from outside products, such as the ability to make the lights twinkle, are available. We expect the features that the Echo Plus can control, will expand. Does that mean waiting for the third generation? You can. But if you've yet to buy a smart speaker, and want one that extends the kinds of devices you can operate with that speaker, the Echo Plus is a good choice. You won't regret it on the music front, and we suspect you won't miss the other features — particularly if you've never had them to start.
Pros:
Great sound
Temperature sensor for indoor readings
Acts as a Zigbee hub
Local voice control even if Wi-Fi or internet goes down
Cons:
Can't access full features of some Zigbee devices
Problems getting temperature sensor to trigger Routines
Works with a limited number of Zigbee products
Specs
Size: 5.8" x 3.9" x 3.9" (148 x 99 x 99 mm)
Weight: 27.5 oz. (780 grams)
Alexa: The Alexa app works with Fire OS, Android, and iOS devices.
What's in the box: Echo Plus, 30W per adapter and a Quick Start Guide
Warranty: 1-year limited warranty and service
Audio: 3.0" (76.2 mm) neodymium woofer and 0.8" (20 mm) tweeter
Zigbee: The built-in ZigBee smart home hub supports ZigBee light bulbs, locks, sensors, plugs, and in-wall switches.
Wi-Fi: Dual-band Wi-Fi supports 802.11 a/b/g/n/ac (2.4 and 5 GHz) networks. Does not support connecting to ad-hoc (or peer-to-peer) Wi-Fi networks.
Bluetooth: Advanced Audio Distribution Profile (A2DP) support for audio streaming from your mobile device to Echo or from Echo to your Bluetooth speaker. Audio/Video Remote Control Profile (AVRCP) for voice control of connected mobile devices. Hands-free voice control is not supported for Mac OS X devices. Bluetooth speakers that require PIN codes are not supported.
Like GearBrain on Facebook