Like GearBrain on Facebook
Robot vacuums are one of the easier ways to smarten up your home, a rolling bot that vacuums and mops your space all on its own. Dser is a brand of smart vacuums that are likely to appeal to the budget-conscious, with none of their vacuums ringing up at much more than $200. We had a chance to test the top of their line, the RoboGeeK 23T, priced at a very frugal $220. Here's how it fared in a real home.
Meet the Dser RoboGeek 23T
Dser is a company out of Shenzhen, China that focuses on budget robot vacuums. The vacuums have the typical look that most do — round with front bumpers and black. They also work off an app, Dser's own called DserLife.
We tested the RoboGeek 23T, which is the company's most expensive vacuum. It has the same suction power as the next model down, 2200 Pa, but can be controlled via an app through a smartphone. The differences between each model is very subtle, but with the 23T in short you get a thin, 2.83-inch thin, robot that can run for 100 minutes on its 1600 mAh battery. There's also a 600 ml dustbin — a decent size — with a cotton filter that can be cleaned and reused.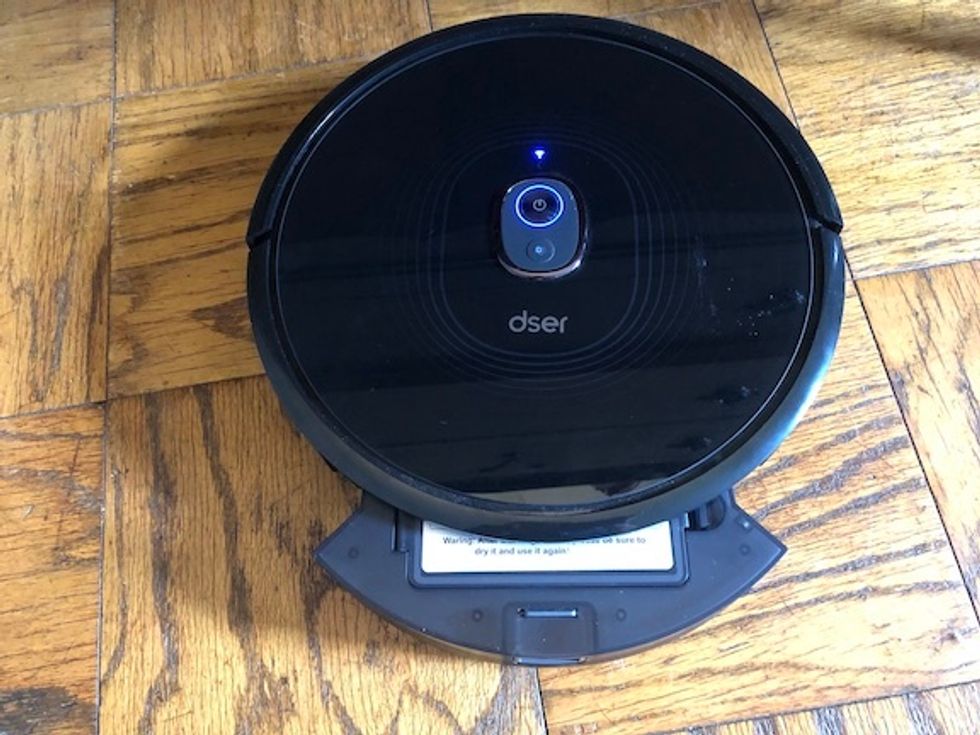 The Dser RoboGeek 23T has a bin that can be emptied from the frontGearBrain
How to get started

Like many robot vacuums, you start by charging the device. You get the robot and a dock in the box. Plug that in and get the RoboGeek 23T started.
Next, you'll want to download the Dser app. Only two of Dser's robot vacuums work on its app, the 21T and the 23T. Note that the robot will also only connect over 2.4 GHz and not 5GHz, so make sure your router can support both. The app is very simplistic, letting you check the status of the 23T, send it back to its charger, start its cleaning mode and stop. You can also use a remote control feature in the app which lets you direct the robot, driving it as you would a toy car.
There are different cleaning modes available to choose in the app including spot cleaning, where it will basically turn in a circle to deep clean a specific area, and also edge, which keeps it along walls and other edged areas to clean those more thoroughly. Finally, you can add schedule the robot to clean at a specific time, and set that to repeat on certain days of the week as well.
How the RoboGeek 23T worked
Let's be clear — the RoboGeek 23T is a fast vacuum. It tears around the floor, from wood floors to rugs, very quickly. We couldn't find a way to slow the robot down, and we didn't find that moving fast necessarily made the vacuum clean any better.
We also couldn't find a way to get the 23T to map rooms as it cleans Many robot vacuums have the ability to read and then map the areas where it travels. That ability means you can send a vacuum to a specific room, or keep it out of an area. You can't do this with the 23T. That's not a necessity, but mapping is a nice feature, typical with robot vacuums including the Deebot Ozmo T8 AIVI and the Roborock S5 Max.
It's easy enough to block the RoboGeek 23T from entering rooms with boundary strips that are enclosed. But the issue is the vacuum doesn't have any pattern to the way it cleans. Instead it just moves around erratically, changing direction when it encounters an obstacle. I would find it would clean part of a room, change direction and start another space before finishing.
However, the vacuum certainly picked up dirt and dust, and it did a fine job. That's really what you want from a robot vacuum: a device that picks up debris from the floor. It wasn't the strongest vacuum, but it worked — and for a very fair price.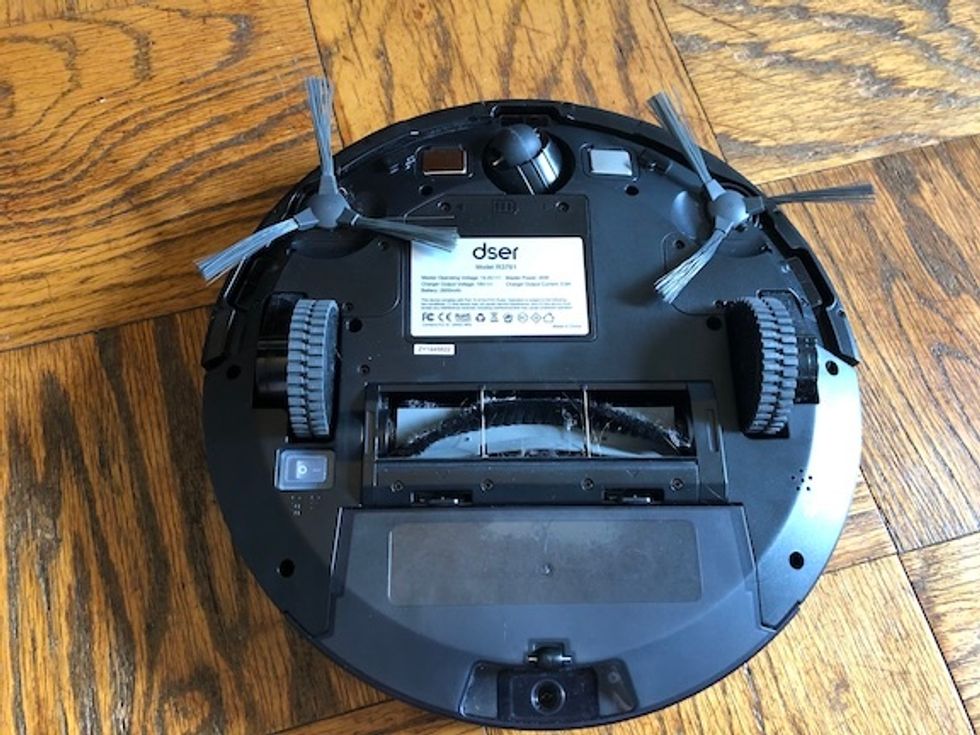 There are two fins to sweep, and a roller underneath the Dser RoboGeek 23T GearBrain
Smart Home connections

We know that some reviews have mentioned that you can connect Amazon Alexa and Google Assistant to Dser. We spent two days alone just trying to do this. We finally got Alexa to link to the Dser 23T, and only sporadically. This was not simple. We've outline how to connect the Dser 23T to Amazon Alexa, which we were able to do sporadically — we were able to get the Alexa Skill to connect once. And while we were able to link Google Assistant to the robot, we couldn't get Google's smart assistant to actually control the robot.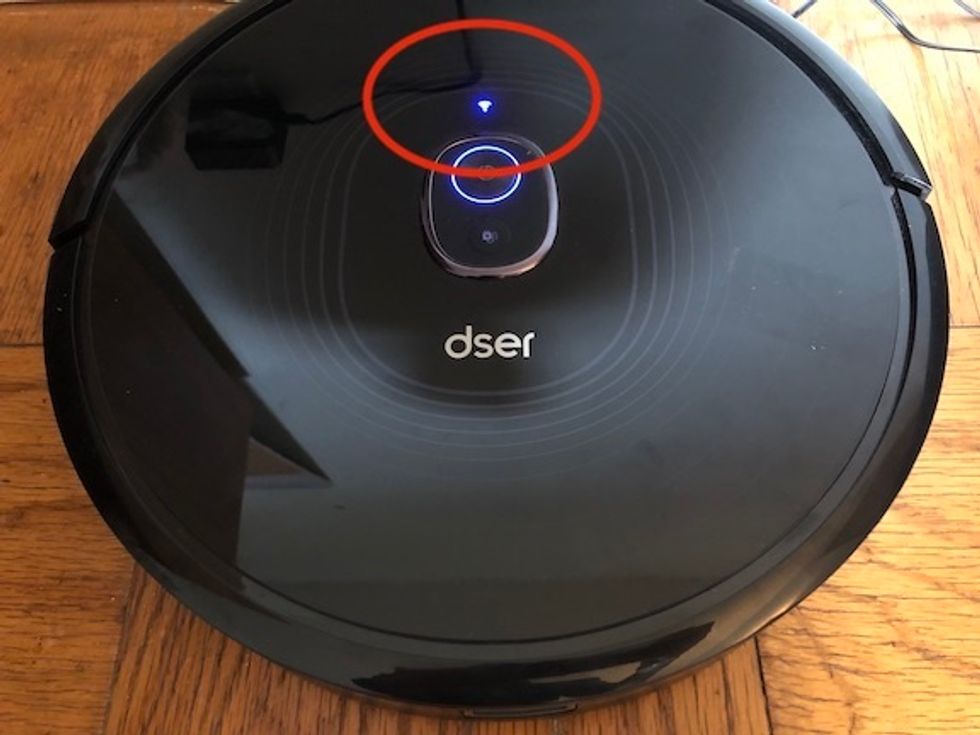 Make sure this light, in the center of the highlighted area, is blinking rapidly to connect to BluetoothGearBrain
Note that on the Amazon listing, the RoboGeek 23T claims to work with both Amazon's Alexa and also Google Assistant, both company's smart home AI assistants. That fact is not, however, mentioned on the company's web site. Amazon's listing also says there are videos on the Dser web site showing how to link the robot vacuum to these smart home assistants. We could not find these either. Again, the only video we found was on YouTube.

While we can see that Alexa was once able to connect, the amount of time to set this up, and then try again to reconnect does not make this a smart home option that's really workable for anyone in our opinion.
Price
You can pick up a Dser RoboGeek 23T for just $219.99 on the Dser site, and for a bit more on Amazon, with free shipping.
dser RoboGeek 23T Robot Vacuum, 2200Pa Super Suction, Wi-Fi Connected + dser RoboGeek 21T Robot Vacuum, 1600Pa Super Suction, Wi-Fi Connected
Worth Buying

As a cheap robot vacuum, the Dser RoboGeek 23T does its job. That means it will sweep up and collect a lot of dirt and dust on your floor, and make it easy for you to dispose of that debris into the trash.
However, the Dser 23T falls short of many of the smart home features other robot vacuums have built into their systems. This includes mapping capability, and crucially the ability to link to smart home assistants including Amazon Alexa and Google Assistant. We had a lot of trouble linking Dser to Alexa, and couldn't make Google Assistant connect at all.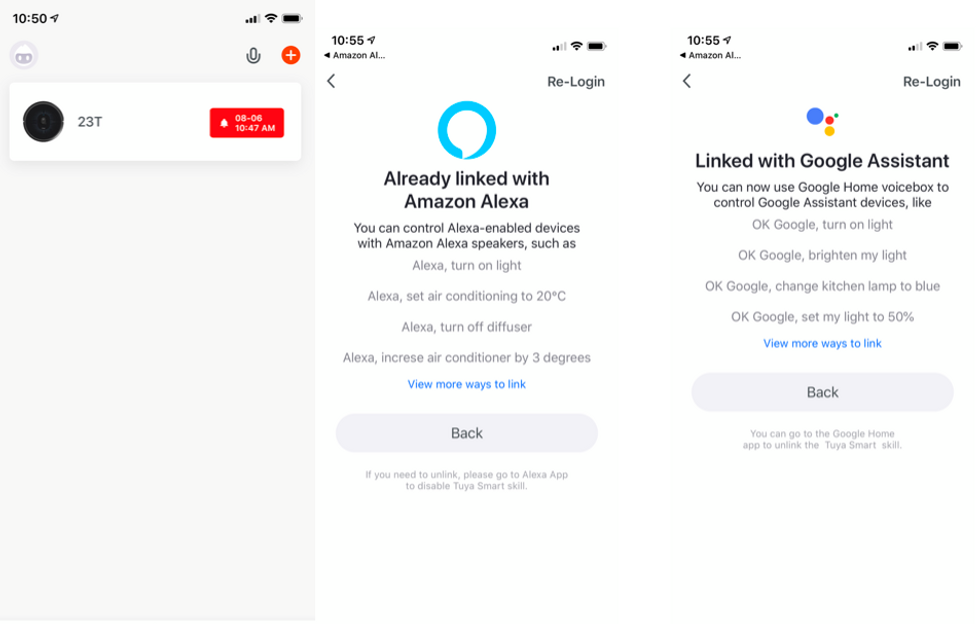 Despite getting both the Dser and Tuya Smart apps connected, and linking Alexa and Google Assistant to Tuya, we had trouble getting the robot to work with the two smart assistantsGearBrain
The robot did connect to the Dser app, meaning we could operate it and even schedule it to work through a mobile link. And that was good. We also found it did a good job sweeping up on both rugs and hard wood floors.

We think if you're looking for a budget device, and you're not concerned about having your robot vacuum speak to a smart assistant, the Dser RoboGeek 23T is fine to consider. If you're looking for that next step, a smart home device that can also work via two of the major smart assistants, we don't think this is the robot vacuum to consider.
Pros:
Price
Simple to use via app, remote control device and buttons on the top of the vacuum
Cleans on both rugs and hard wood floors
Cons:
Does not map
Vacuum doesn't always finish a room before moving to the next
Cannot connect easily, often at all, to smart home assistants Google Assistant nor Amazon Alexa
Like GearBrain on Facebook