Like GearBrain on Facebook
In late-July, Amazon began rolling out a useful update to the Alexa smartphone app, putting the assistant's own features and skills front-and-center, and helping to personalize the experience for each user.
For new users, the Alexa app now helps you discover some of the assistant's key functions. Previously, dipping a toe into the Alexa app quickly resulted in being swept away by a confusing collection of skills.
Read More:
The skills are still here – many of which you will never, ever use – but now Alexa's core features are brought to the front and explained more clearly than ever.
The screenshots below show how the new Alexa app will look to new users, and for those who haven't used the assistant for some time. That includes me, as I've mostly stuck with Google Assistant since moving to a new house last year.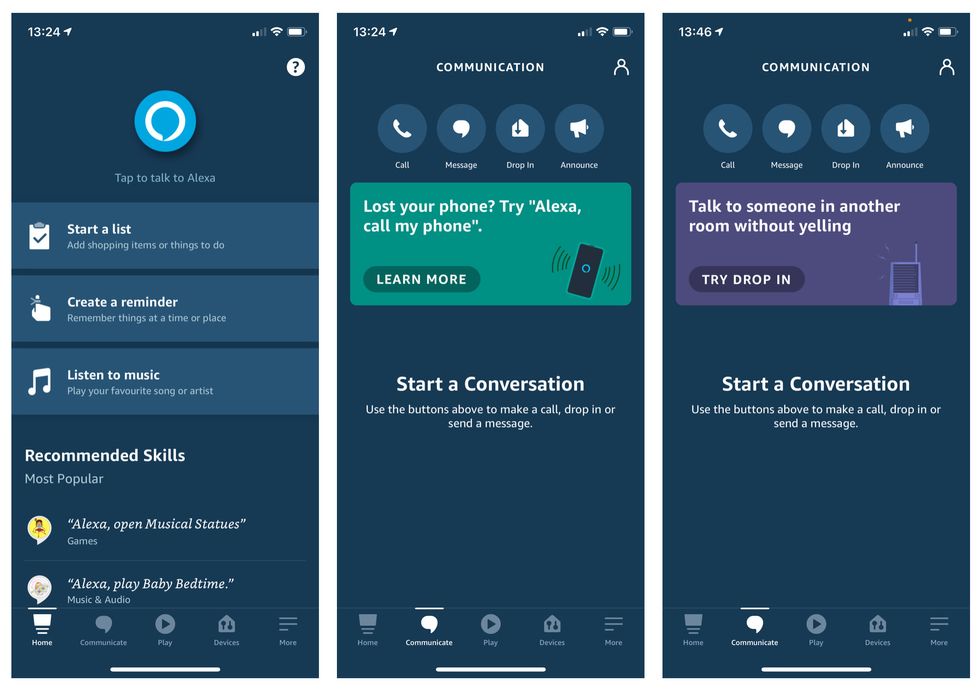 New-look Alexa home screen puts primary functions firstGearBrain
Shortcuts
As you can see, the home screen features shortcuts to some of Alexa's core functions, like creating a list or reminder, and listening to music. Tap on any of these, and you are taken straight to that feature, along with prompts for what to say to Alexa, such as "Alexa, add a reminder."

Refreshing the home screen by swiping down and releasing (or by opening the app again later in the day) will see new options and suggestions appear. For us, we were later invited to try Skype calling with Alexa, with a button to help sign into our Skype account to get started.
Fast-forward a couple of days and, since we haven't bothered interacting with the suggested Alexa skills, the home page now removes the skills list and instead promotes how Alexa can be used to find a misplaced phone.
After time (and with regular Alexa use both on the app and by interacting with your Echo smart speakers) the home screen will show content related to you, like your reminders and to-do lists, music playlists and alarms, depending on what you have recently used Alexa for.
This personalization of the home screen doesn't happen right away, so new users won't see anything tailored to them at first. But after regular use of Alexa, the screen will be populated by what the app thinks you will find useful.
Make Alexa always listen
You will also notice the big, new Alexa button at the top of the home page. Tap that and you'll be asked if you want to turn on 'Alexa hands free.' With that enabled, you just have to say "Alexa," while looking at any part of the Alexa app, to get the assistant's attention.

You could, for instance, open the Alexa app on your phone and leave it sitting on a wireless charging pad at your desk. Then just say "Alexa, add bread to my shopping list," and the assistant will do exactly that; the hands-free feature basically turns the Alexa app into an Amazon Echo smart speaker, whenever the app is open.
Users of Apple's new iOS 14 on the iPhone will notice a small orange dot above the cellular signal strength icon; this is a new system-wide feature to let you know an application is using your device's microphone.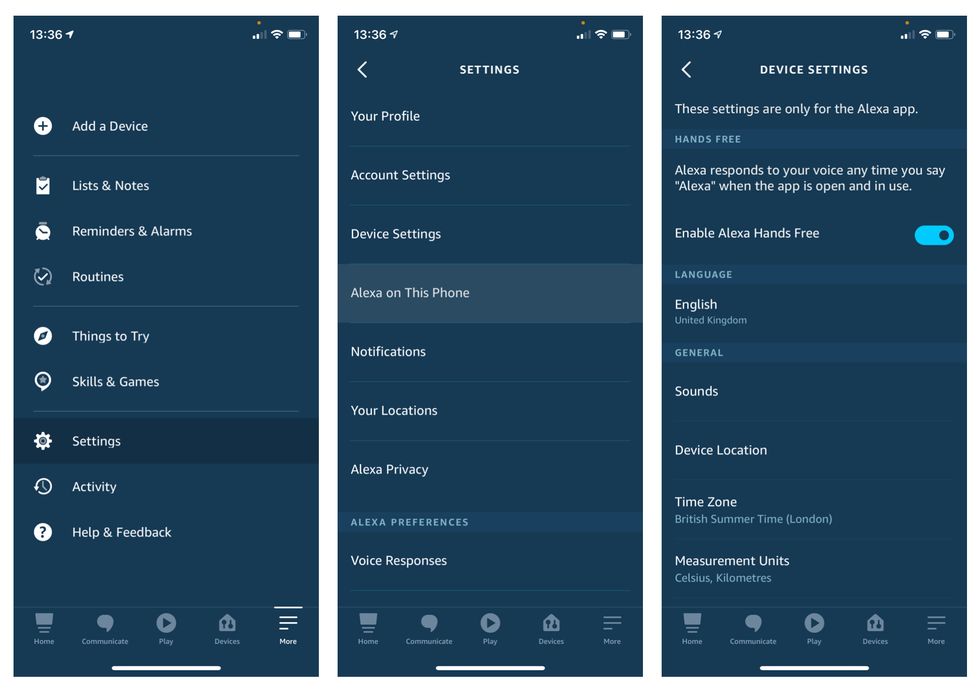 How to disable Alexa hands free in the iOS appGearBrain
If you don't want to use Alexa hands-free, you can just tap the icon at the top of the home screen to get its attention. To turn off Alexa hands free, tap on More in the lower-right corner, then Settings -> Alexa on This Phone, and tap on the toggle to switch it off.

I found the Alexa app to be a battery hog with hands-free enabled. In fact, it was the most energy-consuming app on my iPhone today, and caused the phone to warm up noticeably while in use. Keeping the microphone constantly listening for the "Alexa" hot word is clearly a drain on the battery.
Finding Skills
The Skills section is still part of the Alexa app, shown below, with the option to browse the Skills catalogue. To get to the Skills library, tap More in the lower-right corner, then Skills & Games.
This section has been tidied up to make browsing Skills by type (such as games, music, productivity) more intuitive. But we urge readers who are new to Alexa to come back to the vast Skills catalogue later. You're best focusing on the core, Amazon-built features for now.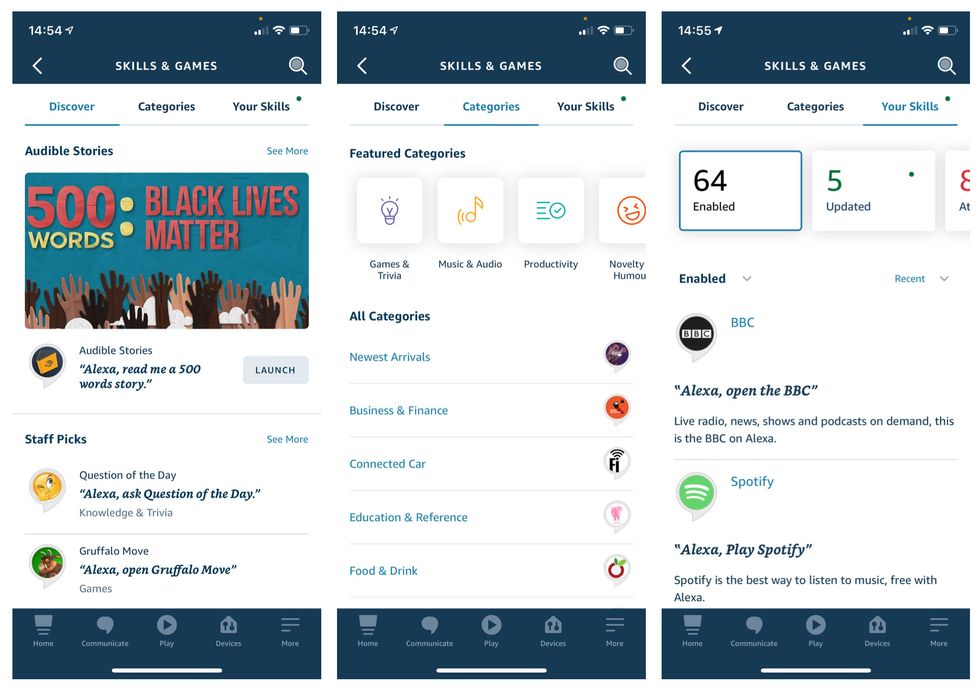 The Alexa skills catalogue is clearer and more intuitive than beforeGearBrain
Drop-In, Phone Calls easier to launch
More encouragement to try Amazon's own Alexa features comes with a tap of the Communicate tab. Here, there are buttons for using Alexa to make phone calls, send text messages, drop-in on a specific Echo device, and make an announcement on all of your Echo devices.

Since the app was updated, these buttons are now joined (at least for new users) with a prompt to try out one of the features. You can, for example, tell everyone dinner is ready by using the Announce function, or talk to someone in another room without yelling by using the Drop In feature.
This simple move by Amazon, to help explain what Alexa's features do by way of example, should help new users get to grips with the voice assistant and its many functions.
For a broader look at what Alexa is capable of, and how to use all of its key functions, head over to our complete beginners' guide.
Like GearBrain on Facebook