Like GearBrain on Facebook
The number of smart speakers owned worldwide is expected to grow by some 82.4 percent in 2019, leaping from 114 million to 207.9 million units in use globally.
This growth will see new business opportunities emerge, as smart speaker owners look to do more with them than just listen to music and stream other audio content, like podcasts, audiobooks and radio stations.
Read More:
This significant growth is forecast by Canalys, a technology analysis firm, which also says the U.S. will lead global smart speaker ownership, accounting for 42.2 percent of all such devices in use by the end of 2019.
But this could change in the following years, as China's enormous market looks set to embrace smart speakers in a big way, and the middle classes show a willingness to adopt new technologies. However, with Google and Amazon having no presence in China for now, this growth will come from local firms and, to a lesser extent, Apple.
"The growing installed base of smart speakers is an opportunity to create new business models and to drive profit beyond music and audio content streaming services," said Canalys senior analyst Jason Low.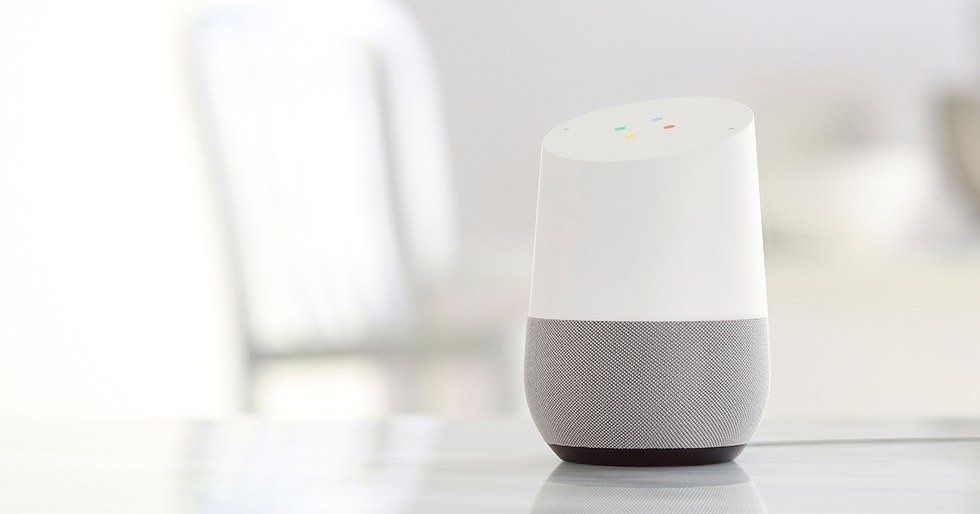 Google and its Home speaker does not have a presence in ChinaGoogle
Smart speakers include the Google Home range and the Amazon Echo collection. These devices are primarily interacted with my speaking to their voice assistants, respectively called the Google Assistant and Alexa. Apple also has the HomePod speaker, which uses the Siri voice assistant.

As well as playing music, reading news stories and weather forecasts, and answering general knowledge questions, voice assistants can also be used to control smart home devices like lights, plugs, thermostats, robotic vacuum cleaners, window blinds, and garden irrigation systems.
But the uses of smart assistants could soon extend far beyond entertainment and general convenience.
Low added: "Smart assistants are becoming a conduit to offer services, such as assisted living, healthcare and government services." Indeed, one Los Angeles hospital recently installed 100 Amazon Echo speakers in patient rooms, helping them change the TV channel with voice commands, and call for assistance from staff.
Canalys also predicts smart speaker ownership will overtake that of wearables (including smartwatches and fitness trackers) by mid-2019, and surpass tablet ownership, which has not grown since 2017, by mid-2020.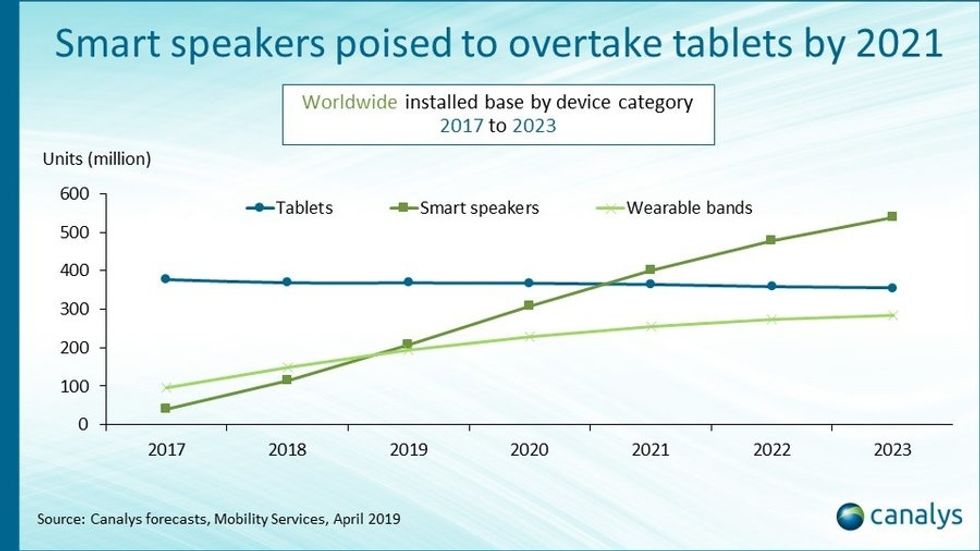 Graph showing predicted smart speaker adoption to 2023Canalys
Although the US is expected to lead the way through 2019, China will soon close the gap, reaching 59.9 million units by the end of the year, Canalys estimates, up from 22.5 million a year earlier. Much of this 166 percent growth will come from local brands like Xiaomi, Baidu and Alibaba. These firms have a small presence in the rest of the world, but are more popular than Western alternatives in China, especially Google and Amazon which do not sell smart speakers there.

While this predicted growth is good news for the smart speaker industry, and those who create software for them, developers must exercise caution.
Low adds: "Smart speakers and smart displays are relatively new device categories for service entities, and platform vendors have a responsibility to ensure that partners and developers know how to use them and their smart assistants to get the most value out of every interaction with end users."
What you need to know about Google Assistant Devices www.youtube.com
Like GearBrain on Facebook