Amazon's Echo range of Alexa-powered smart speakers continue to dominate the market, while Google's Home range follows in a distant second place and Apple's HomePod is responsible for just four percent of smart speakers in use in the US.
Data published by Strategy Analytica, a marketing consultancy, revealed how the regular Amazon Echo is accountable for 23 percent of smart speaker currently being used in the US. It is closely followed by the lower-priced Echo Dot (21 percent), and third place goes to the Google Home, which is used by eight percent of smart speaker owners.
Read More:
The Home Mini follows with seven percent, then the Amazon Echo Plus has five percent. The Echo Spot, Echo Show, Echo Dot Kids Edition and Apple HomePod have four percent each, and the high-end Google Home Max, which has a price of $400, occupies two percent of the market.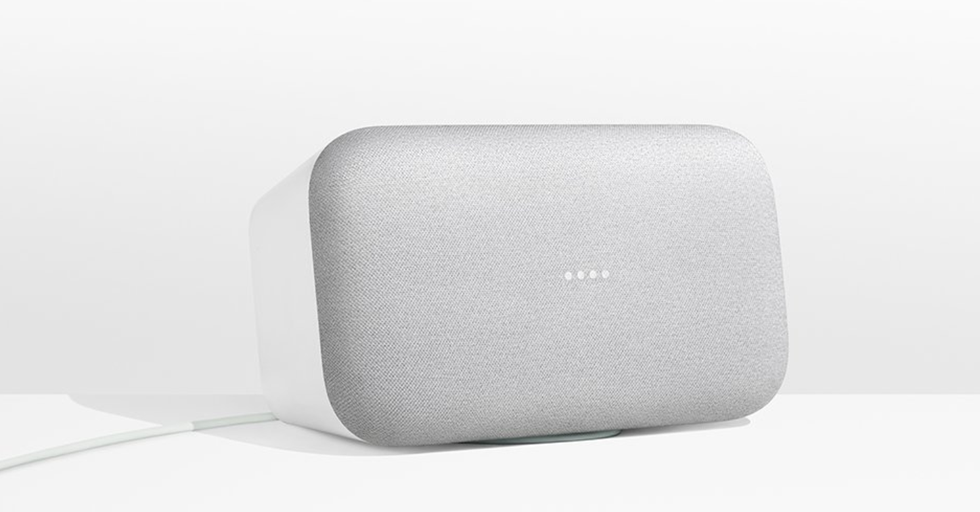 The $400 Google Home Max has just 2% of the smart speaker marketGoogle
Of course, Amazon's lead is partly down to its Echo devices going on sale ahead of the Google Home and Home Mini, while the Apple HomePod is the youngest smart speaker. Data previously released by Strategy Analytics suggests Google's speakers are out-selling Amazon's, so the retail giant's lead is likely to decrease as we go into 2019.
It was also found that many consumers are happy to own a mixture of smart speakers from different manufacturers. For example, a household might have an Amazon Echo in the kitchen, and a Google Home Mini in the bedroom.

In fact, it was found that 58 percent of smart speaker users said they have two or more in their home. As for how these speakers are scattered through the home, 62 percent are in the family room, 41 percent of smart speaker-owning households have one in the bedroom, 39 percent install one in the kitchen, and a surprising 12 percent even have one in the bathroom.
What's also interesting, is how the market's three main players - Amazon, Google and Apple - occupy just over half the market, meaning 46 percent of smart speaker owners bought a device from a different manufacturer. Audio companies like Bose and Sonos are found here, while tech giant Samsung is expected to enter the market with its Galaxy Home smart speaker before the end of 2019.
Because the manufacturers discussed here do not officially reveal sales and usage figures for individual products, Strategy Analytics gathered its data by interviewing just over 1,000 smart speaker users in the US during July and August.
"Amazon and Google may dominate today's market, but this will not always be the case. Many consumers are ready to consider alternative brands, assuming they meet the high expectations identified in this study, including high quality audio, superior design and device compatibility," said David Watkins, director of smart speakers at Strategy Analytics.
Check out The GearBrain, our smart home compatibility checker to see the other compatible products that work with Google Home and Home Mini and Amazon Alexa devices.
How to Use Amazon Alexa Enabled Devices www.youtube.com