There is an argument that technology should be banished from the bedroom, with anything even vaguely smart replaced by a mechanical alarm clock and nothing else.
But in 2020 technology is in almost every corner of our homes, and just because something has a touch screen and an internet connection, it shouldn't automatically stop us from getting a good eight hours each and every night.
Read More:
Step forward the Google Nest Hub. The smaller of two smart displays currently offered by Google's Nest smart home division, the Hub is compact enough to fit on most bedside tables, and with the Google Assistant it can be used as a convenient alarm clock.
What's more, the Nest Hub intelligently adjusts the brightness and temperature of its display to match the ambient lighting conditions. This means it will dim in the evenings, and when you switch off the bedroom light it will go very dark and display nothing but the time.
I've had a Nest Hub at my bedside for the past few weeks and, while the time can just about be seen when I look at it in total darkness, the display is in no way distracting. At night, the display gives off almost no light at all.
How to set an alarm with Google Nest Hub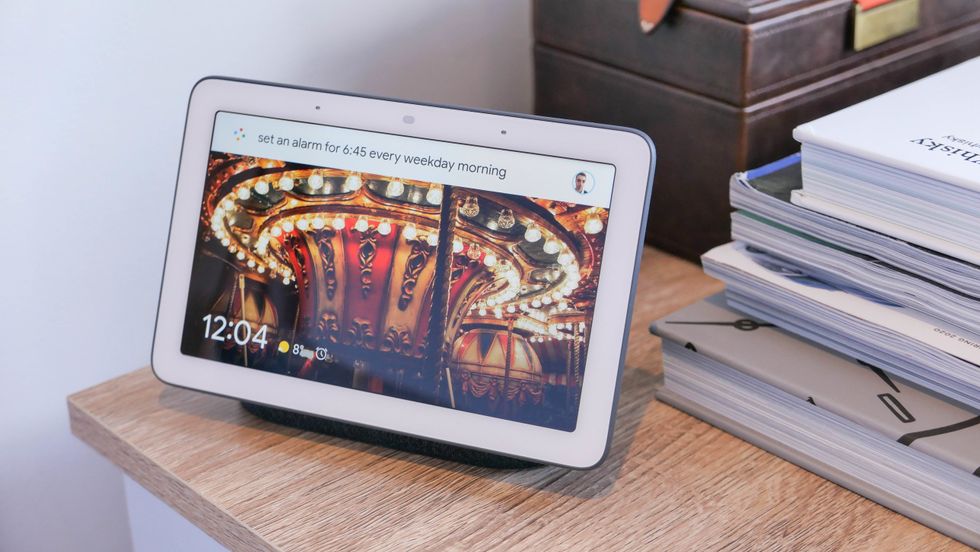 Setting an alarm is as easy as asking Google AssistantGearBrain
Once connected to your Wi-Fi network and logged into with your Google account, all you have to do to set an alarm is ask the Google Assistant.

Just say: "Hey Google, set an alarm for 7am" and that's it. You can also ask for something more complex, like: "Okay Google, set an alarm for 6:30am every weekday morning."
You can set multiple alarms for each day, a different daily alarm time, or alarms which differ depending on whether it's a weekday or the weekend. Cancelling an alarm is just a case of saying: "Hey Google, cancel the 7am alarm" or: "Okay Google, cancel all of my alarms."
Because the Nest Hub has a screen, you can add names to the alarms. For example, say: "Hey Google, set an alarm for 7am named 'take out the trash,'" and that message will appear on the screen when you wake up, reminding you of your morning chores.
You can ask to see all of your current alarms by saying: "Hey Google, show me my alarms," and they can then be deleted by tapping. It's also possible to see your alarms in silence (if your partner is already asleep, for example) by tapping at the alarm icon on the Hub's home page. From here, you can add or delete alarms by tapping - again, in complete silence.
When an alarm goes off, it rings for 10 minutes if you don't do anything to intervene. To stop the alarm, just say, "Stop.' This is one of the rare occasions where you don't need to say, "Hey/Okay Google," because the microphone is opened when the alarm sounds, meaning the Assistant is ready for your command right away. You can also tap 'stop' on the display. The alarm can be snoozed for 10 minutes by just saying: "Snooze", or you can specify a time by saying: "Snooze for five minutes."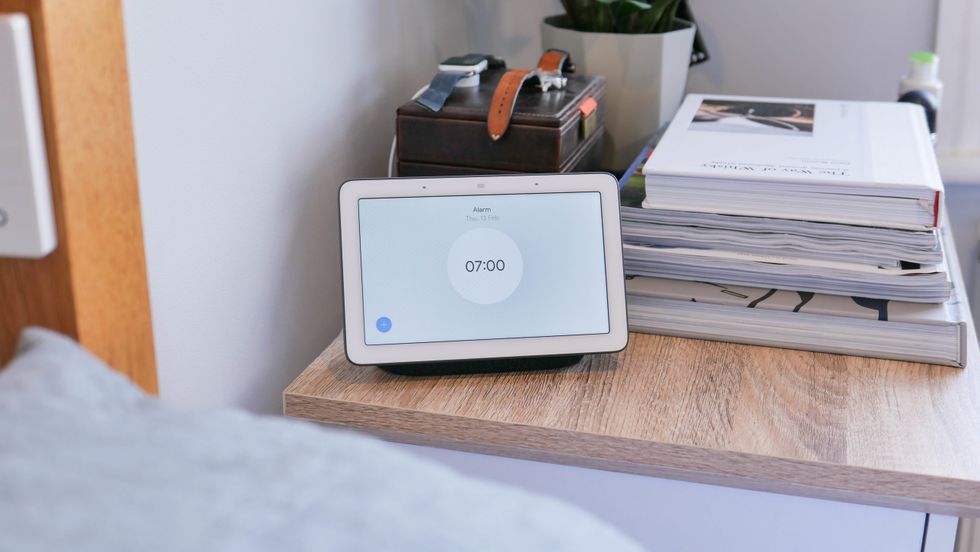 Multiple alarms can be set, by using voice or touchGearBrain
How to set a music alarm with Google Nest Hub

Unfortunately, it isn't yet possible to pick a different alarm sound, so you're stuck with the default beeping for now. However, those with a Nest Hub set to English U.S. can ask Google Assistant to play music for an alarm instead. You can ask for a specific song, artist, genre, playlist or radio station.
If your Nest Hub loses its Wi-Fi connection during the night (and thus its ability to play music) a regular alarm will play at the right time instead.
Whatever type of alarm you set, it will only play on the device you speak to. If you want an alarm to go off in two bedrooms at the same time, you'll have to set it on two separate Nest Hubs.
Finally, Google offers a selection of 'character alarms.' These are designed for children and include spoken alarms from a range of Lego characters, as well as the Teenage Mutant Ninja Turtles. These alarms are currently only available in English for U.S. and Canadian users.
To set a character alarm, ask Google Assistant in the normal way, but include the character's name when describing the alarm.
Here is a full list of character alarms available from Google, as of February 2020:
Lego City
Lego Life
Lego Friends
Teenage Mutant Ninja Turtles

Leonardo
Michelangelo
Raphael
Donatello
April O'Neil

Hatchimals
Check out The GearBrain, our
smart home compatibility checker
to see the other compatible products that work with
Google Assistant enabled devices.
Echo Show 5 - Compact smart display with Alexa - Charcoal