Like GearBrain on Facebook
Google's bid to fill our homes with its voice assistant took another step forward today, with the launch of new products from the company's Nest smart home division.
Revealed at a launch event in New York on October 15 (but heavily leaked numerous times over the proceeding weeks), the company announced the Nest Mini smart speaker and Nest Wi-Fi router, both with integrated Google Assistant. Both of these products continue Google's ambition to offer 'ambient computing' — in other words, access to the Google Assistant everywhere, in and out of your home.
Read More:
Shipping from October 22 (and available to pre-order now), the Nest Mini is a relatively small update, taking the Google Home Mini and adjusting its design slightly to make it wall-mountable. There's also a new color, a pale blue called sky, and Google said the speaker is now made from recycled plastic bottles.
Inside, the Mini's audio performance has been improved with bass which is twice as strong as before, and there's a third microphone to help the Google Assistant hear you in a noisy room.
Google says the extra bass helps to produce a "more clear and natural sound," but given its compact size and $49 price point, the Nest Mini is better suited to radio and spoken word than filling the room with high quality music. The Nest Mini has Bluetooth for connecting to your smartphone, but does not have a 3.5mm socket, so cannot be plugged into a larger and higher-quality speaker, as the equally priced Amazon Echo Dot can.
Also new is a dedicated machine learning chip inside the Nest Mini, which helps improves the speed of the Google Assistant.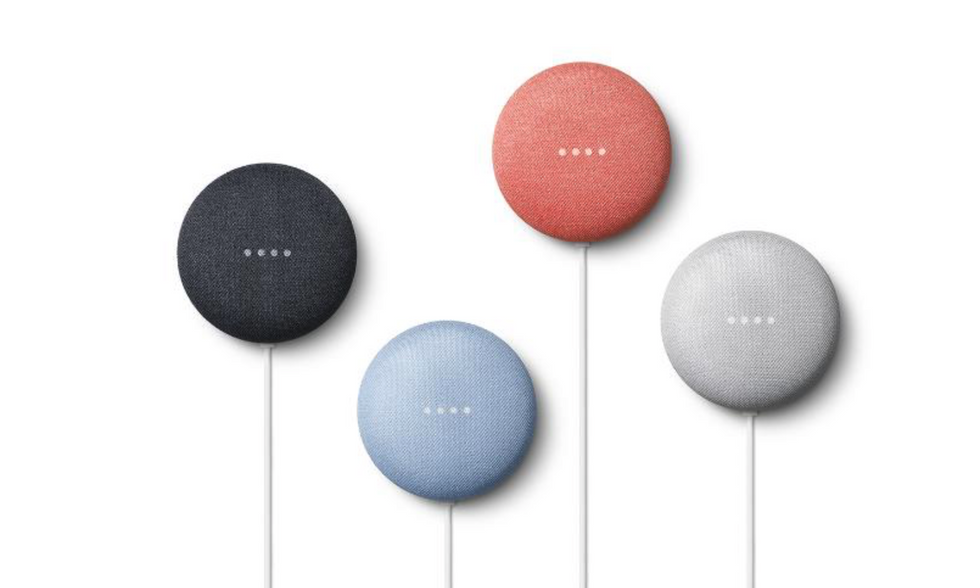 The Nest Mini will cost $49 from October 22Google
Google suggests consumers buy several Nest Minis and use them as a home intercom system and a modern replacement to the traditional landline telephone, as Nest speakers can now make and receive phone calls via Google Duo. Also new is how the speakers tap into the company's Nest Aware smart home security system, and will alert you via your smartphone if they hear your dog barking, or the sound of a smoke alarm.

Speaking of Nest Aware, Google has simplified this service and now offers two tiers at $6 and $12 a month. These both work with an unlimited number of Nest products — including cameras, doorbells, smart speakers and displays — and both include cloud vide storage. For $6 this is stored for 30 days, while the $12 tier stores video for 60 days and also includes 10 days of 24/7 video history — not just footage of events detected by your Nest products.
Nest WiFi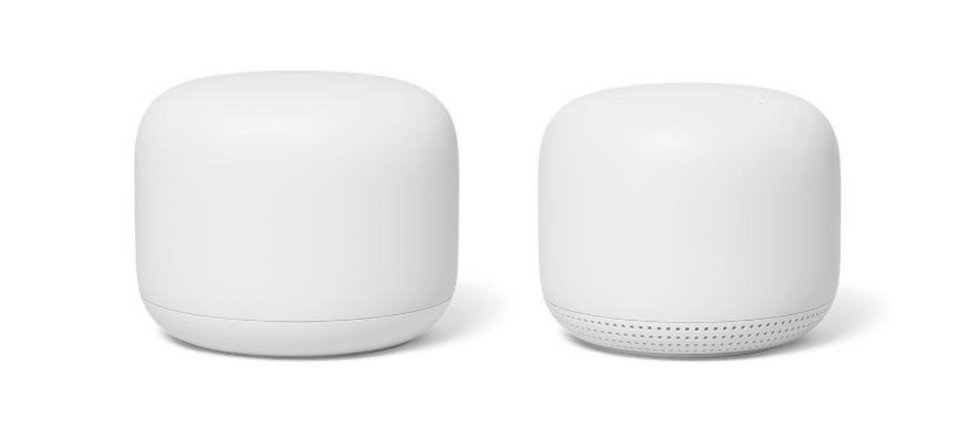 The Nest WiFi comes with a booster 'point' and costs $269Google
Next up, Google revealed the new Nest WiFi, which ships from November 4. An update to the Google WiFi, this device comes in two parts. First there is the router which attaches to your internet modem like any other, then broadcasts a Wi-Fi network across your home.

This $269 router also now comes with what Google is calling a 'point', which acts as a signal booster. This helps carry the Wi-Fi signal further through your home, and the point itself doubles as a Nest Mini smart speaker.
This means the point has a microphone and speaker, so can be used to interact with the Google Assistant and play music is you so wish. You can also tap the point to play/pause music and adjust the volume, just as you can with the Nest Mini.
Nest WiFi Router Available for Pre-Order at Best Buy and Walmart for $169
The Nest WiFi also comes with some internet-specific commands for the Google Assistant; for example, you can ask it to run a speed test on your network, or ask the router to temporarily disable internet access for certain devices, like your kids' smartphones at dinner time, or after they've gone to bed.
Google also said the new Nest WiFi is optimized for Stadia, the company's new video game streaming platform which launches on November 19. Finally, the Nest WiFi with one point is claimed to provide full coverage for 85 percent of US homes. However for larger properties, Google is selling a kit with a router and two points for $349. Both options go on sale on November 4.
Despite it now being three years old, Google said nothing about the Home, its original smart speaker. We thought the company might have updated it at this year's hardware event, or at least mentioned it will be getting its name changed to the Nest Home. The Google Home remains for sale in Google's online store, and bizarrely so does the original Home Mini, which sits alongside the equally-priced Nest Mini.
Works With Google Assistant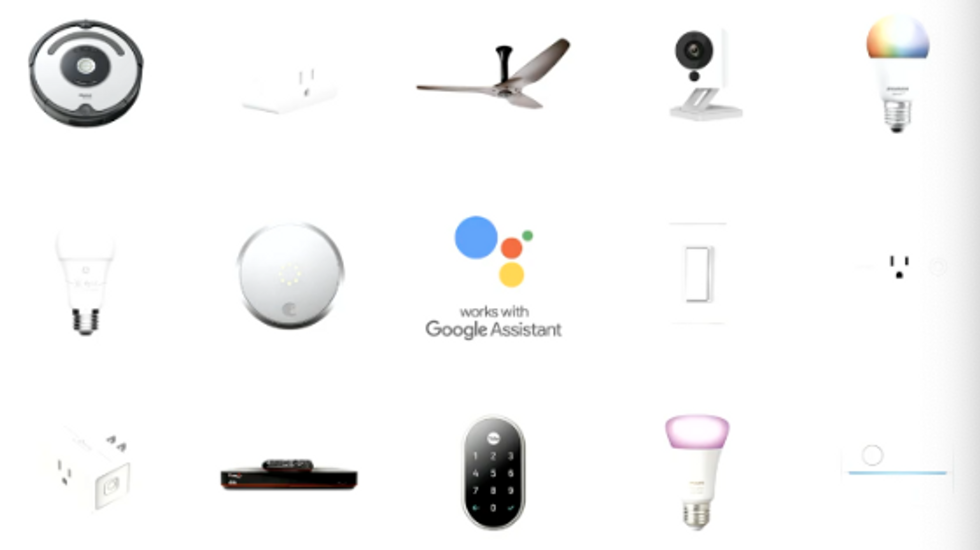 Devices joining the Works With Google Assistant platformGoogle
Finally for the smart home, Google mentioned its ongoing transition from the Works With Nest platform to the new Works With Google Assistant system. The company said how it is working with smart home device makers to make this transition as easy as possible, both for manufacturers and their customers.

Google briefly showed a slide, above, with a range of smart home devices it is working with directly, in a bid to make setting them up with Google Nest products easier. These include iRobot, Wyze, Philips Hue, iDevices and Yale.
Check out The GearBrain, our
smart home compatibility checker
to see the other compatible products that work with
Google Assistant
enabled devices.
Yale Assure Lock SL with Z-Wave Plus - Key Free Door Lock with Touchscreen Keypad - Works with SmartThings, Wink and More (YRD256ZW2619) in Satin Nickel
From Your Site Articles
Related Articles Around the Web
Like GearBrain on Facebook