Like GearBrain on Facebook
Google's all-new Chromecast movie- and TV-streaming device is significant for a couple of reasons. To start, it comes with its own remote for the first time, and second, it is the first device to use Google TV.
Not quite the same as Android TV (and not replacing it, either), Google TV is the company's new platform that it hopes will convince consumers to switch from Roku, Apple TV, Amazon Fire TV and other streaming platforms.
Read More:
The first Google TV
The first incarnation of Google TV actually arrived back in 2010, a joint project with Intel, Sony and Logitech. It was a platform that combined the Android mobile operating system with the Google Chrome web browser, but was designed to work on televisions instead of smartphones and computers.
LG, Samsung, Hisense and others also got involved, and in 2014 it morphed into Android TV, which gave casting technology its debut. Still with us today, Android TV went on to become a smart television platform used by a range of manufacturers, including Sony, Hisense and Philips. Where televisions by Samsung, for example, use their own interface for apps and other connected services, televisions by Sony and others use Android TV as the operating system.
The new Google TV
At its simplest, Google TV is the interface the Chromecast should always have had. All previous models of Chromecast (and the 4K-compatible Chromecast Ultra) were controlled via smartphone, and only showed a screensaver on the TV screen. Users then picked what they wanted to watch on their phone, then directed that content at the Chromecast to play it on the big screen. Or they could ask the Google Assistant on a nearby smart speaker to cue up content for them.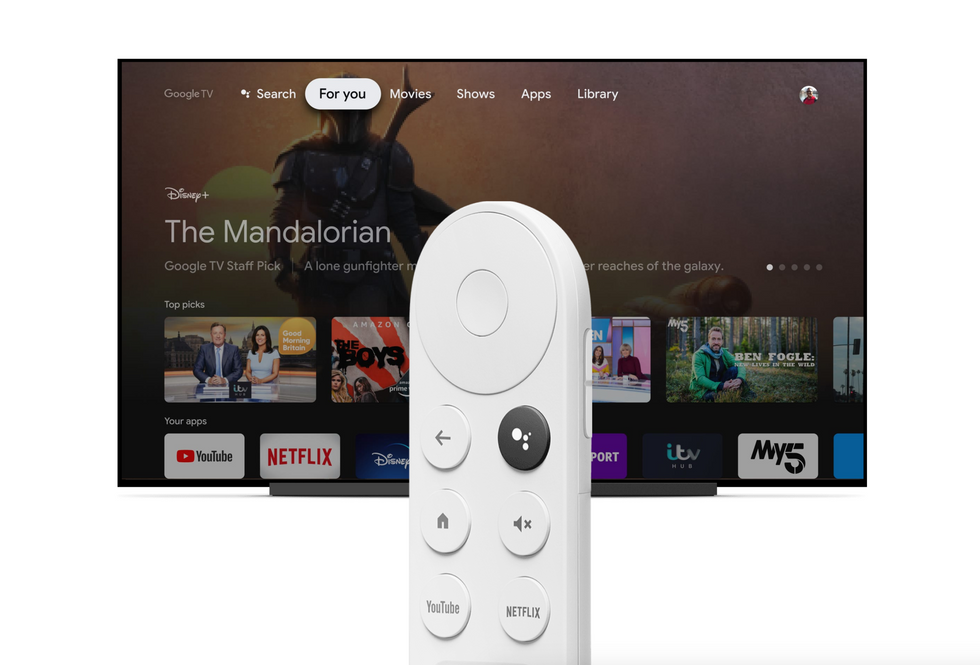 Google TV comes on the new Chromecast, which has a remote for the first timeGoogle
This setup worked well enough, but went against the grain when compared to services from Apple, Amazon and Roku. They have some elements of smartphone app support too, but are primarily controlled using a traditional remote, like the one every TV user on the planet is familiar with at home.

Now with Google TV baked in, the new Chromecast comes with its own dedicated remote, and a user interface. Much like using an Apple TV or Roku, Chromecast owners can browse around the Google TV interface using the remote, or ask the Google Assistant to find something to watch. The Assistant will also come up with suggestions based on viewing habits and preferences.
Like its rivals, Google wants to tear down the walls that force views to flick between streaming services, like Netflix and Hulu, in order to find what they want to watch. Instead, with Google TV, people will be able to search for what they want and it will appear, as long as they have an account and subscription for the service that shows it. There's also live content via YouTube TV, plus access to Netflix, Amazon Prime Video, Disney TV+, HBO Max, Hulu and more.
As well as live and streaming content, Google TV taps into Google's Nest smart home platform, so you can view a live feed from your Nest video doorbell on the TV. You can also add the Chromecast (and the TV or sound system it is connected to) to a Nest speaker network for playing music.
How is Google TV different to Android TV?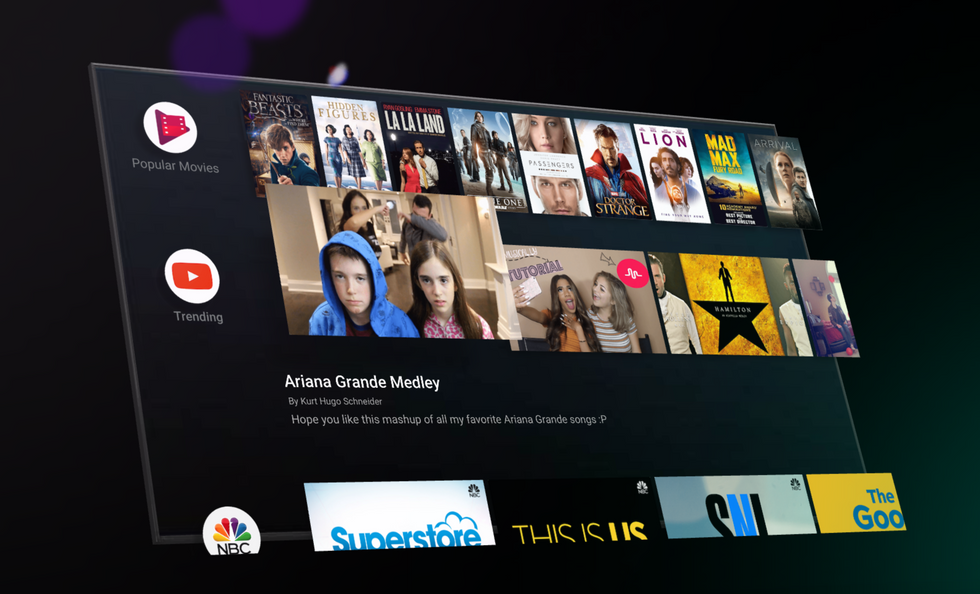 Android TV is the operating system on which Google TV runsGoogle
Rather than being a replacement for Android TV, Google TV is a new user interface that sits on top of it. Android TV is an operating system that works on a range of devices, including televisions and set-top boxes, and includes games and other apps. On the other hand, Google TV is primarily a way to find content from various streaming services, with help from the Google Assistant and the company's Knowledge Graph.

As such, while Google TV is only appearing on the new Chromecast for now, we can expect to see it roll out across Android TV products in the future, including TVs and set-top boxes. This could happen via a software update, but we think it is more likely the new software will be introduced as new Android TV hardware arrives.
This is because a chief component of Google TV is the Google Assistant, which is accessed via the microphone of the Chromecast's new remote. We suspect future Android TV devices will have Google TV installed and a remote with an integrated microphone bundled with them.
We can see a future where Google TV grows to the point where it becomes a rebranded Android TV. We do know that Google plans to bring Google TV to third-party products at some point in 2021. But for now, Google TV remains a user interface built on top of Android TV, as Google likely watches if the new Chromecast can steal market share away from Roku, Amazon and Apple — and then potentially integrates the device more into smart homes, with a Google Assistant-driven smart home interface becoming a part of Google TV.
Like GearBrain on Facebook