Like GearBrain on Facebook
With the streaming wars between Netflix, Amazon, Apple and Disney well underway, it's time to look at two of the biggest players in the streaming device space: Google and Roku.
These two companies both sell a range of streaming products which attach to your TV, connect to your Wi-Fi, and provide access to most of the best known streaming services. But there are as many differences as similarities here, so let GearBrain help work out which is best for you.
Read More:
Roku vs Chromecast: Hardware and specifications
Regarding Chromecast, Google sells just two video streaming products, the regular Chromecast and the Chromecast Ultra. The former costs just $35 but can only stream at 1080p Full HD resolution, while the Ultra can manage Ultra HD 4K with HDR, as well as HDR10+ and Dolby Vision.
Picking between these two comes down to budget, whether or not you have a 4K TV, and if you already subscribe to streaming services with 4K content. You will also need to ensure your internet and Wi-Fi network is up to the task of streaming 4K.
As for Roku, there are more options to consider. The cheapest is the $30 Roku Express, which offers Full HD streaming and comes with a regular infrared remote. For an extra $10, the Roku Premiere adds Ultra HD with HDR capabilities.

Roku's streamers range from sticks and boxes to sound barsRoku
Then there's the $50 Roku Streaming Stick Plus, which is a stick that plugs directly into the back of your TV (whereas the previous two Rokus are small boxes that sit below the TV). The Stick Plus handles Ultra HD and HDR, comes with a remote that lets you search with your voice, and faster 5GHz Wifi.

The Roku Ultra costs around $80 and is a larger box that sits beneath your TV. It runs Ultra HD with HDR, has an Ethernet port for a more stable connection to your router, and the remote has a headphone socket (and included earphones) so you can watch TV at night without disturbing anyone.
Finally, the $180 Roku Smart Soundbar is — no prizes for guessing — a sound bar with integrated Roku functionality. It works with Ultra HD and has a remote with voice control. Roku also sells a subwoofer to go with this, but it costs an additional $180.
We prefer streaming products which stay hidden behind the TV, like both versions of Chromecast and the Roku Streaming Stick Plus. Other Roku options can clutter space around the TV, and their reliance on infrared means they need to be in line-of-sight of the remote. This isn't an issue for the Chromecast, which is controlled over Wi-Fi.
Software and setup

Chromecast and Roku products offer a very similar set of features, but present them in different ways. Both plug into a spare HDMI socket on your TV, sound bar or amplifier, and both are powered via a USB port. This can usually be plugged into a spare port on your TV, but in some cases that won't be powerful enough, so you'll need to plug into a nearby wall outlet instead.
Once powered up, they both connect to your Wi-Fi network. But where the Roku is set up and controlled using its included remote and an operating system displayed on your TV, the Chromecast is set up and controlled using the Google Home smartphone app, which is free for iOS and Android.
Entering passwords and searching for content using the direction buttons of the Roku remote is time-consuming, but thankfully you can use the Roku smartphone app, then type more conveniently on your phone.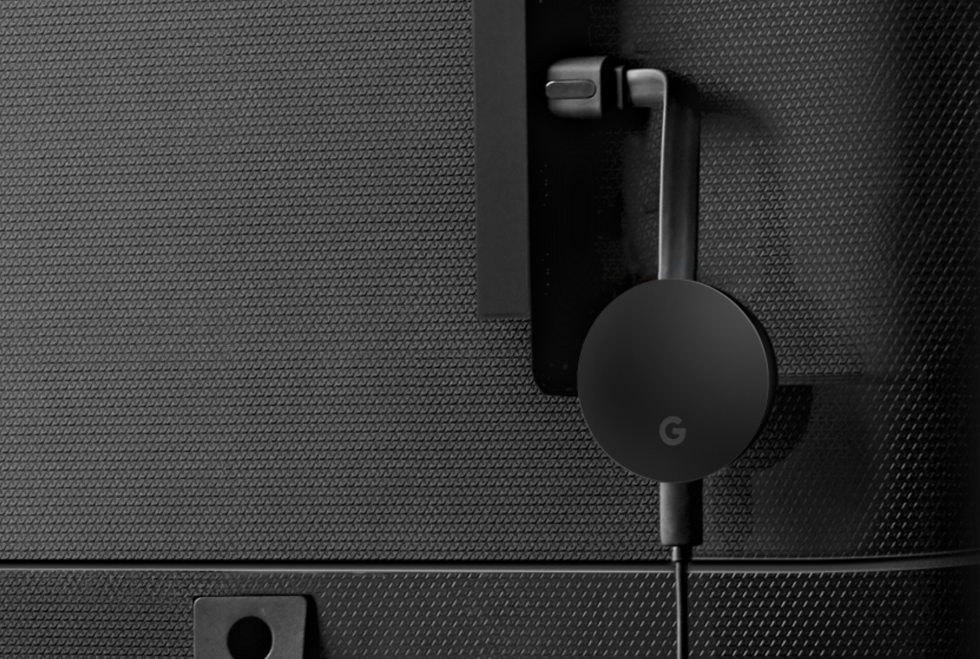 The Chromecast hides neatly behind the televisionGoogle
Once you have logged into all the apps you need (Netflix, Amazon Prime, and so on), the Roku works a lot like other TV systems. The user interface is simple to navigate, and after adding a credit card you can buy or rent movies fro, various services with ease. What really sets the Roku apart here is a global search, whereby you type in the name of a movie and the system shows you where it is available, and at what price.

In some cases, you can save money by picking one streaming service over another, or you can choose to pay more to get the film in Ultra HD. This really sets the Roku system apart from others, and it's a great benefit for consumers who don't want to waste time searching through every service for the movie they want.
Our only real criticism of the Roku system is how the remote lacks volume buttons, so you'll have to reach for the TV remote to adjust the level.
The Chromecast doesn't have an interface of its own, beyond a screensaver which shows the date, time and weather, and slowly flicks through a set of default wallpapers, or images from your own Google Photos library.
Instead, you play content on the Chromecast by opening the relevant app on your phone (Netflix or YouTube, for example), then tapping on the cast icon, and picking your Chromecast from the list. The content will then play on your TV.
Contrary to popular belief, the content is not being sent from your phone to the Chromecast. Instead, your phone has merely told the Chromecast where to go for the content, which is then streamed from the router to the Chromecast.
You can adjust the volume with the buttons on your phone, and control content by tapping at the screen. You can also speak to the Google Assistant to play or pause content, and search for what to watch. This includes the Assistant app on your phone, as well as Google and Nest smart speakers and displays.
What's nice here is how you can, with the TV switched off, say "Hey Google, play the next episode of 'The Crown,'" to your phone or smart speaker and the Chromecast will switch your TV on, turn it to the right input, open Netflix, then play the next episode.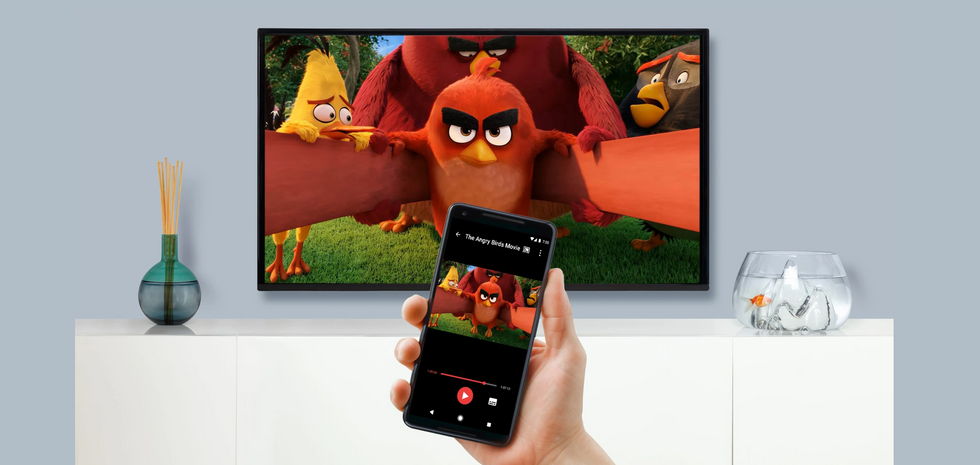 Chromecast uses your phone as the remoteGoogle
Available content

For most viewers, there will be no real difference between the content offered by either system. Until recently, Amazon Prime Video was missing from Chromecast, but this is no longer the case, so all major services are present and correct.
Roku claims to offer over 1,800 channels in its store, including Apple TV, Hulu, Disney+, Sling, Plex, Vevo and Pandora, as well as Google Play and catch-up TV services from the broadcasters in your region.
Many of these are available on the Chromecast too, but there's no search function to find available apps and channels. Instead, you need to install the app on your phone, then cast it to your Chromecast. Some users won't mind, but this means filling your phone up with a potentially huge number of streaming TV and movie apps, many of which you might not use away from the home.
Ease of use
For us, the Roku system feels more suited to watching TV, thanks to its user interface, global search, range of apps and channels, and proper remote control.
The Chromecast is a more convenient way of showing your friends something on YouTube — just open the video on your phone and tap the cast icon — but for sitting down and browsing, like you would with a cable box, the Roku feels more natural.
That said, we prefer the Chromecast's design and how it can be hidden behind the TV. Voice control is also a fun thing to have, and pausing the TV with a quick 'hey Google' can sometimes be easier than searching for the remote.
Ultimately, these are two different ways of achieving the same result. The Roku is a destination device; you go to it, open the menu and search around for something to watch. Whereas the Chromecast is a convenience device, where you have already found what you want, on the Amazon Prime Video app for example, then use the Chromecast to play it on your TV.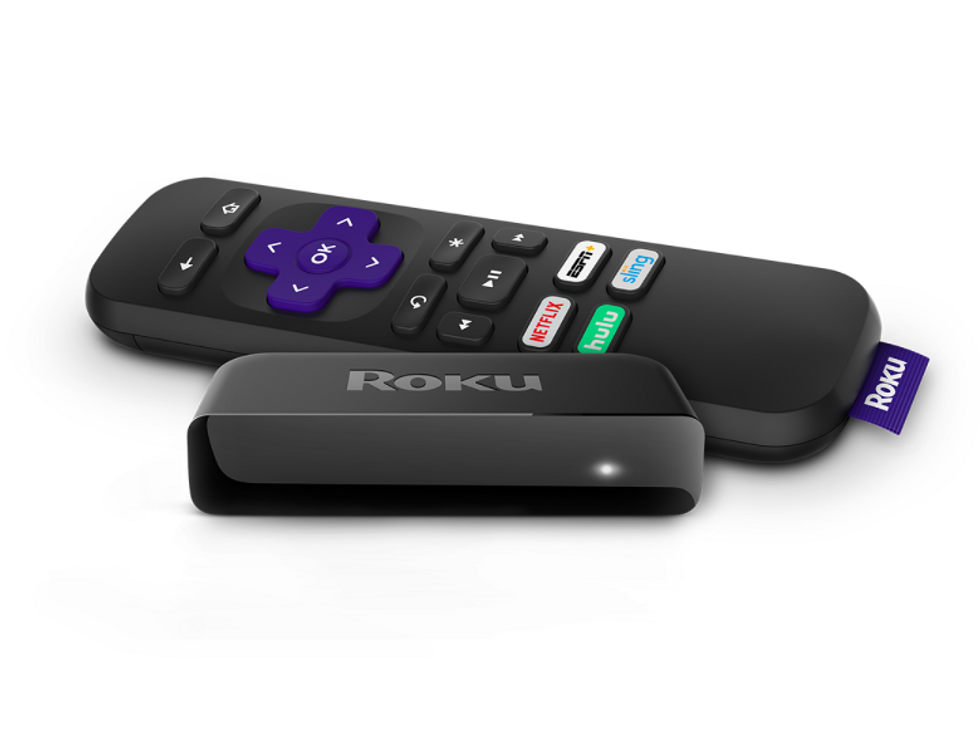 The Roku Premiere is compact, but still clutters the front of your TVRoku
Value and verdict

Whether you want regular HD or Ultra HD resolution, Roku is the cheaper option. The HD Roku Express undercuts the Chromecast by just $5, but the Ultra HD Roku Premiere undercuts the Chromecast Ultra by a chunky $30.
If Ultra HD is what you want, then the Premiere offers great value for money. But we prefer the hidden-behind-TV design of the Chromecast Ultra, and for those who are considering Google's Stadia gaming system, you'll need an Ultra for that.
Roku feels more like a traditional TV-viewing experience, and we have no doubt some consumers will value that over the Chromecast's phone-based system.
There is no wrong answer here, unless you want Ultra HD on a tight budget, in which case Roku is the way to go. On the other hand, the Chromecast makes sense if you are already invested in the Google/Nest smart home ecosystem.
Like GearBrain on Facebook