Alphabet, owner of Google, is reportedly interested in buying Fitbit, the producer of fitness-focused smartwatches and health-tracking wearables.
This is according to Reuters, citing unnamed people familiar with the matter. A potential price for Fitbit has not been reported, but the potential takeover has gone down very well with investors, as Fitbit's share price soared 30 percent on the news, taking the 12-year-old company's valuation to $1.46 billion. Neither company has commented on the potential acquisition.
Read More:
If Alphabet were to acquire Fitbit then it would help bring Google back into the wearable race, where it has struggled to compete against the dominant Apple Watch. Despite launching Android Wear, which later became Wear OS, just as smartwatches began to take off back in 2014, Google is yet to launch a wearable of it own.
Instead, the company's smartwatch software has been used by a range of other manufacturers, but has fallen behind Apple's watchOS and Samsung's Tizen in recent years. Despite early successes with the popular Moto 360 from Motorola, and a couple of early Samsung smartwatches running Android Wear, Google's wearable ambitions were never realized.
Added to this is almost two years of rumors claiming Google is about to launch a 'Pixel Watch' to take on Apple and Samsung, but that product is yet to become a reality.
Fitbit Versa 2 Health & Fitness Smartwatch with Heart Rate, Music, Alexa Built-in, Sleep & Swim Tracking, Black/Carbon, One Size (S & L Bands Included)
Taking over Fitbit could help Google, but instead of giving it a shot at taking on Apple and Samsung in the smartwatch space, the deal could give Google a chance to make a fresh start in the fitness tracker market.

Instead of offering fully-fledged smartwatches with touchscreen displays, 4G and the ability to make phone calls, Google could capitalize on Fitbit's experience with simpler, cheaper wrist-worn fitness trackers.
This would tie in neatly with Google's general position of undercutting the competition rather than aiming for the top of the market. This is how the Pixel smartphone was first launched, and Google's smart home performance is undoubtedly aided by the low prices of its Home and Nest products.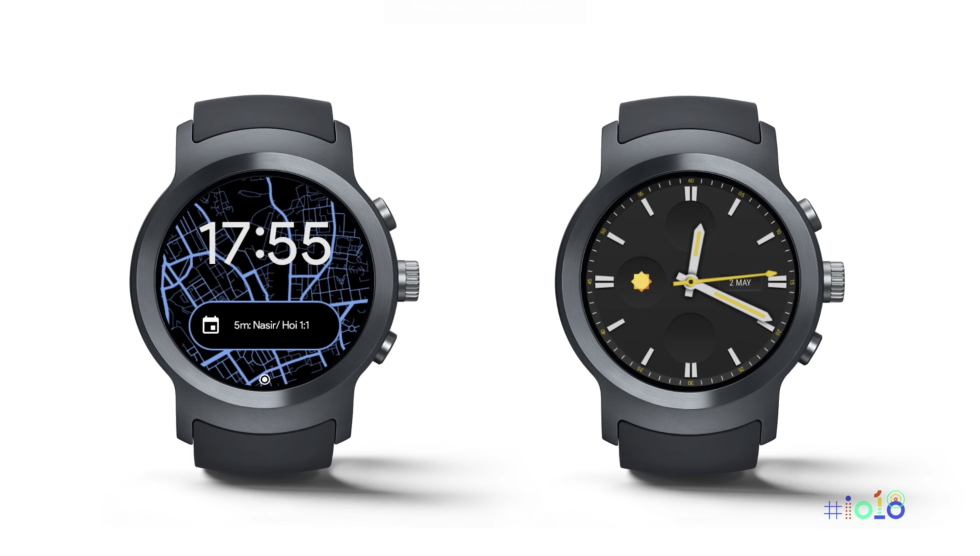 Google's smartwatch software appears on wearables by several firms Google
Google also has a keen interest in the health sector. It has developed artificial intelligence which can spot signs of lung cancer earlier than human doctors. The company's healthcare division is also invested in diagnosing diabetic eye disease, genomics, and assisting in the detection in other forms of cancer.

Fitbit is also interested in more than merely telling its users how many steps they have taken, or how much sleep they're getting. The company has partnered with health insurers and increasingly bolstered its position in the healthcare industry in recent years. In early 23018, Fitbit acquired Twine Health, a clinically proven health coaching platform, with a goal of lowering healthcare costs.
More recently, Fitbit signed a contract with the Singapore government to provide its fitness trackers to up to one million users as part of a national healthcare program.
In January 2019, Google bought intellectual property related to smartwatch technology from the watchmaker Fossil for $40 million, but hasn't yet revealed what that technology was.
Reports of an acquisition don't mean a deal is imminent, and even if it was, we might not see a Google fitness tracker for quite some time. Nevertheless, it is an interesting development which could both shake up the fitness tracker market, and give Google a second shot at making a success of wearable tech.
Fitbit Inspire HR Heart Rate & Fitness Tracker, One Size (S & L bands included), 1 Count
the fitness tracker buying guide video - GearBrain www.youtube.com