It doesn't take much imagination to understand the catastrophic damage a major water leak could have on your property — especially if the leak occurs while you are away and unable to stop it.
But this fear, of property damage and the loss of cherished possessions, can be significantly reduced by the installation of a smart water flow monitor.
These devices connect to the main pipe entering your home and constantly monitor the water flow. If an unusual change in pressure occurs, the device can alert you via your smartphone and shut off the water supply before the situation gets any worse.
Here are some smart, connected water flow monitors and shut-off systems for you to consider for your home:
Phyn - $850 plus installation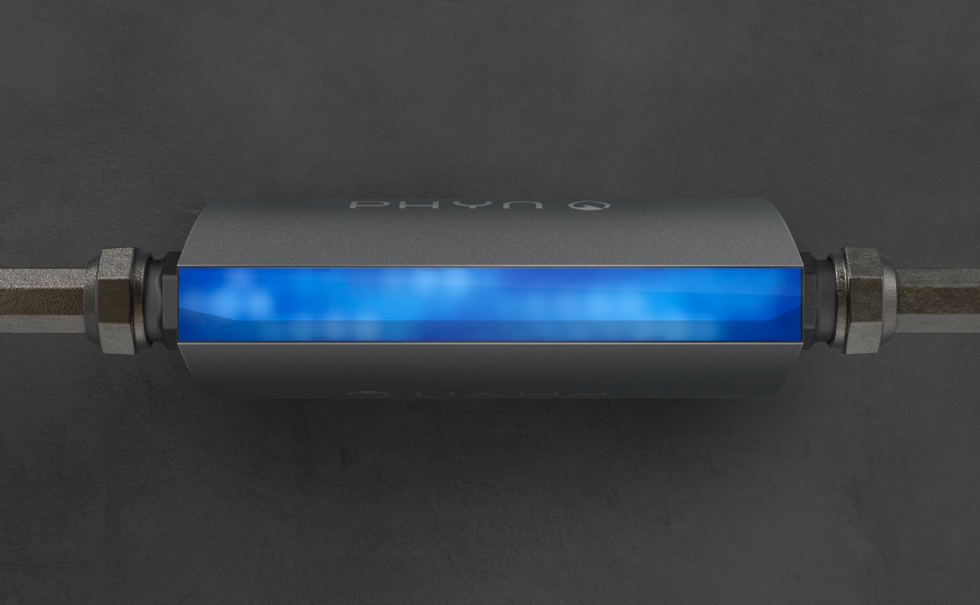 Phyn
Announced at the CES technology show in January 2018, the Phyn comes from a division of Belkin, the technology and smartphone accessory company recently acquired by iPhone manufacturer Foxconn.
Phyn claims to measure the pressure of your water 240 times every second and use this data to create a unique 'fingerprint' of your water system. This, the manufacturer says, helps Phyn to understand the difference between regular changes in pressure - when you run the shower, for example — and a burst pipe.
As well as serious damage to your pipes, Phyn also detects leaks due to frozen pipes and pinhole leaks, and will alert you when it thinks you have left a tap on, potentially resulting in an overflowing bath. Phyn connects directly to your Wi-Fi router (instead of ito its own hub) and comes with a smartphone app for iOS and Android to alert you to potential leaks.

Alerts from the app include messages like: "Your water has been flowing since 9:30 this morning. Do you know what this is?" You can then answer yes or no, see further details, and shut off the water remotely if necessary. If the rise in water flow is particularly high, Phyn can automatically shut off the supply.
Phyn is intended for single family homes and cannot currently be installed if you live in an apartment building. If Wi-Fi signal at your water pipe is weak, an external antenna can be fitted to Phyn to improve reception. Unfortunately, Phyn works alone and does not yet offer connectivity with other smart home devices or services, so there is no Alexa, Google Assistant or IFTTT support for now. (The GearBrain: see what other connected devices work with Google Home or Amazon Alexa enabled device.)
LeakSmart - from $450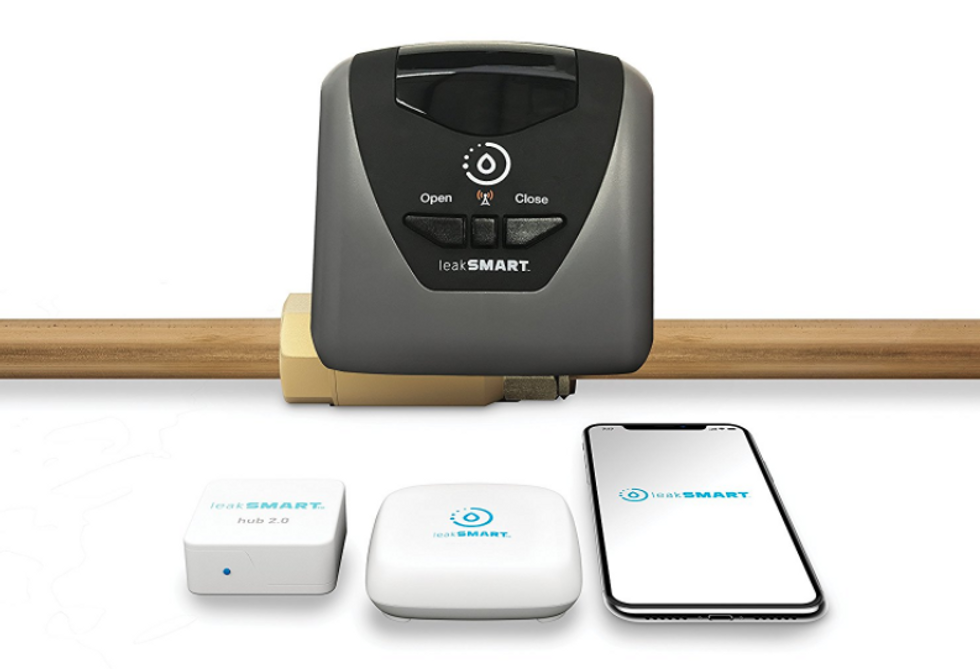 LeakSmart
The makers of this device claim it can detect and stop a water leak in less than five seconds. LeakSmart also alerts you via a smartphone notification, even if the internet is down, and the system offers compatibility with the Wink, Iris and Nest smart home platforms.
LeakSmart takes a different approach to the Phyn. Instead of monitoring the flow of water, this system uses rechargeable sensors dotted around the home to detect unexpected moisture. These can be placed under an air conditioning unit, next to your washing machine, or in a corner of the bathroom, for example.
If they detect water, they wirelessly tell LeakSmart's valve to shut off the water supply to your home, preventing any further damage. The sensors and valve talk to each other via the LeakSmart hub instead of via the cloud, so it will work when your internet is down.

Although the LeakSmart starter kit is significantly cheaper than the Phyn, it includes only one sensor. Additional sensors are $70 each and we can see many homes needing several to be sure that all leaks will be caught.
Buoy - $799 (includes installation)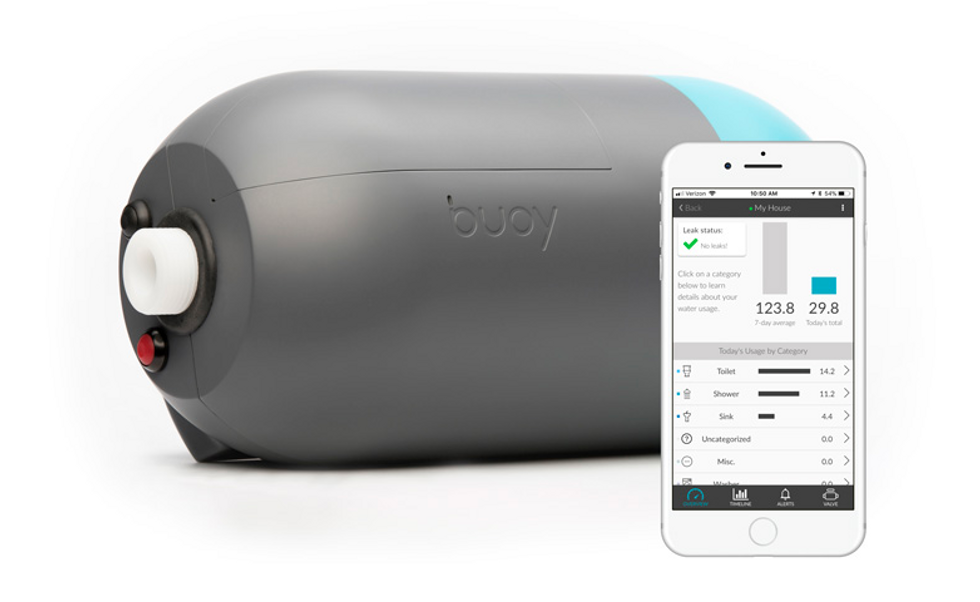 Buoy Labs
Buoy takes a similar approach to Phyn in that it measures water flow from the pipe entering your home. The device can be plugged into a wall outlet or run from a rechargeable battery if plugging in is inconvenient.
The makers of Buoy claim it shows your real time water use in its companion smartphone app, measuring the gallons used for your shower, toilet, sink and appliances like washing machines and dishwashers. It does this by uploading data to Buoy Labs' server, which uses machine learning to work out what is causing the water usage. Buoy even claims to know how water is being used when, for example, a shower, faucet and washing machine are all running at the same time.
If the worst should happen, Buoy will alert you to a potential leak and give you the option to remotely shut off your water supply until the problem can be checked out by a plumber.
Flo - $499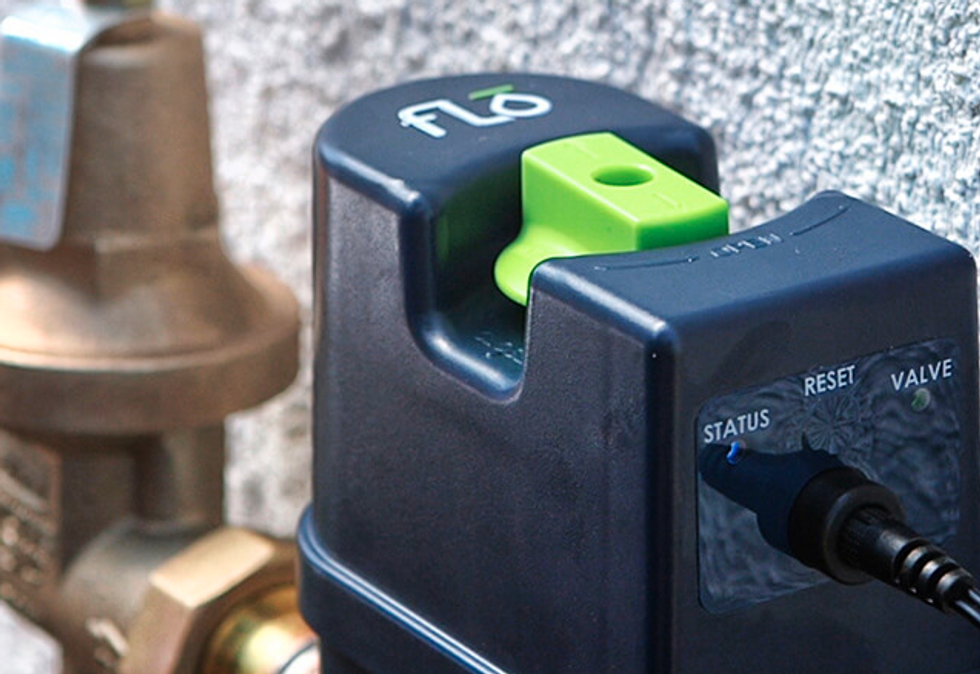 Flo Technologies
Flo is another option which connects to your pipe and constantly monitors the pressure, temperature and flow rate of your water supply. Its makers, Flo Technologies, claim the system can detect the smallest of flow irregularities, like the small dripping leak of a single faulty connection, and alert you via the smartphone app, From there, you can switch the water off and call a plumber.
The Flo device keeps a track of your daily, weekly and monthly water usage to spot trends and evidence of any water loss due to leaks. The makers of Flo claim that, on average, 13 percent of a home's total water is lost due to leaks, and that a single leaking toilet can waste over 3,000 gallons of water per day. The average cost of an insurance claim to fix water damage in the US is $8,800, it claims.
Rachio water flow meter - $330 (with smart irrigation system)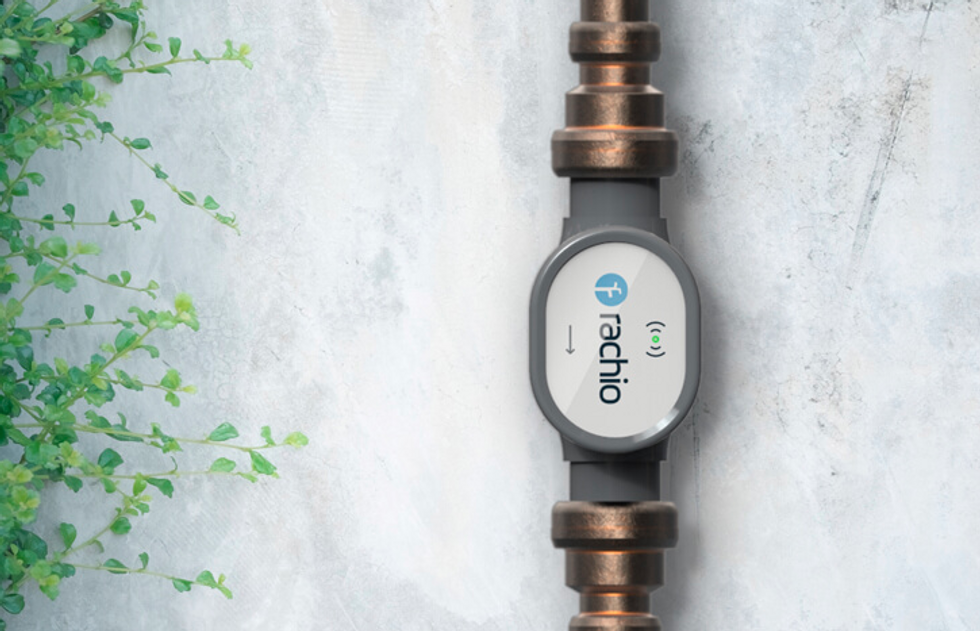 Rachio
The Rachio is best known as a smart garden irrigation system, but the new third-generation device, due to ship in May 2018, can be bought with a wireless flow meter for keeping an eye on your water supply.
As with its rivals, the Rachio flow meter fits to the water pipe entering your home and constantly monitors water speed and pressure. If a leak is detected, the system will alert you and can automatically shut off the water supply to your home, preventing further damage.
Although the new Rachio ships in May, the flow meter is expected to arrive a month late, in mid-June 2018.
Insteon Water Sensor - $35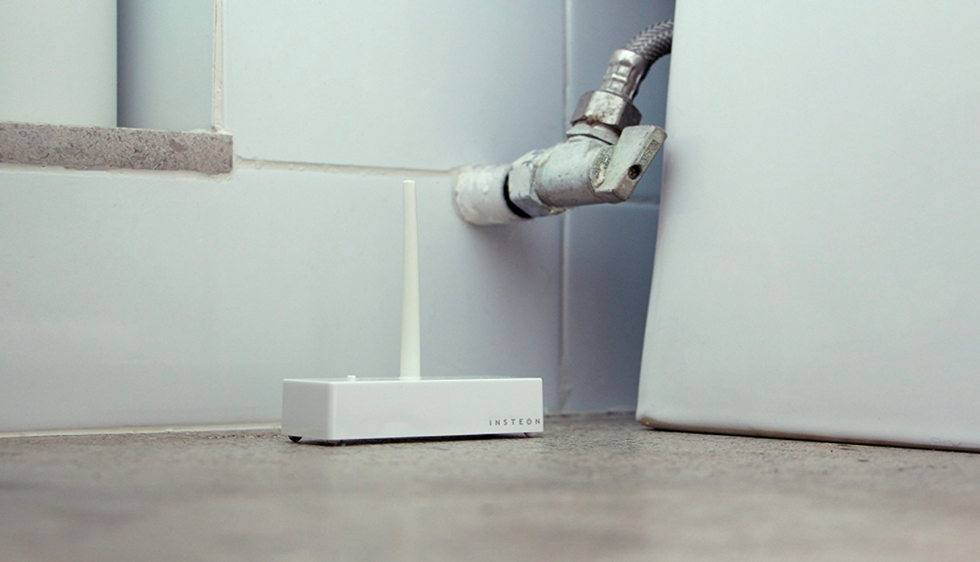 Insteon
Devices which can shut off your water supply of course have their use — and could well justify their relatively high cost in an emergency — but there are simpler and more affordable ways to detect leaks around the home. These can also be installed in apartments, where you might not have access to the pipe.
Products like the Insteon Water Sensor can't shut off the supply, but they are inexpensive and immediately alert you when they come into contact with water. As such, this is like the sensors used by the LeakSmart system, but without a way of shutting off the water.
These sensors are wireless and are intended to be placed where leaks might occur, such as behind the toilet, under an air conditioning unit, or next to your washing machine. They do need the Insteon Hub in order to get alerts on your smartphone or by email.

Read the GearBrain review here
Fibaro Flood Sensor - $35 ($70 for the HomeKit version)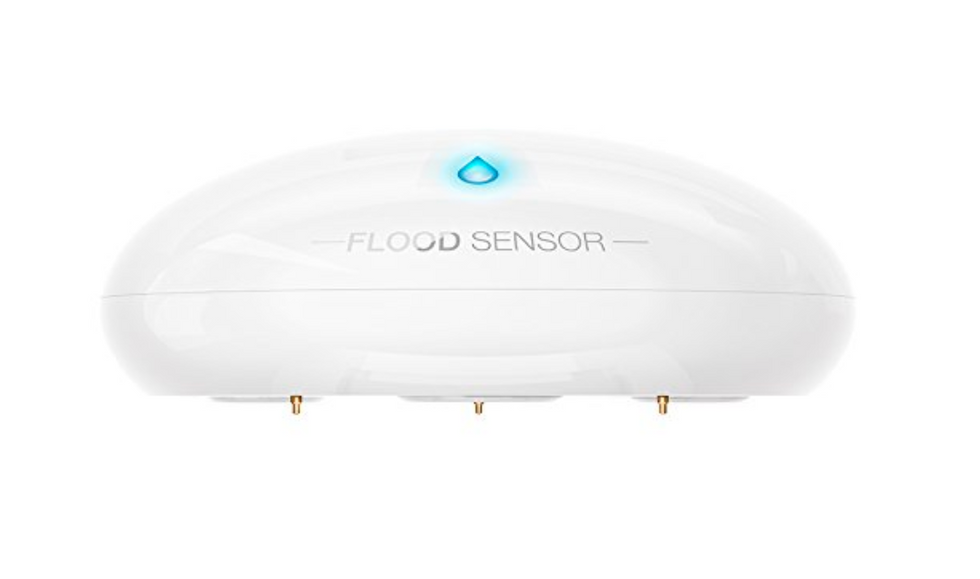 Fibaro
Very similar to the Insteon above, is the Flood Sensor by Fibaro. This device alerts you to the presence of water and Fibaro sells two versions, one for using with Apple HomeKit and the other for hooking up to Z-Wave smart home hubs.
As well as detecting water (and floating if the leak gets that bad), the Fibaro also has a temperature sensor and a tamper sensor which alerts you if it has been moved from where you intended it to be.
Although we liked the Fibaro's ease-of-use, we found that placing it on an aluminum surface would cause it to go haywire, and although the tamper alert works if the device is tilted, it can be slid across the floor (and potentially away from where a flood might occur) without the alert going off.

Read the GearBrain review here