Jack Daniels is a fairly storied brand — with a loyal following who prefer its Tennessee whiskey, and will take you to task for calling it bourbon. Now, drinkers can get the full tale of how the distillery came to be, all through a new augmented reality (AR) app on their smartphone.
After downloading the Jack Daniel's AR Experience app to either an iOS or Android app (you are expected to be 21-years-old or older), people can point their phone camera at a bottle of the whiskey — and select one of three options: 'Process,' which takes you through the different steps to make the whiskey, 'Distillery' which brings up an illustrated map of just that, and 'Story' which tells short tales of the company and its founder.
Read More: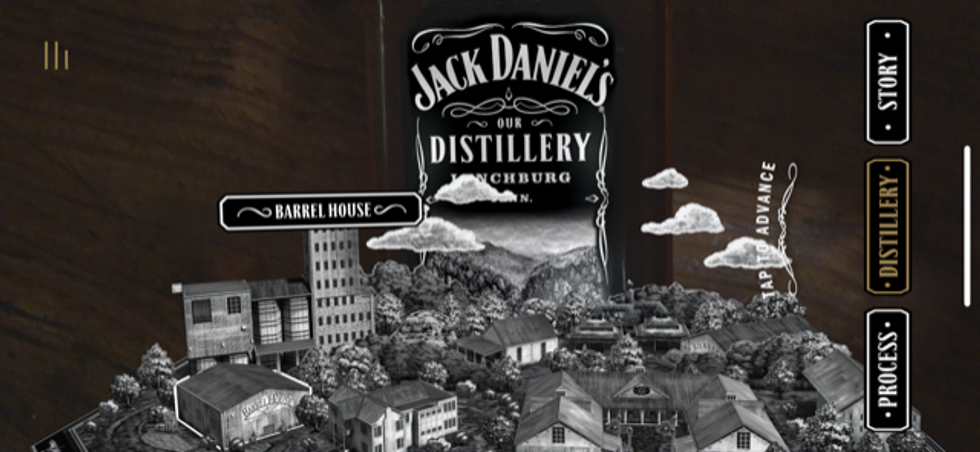 GearBrain
Augmented vs virtual reality
Using AR to draw attention to brands has been in play for some time. The British music group, the Gorillaz, launched an AR app taking fans through the band's house. Momofuku's David Chang teamed up with Nike using an AR app to pop up early images of new sneakers. Ikea let customers drop a virtual Christmas tree in their home with its AR app in 2017.
While virtual reality may be waning in the consumer space, uses for augmented reality continue to grow. Apple's CEO Tim Cook has made it clear that he's a big proponent of AR. The company's ARKit platform is definitely being tapped by companies to create experiences for consumers — the Jack Daniel's app as an example
Open the AR app and hear stories about the distillery, and even get a tour of the grounds youtu.be
Launching this week, the distillery's app has some fairly high ratings on Apple's App Store. Playing with it in a nearby shop was pretty easy. Like other AR apps, the augmented visuals pops up once the smartphone camera detects the image that launches the experience.

You can push through to move the images along. With each section, you hear a short audio piece that taps into various elements of the history of the distillery's founder, Jasper Newton "Jack" Daniels. (They call him "Mr. Jack" during the experience.)
One goes into the history of the No. 7 — on every bottle. Another walks you through each of the sites on the grounds, and what role they play in making the whiskey. The animation and imagery is three-dimensional, and robust enough to let you zoom into each virtual card and still retain a high level of detail. Once you pull the camera away from the front of the bottle, and the label, the experience ends.
For anyone thinking this is going to bring coupons, or discounts on a fifth of whiskey, that's not what is at play here. Instead, it's more of a drinking game, something to chew through the time as you toss back a whiskey, or two.